ZenBusiness is one of the best-known business formation services that's been around for years. The platform has garnered thousands of positive reviews and testimonials from clients. Having employed their online business service, I can personally attest that the company is efficient.
As a team of business enthusiasts, we wanted to see if this LLC service would live up to its expectations.
With that goal in mind, we have extensively researched ZenBusiness and covered the cost of hiring this service, as well as its benefits, pros, cons, and more.
Continue reading our ZenBusiness review to decide if this LLC service is right for you.
What Is ZenBusiness?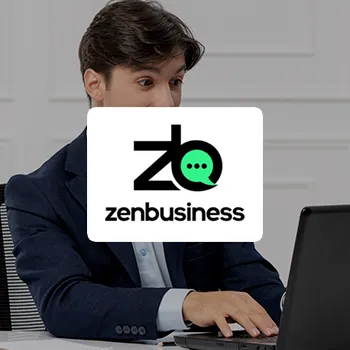 ZenBusiness is an online business formation service that was founded in 2015 and has helped to form over 300,000 businesses.
They have also received thousands of positive reviews from satisfied customers across the US.
ZenBusiness has constantly evolved its business model, and its goal is to empower the new generation of small business owners to take charge of their futures and ditch corporate America to have more freedom working for themselves.
Our #1 Recommendation
Zenbusiness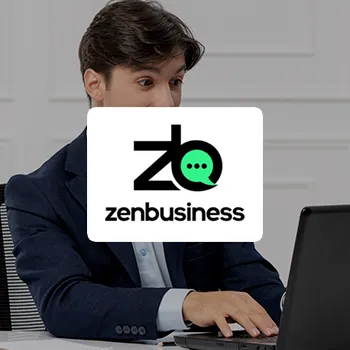 Sign Up To ZenBusiness
Service Features And Prices
The screenshot below shows what packages ZenBusiness has to offer:
Starter LLC Formation Package ($0 Plus State Filling Fees):

Includes an LLC name availability search, filing and prep of Articles of Organization, a free accounting assessment, statement of the organizer, which can help to form a business bank account, and ZenBusiness money essential which is an expense tracking and tax deduction tool. They also provide a standard filing speed, a 100% accuracy guarantee, and a worry-free compliance option for the first year. Customers can enjoy a 1-month free trial for Money Pro Bookkeeping and Website Builder services, with subsequent rates starting at $30/month and $15/month, respectively.

Pro LLC Formation Package ($199 Plus State Filling Fees):

The Pro package includes everything from the Starter package, an LLC operating agreement, an Employer Identification Number, and an expedited filing speed of up to 1 to 2 business days.

Premium LLC Formation Package ($349 Plus State Fees):

The Premium package includes everything from the Starter and Pro packages plus business document templates, rush filing, business domain name privacy, business email address, and a customizable business website.

Registered Agent Services ($199/year):

With this plan,

Zenbusiness can act as the primary contact point with the Secretary of State and handle all legal correspondence on behalf of small business owners. The service renews annually for the same standard amount.
Additional Services
Worry-free compliance $199/yr
S-Corp registration starts at $0
Corporation registration starts at $0
DBA Name varies per state
Operating Agreements $125
Compliance $199/yr
Annual Reports $100/yr
Business License Report $99
Registered Agent $199/yr
Name Reservation $50
Domain Registration $25/yr
Website Building $129/yr
Business Email 25/yr
Benefits
ZenBusiness truly stands out when compared to other business formation platforms. It is a top choice particularly due to the variety of perks that the company offers.
I used ZenBusiness to form my LLC and I recommend it. All the documents are systematically arranged, making the app easy to use.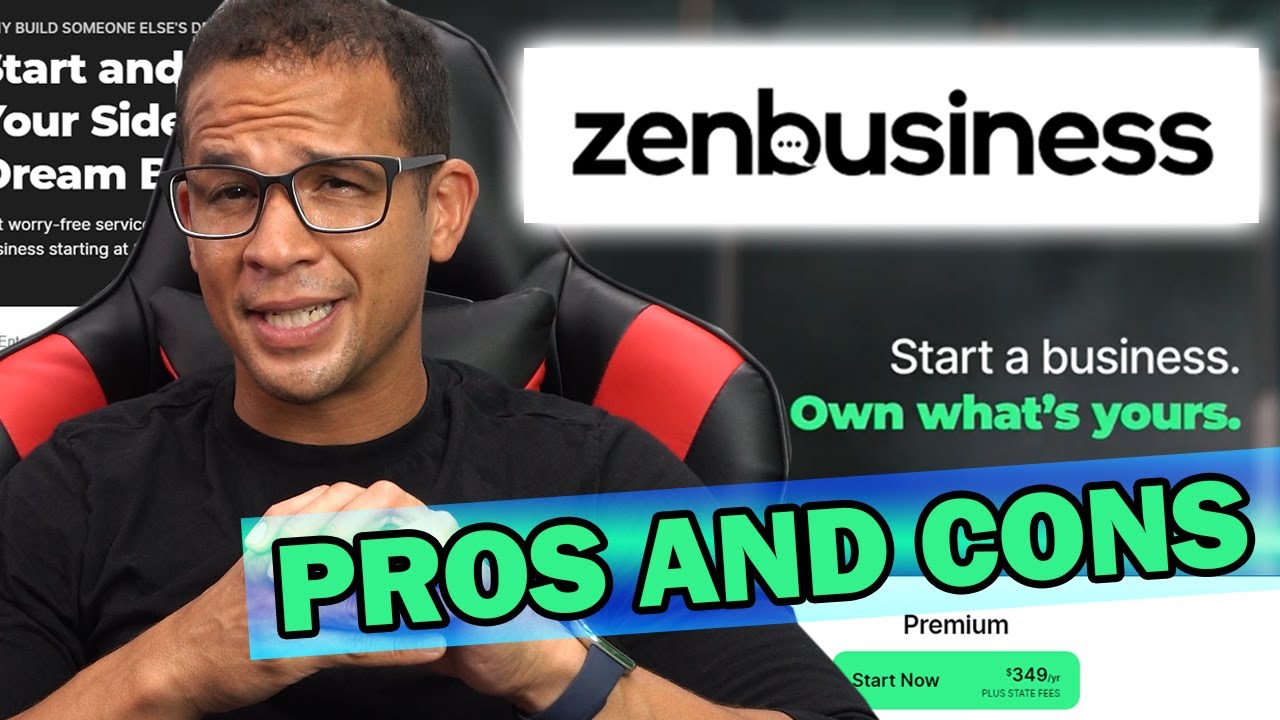 1. Customer Support
ZenBusiness offers exceptional customer support. It rightfully deserves a rating of 9/10. Its services are widely available and can be accessed through the use of smartphones, email, and through web chat.
From my prior knowledge, the usage of live chats ensues a much more swiftly response, taking less than five minutes, while emails took 4 hours for a response.
You can contact ZenBusiness by any of the following ways:
We found that their customer service agents were knowledgeable and able to solve every issue. On top of that, they have extended customer support hours for better customer support.
2. Ease Of Ordering
The reason for using LLC formation companies is to save time by outsourcing LLC filing. It only takes minutes to fill out the ZenBusiness order form, and we found the instructions simple.
You choose the package you prefer, enter basic information about your LLC or corporation, and they do the rest after you pay the state filing fees.
3. Turnaround Time
The turnaround times for filing services vary depending on the specific state's processing speed. With ZenBusiness, you can expedite the process by choosing the appropriate package for your business need.
In my case, filing took a week for the starter package. While with the premium package, it only took less than half the time (3 Days). I'd give their time efficiency a respectable rating of 8/10 in comparison to the other services I've used.
It is essential to specify which state you are doing business in if you want an exact time estimate.
Overall, we found that they are just as fast or faster than other business formation services.
4. A Seamless Process
ZenBusiness makes it easy to set up your LLC by guiding you through the entire process. The whole process is completed online in just a few minutes.
Their online dashboard lets you track the progress of your LLC in real-time. Their system also gives you updates throughout the service.
We found that we always knew where our LLC was at in the process, and the team took us through the process step by step.
5. Flexibility To Build Your Plan
Most LLC formation services offer plans that aren't flexible. ZenBusiness offers three standard packages; however, you can create your plan with personalized services. Personalizing allows you to pay for the services you want, not those you don't.
We believe this flexibility is invaluable for business owners to tailor their plans to their business needs and size, especially since you still need to pay state filing fees.
ZenBusiness is entirely transparent with its fees. Before choosing a plan, ZenBusiness will give you the pricing with features included, so you know what to expect.
Going through the process, we were never hit with surprise fees. Everything was set out as advertised.
7. Less Paperwork
ZenBusiness handles the ongoing paperwork necessary for your LLC. They handle annual reports and file the documentation for you, so you don't have to keep track of paperwork and what was sent in and when.
The online dashboard also helps store your documents and track the process.
We found that these features add convenience and ease to the process.
8. 60-Day Money-Back Guarantee
ZenBusiness backs your purchase with a 60-day money-back guarantee. If you weren't completely satisfied with the service or simply wish to cancel a subscription, you can avail a full refund by contacting customer support.
A client of mine who wasn't completely satisfied received his money back (excluding state fees) within the 60-day refund window.
According to reviews and our personal experience, there has never been a problem with ZenBusiness living up to its guarantee.
9. Free Service Features Included
Compared to other services, ZenBusiness offers several free inclusions, such as tax advice, their money dashboard, and a business bank account. All of these features add to the overall value that ZenBusiness offers for a low price.
10. Keeps Compliance with the Worry-Free Guarantee
The Worry-Free Guarantee is an excellent service ZenBusiness provides for the first year.
This assurance gives you peace of mind since you will be informed of significant filings, receive two yearly modifications, and get the support you need to be current and compliant in case something goes wrong.
Downsides
Registered Agent Services are Only Available as an Add-on
Many of ZenBusiness's rivals include a free registered agent for at least a year. This is not the case with ZenBusiness because you must purchase the package separately if you need them to be your registered agent.
EIN Service Package is Expensive
Despite positive customer ratings, the EIN service is quite costly, given the little time and work required to complete the registration independently. Other providers offer EIN as a complimentary during the limited liability company formation or charge a nominal price.
No Nonprofits Incorporation Services
Another drawback of this LLC service is that it doesn't offer formation packages for Non-profit organizations; hence it is not a suitable service provider for owners of such entities.
The only actual downside to ZenBusinesis is that if you have a simple business, the ZenBusiness LLC package may be more expensive than filing everything yourself.
Who Should Hire ZenBusiness?
Business owners who want an affordable way to file their LLC with an annual report service should hire ZenBusiness.
The Starter package is ideal if you don't mind taking time for other necessities like filing for an employer identification number.
The Pro package is suitable for new business owners who want all the services they need to get their new venture up and running.
The Premium package is ideal for the completely stress-free LLC service so you can focus on building your business entity.
Our #1 Recommendation
Zenbusiness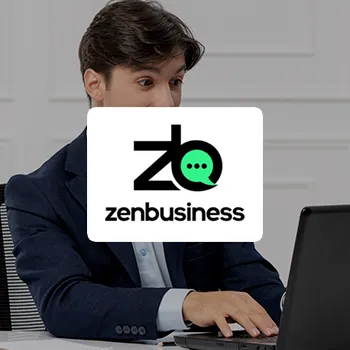 Sign Up To ZenBusiness
ZenBusiness Customer Testimonials
"Very responsive, very helpful, chat is really efficient without too much robotic interference. Flexible options for small businesses and for my first business ever, a sense of support and, why not, pride!"
- Theo K, Better Business Bureau
"Zen business actually cares about the customer. As soon as I hired ZenBusiness, they took care of everything and always called and emailed me about every process."
- Jason H, Better Business Bureau
"I had an awesome experience with Zen Business starting an LLC. From start to finish, the process was straightforward and took less than an hour to complete."
- Heather Mott, Trustpilot
"The team at ZenBusiness was amazing.They made sure that I had the things I needed to start. The only reason I am not giving an excellent review now is because of my state filing fees, with their fees, are a lot."
- Loria Davis, Trustpilot
"My experience with ZenBusiness was great. They help you step by step in forming your business, and if you're unsure about something, you can always talk to someone to help you out."
- Don, Trustpilot
ZenBusiness Alternatives
Here's how ZenBusiness compares to some of its best-known competitors.
1. Northwest Registered Agent
Northwest Registered Agent and ZenBusiness have several aspects in common, including affordability, positive customer feedback, great features, excellent customer support, and fast turnaround time.
However, there are some large differences between these two services.
ZenBusiness's packages are relatively seamless, while Northwest's onboarding can be overwhelming for a new business owner.
While both companies offer free registered agent services for a year, ZenBusiness has a lower renewal cost for their registered agent service. ZenBusiness also has more express options than Northwest to process your order faster.
2. IncFile
IncFile and ZenBusiness both have low-price services, and both generally have positive reviews. There are some vast differences between these two companies, however.
ZenBusiness offers a money-back guarantee, while IncFile only offers a refund minus the $30 cancellation fee. With IncFile, if you want extra features besides the essential LLC formation services, you will have to pay for them individually.
While it depends on the state you are filing in, ZenBusiness typically has a faster turnaround time than IncFile. ZenBusiness also has more responsive customer support than IncFile.
3. Rocket Lawyer
Although both Rocket Lawyer and ZenBusiness have excellent reputations for service and business history, there are a few notable differences between these companies.
Although Rocket Lawyer is among the best online platforms currently available, the company does not offer service packages, which actually becomes more expensive than ZenBusiness.
ZenBusiness offers three separate packages that can be customized at a lower cost. The overall process to form an LLC with ZenBusiness is quicker and more streamlined than Rocket Lawyer.
Also, with ZenBusiness's LLC formation packages, you get free registered agent service for a year, and you must pay for Rocket Lawyer's service separately. Overall, ZenBusiness has a better value and offers more services for the cost of the package.
FAQs
Is ZenBusiness Worth Using?
Yes, ZenBusiness is worth using, because their feature-rich packages work with almost any budget, and their ordering process is simple and straightforward. ZenBusiness is one of the best LLC services for any business.
Does ZenBusiness Help With Taxes?
Yes, ZenBusiness helps with taxes through ZenBusines Money, which simplifies business finances, allows you to track deductions, and enables you to save money for tax time [1].
Is ZenBusiness A Good Way To Start An LLC?
Yes, ZenBusiness is a good way to start an LLC. They have fantastic customer support, low prices, and quick turnaround times.
How Long Does ZenBusiness Take To Process Your LLC?
ZenBusiness takes about 4 to 6 business days to process your LLC with expedited filing and 1 to 2 business days with rush filing.
Is ZenBusiness A Legitimate Business?
Yes, ZenBusiness is a legitimate business. Although they are relatively new to the industry, they have thousands of positive customer reviews on trusted websites.
Does ZenBusiness Help You Create Your Business Website?
Yes, ZenBusiness can help you create your business website. The service costs $129.
Is ZenBusiness the Right LLC Service for You?
Forming a new business entity can be overwhelming if you don't have any experience with the business formation process. Hiring a business formation company can give you support throughout the process.
After carefully reviewing their features and other essential services, we've concluded that ZenBusiness has a streamlined process with excellent support services for your limited liability company.
Their outstanding features, like annual report service, worry-free compliance, registered agent services, and more, make them stand out from other business formation companies.
Our #1 Recommendation
Zenbusiness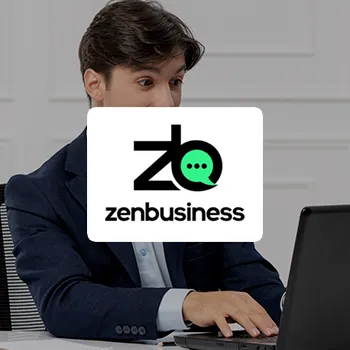 Pros
Overly positive customer reviews
Annual report filing and ongoing LLC maintenance
One of the most affordable LLC services
Quick turnaround time
Get the BEST PRICE until the end of October
Cons
Non-profit business formation is not provided