ZenBusiness is one of the best-known business formation services that's been around for years and has received thousands of positive reviews.
As a team of business enthusiasts, we wanted to see if this LLC service would live up to its expectations.
With that goal in mind, we have extensively researched ZenBusiness and covered the cost of hiring this service, as well as its benefits, pros, cons, and more, so you can decide if ZenBusiness is right for you.
What Is ZenBusiness?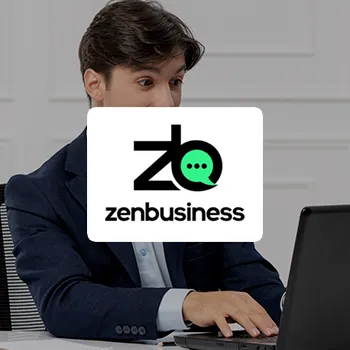 ZenBusiness is an online business formation service that was founded in 2015 and has helped to form over 300,000 businesses.
They have also received thousands of positive reviews from satisfied customers across the US.
ZenBusiness has constantly evolved its business model, and its goal is to empower the new generation of small business owners to take charge of their futures and ditch corporate America to have more freedom working for themselves.
Service Features And Prices
Here's what ZenBusiness has to offer:
Starter LLC Formation Package ($0 Plus State Fees):

Includes an LLC name availability search, filing and prep of Articles of Organization, a free accounting assessment, statement of the organizer, which can help to form a business bank account, and ZenBusiness money essential which is an expense tracking and tax deduction tool.

Pro LLC Formation Package ($199 Plus State Fees):

The Pro package includes everything from the Starter package plus worry-free compliance for annual reports, an LLC operating agreement, and expedited filing.

Premium LLC Formation Package ($299 Plus State Fees):

The Premium package includes everything from the Starter and Pro packages plus business domain name, rush filing, business domain name privacy, business email address, and a customizable business website.
S-Corp registration starts at $0
Corporation registration starts at $0
DBA Name varies per state
Operating Agreements $125
Compliance $199/yr
Annual Reports $100/yr
Business License Report $99
Registered Agent $199/yr
Name Reservation $50
Domain Registration $25/yr
Website Building $129/yr
Business Email 25/yr
Benefits
ZenBusiness stands out among the rest because of the following perks.
1. Customer Support
ZenBusiness has good customer support that you can contact via web chat, email, and phone. We have tried every option, and in our experience, they responded promptly with the proper solutions.
They state that they reply to emails within a business day, which proved to be true as we didn't have to wait more than a few minutes to reach someone by phone or web chat.
We found that their customer service agents were knowledgeable and able to solve every issue. On top of that, they have extended customer support hours for better customer support.
2. Ease Of Ordering
The reason for using LLC formation companies is to save time by outsourcing LLC filing. It only takes minutes to fill out the ZenBusiness order form, and we found the instructions simple.
You choose the package you prefer, enter basic information about your LLC or corporation, and they do the rest.
3. Turnaround Time
Other LLC filing services base their turnaround time on the processing speed of the individual state; however, ZenBusiness allows you to select your filing speed based on the package you choose.
It is essential to specify which state you are doing business in if you want an exact time estimate.
Overall, we found that they are just as fast or faster than other business formation services.
4. A Seamless Process
ZenBusiness makes it easy to set up your LLC by guiding you through the entire process. The whole process is completed online in just a few minutes.
Their online dashboard lets you track the progress of your LLC in real-time. Their system also gives you updates throughout the service.
We found that we always knew where our LLC was at in the process, and the team took us through the process step by step.
5. Flexibility To Build Your Plan
Most LLC formation services offer plans that aren't flexible. ZenBusiness offers three standard packages; however, you can create your plan with personalized services. Personalizing allows you to pay for the services you want, not those you don't.
We believe this flexibility is invaluable for business owners to tailor their plans to their business needs and size.
ZenBusiness is entirely transparent with its fees. Before choosing a plan, ZenBusiness will give you the pricing with features included, so you know what to expect.
Going through the process, we were never hit with surprise fees. Everything was set out as advertised.
7. Less Paperwork
ZenBusiness handles the ongoing paperwork necessary for your LLC. They handle annual reports and file the documentation for you, so you don't have to keep track of paperwork and what was sent in and when.
The online dashboard also helps store your documents and track the process.
We found that these features add convenience and ease to the process.
8. 60-Day Money-Back Guarantee
ZenBusiness offers a 60-day money-back guarantee. If you aren't happy with their service, you can ask for a refund within 60 days, and they will refund everything minus any state fees.
According to reviews and our personal experience, there has never been a problem with ZenBusiness living up to its guarantee.
9. Free Service Features Included
Compared to other LLC services, ZenBusiness offers several free inclusions, such as tax advice, their money dashboard, and a business bank account. All of these features add to the overall value that ZenBusiness offers for a low price.
Downsides
The only actual downside to ZenBusinesis is that if you have a simple business, the ZenBusiness LLC package may be more expensive than filing everything yourself.
Who Should Hire ZenBusiness?
Business owners who want an affordable way to file their LLC with an annual report service should hire ZenBusiness.
The Starter package is ideal if you don't mind taking time for other necessities like filing for an employer identification number.
The Pro package is suitable for new business owners who want all the services they need to get their new venture up and running.
The Premium package is ideal for the completely stress-free LLC service so you can focus on building your business entity.
ZenBusiness Customer Testimonials
"Very responsive, very helpful, chat is really efficient without too much robotic interference. Flexible options for small businesses and for my first business ever, a sense of support and, why not, pride!"
- Theo K, Better Business Bureau
"Zen business actually cares about the customer, I had legal zoom first, and they didn't want to get my company dissolved; as soon as I hired ZenBusiness, they took care of everything and always called and emailed me about every process. Zen business is a company that I would recommend to anyone starting a business."
- Jason H, Better Business Bureau
"I had an awesome experience with Zen Business starting an LLC. From start to finish, the process was straightforward and took less than an hour to complete. Everything is organized online in one place and is easily retrieved through your login. Would highly recommend!"
- Heather Mott, Trustpilot
"The team at ZenBusiness was amazing. They answered every question and made me comfortable with my decision, and didn't try to oversell. They made sure that I had the things I needed to start. The only reason I am not giving an excellent review now is because of my state filing fees, with their fees, are a lot. The overall experience was well worth it, and I would do it again."
- Loria Davis, Trustpilot
"My experience with ZenBusiness was great. They help you step by step in forming your business, and if you're not sure about something, you can always talk to someone to help you out. This was my first time incorporating a business, and working with ZenBusiness made it an easy process. They have a lot to offer as well; I would recommend anyone starting a business to give ZenBusiness a try; you won't be disappointed."
- Don, Trustpilot
ZenBusiness Alternatives
Here's how ZenBusiness compares to some of its best-known competitors.
1. Northwest Registered Agent
Northwest Registered Agent and ZenBusiness have several aspects in common, including affordability, positive customer feedback, great features, excellent customer support, and fast turnaround time.
However, there are some large differences between these two services.
ZenBusiness's packages are relatively seamless, while Northwest's onboarding can be overwhelming for a new business owner.
While both companies offer free registered agent services for a year, ZenBusiness has a lower renewal cost for their registered agent service. ZenBusiness also has more express options than Northwest to process your order faster.
2. IncFile
IncFile and ZenBusiness both have low-price business formation services, and both generally have positive reviews. There are some vast differences between these two companies, however.
ZenBusiness offers a money-back guarantee, while IncFile only offers a refund minus the $30 cancellation fee. With IncFile, if you want extra features besides the essential LLC formation services, you will have to pay for them individually.
While it depends on the state you are filing in, ZenBusiness typically has a faster turnaround time than IncFile. ZenBusiness also has more responsive customer support than IncFile.
3. Rocket Lawyer
Although both Rocket Lawyer and ZenBusiness have excellent reputations for service and business history, there are some significant differences between the two.
Rocket Lawyer is primarily a legal services website that doesn't offer packages but offers an a la carte menu, which can get very expensive.
ZenBusiness offers three separate packages that can be customized at a lower cost. The overall process to form an LLC with ZenBusiness is quicker and more streamlined than Rocket Lawyer.
Also, with ZenBusiness's LLC formation packages, you get free registered agent service for a year, and you must pay for Rocket Lawyer's service separately. Overall, ZenBusiness has a better value and offers more services for the cost of the package.
FAQs
Is ZenBusiness Worth Using?
Yes, ZenBusiness is worth using. ZenBusiness is one of the best LLC services for any business. Their packages work with almost any budget, and their service is simple and straightforward.
Does ZenBusiness Help With Taxes?
While ZenBusiness doesn't help directly with taxes, they offer ZenBusines Money which simplifies business finances, allows you to track deductions, and enables you to save money for tax time [1].
Is ZenBusiness A Good Way To Start An LLC?
ZenBusiness is a good way to start an LLC. They have fantastic customer support, low prices, and quick turnaround times.
How Long Does ZenBusiness Take To Process Your LLC?
ZenBusiness takes about 4 to 6 business days to process your LLC with expedited filing and 1 to 2 business days with rush filing.
Is ZenBusiness A Legitimate Business?
Yes, ZenBusiness is a legitimate business. Although they are relatively new to the industry, they have thousands of positive customer reviews on trusted websites.
Does ZenBusiness Help You Create Your Business Website?
Yes, ZenBusiness can help you create your business website. The service costs $129.
Is ZenBusiness the Right LLC Service for You?
Forming a new business entity can be overwhelming if you don't have any experience with the business formation process. Hiring a business formation company can give you support throughout the process.
After carefully reviewing their features and other essential services, we've concluded that ZenBusiness has a streamlined process with excellent support services for your limited liability company.
Their outstanding features, like annual report service, worry-free compliance, registered agent services, and more, make them stand out from other business formation companies.
Our #1 Recommendation
Zenbusiness
Pros
Overly positive customer reviews
Annual report filing and ongoing LLC maintenance
One of the most affordable LLC services
Quick turnaround time
Get the BEST PRICE until the end of March
Cons
Limited website templates