MyCorporation offers LLC formation services that have helped form over a million businesses since 1998.
With its wide range of business services, including LLC services, incorporation services, registered agent services, and more, MyCorporation LLC is an excellent option for LLC formation.
As a business consultant specializing in company formation, I've explored several online service providers and came across MyCorporation.
After employing the company and navigating the platform, I'll provide my personal insights on their featured services, benefits, costing and compare them to other formation services to help you decide if MyCorporation is suitable for your business needs.
What Is MyCorporation LLC?
MyCorporation LLC is a formation business that was founded in 1998 and has helped build over one million businesses. MyCorporation helps with everything from formation to dissolution and offers a wide array of additional services.
Service Features & Prices
Since I've personally registered an account on MyCorporation, I learned that they offer four business formation packages to help owners and entrepreneurs decide which feature is suitable for them.
The image below shows a comparison of their packages and their corresponding costs.
LLC Basic Package ($99 Plus State Filing Fees):

The basic package includes a business name availability search and the preparation and filing of the Articles of Organization. This is a bare-bones option to form an LLC.

LLC Standard Package ($124 Plus State Filing Fees):

The standard package includes everything from the previous package plus annual report service and bylaws, minutes, and waivers.

LLC Deluxe Package ($224 Plus State Filing Fees):

  The deluxe package includes everything from the previous two packages for your limited liability company plus registered agent service.

LLC Premium Package ($324 Plus State Filing Fees):

  The premium package includes everything from the previous three packages plus MaintainMyBiz services, which include LLC Operating Agreement, Fictitious Business Name (DBA), Initial Report, Annual report service, Foreign qualification, S-Corp election options, amendment, stock certificates, membership certificates, corporate minutes and bylaws, Reinstatement, and Certificate of Good Standing.
Our #1 Recommendation
MyCorporation
Additional Services
I've navigated the company platform and found a wide range of additional services they offer, which include the following:
Business entity EIN

Annual report service

Incorporation formation

Trademark filing

Copyright filing

Registered agent service

Dissolution

Online document filing services

Custom operating agreement
Benefits
I'd like to share several benefits MyCorporation features based on my personal experience using the platform. They include the following:
1. Excellent Reputation
Founded in 1998, MyCorporation is one of the oldest business formation services. With over 24 years of experience, the company has an extensive customer base. They have retained their customer's loyalty over the years due to their excellent service and expertise.
2. User-Friendly
MyCorporation is simple to use and knows that businesses are looking to save time and have a convenient way to form their new company.
Their website is user-friendly and easy to operate. Their application takes less than ten minutes and is simple to navigate.
3. Well-Rounded Feature List
MyCorporation offers an excellent features list. Their features include an annual report service in all of its plans, making it unique compared to other services.
They also provide optional services such as sales tax registration, income tax assistance, and unemployment insurance; they are the only business in the company that offers these services.
4. Top-Notch Customer Service
MyCorporation is among the companies that have thousands of great online customer reviews, and many of these praise their customer support.
Since I've interacted with the company several times, I can attest that MyCorporation deals with clients promptly by email or phone. You can expect a response to your email within 24 hours of your inquiry.
Their customer service representatives are polite, knowledgeable, and willing to help customers in any way necessary.
5. Overall Value
With four different packages to choose from MyCoproration offers more choices than many other businesses within the formation process.
While their base package is more bare-bones and doesn't include additional services, MyCorporation has a package that can fit your business needs.
Downsides
Despite MyCorporation being an excellent formation service, here are some of its downsides.
1. Limited Features In The Base Package
MyCorporation's base package doesn't offer many features and doesn't include registered agent services.
MyCorporation offers registered agent services but not included in their base package, unlike some other formation services.
2. No Estimated Turnaround Time
MyCorporation doesn't provide an estimated turnaround time for the formation of your desired company. Depending on the registration state, the process could be around a few days or a few weeks.
Toward the end of the process, they offer rush filing to expedite the process for an additional $100, not including the state fee.
3. Several Upsells
MyCorporation's application can be full of upsells. Before you reach the payment stage with your package, there will be several upsells. This can make the application process tedious.
4. Vague Guarantee
MyCoproration promises to resolve issues and permit refunds within 60 days. However, fees already applied toward the state fee, shipping, and publication fees aren't refundable.
According to the MyCorporation website, you can request a refund, but it also says they don't issue refunds except for orders placed on hold for longer than three months after the order date.
This makes their guarantee vague and confusing.
Who Should Hire MyCorporation?
Clients looking to create an LLC with a company that has an extensive track record and excellent customer support should hire MyCorporation.
They are also good for:
Business owners who don't want to handle their own annual reports
Business owners who need other LLC formation services such as trademarks and copyrights.
A business owner who values excellent customer support
Other User Testimonials
"Working with Jennifer Briseno at My Corporation to help me file my business as a foreign entity when I moved to Georgia made what could have been a very complicated process very simple. She has gone above and beyond to guide me to the right approach and forms needed for my C Corp and LLC registrations, and I go into the new year knowing that we can confidently conduct business in our new state. I highly recommend working with Jennifer for all your needs."
- Teresa, Trustpilot
"I started a new corporation while I was on vacation. What a kick, I really knew so little about the process, and I didn't want to pay an attorney's ex-ordinate fees to do something that was within my reach. The representatives at MyCorporation stayed on the phone with me and answered all my questions as I completed the process. I then went down to the beach as president of my new business. All the steps are falling into place, and they helped me get it all started."
- Atlas Pillow, Company Inc.
"This company does everything you need to get business moving forward in any state. The price is very reasonable for the amount of time and stress it saves you. Every time another step was taking place, they called you to let you know what is happening. The overall process was speedy and accurate. I would recommend MyCorporation to anyone."
- Riegel Distributing Inc.
"I needed a document for my LLC that was not specifically part of my order. The agent said she would put one together and send it to me shortly. She sent me what I needed right away, as promised. Couldn't ask for more."
- Raymond, Trustpilot
"I have been more than pleased with the service I received from My Corporation over the past few years. I was not comfortable with my knowledge of how corporations work and they help ease my fears. Brandon Fleming was especially helpful to me in the dissolution of our LLC. If we embark on another partnership venture, I will certainly use My Corporation again!!"
- Gene, Trustpilot
Comparison To Other Services
As a regular client on several formation services, I gained enough knowledge and experience on the general profile of each company. I like to compare MyCorporation to three of its biggest competitors.
1. ZenBusiness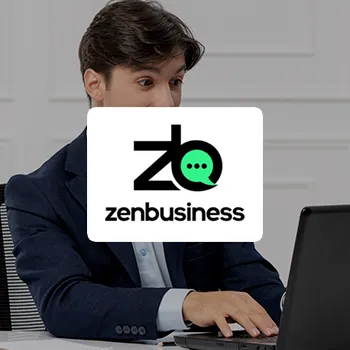 When it comes to ZenBusiness, their pricing is nearly impossible to beat. Their base LLC plan starts at $0 for formation services but doesn't include free registered agent service. The basic plan provides LLC filing service and the option for worry-free compliance for the initial year at no cost. Subsequently, it renews at a yearly fee of $199.
ZenBusiness also provides marketing tools in some of its packages including advanced SEO tools in their Premium plan, while MyCorporation does not.
MyCorporation offers trademark and copyright services for your business structure, while ZenBusiness doesn't, and they can help you to start a specialty business such as a nonprofit.
2. Northwest
Northwest Registered Agent is more affordable than MyCorporation, with their formation packages starting at $39 versus $99 for MyCorporation.
Northwest's base package has more offerings, including a year of registered agent service, an operating agreement, and more.
Northwest is also more transparent about its turnaround times. Both services offer good customer support and have excellent customer feedback.
3. IncFile
IncFile's pricing is also difficult to beat. Their pricing starts at $0, and while the package is a bare-bones offering, MyCoproration's bare-bones offering is $99.
MyCorporation offers a broader range of legal services for businesses, such as copyright protections.
MyCorporation also supports B Corps and nonprofits, while IncFile doesn't.
FAQs
Is MyCorporation Legitimate?
Yes, MyCorporation is legitimate. It has helped form and maintain almost a million business entities since its founding in 1998.
What Is MyCorporation's Order Process Like?
MyCorporation's order process is simple. You start by selecting your state, business type, and your package. You then have the option to add some extras and enter your business information.
Does MyCorporation Aid In Ongoing Compliance?
Yes, MyCorporation's deluxe package provides customers with aid in ongoing compliance, such as annual report services and registered agent service, to ensure that your business stays in good standing.
What Is MyCorporation's Refund Policy?
MyCorporation refund policy gives you 60 days from the date of purchase to request a refund. Depending on if you made changes to documents or ordered physical products, they may charge a $25 reprocessing fee.
Does MyCorproration Offer Publication Services?
MyCorproation doesn't offer a publication service. In certain states, you need to publish your company's formation in a regional newspaper. Some of these states include Nebraska, New York, Arizona, Georgia, and Pennsylvania.
Can I Form An LLC Without Residing In The United States?
Yes, you can form an LLC without residing in the United States. There isn't a requirement to live in the United States or even be a citizen to form an LLC [1].
Does MyCorporation Have Decent Customer Support?
MyCorporation is known for its excellent customer support. Their customer service reps are fully trained and qualified to answer all your questions.
Does MyCorporation Share My Information With Third Parties?
MyCorporation includes special offers with packages that require them to share some of your information with third parties. Processes such as accounting solutions, payroll processing, website design, and more are all opportunities to share your information. You can opt out of these information-sharing agreements by letting them know.
Is MyCorporation Worth It?
MyCorporation is an excellent choice for LLC formation. They offer user-friendly service, affordable LLC services, well-rounded features, an excellent reputation, and top-notch customer service.
However, if you're looking for a more affordable option and don't need some of the additional services MyCorporation offers, such as trademark and copyright services, you might want to choose ZenBusiness.
ZenBusiness is a reasonable choice with plans starting at $0 for LLC services and includes expense tracking, a business license compliance package, and anything else you might need for the formation of your successful business.
We Recommend This Instead
ZenBusiness
Pros
They offer various formation packages to choose from
The prices of each package are reasonable
They provide a worry-free compliance
They make business formation as quickly as possible
Has a lot of positive customer feedback
Get the BEST PRICE until the end of September
Cons
Non-profit business formation is not provided