Hiring an Ohio LLC formation service can save you lots of effort when forming a limited liability company in this state.
These companies are familiar with every step of forming an Ohio LLC and can easily walk you through each step.
To save you valuable time to put into your business, we have researched and studied top-rated LLC services in Ohio based on cost, convenience, and features.
Read on to find out the best Ohio LLC services you can hire.
Editor's Choice
Rated by more than 2000+ customers
ZenBusiness
Click To Signup
#2nd Best Choice
Rated by more than 1000+ customers
Northwest
Click To Signup
#3rd Best Choice
Rated by more than 1000+ customers
Incfile
Click To Signup
The 7 Best Ohio LLC Formation Services (May 2023)
1 - ZenBusiness (Editor's Choice)
Would you recommend ZenBusiness?
ZenBusiness LLC formation service simplifies and reduces the cost of the formation process. In our personal experience, creating an Ohio LLC with ZenBusiness is quick, easy, and inexpensive.
Our experience with ZenBusiness was incredibly positive throughout the 12 months we worked together.
Setting up our Ohio LLC was efficient, with all the steps being clearly outlined and easy to follow.
We could quickly and easily obtain all the necessary documents and licenses to keep our business up and running.
Overall, we can attest that ZenBusiness provides a straightforward and hassle-free process for setting up an Ohio LLC business.
Service Features:
Starter LLC Formation Package ($0 + $99):

Includes expense and deduction tracking,100% accuracy guarantee, and standard filing speed (2 to 3 weeks).

Pro LLC Formation Package ($199 + $99):

The Pro Plan includes worry-free compliance, an operating agreement, faster-expedited filling speed (4 to 6 days), and everything from the Starter LLC Formation Package.

Premium LLC Formation Package ($299 + $99):

The Premium Plan includes everything in the Stater and Pro Plan plus a personalized business website, business email address, business domain, and the fastest filing speed (1-2 days).

Ohio Registered Agent Service ($199/yr): The yearly service fee for their service costs $199.
Pros
Various LLC formation service packages available
Reasonable prices
Worry-Free compliance
Positive feedback from real customers
Quick business formation service process
Cons
Non-profit business formation is not provided
Sign Up To ZenBusiness
2 - Northwest Registered Agent Service
Would you recommend Northwest Registered Agent Service?
Our team of professionals had the pleasure of using Northwest Registered Services for 4 weeks.
During this time, we were highly impressed with the customer service and support we received.
We also appreciated the strong emphasis they placed on our privacy and security.
We recommend Northwest Registered Agent for its commitment to providing a positive professional experience to its clients and earning the trust of many businesses over the years.
We loved that their platform is easy to use and that they are serious about data protection as they never sell your data.
From our experience, you might need an extended budget as they have lots of add-ons that tend to get pricey.
Service Features:
Basic Package ($39 + $99 State Fee): This package includes a year of free registered agent service in Ohio, if you decide to form an LLC with the. Other features in this plan are articles of organization and an operating agreement.
Full Service LLC Formation Package ($225 + $99 State Fee): All the features from the Basic Package, as well as an operating agreement, mail forwarding, same-business-day filing, and a client account.
Northwest Registered Agent Services ($125): If Northwest forms your LLC, the first year of the registered agent fee is free.
Pros
Transparent pricing
Free Registered Agent service for a year
Protection of privacy
Fast business formation and same-day filing​
Sign Up To Northwest Registered Agent Service
3 - Incfile
Would you recommend Incfile?
This online LLC service provides can assist with accounting, business formation, and more. Incfile has a reputation for high-quality service and low-cost LLC formation services in Ohio.
After our team gave IncFile a try, the company went beyond our expectations. From the start, their customer service was very helpful.
The user interface was intuitive and easy to use, and the whole process of creating and filing our LLC was simplified.
Overall, we were very pleased with the results and would highly recommend IncFile as a reliable and cost-effective LLC filing service.
Service Features:
Silver Package ($0 + $99 State Fee): Silver Package includes preparing & filing the articles of organization, a free registered agent service for the full year, unlimited name searches, phone, and email support.
Gold Package ($199 + $99 State Fee): All the previous features plus banking resolution, operating agreement, EIN Business Tax Number, IRS Form 2553, online access dashboard, and tax consultation.
Platinum Package ($299 + $99 State Fee): This plan has all the Gold Package plus a domain name with a business email, free next-day filing, and business contract templates.
Registered Agent Services ($119): It has a dashboard to access your documents online. If you appoint IncFile to register your limited liability company with the Secretary of State, they offer you a free registered agent for a year. After that, $119/year.
Pros
Affordable LLC services
1-year Registered Agent
Support via phone and email
Compliance reminders
Sign Up To Incfile
4 - Rocket Lawyer
Rocket Lawyer offers online legal services for business owners and any other legal needs.
They offer to consult time with real attorneys and lawyers, who are not only knowledgeable but also experienced in communication.
From our experience, they will easily explain to you the most complicated law-related matters.
They can assist in Ohio business formation, registered agent services, legal aid, and more.
Rocket Lawyer has a comprehensive pack of experienced, real lawyers that can offer you the best legal guidance.
Before we signed with them, we used their seven days free trial period to test premium service.
Service Features:
Standard LLC Formation Package ($99.99 + $99 State Fee / Free with $39.99 per month membership): If you opt for Standard Package membership, you will take advantage of various free legal documents, free attorney services, and 25% off your registered agent.
Registered Agent Service ($149.99): For $149.99 per year you will get Register Agent services. A 25% discount is available if you have a membership that costs $39.99 monthly.
Pros
Free 7-Day trial membership
30-Day money back guarantee
Highly rated service team
Cons
Not a traditional business formation service
Membership can be expensive
Sign Up To Rocket Lawyer
5 - Swyft Filings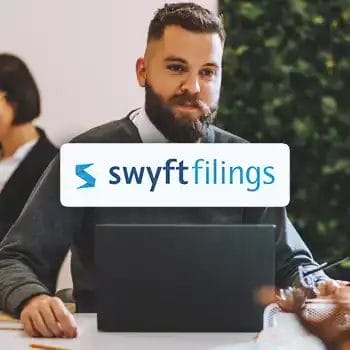 Swyft Filings is a low-cost Ohio LLC Formation service that has become a substantial part of the industry compared to large competitors.
This company has dozens of suppliers, ranging from banks and attorneys to accountants and business advisors.
If you are working with an extremely tight budget, hiring Swyft Filings has several benefits like the ability to accept payments in installments.
Despite the fact that this only relates to the LLC creation package, you will still get excellent service.
Free delivery, purchase tracking, and 24/7 access to your legal document are all features included in all of their programs.
We advise using them due to these advantages and lifelong customer service.
The major drawback of these packages is that a free registered agent is not provided, but you will like the flexible price and attentive customer care.
Service Features:
Basic Package ($0 + $99 State Fee): Basic package is ideal if you want basic LLC incorporation plus document filing.
Standard Package ($199 + $99 State Fee): It does include more features like a Federal Tax ID (EIN), operating agreement, and banking resolution.
Premium Package ($299 + $99 State Fee): The Premium contains all basic and standard services, as well as free domain and business website hosting, a customized digital corporate kit, and the FedEx delivery of your approved articles with a tracking number.
Registered Agent Service ($99 per three months): The registered agent is paid on a quarterly basis.
Pros
Personalized customer support
Affordable prices
A comprehensive platform
Cons
Lots of upselling
Limited features
Sign Up To Swyft Filings
6 - MyCompanyWorks
MyCompanyWorks is a skilled service provider with an extensive understanding of Ohio's LLC rules and regulations.
When we used their services to register our LLC, we found this to be beneficial. Throughout the process, the customer support offered us helpful advice and guidance.
This helped to make the whole process easy and stress-free.
Forming an LLC with MyCompanyWorks was fast and easy.
The application procedure was completed in around 10 minutes, and it's their standard time, regardless of the sort of organization you're founding.
We loved their customer support that responds to emails or calls within 20 minutes but we can agree that they are not one of the cheapest options in the market.
If the budget is a big deal for you, you might focus on more affordable LLC formation service providers.
Service Features:
Basic Formation Package ($59 + $99 State Fee): It prepares and files the article of organization with the Secretary of State. Other features include name availability search, business bank account setup, banking resolution, free logo, and more.
Entrepreneur Formation Package ($179 + $99 State Fee): Includes everything the Basic Package includes, plus federal tax ID, MyCompanyForms lifetime forms & tax guide, and a registered agent for a year.
Complete Formation Package ($259 + $99 State Fee): It includes everything the Entrepreneur Packages have, plus MyCompanyWorks premium, Annual Report Filing Service, and more.
Registered Agent Service ($99): This is a yearly subscription but for startups, MyCompanyWorks offer a free first year of registered agents if you buy the Entrepreneur or the Complete bundles.
Pros
Free tax consultation
Business supervision
Priority support
Cons
Paid registered agent
Complicated website
Sign Up To MyCompanyWorks
7 - Harbor Compliance
Harbor Compliance is best-know for having great compliance experts. Their customer service representatives are knowledgeable and fast to solve any issue.
If you opt for them in multi states, you will get up to a 10% discount - this is a unique offer on the market.
At first, we didn't find their 'no refund' policy to be customer-oriented or paying up for a year's service, but we were impressed with their attitude toward privacy which inspired us to risk a bit. And it was worth it.
Thanks to data encryption and Norton and Trustwave monitoring you can be sure that your data will remain untouched and they will do their best to stick to everything within a single-day processing time.
Service Features:
Formation Package ($99 + $99 State Fee): They check if your suggested business name is available and files the articles of organization with the state.
Registered Agent Service (89-$99): A 5-10% discount is applied if you opt to pay for the service in advance for more than two years.
Pros
24 hours turn-around
Personalized customer service
Simple software
Cons
No refund policy
Very expensive
Sign Up To Harbor Compliance
Advantages Of Creating An LLC In Ohio
Creating an LLC in Ohio can come with associated costs, including filing fees, legal fees, and other administrative expenses.
However, an LLC also brings a variety of significant benefits. Here are some benefits you may get with creating an LLC in Ohio.
1. One Taxation Level
LLCs can avoid double taxation, unlike corporations.
The LLC is called a pass-through, meaning the earnings are sent to the owners instead of being taxed.
Members then pay sales tax on the payments on their taxes [1].
2. Limited Liability
Limited Liability saves the owner from the company's Liability. It makes individuals not accountable for the obligations or judgments of the LLC.
A member of the LLC can't be legally pursued for debts or any other judgments against the LLC.
3. Loan Program Eligibility
When you form a limited liability company in Ohio, there are many financial programs available to you, such as [2]:
Community Connect Grants
Community Development Program
166 Direct Loan
Business Guaranteed Loans
504 Loans
7a Loan Guarantee
4. Profit Distribution Flexibility
An Ohio LLC can choose different ways to distribute earnings.
Each member can get an equal share or an agreed-upon percentage.
Our Selection Process
We selected and ranked these Ohio LLC services based on these key criteria:
1. Cost
When choosing Ohio LLC services to recommend, we ensured that the services were affordable. We chose LLC services with a variety of costs for every budget.
2. Quality Of Customer Service
Before recommending LLC services in Ohio, we made sure that their customer service was exceptional and that they were quick to respond when issues arose.
3. Turnaround Time
Regarding turnaround time, we wanted to choose the best Ohio LLC service that has a turnaround time between 1 and 5 business days.
When hiring an Ohio LLC service, we are ensuring that the formation of the LLC is as quick as possible so you can start your LLC in Ohio asap.
Ohio LLC Formation Process
To form an LLC in Ohio, there are several steps:
Step 1: Name your LLC
Step 2: Choose A Registered Agent
Step 3: Research If You Need A Business License
Step 4: File Articles Of Organization
Step 5: Get A State Certificate
Step 6: Make An Operating Agreement
Step 7: Apply For An EIN
FAQs
Is Ohio A Good State For LLCs?
Ohio is a good state for LLCs. Having an LLC in Ohio comes with tax benefits, tax flexibility, and limited liability.
Do You Have To Pay Yearly For An LLC In Ohio?
You do not have to pay yearly for an LLC in Ohio. Ohio is one of only 5 states that have a no-annual report policy. You do not need to file any information annually, either.
No, LLCs are not taxed in Ohio because they're treated as pass-through entities. However, Ohio has a Commercial Activity Tax (CAT) that all businesses must pay based on their gross income receipts. The minimum CAT tax for an income bracket of $150,000 or more is $150.
Ohio Best LLC Service Provider...
Obtaining an Ohio LLC has many benefits and is critical to legitimizing your business. Among the LLC formation services in Ohio, the seven companies we covered stand out for several reasons.
However, after detailed research and several consultations, we recommend ZenBusiness as the best LLC formation company for any business.
We tried ZenBusiness and found their services to be of great value for the indicated prices.
We were also impressed with the range of services offered, from forming LLCs and corporations to filing necessary paperwork and taxes.
Our #1 Recommendation
Pros
Various LLC formation service packages available
Reasonable prices
Worry-Free compliance
Positive feedback from real customers
Quick business formation service process
Get the BEST PRICE until the end of May
Cons
Non-profit business formation is not provided