If you're doing business in Arizona, selecting the best Arizona registered agent service is one of the most suitable and cost-effective methods for handling compliance tasks and limiting business risks.
To help you make an informed decision, we went above and beyond to carefully assess and rate different Arizona registered agent services. We evaluated these services based on crucial service features, including accessibility, price points, customer care, and response time.
Continue reading to find the best Arizona registered agent service you can hire for your Arizona business.
Editor's Choice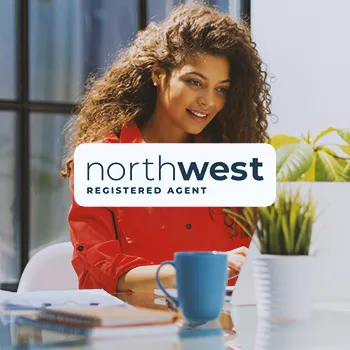 Northwest
Click For Best Price
#2nd Best Choice
Zenbusiness
Click For Best Price
#3rd Best Choice
IncFile
Click For Best Price
9 Best Arizona Registered Agent Services (November 2022)
1 - Northwest Registered Agent (Editor's Choice)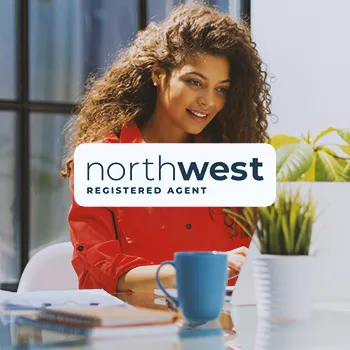 Northwest registered agent service is a Spokane, Washington-based LLC establishment and registered agent firm. Per their site, they are a medium-sized, family-owned firm with around 200 workers.
They provide a wide range of LLC solutions to Arizona startups and company owners.
True to the company tagline, this Arizona registered agent differentiates itself from its competitors by emphasizing exceptional customer service, transparent communication, and suitable privacy and data security measures.
It takes pride in its in-house helpdesk's ability to deliver instant, knowledgeable, and hassle-free client service and assistance. In our experience, we weren't forced to wait or transfer from rep to rep like other registered agent services.
Service Features:
Basic LLC formation ($100):

This package contains a check for name availability and paperwork submission. If you need your LLC formed quickly, you may pay $20 or $40 to accelerate the process and gain faster approval.

Arizona registered agent services ($125/yr)

: These services are free for the first year, then $125 onwards each year.

Annual Report Compliance services ($100)

: By completing your annual reports on behalf of your LLC, this Arizona registered agent service can lessen your administrative load while protecting your privacy.

Federal Tax ID (EIN) ($50)

: Northwest registered agent service helps you obtain an EIN tax ID from the IRS quickly. This is handy when filing tax returns for your company.
Pros
Protection of privacy
Excellent customer care
20 years' worth of expertise
No hidden fees
Free registered agent services for a year as part of their formation bundle
Cons
Not the most economical choice
Click For Best Price
2 - Zenbusiness
ZenBusiness simplifies and lowers the cost of simple legal filings for small-business owners.
You may draft and file your company formation paperwork with this registered agent service, eliminating the need to hire attorneys or possibly pricey specialists to complete the work for you.
The ZenBusiness registered agent services suite also offers optional features such as a comprehensive evaluation from a professional accountant to assist you in setting up accountancy, bookkeeping, and tax issues during your first year of business.
Another essential tool provided by this Arizona registered agent is a series of notifications to help entrepreneurs stay on top of when certain periodic filings are due.
Service Features:
ZenBusiness Starter costs ($49/yr — minus state-level levies):

 This registered agent subscription covers the standard corporate filing service, which covers name availability search capabilities and access to your files via the ZenBusiness site.

ZenBusiness Pro ($199/yr):

ZenBusiness Pro greatly provides different registered agent services like accelerated filing, financial reports, employment ID number generation, and compliance reviews and alerts.

ZenBusiness Premium ($299/yr)

: This membership plan incorporates all of the platform's services (plus state filing fees). 
Pros
A reasonable and clear price structure
Extended client chat assistance
This registered agent has garnered favorable user reviews
60-day money-back warranty
Click For Best Price
3 - IncFile
Incfile statutory agent offers excellent value when you weigh the full price with what you get.
Their basic and standard packages provide extra services that other providers charge for. However, note that their entry-level bundle does not include an operating agreement.
At Incfile, the customer support team is receptive and driven to address client concerns promptly. You can seek assistance through your statutory agent dashboard if you have any queries.
This Arizona registered agent service has prioritized a streamlined user interface for customers, making it easy to order your registered agent service and simple to engage that service.
Service Features:
Silver Package (0$):

This contains a name availability check, long-term business alerts, and assertion.

Gold Package ($149):

The Gold package includes everything in the Silver package, a federal tax ID number (EIN), expedited shipping, and banking resolution.

Platinum Package ($229):

This statutory agent package includes expedited state filing, business arrangement paperwork, a business website, and a domain name.
Pros
Helpful web dashboard
Free registered agent services are included as part of all formation packages
Processing orders promptly
There are no unforeseen fees
Cons
Few customer service alternatives
Click For Best Price
4 - Rocket Lawyer
With the help of Rocket Lawyer's online statutory agent assistance, you may find, fill out, amend, and sign various online legal papers. They will guide you through each stage and assist you in finding the most pertinent documents.
Rocket Lawyer is one of the few online Arizona statutory agent services that offer a free registered agent service trial period.
As an Arizona registered agent service, Rocket Lawyer concentrates on contracts and documentation for any business entity, ensuring you have the proper paperwork to submit to the Secretary of State and other state agencies.
Another unique aspect of Rocket Lawyer's document service is its customer support for legal documents. When you use them as your own registered agent, you can call and communicate with a qualified attorney who can give precise legal counsel.
Service Features:
Business formation ($99.99):

You can work with Rocket Lawyer to create a variety of entities, including an LLC, S-corporation, C-corporation, and non-profit. 

Registered agent service ($149.99):

For $149 a year, you may use Rocket Lawyer as your registered Arizona statutory agent. A 25% discount is offered to premium members, which is a deal if you're watching your budget.

EIN registration ($59.99):

Rocket Lawyer promises to manage this procedure for this reasonable fee if you hire them.
Pros
7-day free premium trial
Expert legal document service
Easy-to-use site
Cons
Quite expensive
You need to sign up to access free LLC filing
Click For Best Price
5 - My Company Works
More than 60,000 firms have used MyCompanyWorks' LLC creation and its other legal services since 2001. There are numerous Arizona registered agents that will create an LLC, but MyCompanyWorks has earned itself a market share.
This Arizona statutory agent provides customer service by phone and email. They responded to our query and provided a handful of links to their website that helped elucidate their response.
The application procedure is quick and simple once you've chosen a package and any add-ons your business needs. It shouldn't take more than 10-15 minutes if you have all the necessary information.
Service Features:
Basic ($59/yr):

Entrepreneurs who want to set up an LLC or company and receive valuable business paperwork are the best candidates for this package.

Entrepreneur ($199/yr):

The best candidates for this package are business owners who wish to set up an LLC or company and obtain an EIN for setting up an online account.

Complete ($279/yr):

This package is ideal for Arizona startups that wish to set up an LLC or company while receiving all the tools needed to be up and running quickly.
Pros
Faster turnaround
Responsive customer service
Substantial LLC experience
Cons
Hard-to-find order tracking information
No auto-save for the order form
Click For Best Price
6 - Harbor Compliance
Harbor Compliance is a reputable expert firm that offers LLC creation, incorporation, and other services connected to corporate compliance. They handle many of the critical duties required in launching a new firm.
If you need to get your business up and running as soon as possible, Harbor Compliance is an excellent alternative because of its short response times.
If you decide to use their service, you'll be assigned a compliance specialist who will take care of all elements of your LLC creation and respond to any inquiries you may have regarding your particular business situation.
Service Features:
Formation service (starts at $99):

According to Harbor Compliance's official website, there is a fixed yearly charge of $99 if you acquire this service for one year (and renew it annually). You receive a 5–10% discount if you book the service for two or more years and pay in advance.

Bulk Business (starts at $89): If your company needs more extensive functionality, Harbor Compliance offers a solution for you. Bulge discount prices are available if you combine your registered agent service or place a significant purchase involving several businesses.
Pros
Faster turnaround
Excellent personal customer service
No auto bills
Cons
Outdated website
Premium-priced
Click For Best Price
7 - LegalZoom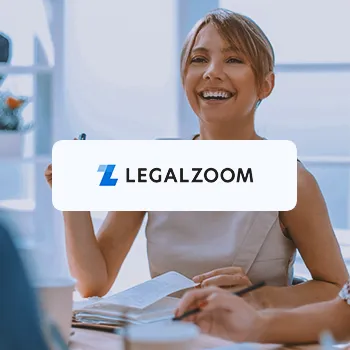 LegalZoom is a well-known brand with a substantial market share in the Arizona registered agent service sector.
LegalZoom understands that every corporation deserves comprehensive legal coverage and therefore provides an impartial team of lawyers to offer you the necessary support.
Their do-it-yourself site provides a user-friendly interaction with simplicity and effectiveness from start to end.
Although it charges more than the competitors, you could feel more at ease using its service because of its expertise and established reputation.
Service Features:
Economy ($79):

Under this package, LegalZoom offers dispute resolution and business filing, an article of incorporation, a next-step guide for LLC, and customer support for life.

Standard ($329):

In addition to the features of the Economy package, it also includes official documents with a seal and VIP processing with LegalZoom

Express Gold ($349):

This includes the Standard package services, plus expedited processing with the Secretary of State and express delivery.
Pros
Has a large number of customers
Superior brand strength
Additional legal services on offer
Cons
Arizona registered agent services at exorbitant prices
Incorporating an LLC does not include a registered agent
Click For Best Price
8 - Swyft Filings
Swyft Filing is a web-based legal service that facilitates the rapid and straightforward formation of small enterprises in Arizona. They have helped thousands of businesses nationwide over the past eight years.
We love that Swyft Filings collaborates with a nationwide accounting firm to provide you with an hour of consulting on setting up an online account, business tax obligations and deductions, business bank account administration, and other business-related matters.
We recommend this best registered agent for small enterprises or business owners that need to start their company fast and inexpensively.
Service Features:
Basic plan ($49):

This bundle will include some of the necessary elements to register your business–tax consultation and free website domain.

EIN acquisition ($79):

This service is a given with the standard and premium programs; however, it costs an extra $79 if you want it with the Basic package.

LLC legal documents templates ($35):

The standard and premium subscriptions already have this function, while the Basic option requires an additional $35 payment.
Pros
100% money-back guarantee
Highly user-rated
Top-tier customer service
Cons
Registered agent is an extra add-on you'll have to pay for
Additional charges to get EIN
Click For Best Price
9 - Incorp
Lastly, we recommend InCorp if you have required full-time registered agent services for years.
InCorp is excellent at providing surprisingly low multi-year contracts.
Compared to other statutory agents on our list, working with this firm for years will save you more money. Plus, they publicize their own physical street address, keeping your privacy intact.
Service Features:
LLC formation ($99):

This package includes the formation of a new corporation or LLC and business entity filing.

EIN registration ($69):

InCorp handles registering and acquiring an EIN for your Arizona business with this package.

Certificate of good standing ($35):

InCorp helps you get this document to prove that your business is authorized to transact in Arizona.
Pros
Local offices in every state, including Arizona
They offer services for quick filing
Outstanding multi-year deals
Cons
Overwhelming website interface
Additional fees for certain services
Click For Best Price
What Are the Benefits of Working With a Registered Agent Service in Arizona?
Here are three great benefits of working with a registered agent service in Arizona.
1. More Time To Focus on Your Business
The whole process of compliance includes the filing of long documents, and it can be labor/time intensive. If you're an Arizona business owner, we recommend that you delegate compliance details to the best statutory agents so that you can concentrate on growing and managing your company.
2. Private Receipt of Legal Paperwork 
As a business owner, you don't want police officers to serve you with a lawsuit notice in front of clients, staff members, or neighbors (if you're running a home-based enterprise). By using the best registered agent service, you will be certain that you will receive all legal paperwork services discreetly and during normal business hours.
3. Privacy
Arizona LLC businesses must publicly publish their physical address to the Arizona Secretary of State (SOS). It's not safe to use your residential address for a business entity, as essentially, you'll be exposing your physical street address to the public.
On the other hand, statutory agents will protect you since they must submit their business address/the registered agent's address to the Arizona SOS rather than yours.
How Much Does a Registered Agent Service Cost in Arizona?
A registered agent service in Arizona costs anywhere from $99 to $300 annually.
The price of hiring an Arizona statutory agent service may vary depending on your approach: whether you hire an internal registered agent service, act as your own registered agent, or contract out the work.
Overall, the pricing and costs of different Arizona registered agents vary depending on their service features and subscription plans.
And if you're extremely tight on budget, you can opt to use a free registered agent service to get free LLC formation service.
What Are the Requirements for an Arizona Registered Agent?
The requirements for an Arizona registered agent are:
You should be able to accept legal papers on the company's behalf.

You should possess a listed physical address of your office in Arizona, not PO Boxes.

You must be a resident of the state of Arizona or a corporation that delivers registered agent services.
Our Selection Process
The selection process used to rank these registered agents in our list was based on the agent's features, their customer support, and our overall experience with each.
1. Features
Here, we based our research on the great registered agent service features paramount for LLC formation and registration. We focused on features like foolproof document deliveries, state forms, filing instructions, and yearly report reminders.
2. Customer Support
In our experience, customer service is one attribute of a high-value registered service. We looked into customer support in terms of communication, responsiveness, problem-solving and overall professionalism. We also looked into the transparency and availability of either personal or office address that you can visit physically.
3. Experience 
Before recommending any of these services, we tested and selected the best that we had a smooth user experience with. Smooth user experience in terms of simplicity in navigating the different websites, timely document deliveries, and excellent customer service.
FAQs
Can I Be My Own Statutory Agent in Arizona?
No, you cannot be your own statutory agent in Arizona. Whether you're running an LLC or a corporation, you need to choose an external entity to be your registered agent.
How Do I Find a Registered Agent in Arizona?
You can find a registered agent in Arizona by doing an online search. This is an easier way because you'll find the name and business address of the agent service, and you can contact them.
How Do I Change My Registered Agent in Arizona?
To change your registered agent in Arizona, visit the Arizona Corporation Commission (ACC), file for a Statement of Change, and follow the procedures therein.
Who Offers the Best Registered Agent Services In Arizona?
Before selecting a registered agent for your Arizona LLC, remember that they will be in charge of all your documents, filings, and other LLC-related activities.
As a result, select the ideal one for your company that delivers 100% correct service at a reasonable price, like Northwest registered agent.
We recommend Northwest as the best registered agent service because of its affordable rates and excellent client service. In addition to all of that, we laud Northwest's customer service for being approachable, informed, and prompt in their replies.
Our #1 Recommendation
Northwest Registered Agent
Click For Best Price
Pros
Protection of privacy
Excellent customer care
20 years' worth of expertise
No hidden fees
Free registered agent services for a year as part of their formation bundle
Cons
Not the most economical choice