Starting your own limited liability company can be intimidating. As a result, many entrepreneurs and aspiring business owners seek the assistance of professionals such as an LLC formation service.
To help you find the best New Mexico LLC formation services, we teamed up with our legal team and reviewed the top LLC service providers.
We tried out over 16 different New Mexico LLC providers and have narrowed them down to our recommended picks.
Here are the top eight New Mexico LLC creation services based on their service package features, response time, cost, and customer support.
Editor's Choice
Rated by more than 2000+ customers
ZenBusiness
Click To Signup
81% of visitors chose this
#2nd Best Choice
Rated by more than 1000+ customers
Northwest
Click To Signup
#3rd Best Choice
Rated by more than 1000+ customers
IncFile
Click To Signup
Top 8 LLC Services in New Mexico (October 2023)
1 - ZenBusiness (Editor's Choice)
Would you recommend ZenBusiness?
ZenBusiness LLC Service provides a full range of New Mexico LLC services, from basic formation to advanced customization.
Their service offers an excellent and cost-effective way to make setting up an LLC in New Mexico more convenient.
We tested using ZenBusiness to start our business, and the process was simple and quick.
Their user-tailored system ensures a quick 10-12 minute filing. They present straightforward package choices, emphasizing the importance of features like an EIN.
My LLC was greenlit in a short four days, and I was presented with a robust New Business Kit.
They offered assistance at every turn, making it simple to overcome any challenge.
Service Features:
Starter LLC Formation Package ($0 + $50 State Fee): Includes a name search for New Mexico LLC business, filing the Articles of Organization with the state, a website builder, and standard filing speed (2 to 3 weeks), banking and accounting services, and Money Pro Bookkeeping. You'll also get an optional worry-free compliance at $0 for the first year and renewal at $199/yr. You are also guaranteed 100% accuracy. Enjoy a 1-month free trial for Banking, Bank Account, and Money Pro Bookkeeping services, each at $5/month and $30/month thereafter. You'll also receive Website Builder also offers a 1-month free trial, followed by a $15/month subscription.
Pro LLC Formation Package ($199 + $50 State Fee): This New Mexico LLC service includes all Starter package features, a corporate seal, a Certificate of Organization from the New Mexico Department of Banking & Insurance, an EIN, and creating an LLC Operating Agreement. In addition, it comes with the fastest "rush" filling speed at 1 to 2 business days.
Premium LLC Formation Package ($349 + $50 State Fee): This is an all-inclusive package that provides everything in the Pro plan, plus third-party features such as a business website and document templates, domain name, privacy protection, and business email address.
New Mexico Registered Agent Service ($199): The company offers 12 months of registered agent service for $199. They also provide a New Mexico address for your business, allowing you to handle legal, financial, and tax-related matters.
Pros
Various formation packages to choose from
Competitive New Mexico LLC services pricing on all services
Worry-free compliance is provided
Quick and hassle-free formation process
Excellent client feedback
Cons
No possibility of non-profit business formation
Sign Up To ZenBusiness
2 - Northwest Registered Agent
Would you recommend Northwest Registered Agent?
Northwest Registered Agents are a renowned LLC formation service provider in New Mexico.
They ranked second on our list due to their reasonable prices, excellent customer support, and Premium registered agent service for every package offered.
We tried Northwest Registered Agents to form an LLC and we were guided through every step.
We spent only 9 minutes on the initial filing, and in a swift 72 hours, everything was finalized, despite our 5-day selection.
In our experience, you will get ongoing support, as they have representatives assigned to each client account.
Service Features:
Basic Package ($39 + $50 State Fee): You can use the Basic Plan to open corporations, LLCs, and nonprofits. It does include articles of organization, an operating agreement, and a year of free registered agent service.
Full Service LLC Formation Package ($225 + $50 State Fee): Full Package will bring you free limited mail forwarding, an operating agreement, same-business-day filing, and free forms and tools in a client account.
Northwest Registered Agent Services ($125): The first year of New Mexico agent service is free if you form your LLC with Northwest. By default, you will get privacy, expert corporate guides, and free mail forwarding.
Pros
Strong reputation
Your privacy is their top priority
Offer a transparent pricing plan
Free registered agent for 1 year
Sign Up To Northwest Registered Agent
3 - IncFile
Would you recommend IncFile?
As long as you pay your state costs, IncFile is one of the few LLC formation businesses that we've tried that actually guarantees to create your New Mexico LLC for free.
IncFile has a package deal that is affordable as they have plans starting at $0, plus you will get other essential services for a good price, or free (like their registered agent for the first year).
This LLC formation service also has fast turnarounds. It took them only three days, after filling our orders, to get back to us.
Service Features:
Silver Package ($0 + $50 State Fee): IncFile files the article of organization, gives you a free registered agent service for the first year, phone and email support, and unlimited name searches.
Gold Package ($199 + $50 State Fee): In addition to the previous plan you get an operating agreement, online access dashboard, business banking account, business tax consultation, EIN Business Tax Number, and IRS Form 2553.
Platinum Package ($299 + $50 State Fee): This offer includes the Gold Package, business email, and free next-day filing.
Registered Agent Services ($119): A registered agent service in New Mexico will cost you $119 per year but if you choose to start your LLC with IncFile. After that, you will only pay the registered agent starting the second year.
Pros
Affordable price points
1-year New Mexico Registered Agent
Formed over 800,000 businesses
Phone and email chat support
Cons
A large number of upsells
Sign Up To IncFile
4 - LegalZoom
LegalZoom is an online legal service that helps entrepreneurs, small business owners, and others start their own limited liability companies.
Its easy-to-use interface makes it one of the most popular LLC services in New Mexico.
LegalZoom offers a range of services, including filing the necessary paperwork, handling the state filing fees, and providing access to legal advice and support.
They helped us file our business formation paperwork and eliminated the need to hire possibly pricey professionals.
Service Features:
Basic Package ($0 + $50 State Fee): This package offers the name search service for you and files your LLC to the Secretary of the State, a complete digital LLC welcome packet, a business website, and articles of organization.
Pro Package ($249 + $50 State Fee): It includes all Basic features plus an EIN for bank account opening and taxation, initial tax saving and business insurance consultations, an operating agreement, and an in-depth guide on New Mexico state licensing.
Premium Package ($299 + $50 State Fee): It comes with all Pro package features, plus infinite half-an-hour consultations on new legal matters, changes made to your LLC documents within 90 days, and hands-on guidance from a professional New Mexico attorney.
Registered Agent Services ($299): If you choose to establish your business with LegalZoom, the registered agent will cost you $249 for the first year. Afterward, the subscription would cost $299.
Pros
Wide selection of packages suited to any budget
Highly experienced in the formation industry
Easy-to-use interface
Cons
You must open a bank account and make quarterly payments to it
The legal documents supplied by LegalZoom may not be accepted by all courts or government authorities.
Sign Up To LegalZoom
5 - Swyft Filings
Swyft Filings are one of the best companies for accelerating the LLC formation process.
Forming a business should not be difficult or time-consuming, so they assist businesses by providing a formation package that can help them establish their business efficiently.
While forming an LLC with them, we learned that Swyft Filings provides a 100% money-back guarantee.
The biggest downside of working with them is that their packages do not offer a free registered agent service for your New Mexico business.
Service Features:
Basic Package ($0 + $50 State Fee): This will get you basic LLC incorporation plus document filing.
Standard Package ($199 + $50 State Fee): Includes LLC incorporation, and document filing, including Federal Tax ID (EIN), and a good selection of documents to start your business.
Premium Package ($299 + $50 State Fee): Premium package includes all Basic and Standard services, as well as a customized digital corporate kit, free domain, and business website hosting.
Registered Agent Service ($99 per threE months ): The registered agent service is a subscription paid every 3 months.
Pros
Personalized customer support
Reasonable prices
User-friendly website
Cons
Service offers are limited
Irrelevant upsells
Sign Up To Swyft Filings
6 - Harbor Compliance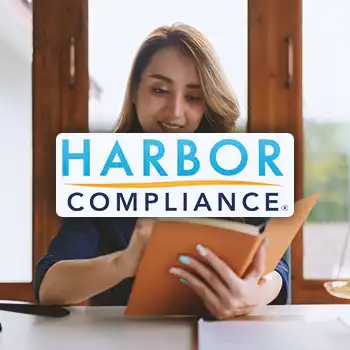 Harbor Compliance LLC is an excellent place to start if you're looking for quality LLC services in New Mexico.
The company offers high-quality services, including business formation and registered agents, as well as other services that keep businesses up to date on New Mexico laws.
Forming an LLC with them gave us an insight into why so many people rely on them.
We felt secure because of their custom software and security procedures, as they protect their website and the information of their customers by combining Norton Web Security and Trustwave.
Service Features:
Formation Package ($99 + $50 State Fee): New Mexico Formation Package includes checking name availability and preparing and filing your articles of organization with the state.
Registered Agent Service (89-$99): Annual fees from $89-$99 per state. A 5-10 % discount is applied if you pay ahead for more than two years. Immediate online access to registered agent address.
Pros
Takes 24 hours to process requests
Offer 24/7 customer support
Offer customized services at very competitive rates
Cons
No tier pricing method
Has a limited 24-hour response time for inquiries about payment and other services
Sign Up To Harbor Compliance
7 - MyCompanyWorks
MyCompanyWorks, LLC Service is a highly rated, professional LLC service in New Mexico. They offer a simple, fast, and affordable formation process for those looking to form a limited liability company in the state.
The company received great customer feedback for its fast LLC processing time in New Mexico and excellent customer service.
They offered us the same business day processing, access to scanned docs online, and a free logo, which was acceptable to us.
Service Features:
Basic Formation Package ($59 + $50 State Fee): It includes the Articles of Organization, same business day processing, unlimited phone/Email support, name availability search, personalized operating management, business bank account setup, banking resolution, access to scanned docs online, free logo, and more.
Entrepreneur Formation Package ($179 + $50 State Fee): Basic Package plus MyCompanyForms lifetime forms & tax guide, a free one-year registered agent, and federal tax ID.
Complete Formation Package ($259 + $50 State Fee): It includes everything the Entrepreneur Packages have, plus MyCompanyWorks premium (Initial and Annual Report Filing Service, ComplianceLock™ Alerts, Automatic Minutes and Resolutions, E-Ledger, E-Certificates, Business Entity Monitoring, and Priority Support).
Registered Agent Service ($99): This is a yearly subscription. If you opt for the Entrepreneur or the Complete LLC formation, the first year of registered agent will be for free.
Pros
Substantial customer feedback
Their incorporation process is simple and straightforward
Versatile packages
Cons
Service isn't offered in all states, in case you want to expand your New Mexico LLC
Limited service offers
Sign Up To MyCompanyWorks
8 - InCorp
InCorp has provided its clients with quick customer service, offering a wide range of services to help businesses comply with state and federal regulations.
From our experience, their services are affordable and can help you with any other legal issues.
They also provide personal, business, and commercial registered agent services in New Mexico.
Service Features: 
LLC Formation Package ($99+ $50 State Fee):

Features - submit Articles of Incorporation/Organization to the Secretary of State of New Mexico. They don't offer LLC Formation (filing assistance) if you don't get the Registered Agent as well.

Registered Agent Services ($129 per year)

. You can pay as low as $87/year with the purchase of a multi-year service. 
Pros
24/7 monitoring system
Easy-to-use online portal
Excellent legal support
Cons
Lack of feedback from past customers
Not enough versatility when it comes to the packages
Sign Up To InCorp
---
Benefits of Establishing an LLC in New Mexico
Here are the following advantages of starting a New Mexico LLC.
1. Personal Liability Protection
One of the main advantages of forming an LLC in New Mexico is that it offers personal liability protection to its owners. If the LLC is sued, the owner's assets will not be at risk [1].
2. Flexible Tax Options
Forming an LLC in New Mexico offers flexible tax options. With LLCs, you can be taxed as a corporation or a partnership, depending on their needs [2].
3. Inexpensive Formation
Forming an LLC in New Mexico is inexpensive and can be done online or by mail. There is no need to hire an attorney or accountant to help with the formation process [3].
4. Simple To Set up an LLC Company
Unlike a corporation or a limited partnership, an LLC does not have to follow any formalities regarding maintaining records and minutes. This makes it easy for you to form your new business in New Mexico.
5. Builds Business Credibility
LLCs are known for their flexibility and ease of management compared to corporations and partnerships.
This makes them ideal for businesses that want to avoid the costs of setting up a corporation but still want a more formal structure than a sole proprietorship or partnership would provide.
New Mexico LLC Formation Process
Forming an LLC in New Mexico is relatively straightforward and can be accomplished by following the few simple steps below:
Step 1: Choose a unique name for your LLC
Step 2: Appoint a registered agent in New Mexico
Step 3: File the Articles of Organization with the New Mexico Secretary of State
Step 4: Create an Operating Agreement that outlines the LLC's rules and regulations
Step 5: Apply for an Employer Identification Number (EIN) with the IRS
FAQs
Is New Mexico a Good State for LLCs?
Yes, New Mexico is a good state for LLCs. It's one of only four states (along with Delaware, Nevada, and Wyoming) that do not require you to appoint an agent or resident agent.
How Fast Can You Get a New Mexico LLC?
You can get a New Mexico LLC in about 1-2 weeks once you've filed all the necessary documents with your local Secretary of State's office.
Do I Need to File an Annual Report for my New Mexico LLC?
Yes, you need to file an annual report for your New Mexico LLC to maintain good standing with the New Mexico Secretary of State.
Our Favourite LLC Service Provider in New Mexico Is...
When it comes to selecting the best LLC service for your company you want to focus on LLCs with good reputations. This is why reviews are important, next to their quality of work.
Always aim to choose an LLC that combines a great reputation and has proven results.
Our recommendation is based on personal experience, which is why we recommend ZenBusiness.
When our group of legal experts used their services, they were very pleased with the quality of the service. The staff's professionalism and knowledge also had a positive mark on us.
ZenBusiness has a very competitive price, with high-quality and fast services. They ensure that your company is up and running as soon as possible while not skipping any necessary steps to make your business legal.
Our #1 Recommendation
Pros
Various formation packages to choose from
Competitive New Mexico LLC services pricing on all services
Worry-free compliance is provided
Quick and hassle-free formation process
Excellent client feedback
Get the BEST PRICE until the end of October
Cons
No possibility of non-profit business formation