9 Cheapest Registered Agent Services (2023 Buying Guide)
Finding the cheapest registered agent service requires balancing cost with reliability and essential features.
It can be challenging to locate a cheap provider that still offers all of the necessary features for your business.
To help you out, I worked with my legal advisors and tested different registered agent services across the country based on service features and pricing.
Here is a roundup of the nine cheapest registered agent services that check all the right boxes.
Editor's Choice
Rated by more than 1000+ customers
Northwest Registered Agent
Click To Signup
79% of visitors chose this
#2nd Best Choice
Rated by more than 1000+ customers
MyCompanyWorks
Click To Signup
#3rd Best Choice
Rated by more than 1000+ customers
IncFile
Click To Signup
9 Cheapest Registered Agent Services (November 2023)
1 - Northwest Registered Agent
(Best Value for Money)
Northwest Registered Agent offers excellent value if you only need the basics. For starters, this agent charges $39 to form an LLC, and you are liable for paying any state fees that apply.
When I was setting up my first business, the legal jargon was overwhelming. But with Northwest Registered Agent, I could easily access and understand the documents, making the legal side of things much clearer.
And because the customer team provides guidelines to assist you in understanding the paperwork and what you need to accomplish, you can form the LLC on your own for free.
Service Features:
Registered Agent Services ($125/year):

Includes your LLC's street address, quick mail forwarding of your legal papers, and a calendar of compliance filing deadlines for annual reports, franchise taxes, and other tax-related paperwork.

LLC Formation (Starts at $39 plus state fees):

Provides tier-based business creation solutions, including free registered agent service, lifelong customer support, address confidentiality, and LLC creation.
Pros
Protection of privacy
Excellent customer support service
20 years of expertise
Cons
On the upper spectrum of price
No free plans
Sign Up To Northwest Registered Agent
2 - MyCompanyWorks
(Cheapest Registered Agent)
Would you recommend MyCompanyWorks (Cheapest Registered Agent)?
MyCompanyWorks offers same-day paper submission, striking a balance between a rich feature set and affordable cost.
When I first started my business, I was on a tight budget and MyCompanyWorks offered me a basic formation package that was both affordable and feature-rich. It was a relief to find such value at a reasonable price.
At just $59 per year, I got expedited filing for all our LLC documents, plus unlimited name searches. Also, this feature comes with free e-delivery of all your filed paperwork.
They typically offer basic compliance services, such as helping businesses stay in good standing with the state by receiving and forwarding legal documents, including service of process.
MyCompanyWorks offers a unique Startup Wizard tool, which is a step-by-step guide to help new businesses get up and running.
This service also provides customer support, which is helpful for addressing queries and concerns about registered agent services and business compliance.
Service Features:
Professional Registered Agent Service ($99

): Free, timely alerts for 60 days, same-day delivery, and a business address for all your legal business operations, among other services.

Basic Package ($59):

This covers the development and filing of state articles of incorporation for your LLC, customized company minutes, and an infinite number of name validity checks.
Pros
Timely legal alerts
Preparation and filing of legal papers
Easy to place an LLC order
Same-day delivery
Customized business minutes
Cons
Some services are limited
Sign Up To MyCompanyWorks
3 - IncFile
(Best Essentials)
The price offered by IncFile is around the bottom end of online registered agent pricing.
IncFile offers a cost-effective solution for business formation, particularly LLCs, with services starting at $0 plus state fees.  Their services extend beyond LLC filing to include annual reports, compliance reminders, and a suite of tools for business growth.
IncFile's platform is designed to simplify the start-up process, offering fast filing speeds and a user-friendly dashboard to manage business essentials.
IncFile also offers free tools and services for entrepreneurs, including a DIY mail curriculum, a limited company assessment, a how-to-start business guide, and a firm running checklist.
Service Features:
Top Registered Agent Services ($119)

: Free mail forwarding, 24/7 customer support, easy-to-use online Registered Agent Dashboard, and compliance alerts.

LLC Formation (starts at $45): Provides three different levels of LLC creation plans, with the first year of the basic plan being free. The state filing fees still apply.
Pros
Access to a trustworthy and valuable online dashboard
With LLC creation packages, you receive a full year of free registered agent services
Processing orders without hassle
Cons
Customer assistance choices are restricted
Complicated website
Sign Up To IncFile
4 - ZenBusiness
(Best Premium)
When it comes to registered agent services, ZenBusiness offers a free option for the first year and they charge $199 each year after that.
I wanted to ensure that my business was always compliant, so I opted for ZenBusiness's Worry-Free Compliance Guarantee. This guarantee sent me reminders about significant paperwork, such as my company's annual report and filings.
Additionally, this service will cover expenditures if documentation is mismanaged and will assist you in regaining your business's credibility if that happens.
Service Features:
Registered Agent Service Worry-Free Compliance Package ($199 per year)

: Here, you get your own registered agent for this price every year. The service then renews annually for the same amount.

LLC Starter Formation ($0 + State Fees):

Includes great customer support and specific company filing tools and services. The LLC formation service package ensures a standard filing speed, a 100% accuracy guarantee, and the flexibility to opt for worry-free compliance for the first year, which can be renewed at $199/year. Furthermore, the package includes a 1-month free Website Builder, Banking, Bank Account, and Money Pro Bookkeeping trial for comprehensive financial management.

Pro Plan ($199 + State Fees): Has everything from the starter bundle plus an operating agreement, banking resolution, and EIN acquisition. The package also has a rush filing speed, ensuring your business filings are processed swiftly within 1-2 business days on average. 
Premium Plan ($349 + State Fees):

Offers all Pro plan services, business document templates, and extra business website services like domain name and hosting.
Pros
60-day policy refund
Very competitive pricing plans
Top-rated customer feedback
Cons
Not a popular brand
No registered agent service in any of the LLC packages
Sign Up To ZenBusiness
5 - Harbor Compliance
Would you recommend Harbor Compliance?
Harbor Compliance, as my registered agent, seamlessly assisted me in establishing an LLC, forwarding my mail, and ensuring I had a representative accessible during regular business hours.
The company specializes in streamlining multi-state compliance, offering both expert services and advanced software to manage entity formation, business licensing, and tax registration. Their solutions are designed to save time, reduce risk, and enable growth, with a focus on making compliance accessible.
This registered agent also maintains a comprehensive database of nationwide requirements, positioning itself as a valuable resource for businesses expanding or maintaining their presence across states
Because they provide excellent services at reasonable costs, Harbor Compliance is a perfect choice if you require a registered agent firm that offers full service and is reasonably priced.
Service Features:
Registered Agent Service ($99):

As your registered agent, they receive essential documents on your behalf and offer free digital mail forwarding, same-day electronic filing, and exceptional data security.

Annual Reports ($100

): In this plan, they file your annual reports on time and offer software for alerts and tracking progress.
Pros
Efficient filing software
Bulk discounts available
Same day delivery
Digital mail forwarding
Sign Up To Harbor Compliance
6 - Swyft Filings
Would you recommend Swyft Filings?
The Swyft Filings offers an affordable registered agent service for all businesses.
Their registered agents are available full-time during business hours to receive legal notices and documents for your business.
During my trial, I signed up for their $99 registered agent service and Swyft Filings offered me a free 60-minute tax consultation to help me navigate business and LLC taxation policies.
Their sign-up process is also relatively easy; I only filled out a simple questionnaire, and I was done.
Swyft Filings also notifies you of all incoming mail and upcoming government deadlines for tax filing and annual reports. They can even submit these reports on your behalf with their annual report filing service
Service Features:
Registered Agents Service ($99):

They provide a great customer support team and an online dashboard to access your documents and file all compliance work on time, among other services.
Pros
24/7 online access
Excellent privacy protection
Fast turnaround
Valuable website resources
Sign Up To Swyft Filings
7 - Incorp
Incorp is a good fit for small business owners on a limited budget.
When I was a novice in the business world, InCorp's customer service team was my guiding light. Their thoroughness and friendliness made the challenging process of LLC creation seem manageable.
If you want to save more, I recommend prepaying for 5 years to get a registered agent for only $66 each year afterward.
This LLC creation service takes the necessary precautions to safeguard its clients and restrict unauthorized third-party access.
Service Features
Registered Agent Service ($129):

InCorp will receive any court orders and legal notices and ensure they securely and discreetly reach you.
Pros
Strict data policy
Unbeatable multi-year discounts
Hundreds of positive reviews
Cons
Delayed compliance filing
No complimentary registered agent service
Sign Up To Incorp
8 - Rocket Lawyer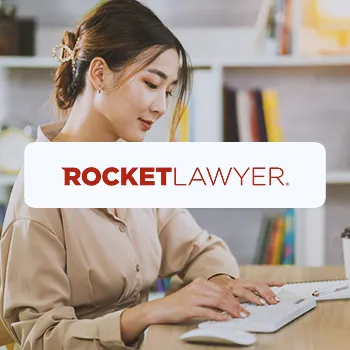 Rocket Lawyer offers various legal services for business and personal needs.
I recall being hesitant about some legal aspects of my business, but Rocket Lawyer's business bundle package provided outstanding legal assistance. Their knowledgeable customer support was always there to answer my queries.
If you're unsure about the firm, they provide a 7-day free trial during which you may benefit from premium member features, including free legal services and various template documents.
Service Features:
Best Registered Agent Services ($149.99):

Includes legal services like free annual report and compliance reminders, submission of the Certificate of Formation, and online storage for legal documents.

LLC Filing Service ($39.99):

This applies to new members who can incorporate their LLC for free.
Pros
Professional legal services
Free LLC Formation services
Free 7-day trial
Cons
Requires bank details
Automatic charges to your card
Sign Up To Rocket Lawyer
9 - LegalZoom
LegalZoom offers an unbiased team of attorneys to support you since they firmly think that every business deserves complete legal protection.
During my trial, the registered agent received my legal papers and promptly sent them to the SOS on my behalf.
They provide you the peace of mind that during regular business hours, there will always be someone on hand to accept delivery of any critical notices and papers.
Another encouraging development I liked is that you may split most LLC orders into three equal monthly payments based on the total value.
Service Features:
Registered Agent ($299):

This is the flat rate for LegalZoom to be your registered agent and act as the primary contact point with the state.
Pros
Well-known service brand
Tax consultants offer
Provides annual business evaluations
Cons
Some services are available for subscribers only
Limited customer service
Sign Up To LegalZoom
How We Tested The Cheapest Registered Agent Services
We evaluated over a dozen registered agent services through anonymous interactions and expert consultations. Our analysis covered pricing, customer support, turnaround time, service features, confidentiality, ease of use, transition processes, and third-party reviews.
We rated each service on responsiveness, technological capabilities, and user experience, integrating customer scores and reputational factors to recommend the cheapest providers for your business.
1. Turnaround
The speed at which a registered agent service processes and relays documents is critical for maintaining legal compliance and timely operations.
In terms of filing and delivery, MyCompanyWorks, which offers same-day paper submission, stands out for its efficiency.
Services with slower processing times like ZenBusiness and LegalZoom lag behind.
2. Service Features
The range of features offered by a registered agent service can greatly enhance the value of a business, providing tools for compliance, document management, and additional legal services.
From our thorough key features analysis, IncFile and ZenBusiness offer features such as online dashboards, compliance alerts, and additional services like mail forwarding and annual report filings.
In contrast, LegalZoom does not fare as well because despite its higher pricing it is lacking in comprehensive features and has limited services in its basic packages.
3. Price
For new businesses or those with limited funds, the cost of a registered agent service can be a significant factor. Affordable services enable businesses to comply with legal requirements without overstretching their budgets.
Based on our evaluation, MyCompanyWorks offers a competitive price of $59 annually for basic package services, while IncFile provides a free first year with its LLC formation package.
In contrast, LegalZoom's $299 fee is comparatively higher, which may not be as attractive for cost-sensitive businesses.
See also: How much does a registered agent cost
4. Customer Support
Reliable customer support is essential for addressing urgent queries and ensuring that businesses can navigate legal complexities with ease.
After analyzing the communication channels offered by different companies we found MyCompanyWorks and ZenBusiness to have multiple channels for communication, including phone, email, and chat. The responsiveness and availability of ZenBusiness were topnotch with immediate and professional assistance.
However, Harbor Compliance lacks in this area as they took over 3 hours to respond to our live chat queries.
5. Third-Party Reviews
Third-party reviews provide insight into customer satisfaction and service reliability, which are crucial for trust and credibility.
We based our third-party review analysis on platforms like TrustPilot that offer a wealth of user feedback.
Based on this, ZenBusiness and InFile received high ratings on these platforms mostly because of their free LLC formation plan and prompt customer service.
LegalZoom and InCorp on the other hand, received average ratings due to high pricing and delayed filing respectively.
6. Confidentiality
Protecting sensitive business information is paramount to prevent misuse or unauthorized access.
Based on our evaluation, Northwest Registered Agent shines in this area because of its Privacy by Default feature that safeguards client data.
We also like InCorp because it has a strict data privacy policy that restricts third-party access.
7. Ease of Use
A straightforward and easy-to-navigate online platform is vital for a seamless user experience.
From our review of platform usability, services with user-friendly online platforms, such as ZenBusiness, are likely to provide a better customer experience.
In contrast, companies with complicated or outdated interfaces like IncFile and LegalZoom did not meet this criterion as effectively.
8. Transition Process
A seamless switch to a new registered agent service is crucial to avoid any gaps in legal coverage.
Based on transition excellence, we found ZenBusiness and Northwest to be the most helpful as they facilitate an easy transition process, providing clear instructions and support.
We would rate InCorp's transition process a 4.2/5 as it was relatively complex and the instructions were unclear.
How Much Do Registered Agent Service Providers Cost?
Registered agent service providers cost between $99 to $299 for an LLC in the US. This fee varies depending on the pricing of the company you hire and the state in which your LLC is located.
However, it is completely free if you act as your own registered agent service for your LLC or designate a trusted friend of family member.
Requirements For A Registered Agent
The requirements for a registered agent can vary by state, but generally, they include the following:
Availability: The registered agent must be available at a physical office location (not a P.O. Box) during normal business hours to receive legal documents.
Physical Address: They must have a physical address (known as the registered office) in the state where the business is incorporated. This is where documents can be legally served.
Compliance Management: They are responsible for receiving and forwarding legal and tax documents to the business entity in a timely manner.
State Resident or Authorized Business: The agent must either be a resident of the state where the business is registered or a company authorized to do business in that state.
Listed on Formation Documents: The name and address of the registered agent must be included in the business entity's formation documents filed with the state, such as Articles of Incorporation or Articles of Organization.
Notification Services: Many registered agents also provide additional services such as notifying the business entity of upcoming filing deadlines, such as annual reports or renewals.
Confidentiality and Discretion: While not a legal requirement, confidentiality is an important aspect of the services provided by a registered agent. They should handle sensitive documents with discretion.
Legal Standing: The agent must be in good standing with the state, without any record of non-compliance.
FAQs
What Does A Registered Agent Do?
A registered agent receives and handles court documents on behalf of your LLC. This includes delivery of legal documents to your company address, such as service of process or notifications from regulatory bodies [3].
Do All Businesses Need A Registered Agent?
Yes, all businesses need a registered agent to handle compliance filing with the state and ensure your business is in good standing and credible.
Our Verdict
After spending countless hours researching registered agent services, I've got to say, that MyCompanyWorks truly stood out to me.
I personally tried their registered agent and it didn't disappoint. For just $99 for the first year, I received faster filing, easy online updating, and statutory compliance for my LLC.
During my trial, the company also offered prompt customer service and immediate notification and delivery of Service of Process and other legal forms.
If you're anything like me and love a good deal without skimping on service, I'd wholeheartedly recommend giving this registered agent a shot.
Our #1 Recommendation
Northwest Registered Agent (Best Value for Money)
Pros
Protection of privacy
Excellent customer support service
20 years of expertise
Get the BEST PRICE until the end of November
Cons
On the upper spectrum of price
No free plans