One of the many decisions Hawaii business owners must make when starting a company in the Aloha State is selecting a registered agent.
Hawaii registered agents must stay on top of things for your business to remain compliant with the state regulations, whether you take on this role yourself or delegate it to another person or business entity.
If you are planning to delegate this role to a business entity, we identified three of the most professional registered agent services in the state of Hawaii that can surely provide the best services you need for your Hawaii LLC.
Editor's Choice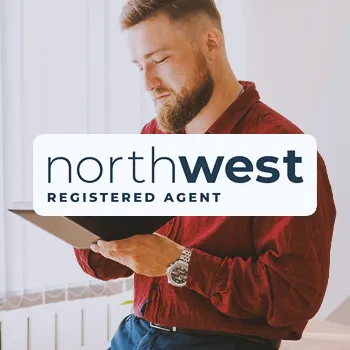 Northwest
Click For Best Price
#2nd Best Choice
ZenBusiness
Click For Best Price
#3rd Best Choice
Harbor Compliance
Click For Best Price
Top 3 Registered Agents in Hawaii (September 2022)
1 - Northwest Registered Agent Service (Editor's Choice)
The best registered agent in Hawaii is Northwest Registered Agent which provides everything your company needs. They mastered the fundamentals of serving as a registered agent service based in Hawaii.
As one of the best Hawaii registered agent services, Northwest provides a street address in Hawaii that will accept delivery of papers such as complaints, summonses, and/or subpoenas, legal documents, and correspondence from the Secretary of State for an LLC.
Service Features:
HI Basic Package: The basic package starts at $125 per year, which includes registered agent services, Privacy by Default®, Local Corporate Guides®, free mail forwarding/scanning, and same-day local document scanning.
HI LLC Formation: Business formation package at $39 (filing fee excluded) with one year of free registered agent services ($125 per year will start in your second year).
Guaranteed Discount: $100 discount per year per business if Northwest's Hawaii registered agent services are used in more than ten states or if you hire them as your registered agent for more than ten businesses.
Pros
Privacy by Default is guaranteed
Personalized customer support
Same-day scans and instant notifications
Free one-year HI registered agent's service with the LLC formation package
Cons
It is much more expensive than other competitors
2 - ZenBusiness Registered Agent Service
The registered agent industry is relatively new to ZenBusiness.
They are a well-known LLC formation business that started providing registered agent services exclusively to their customers who had formed businesses with them.
ZenBusiness is a fantastic registered agent service that offers many features at a reasonable cost.
Service Features:
HI Registered Agent Service: The basic package starts at $99 (LLC formation excluded).
HI LLC Formation: Their professional registered agent service is included in every limited liability company (LLC) formation package for one free year, after which it is $119 per year.
Complete Coverage Upgrade: Adds a guarantee of "worry-free compliance," which includes annual filing report notifications, two free filing changes per year, etc.
Pros
Outstanding customer feedback
The most affordable LLC service with no hidden sharges
One-year free registered agent package inclusion
Cons
Ineffective two-tiered pricing system
3 - Harbor Compliance Registered Agent Service
Harbor Compliance is an excellent choice for registered agent services if your wallet dictates your choices.
Compared to competitors, its nationwide registered agent service provides a range of features at a lower cost to help you stay compliant with Hawaii's state rules and regulations and give you peace of mind.
Service Features:
HI Registered Agent Service: The annual rate is $99, which includes access to online software, same-day document delivery, customizable notifications, expert support, etc.
Multiple Years Discount: When you pay multiple years in advance for a registered agent, you can save an additional 5–10%.
Pros
Most affordable registered agent services
Excellent customer service support
Flat Rate with no hidden fees
Cons
Since Harbor Compliance is a relatively new service in the industry, it doesn't have the same level of brand recognition as other, more established services
What Are the Benefits of Working with a Registered Agent Service in Hawaii?
A registered agent serves as the primary point of contact for your company with the state of Hawaii by receiving and delivering official correspondence.
While acting as your own registered agent is an option, there are several benefits of working with a registered agent service in Hawaii:
1. It Helps You Stay Compliant
Your registered agent service will assist your company in adhering to state regulations. They will also make sure to keep you updated on all the transactions and processes that are being done for your company to remain compliant at all times.
2. Gives You Peace of Mind
With your own registered agent in Hawaii, you can dedicate all your time, effort, and attention to expanding your company. They will make sure that everything is taken care of during normal business hours.
3. Provides Flexibility
Employing a registered agent can give you and your company more flexibility, which is one of its main benefits.
Since registered agents are required by law to be open during regular business hours, you can choose your business hours with them rather than having to be available between 8 a.m. and 5 p.m. on weekdays just to accept the service process.
4. Ensures Privacy
Your registered agent's service address—not your home or business address—will be listed in the public record.
You can keep your contact information private in this way, and you won't get notices about the service process at your home address.
How Much Does a Registered Agent Service Cost in Hawaii?
In Hawaii, hiring a registered agent service typically costs between $50 and $300 per year. When you think about how much time, money, and stress this will save you in the long run, the cost is negligible and well worth it.
What Are the Requirements for a Registered Agent in HI?
All Hawaii's registered agents must comply with the following, as per Hawaii Statute 425-19:
Must be a Hawaii resident or a domestic or foreign company with a Hawaii business registration.
Must keep a physical street address in Hawaii (also known as a registered office).
At least 18 years old.
FAQs
Why Do I Need A Hawaii Registered Agent?
You need a Hawaii registered agent because all businesses registered in Hawaii are required by law to designate a registered agent. The Hawaii Department of Commerce and Consumer Affairs - Business Registration Division will reject your business filing if you don't designate a registered agent.
In essence, the requirement for a registered agent ensures that the state of Hawaii and the general public have a dependable way to serve or contact your company.
Can I Change My Hawaii Registered Agent?
Yes, you can change your Hawaii registered agent. To name a new registered agent for your business, you must submit a filing with the Hawaii Business Registration Division (BREG).
Changing your agent is typically as simple as filling out a simple form. A filing fee of $25 applies when changing your Hawaii registered agent.
Conclusion
Our research has shown that Northwest registered agent is the best pick for your company. They are very reliable and confidential, and you can feel at ease knowing that any legal documents that pass through their hands will be handled properly.
Northwest is the best Hawaii-registered agent because its customer service is formed by former lawyers and business owners and is customer oriented. The basic package will cover all the agent services your business needs to have a good standing with the state.
Failure to maintain a commercial registered agent service can be detrimental to your company. In some instances, the state can dissolve a business in Hawaii for letting its registered agent services lapse.
Our #1 Recommendation
Northwest Registered Agent Service
Click For Best Price
Pros
Privacy by Default is guaranteed
Personalized customer support
Same-day scans and instant notifications
Free one-year HI registered agent's service with the LLC formation package
Get the BEST PRICE until the end of September
Cons
It is much more expensive than other competitors