There's no need to do the tedious work of being your own Florida registered agent. Get help from these top-rated companies for your business.
We spent hours researching and consulting our team of attorneys and legal advisors to provide you with this comprehensive guide to industry-leading service agents.
You will learn about their service features, the pros and cons of each provider, and pricing packages as we share our experience with each service, allowing you to make an informed decision for your business.
Editor's Choice
Northwest
Click To Signup
#2nd Best Choice
ZenBusiness
Click To Signup
#3rd Best Choice
IncFile
Click To Signup
Top 10 Registered Agents in Florida (January 2023)
1 - Northwest Registered Agent (Editor's Choice)
Northwest Registered Agent is a family-owned business established in 1998. It has emerged as one of the leading LLC formation and registered agent firms in the United States.
Its exceptional customer service is the key to its success. In addition to client service, the organization offers an effective privacy protection strategy.
We were very satisfied with the customer service and privacy, which is exactly why Northwest is our number one recommendation.
They have everything you need in a professional Florida registered agent service, from providing the required Florida business address to scanning and forwarding every document received on your behalf and notifying you of compliance deadlines.
Service Features:
Registered Agent Services (starts at $39): Charges a first-year fee of $39 that renews at $125 annually.
Florida LLC Formation (starts at $125): Includes Florida registered agent services, Privacy by Default®, Local Corporate Guides®, free mail forwarding/scanning, and same-day local document scanning.
Pros
Offers excellent security and confidentiality policy
They provide personalized and responsive service for customers
Two decades business longevity
Significantly discounted first-year fee
As part of their formation package, they provide a free one-year registered agent service
Cons
Not the cheapest choice for services
Click To Signup
2 - ZenBusiness
If you want to pay one of the lowest agent fees without the LLC formation, look no further than ZenBusiness.
ZenBusiness is well-known for its low prices, transparency, user-friendly interface, and dedication to its customers. They have an impressive 4.7/5 average rating across 4,500+ online customer reviews.
Once we joined ZenBusiness, we had access to tools not normally offered in the programs of other LLC providers. Our full registered agent service was supplemented by the opportunity to upgrade for an added cost.
There's an invoice management tool, an operating agreement template, and lots of promises to assist you with things other than forming an LLC.
The higher-tier plan provides business-starting services such as Employer Identification Number (EIN) service, website name and hosting, and expedited filing customer support.
Service Features:
Registered Agent Services Basic Package (starts at $99): The price is $99 without LLC formation. You get individualized customer support and intuitive software.
Registered Agent Service Worry-Free Compliance Package ($50 per state): Includes alerts for annual report filing, legal documents filing, two free filing modifications, and fee coverage for any costs incurred if you become non-compliant with state requirements.
Florida LLC Formation (starts at $39): Includes a registered agent service and a complimentary operating agreement template.
Pros
Affordable and easy pricing scheme
Long-term chat customer support is guaranteed
Consumer feedback is positive
60-day money-back satisfaction guarantee
Click To Signup
3 - IncFile
IncFile offers free LLC formation services, with one free year of registered agent service.
If you are seeking business formation services in addition to the registered agent, Incfile may save you money by including a complete year of registered agent service with just about any formation package.
Most startup business owners benefit from them as they provide the best possible head start, especially with initial cost-saving advantages, as many of our clients who had experience with ZenBusiness confirmed.
They are concerned about cyber security. Norton Web Security protects its website by continually scanning for viruses and other weaknesses while encrypting data communications.
They're also an Authorize.net verified merchant, safeguarding client information and preventing fraud.
IncFile's service quality is supported by over 13,500 positive online reviews, with only a few negative ones. On Shopper Approved, for instance, they have a 4.8 average rating out of 5, with approximately 1,900 reviews.
Service Features:
Registered Agent Services ($119/year): When you get their business formation service, a free registered agent service is included.
Florida LLC Formation ($100): This package is free of charge, but you pay the initial $100 filing fee to the Florida Secretary of State that covers the first year.
Pros
They give a user-friendly and easy web dashboard
Every formation package offers a complimentary registered agent service
Extreme online security
Quick order fulfillment
Cons
Has a limited variety of coverage options
Click To Signup
4 - Rocket Lawyer
Rocket Lawyer has you covered if you're in for powerful estate planning software.
They are also home to more than just legal advice; businesses can access essential services like LLC creation and registered agent representation.
Rocket Lawyer is the optimal choice for Florida business owners seeking long-term legal advantages.
A proven track record of helping 80,000 businesses and their reputation for providing high-quality guidance have made them one of the top picks in the industry.
Choosing Rocket Lawyer as your registered agent in Florida will guarantee your complete satisfaction.
Service Features:
Registered Agent Services ($149.99):  An annual fee for non-members. It also includes storing legal papers in an online document repository and submitting the Florida Certificate of Formation.
Business Bundle Plan (starts at $0): Includes free agent services for the first year.
Pros
Pricing is subscription-based
Supplies legal documents
Delivers expert legal support
Cons
Service features are limited
Free trial requires a credit card
Click To Signup
5 - LegalZoom
LegalZoom works similarly to Rocket Lawyer - they have everything you need in a legal service company.
The only difference is that LegalZoom has already made a name for itself in the industry, so you can expect their service fees to be much higher than those of Rocket Lawyer or any other service company on the list.
Besides their all-in-one legal service features, another great thing about LegalZoom is that their registered agent service is so first-rate that it includes a compliance calendar, unlimited cloud storage, and company data security.
They also allow you to upgrade the basic package to premium, which adds $1 million worth of identity theft protection.
Service Features:
Registered Agent Services ($299): includes essential features such as business data protection, unlimited cloud storage, and a compliance calendar. There is an upgraded option providing up to $1 million worth of identity theft protection. Billed annually.
Florida LLC Formation (starts at $79 + state fee):
Pros
Has high customer volume
Features a wide range of legal services
Solid brand recognition
Cons
Customer reviews show inferior satisfaction
Expensive
Click To Signup
6 - Incorp
Incorp has been in operation since 1998 and is the most experienced provider of Florida registered agent services, with over 250,000 clients.
The EntityWatch feature is a one-of-a-kind advantage. This management system enables you to track your compliance status, maintain a calendar of crucial compliance dates, save corporate papers, and much more.
The best part is that they will match any competitor's agent service price and provide exceptional discounts on multi-year and multistate registered agent services.
Service Features:
Registered Agent Services (starts at $129):

InCorp is well recognized for its affordable price, which starts at $129 a year and can be reduced to as low as $87 by paying in advance for additional years of service.

Florida LLC Formation-basic (starts at $99):

InCorp prices start at $99 plus applicable state fees ($155). Clients can file online utilizing InCorp's secure order system, or they can employ their professional and skilled personnel to assist them with the establishment of their LLC.
Pros
Can Acces their system app through IOS devices
Price match guarantee
EntityWatch program
Cons
Low customer reviews online
Expensive
Click To Signup
7 - Swyft Filings
Florida LLC owners who are busy enough operating their businesses count on Swyft Filings for managing and submitting legal documents with the Florida Department of State.
Swyft Filings offers round-the-clock online access to essential mail and notifications for due dates and deadlines. These features make it one of the most reliable Florida-registered agents you can get.
They provide everything you need to help you maintain a clean business record with the state.
In its brief time in the Florida registered agent services industry, Swyft Filings has made a significant impact, with over 4,000 customers providing an impressive overall rating of 4.7 out of 5 on Trustpilot.
Service Features:
Registered Agent Services (starts at $149):
Florida LLC Formation: Three comprehensive packages are available, each with various options providing complete customization and a range of affordable add-on services.
Pros
Offers a money-back satisfaction guarantee
LLC formation option is affordable
Customer support is oustanding
Cons
They don't provide documents specific to individual states
Their processing turnaround time is state dependent
Click To Signup
8 - Harbor Compliance
With Harbor Compliance, you can access a comprehensive service for an entire year with one payment. Additionally, multi-year subscriptions come at discounted rates.
Their nationwide registered agent service delivers exceptional security and efficiency for multi-state LLCs.
Harbor Compliance is one of the best Florida registered agents, with excellent service quality and an A+  Better Business Bureau rating speaks to their commitment to quality.
Their service features are excellent and extremely useful for Florida's entrepreneurs and SMB owners.
Service Features:
Registered Agent Services ($99): Annual fee, which includes document scanning, same-day electronic document delivery, customizable alerts, and more. Discount offered for bulk orders.
Florida LLC Formation (starts at $399 + state fees): One free year of registered agent service included.
Pros
Delivers documents electronically, same-day
Specialized services
Formation package includes free registered agent service
Cons
Services are pricey
Customer service is average
Click To Signup
9 - Inc Authority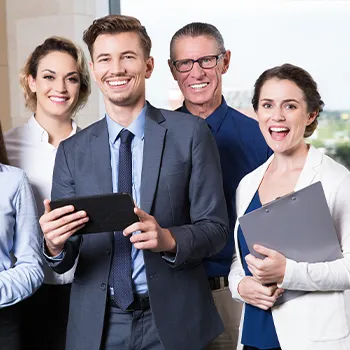 You should use Inc Authority if you plan to form an LLC at the same time you want to hire Florida registered agents to manage the paperwork on your behalf.
Inc Authority provides a free LLC formation service in Florida, along with a full year of agent services. Now, all you have to pay is the state fee.
Service Features:
Registered Agent Services (starts at $0): Free registered agent service included with LLC formation packages. Then, renews annually at $99.
Florida LLC Formation (starts at $399): Most basic package offers free LLC formation. Upgraded formation packages are available, with prices ranging from $399 to $799.
Pros
Excellent customer feedback
No hidden fees
30+ years track record
Cons
No physical Florida business address
Expensive non-basic bundles
Click To Signup
10 - Florida Registered Agent LLC
For more than a century, Florida has served as a forerunner in openness in the United States.
They began the "Public Records Law" in 1909 and clarified it in 1967 with particular respect to mandatory reporting through the "Government in the Sunshine Law," also known as simply "The Sunshine Law."
It's Chapter 286 of the Florida Statutes, but somehow it key points that ANY documentation filed or documented with a federal agency in Florida is made indefinitely available.
You may utilize our Florida registered office while keeping your residential address confidential for $49 per year.
Service Features:
Registered Agent Service ($49/year):

They enable their clients to utilize their Florida company address for membership, administrators, officers, and directors, as well as the registration cover letter and financial statement filings, so as to keep their data off the Florida Division of Corporations public records.

Incorporation Service (starts at $35):

For Florida LLCs and corporations, the incorporation service charge is simply $35 plus statutory charges, and if you engage Sunshine Corporate Filings LLC® to establish your Florida firm, they would also serve as your Florida registered agents for an extra $35 each year. This gives your Florida company several of the benefits of their Florida registered agent service outlined above, plus they'll fill up, sign, and file your paperwork for you.
Pros
They own the property and never intend to leave or relocate
They enable you to include their Florida business address on your corporation filings for all of your addresses
They can offer your company free phone service in Florida for the initial 2 months
Cons
Doesn't offer any discounts
Mediocre customer support service
What Are the Benefits of Working With a Registered Agent in Florida?
If you've ever attempted to go it alone when it comes to completing one of the numerous legal processes necessary to establish a business entity, you know how difficult it can be to ensure you've completed each and every duty — especially as states differ on the basis of business licenses, rules, and documents [1].
This demands attention to every detail and consumes a large quantity of your time (and can take a long time for the state to approve your documents).
So, there are many advantages to working with a registered agent in Florida, including convenience, cost savings, privacy preservation, and more.
Many businesses that market limited liability company (LLC) filing and agent services provide a variety of premium plans with improvements such as employer identification number (EIN) filing and operating agreements.
1. Convenient for the LLC and LLC Owner
With a professional register agent in Florida, businesses can access an online account to securely store all necessary company files and documents, saving time while having peace of mind that critical paperwork is being taken care of.
In addition, LLC owners who do not act as their own Florida registered agents can be away from home even during regular business hours since the service of process will be received at the registered office address in Florida provided by the professional registered agent.
2. Allows LLC Owners to Save Money in the Long Run
Late reports are subject to hefty penalties in Florida because of the state's strict enforcement of deadlines.
Therefore, having another party, such as a professional registered agent, focused on tracking and maintaining compliance by paying applicable state fees and submitting legal documents helps your LLC avoid incurring additional costs due to being late.
3. Helps Maintain Privacy
LLCs must provide their registered agent's business address as this is where mail is frequently received and reviewed. Such information will be listed on Florida's public record [2].
Without a third-party registered agent, you risk exposing your personal address and having all papers, including legal notices, delivered to your home or office in front of employees or customers.
4. Supports Your LLC's Growth
Suppose you intend to form LLCs outside of Florida. In that case, your registered agent can help you with your Florida business expansion by providing additional legal services that assist owners in starting and running their foreign LLCs or multi-state LLCs and maintaining a good, clean record in the Department of State.
How Much Does a Florida Registered Agent Cost?
In Florida, the cost of hiring a registered agent could range anywhere from $50 to $300 per year. Considering how much time and energy it will save you, it definitely is a small price to pay.
For businesses operating in Florida, hiring a registered agent offers tremendous convenience at an affordable cost, typically between $50 and $300 per year. This small investment pays off in significant returns for peace-of-mind and operational efficiency.
These services not only help file the paperwork to create an LLC, but they can also keep track of annual reports, due dates and renewals, as well as provide additional legal support.
Who Can Be a Registered Agent?
Florida businesses have the option to appoint a registered agent over the age of 18 with a physical address in-state. This individual must be available during regular business hours for services such as forwarding legal documents and notifications on behalf of their assigned LLCs.
Select from these four options when appointing a registered agent to represent your Florida LLC:
Option 1: Be your own LLC's Registered Agent in Florida.
Option 2: Appoint your LLC as its Registered Agent in Florida.
Option 3: Designate a trusted friend or family member as your Registered Agent.
Option 4: Hire a Registered Agent Company in Florida.
FAQs
Do I Need a Florida Registered Agent for My LLC?
Yes, you need a registered agent in Florida for your LLC, or the Secretary of State will reject the formation filling.
What Does a Florida Registered Agent Service Do?
A Florida registered agent service acts as the point of contact for your business. This means your own registered agent is responsible for receiving service of process, like legal notice of a lawsuit and legal documents from the Secretary of State on behalf of your LLC.
Can I Act as My Own Florida Registered Agent?
Yes, you can act as your Florida registered agent and be in charge of receiving all official documents on the company's behalf.
How Do I Choose a Good Florida Registered Agent?
To choose a good Florida registered agent, you must do your research. Ensure the registered agents offer professional registered agent service, value for money, and a seamless user experience.
And the Best Registered Agent in Florida is...
Starting a limited liability company in Florida is one of the best decisions you'll ever make, but one that will require time and effort.
As a result, it is critical to get everything right, from hiring your registered agent in Florida to completing and filing your Certificate of Formation on time.
So, if you're looking for premium registered agent service in Florida, we recommend Northwest Registered Agent.
They provide asset protection for startup business owners and opportunities for your Florida business growth, which put them at the top of our list, not to mention the unmatched customer support we experienced.
They are great for startups needing help with LLC formation and registered agent service packages.
Our #1 Recommendation
Northwest Registered Agent
Click To Signup
Pros
Offers excellent security and confidentiality policy
They provide personalized and responsive service for customers
Two decades business longevity
Significantly discounted first-year fee
As part of their formation package, they provide a free one-year registered agent service
Get the BEST PRICE until the end of January
Cons
Not the cheapest choice for services