There are several online LLC formation services available to assist you in forming an LLC in Nevada. However, not all of these Nevada LLC formation services are the same, and not all of them offer excellent service.
Choosing the best LLC service will ensure that your company is properly registered with the Nevada Secretary of State as soon as possible. That's why we went all-out to find the best LLC services in Nevada, so you don't have to waste time deciding what's best for your business.
Editor's Choice
ZenBusiness
Click For Best Price
#2nd Best Choice
Northwest
Click For Best Price
#3rd Best Choice
IncFile
Click For Best Price
6 Best LLC Services in Nevada (November 2022)
1 - ZenBusiness (Editor's Choice)
ZenBusiness has been a platform committed to assisting businessmen in establishing, maintaining, and developing their enterprises since 2015.
The platform is simple to use, and there are several add-on services to create a plan that corresponds to your requirements. ZenBusiness is an excellent choice if you want to create an LLC in a cost-effective and satisfactory manner.
Service Features:
ZenBusiness Starter ($49): Articles of Organization, your own registered agent service, lookup for name availability are limitless, telephone and email customer service, access to vital papers and legal documents for your LLC through an online dashboard, financial advice for free, automated expenditure tracking for free, tax deduction tagged for free, worry-free compliance (includes yearly filing reports notifications and submission, two free filing modifications annually, and documentation filing protection to retain good status if papers are not filed promptly).
ZenBusiness Pro costs ($199): ZenBusiness Pro provides all of the LLC services included in the Starter version and some extra business creation capabilities, such as a special operating agreement and an expedited filing.
Registered Agent Service: Costs $99 on its own; $149 if combined with compliance. This is included in all of the packages.
Pros
A variety of formation packages to choose from
Economical packages
Worry-free compliance
The expeditious and prompt formation process
A multitude of positive customer reviews
Click For Best Price
2 - Northwest Registered Agent
Northwest Registered Agent was created in 1998 in Spokane, Washington, and it's not simply a tagline.
Their principal purpose is to make business formation and registered agent services easier to understand for their consumers.
Their tight focus enables them to give a high level of service to their consumers that most rivals cannot duplicate.
Service Features:
LLC Formation (39 plus state fees): LLC formation service and upkeep, registered agent service, address for business, forwarding of mail, 60 days of free phone service, privacy by design, service corporate guide
Nevada Registered Agent Services: Free registered agent service in the first year, then $125 each year thereafter. This includes ongoing assistance, pre-populated state forms, alerts for annual reports, and document scanning.
Pros
They have 20 years of experience
Exceptional privacy protection
Pricing transparency
A year of free registered agent services
Click For Best Price
3 - IncFile
Since its inception in 2004, IncFile has grown to be one of the most prominent LLC creation websites, establishing over 500,000 firms.
IncFile is a corporation that provides business creation and registered agent services.
They provide a comprehensive range of formation, compliance, and filing services.
IncFile provides a variety of services linked to starting an LLC in Nevada and managing a company. Incfile is a Houston-based business formation service and registered agent firm.
They provide a number of the most cost-effective business creation services currently available.
Service Features:
Silver Incfile ($0): Incfile Silver includes a year's worth of registered agent services, company compliance notifications for life, orders processed the next day, the website for a business, and advice on business taxes.
Incfile Gold ($149): Gold offers all of the services included in the Silver package, as well as a Gold LLC Kit which contains a booklet for professionals, a corporate imprinting seal made from a metal die-cast, a library of contracts, operating contract, banking settlement, and express shipping.
Incfile Platinum ($249): Incfile Platinum provides all of the preceding levels' functions and solutions, as well as a website and domain design, F FedEx 2-3 day shipping for LLC service of formation documentation as well as other documentation; this service provides expedited arrival. This also includes a platinum LLC kit.
Nevada Registered Agent Service: Incfile gives the free registered agent service for a year throughout all their plans. Thereafter, it will then cost $119.
Pros
Cost-effective
1-year free registered agent services
A proven record of 500,000 established businesses
Phone and email support
Click For Best Price
4 - LegalZoom
From its very inception in 1999, LegalZoom has grown its reputation to emerge as the most popular LLC service provider.
Numerous companies will form an LLC for a business, yet LegalZoom is hands-down the most well-known due to its vast number of clients and intensive marketing.
LegalZoom has cheap price options with the flexibility to tack on other solutions.
Service Features:
Economy ($79 + State Fees): Name verification and company registration, articles of organization, customer service for life, and a letter of authorization for financial accounts
Standard ($329 + State Fees):  LegalZoom standard contains all of the features of the economic plan as well as a corporate kit which contains a customized booklet for storing important corporate paperwork, a corporate seal to make your LLC's agreements and papers look more professional, and 20 member certifications for other owners, personalized with your firm's details
Express Gold ($349 + State Fees): Includes everything in the standard package plus shipping and process expedited
Nevada Registered Agent Service: The registered agent charge with LegalZoom is $299, which includes the purchase of your LLC, jurisdiction registration costs, and any other add-ons.
Pros
Simple online portal
Outstanding customer support
VIP processing is included in several LLC plans
Cons
A lot of upsells
Packages are expensive
Click For Best Price
5 - Swyft Filings
Swyft Filings assists firms in forming LLCs, filing crucial paperwork and yearly reports, and staying current on a variety of compliance concerns.
Swyft Filings is a low-cost business creation solution that has some of the firm's shortest network latency.
It is ideal for small enterprises or innovators who need their company to start fast and at a reasonable cost.
Especially considering that they have just been in operation as of 2015, they have received thousands of great evaluations from delighted consumers.
Service Features:
The Basic package ($49):  It comprises all of the fundamentals you'll need to incorporate your firm, such as a verification of the availability of company names, preparing and filing the articles of organization, articles of incorporation filing, half-hour f free company tax discussion, alerts from ComplianceGuard, a domain name that is complimentary, and a standard time for filing.
The Standard package ($149):  It contains everything specified previously in addition to an EIN, operating agreement for a custom LLC, personalized LLC financial resolution, and customized organizational minutes
The Premium option ($299): Contains everything in the Basic and Standard packages, as well as teleconferencing of state paperwork, a personalized online LLC kit, a complimentary company website and hosting, expedited filing, and expedited and monitored delivery with FedEx.
Nevada Registered Agent Services: Begins at $149 annually and continuously revamps yearly. The bundles do not contain this. This features compliance assurance, automatic renewals, and a digital dashboard.
Pros
Reasonable pricing
Customer service that is straightforward and personalized
Installment purchases are permitted
Cons
Upselling excessively
Registered agent service not included in the packages
Click For Best Price
6 - Harbor Compliance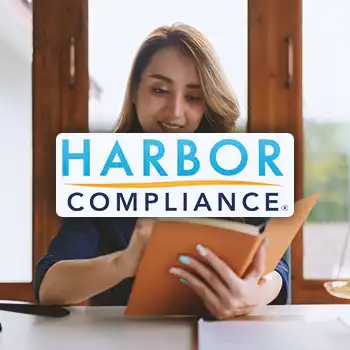 Harbor Compliance, being one of the top LLC formation services in the sector, deals with every major business entity regardless of whether your objective is basic licensing or you want a more devoted support system.
Harbor Compliance, formed by a group of federal regulatory professionals and software experts, is a premier supplier of compliance solutions for all types of businesses.
The company has rapid responsiveness, which makes them an excellent choice if you need to get your company running as quickly as possible.
Service Features:
Formation Package ($399): Operating agreement template, EIN, one year of registered agent service, brand availability, articles of incorporation, and a dedicated compliance expert
Package of Compliance ($799): Management of yearly report service, continuous assistance, name availability, one year of registered agent service in Nevada, tailored compliance specialist, S-Corp or C-Corp tax election, first report, articles of incorporation, operating contract template, EIN, and publication
Nevada Registered Agent Service: Once you establish an LLC with Harbor Compliance, you will receive a complimentary year of Registered Agent services. Following that, it charges you $99 each annually.
Pros
Exceptional support to its customers
Carefree compliance
Processing time of one workday
Cons
Extremely costly
No money-back guarantee
Click For Best Price
Advantages of Creating an LLC in Nevada
Here are the advantages of forming an LLC in Nevada.
1. Less Paperwork and Administrative Hassles
This entails spending far less effort and expense maintaining documentation and filing compliance documentation. The formation and maintenance of an LLC are less complicated and involve less documentation than other business formation services.
An LLC establishes itself by filing articles of formation with and incurring a charge to the appropriate state agency, usually the secretary of state.
2. Flexibility in Ownership
S companies benefit from pass-through taxation, although they are subject to many property limitations.
An LLC can be managed by members, allowing all proprietors to participate in a daily operational choice. This is useful if organizations wish to recruit somebody with greater corporate expertise.
3. The Tax Benefits of a Limited Liability Company
Whenever it concerns taxation, LLCs are the most beneficial. The LLC does not owe government corporate income tax since it is a pass-through business. This implies that individuals can prevent multiple taxes, which does not apply to corporate owners.
4. Personal Liability is Restricted
The legal liabilities of a Nevada LLC normally do not jeopardize the LLC owner's private assets, like their house or private bank account.
Personal assets, including your house and bank account, cannot be utilized to claim on corporate bills since LLCs are accountable for their entire liabilities and responsibilities.
Nevada LLC Formation Process
Before you can establish this business entity, you need to go through the following steps:
Step 1: Create a name for your Nevada LLC.
Step 2: Designate a Registered Agent for Your Nevada Limited Liability Company
Step 3: Submit your Nevada Articles of Organization.
Step 4: Prepare an Operating Agreement for Your Nevada LLC
Step 5: Obtain Your Employer Identification Number (EIN)
Step 6: Submit Your Annual Reports
Qualities to Look For in a Nevada LLC Service
Below, we've listed the indicators of a quality formation service so you know exactly what to pay attention to.
Features Covered
The services provided in the Nevada LLC service packages should meet the entirety of your demands as an entrepreneur. You must obtain all that is required to establish your LLC so you won't have a hard time establishing your business. Make sure to deliberately consider what features they offer to make sure that you will obtain the features that best suit your business formation.
Utilization Efficiency
Good quality LLC services have an easy-to-use online booking method. The production orders and transaction websites should be designed in such a manner that the pricing of every option is clearly visible. Their internet dashboard must be elegantly arranged and be handy for all of your LLC documentation.
Excellent Customer Service
Good Nevada LLC formation services should enable you to communicate with an experienced and professional member of the staff about almost any difficult or easy issue concerning your LLC and receive an appropriate answer in a short period of time.
Reasonable Prices
Neither of the LLC service packages should appear overloaded with extraneous elements. A good LLC service should be able to provide a reasonable price range based on the quality of service they offer without setting up a high price range.
FAQs
Is Nevada a Good State for an LLC?
Yes, Nevada is a good state for an LLC. As a state of incorporation, Nevada provides several advantages, particularly the convenience of incorporation, cheap business taxes, and the absence of state and local taxes. Nevada likewise provides a robust mechanism to protect company directors as well as a good corporation atmosphere.
Do LLCs Pay Taxes in Nevada?
No, LLCs do not pay taxes in Nevada. Nevada is one of only a few jurisdictions that doesn't levy corporate or personal federal taxes. Thus, most LLCs, even those that have decided to be treated as companies, owe no personal income tax.
Do I Have to Renew my LLC Every Year in Nevada?
Yes, you have to renew your LLC every year in Nevada. This allows the LLC to maintain its excellent reputation and continue conducting business in Nevada.
Conclusion
Using a Nevada LLC formation services provider can assist you in saving time and expenses because they are familiar with your legislature's LLC formation requirements.
You will save money by not needing to investigate federal regulations and find the appropriate documentation when you choose a reliable LLC formation service.
You also reduce the possibility of your application getting denied because it is inadequate or poorly handled.
Having gone through the entire formation process with each of the services listed, we've concluded that ZenBusiness ticked all the essential boxes.
With its affordable pricing, a number of packages to choose from, and hands-on and professional staff, you will surely be satisfied with its service.
Our #1 Recommendation
Click For Best Price
Pros
A variety of formation packages to choose from
Economical packages
Worry-free compliance
The expeditious and prompt formation process
A multitude of positive customer reviews