There are lots of LLC formation services online that can help you set up an LLC in Nevada. But not all of them offer the same quality of service, so it's important to do your research.
I understand that finding the optimal LLC service will guarantee that your business is swiftly registered with the Nevada Secretary of State.
As an experienced business consultant with a deep understanding of LLC formation services, I have worked with countless startups to help them navigate the complexities of registering an LLC in Nevada and achieve their growth objectives.
So, if you want to save yourself the hustle of deciding what's right for your business, read along. You will get a deep insight into the 6 best LLC services you can choose from in Nevada.
Editor's Choice
ZenBusiness
Click To Signup
#2nd Best Choice
Northwest
Click To Signup
#3rd Best Choice
IncFile
Click To Signup
6 Best LLC Services in Nevada (March 2023)
1 - ZenBusiness (Editor's Choice)
ZenBusiness has been helping entrepreneurs get their businesses up and running and grow since 2015.
The company makes it easy to use its service, and you can always add extra services to ensure you get exactly what you need.
If you're looking for a cost-effective and satisfying way to set up an LLC, ZenBusiness is a great option.
We decided to test ZenBusiness to set up an LLC for our business. The process was simple and straightforward – we had to fill out a few forms and submit them to ZenBusiness.
We were delighted with the results – the process was quick, and we received all the necessary documents promptly.
Service Features:
ZenBusiness Starter ($0 + $425 State Fee): This Nevada LLC service package includes standard filing speed (2 to 3 weeks), Articles of Organization, lookup for name availability are limitless, phone and email customer assistance, access to important papers and legal documents for your LLC through an online dashboard, financial advice for free, automated expenditure tracking for free, tax deduction tagged for free, worry-free compliance.
ZenBusiness Pro costs ($199 + $425 State Fee): For just $199, you can upgrade to ZenBusiness Pro and get some great additional benefits. Includes Nevada LLC services, a special operating agreement, and a faster-expedited filling speed (4 to 6 days).
ZenBusiness Premium ($299 + $425 State Fee):

Fastest rush filling speed (1-2 days), domain name & email address, and comes with a fully customizable business website.

Registered Agent Service ($199): This comes as a separate buy, and the yearly renewal is $199.
Pros
A variety of formation packages to choose from
Economical packages
Worry-free compliance
The expeditious and prompt formation process
A multitude of positive customer ratings
Sign Up To ZenBusiness
2 - Northwest Registered Agent
Northwest Registered Agent is a company that specializes in providing LLC formation and registered agent services to its customers. Based in Nevada, their core mission is to simplify the process and help customers navigate through the complexities of forming a business.
With a narrow focus on their expertise, Northwest is able to deliver a high level of personalized service that many of their competitors cannot match.
Northwest is an expert in the field and is well-versed in the laws and regulations that govern LLCs in Nevada. We found this incredibly helpful when we used their services to register our LLC.
The customer service provided us with helpful advice and guidance throughout the process. This made the entire experience smooth and stress-free.
Service Features:
Basic Plan ($39 + $425 State Fee): Basic Plan may be used to form corporations and Nevada LLCs, and nonprofits and comes with articles of organization, a year of free registered agent service, an operating agreement, and both standard and expedited processing speeds available.
Full Service LLC Formation Plan ($225 + $425 State Fee): With Full Service, you get free limited mail forwarding, same-business-day filing, an operating agreement, and a client account loaded with free forms and tools in addition to the service features from the Basic Plan.
Northwest Registered Agent Services ($125): If Northwest Registered Agent forms your LLC, the first year's Nevada registered agent service fee is free. You will receive free mail forwarding, expert corporate guides, and privacy.
Pros
Two decades of experience under their belt
Exceptional privacy protection
Pricing transparency
A whole year of registered agent services at no cost
Sign Up To Northwest Registered Agent
3 - IncFile
Since its launch in 2004, IncFile has become a well-known LLC formation site, setting up over 500,000 businesses.
They provide all the necessary steps to ensure your LLC complies with state laws, from filing the required paperwork to obtaining a Nevada business license.
They also offer ongoing compliance and filing services to help you stay up-to-date with the latest regulations when starting an LLC in Nevada.
When we decided to create an LLC in Nevada, we were looking for a cost-effective solution that would provide us with all the necessary services.
IncFile provided us with exactly that; they offer many business creation services at an affordable price.
We quickly set up our LLC with the help of their online platform and friendly customer service team.
Service Features:
Silver Package ($0 + $425 State Fee): For the Silver Package, IncFile will prepare and file the articles of organization. Additionally, you will get a free registered agent service in the first year, email support, and unlimited searches.
Gold Package ($199 + $425 State Fee): In addition to the previous plan, in the Gold Package you get: EIN Business Tax Number, IRS Form 2553, operating agreement, banking resolution, lifetime company alerts, online access dashboard, business banking account, and business tax consultation.
Platinum Package ($299 + $425 State Fee): Additionally to the Gold Package, you will receive business contract templates, a business email & domain name, and free next-day filing.
Registered Agent Services ($119): It is free for the first year if made with an LLC formation package. After that first year, the renewal will be $119 per year for Agent Services. You can access your documents on their online platform.
Pros
Affordable services
1-year free registered agent services
A proven record of 500,000 established businesses
Provide phone and email assistance for inquires
Sign Up To IncFile
4 - LegalZoom
Since its launch in 1999, LegalZoom has established itself as the leading LLC service provider, earning an incredible reputation.
LegalZoom is the go-to choice for many businesses - their enormous customer base and impressive marketing strategies speak for themselves. Plus, they offer great value for money with the option to add on other services.
Having personally used LegalZoom for our own LLC formation needs, we can confidently attest to their efficient and reliable service.
With LegalZoom, you get everything you need, without breaking the bank.
Service Features:
LLC formation Economy Package ($79 + $425 State Fee): LegalZoom Economy Package includes business entity filing, name search, tax savings consultation, complete digital LLC welcome packet, peace of mind review, digital tracker, seven days a week lifetime customer support, entrepreneur's business newsletter, and customizable website powered by Wix.
Standard Package ($329 + $425 State Fee): Includes everything the Economy package includes. However, it comes with the founder's kit with a personalized notebook.
Express Gold Package ($349 + $425 State Fee): It includes everything that Standard packages have plus expedited shipping and the fastest processing speed.
Registered Agent Services ($299): If you use LegalZoom to start your business, the registered agent will cost you $249 for the first year. Following that, renewal would cost $299.
Pros
Simple online portal
Outstanding customer support
VIP processing is included in several LLC plans
Sign Up To LegalZoom
5 - Swyft Filings
Swyft Filings is an excellent LLC service provider for Nevada-based businesses.
They assist firms in forming LLCs, filing crucial paperwork and yearly reports, and staying current on various compliance concerns.
Swyft Filings is an affordable solution to get your business up and running with unbeatable network latency.
Since they launched in 2015, Swyft Filings has earned much praise from delighted customers with thousands of positive reviews.
As legal professionals, we have personally used Swyft Filings to establish an LLC for a Nevada-based client and were extremely impressed with their comprehensive service.
Swyft Filings offers a one-stop-shop solution for forming LLCs and filing crucial paperwork.
Service Features:
The Basic package ($49 + $425 State Fee): Basic package is ideal if you want basic LLC incorporation plus document filing.
The Standard package ($149 + $425 State Fee): Includes everything from Basic Package. You'll also obtain Federal Tax ID (EIN) and most documents needed to start your business (banking resolution, operating agreement, and organizational minutes).
The Premium package ($299 + $425 State Fee): Premium includes all basic and standard services and additional ones, including free domain and business website hosting, the customized digital corporate kit, and the FedEx delivery of your approved articles with a tracking number.
Registered Agent Service ($99 per three months): This will be an ongoing quarterly subscription for the registered agent service.
Pros
Reasonable pricing
Customer service that is straightforward and personalized
Installment purchases are permitted
Cons
Upselling excessively
Registered agent service is not included
Sign Up To Swyft Filings
6 - Harbor Compliance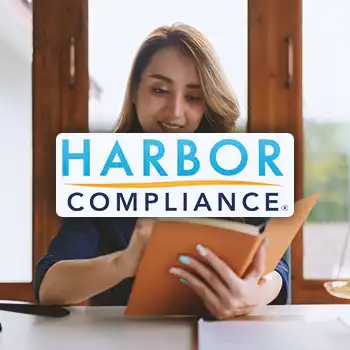 Harbor Compliance is a top-tier LLC formation service offering support for all types of businesses - whether you're just looking for basic licensing or something more comprehensive.
Their experienced team of regulatory professionals and software experts has created a centralized platform to provide businesses with the resources they need to stay compliant.
Based on our own experience, we can confidently recommend Harbor Compliance for its seamless and efficient LLC formation process that is tailored to meet your business needs
Service Features:
Formation Package ($99 + $425 State Fee): The formation package includes checking name availability, and preparing and filing your articles of organization with the state.
Registered Agent Service (89-$99): Annual fees from $89-$99 per state with no additional charges, you get a 5-10 % discount if you pay ahead for your Registered Agent Service for 2+ years. Immediate online access to registered agent address.
Pros
Exceptional support to its customers
Carefree compliance
Processing time of one workday
Cons
Extremely costly
No money-back guarantee
Sign Up To Harbor Compliance
Benefits of Setting up an LLC in Nevada
Setting up an LLC in Nevada can provide you and your business many advantages.
The following are some of the benefits that come with setting up an LLC in Nevada:
1. Less Paperwork and Administrative Hassles
Setting up an LLC in Nevada can save you a lot of time and effort regarding paperwork and administrative hassles. This entails spending far less effort and expense in maintaining documentation and filing compliance.
2. Flexibility in Ownership
Some companies benefit from pass-through taxation, although they are subject to many property limitations.
Members of an LLC can run the business together, giving each proprietor a chance to weigh in on decisions made daily. This is useful if organizations wish to recruit somebody with greater corporate expertise.
3. The Tax Benefits of a Limited Liability Company
Whenever it concerns taxation, LLCs are the most beneficial. The LLC is a pass-through business, so it doesn't need to pay corporate income tax. This means individual owners won't have to pay multiple taxes; bonus corporations don't get [1].
4. Personal Liability is Restricted
A Nevada LLC typically provides protective measures for its owner's personal assets, such as their home and bank account, shielding them from legal liabilities [2].
Nevada LLC Formation Process
To form a Nevada LLC, you'll need to follow a few key steps. Here's a quick overview of the process:
Step 1: Create a name for your Nevada LLC
Step 2: Designate a registered agent for your Nevada Limited Liability Company
Step 3: Submit your Nevada Articles of Organization
Step 4: Prepare an Operating Agreement
Step 5: Get an Employer Identification Number
Qualities to Look For in a Nevada LLC Service
Below, we've listed the indicators of a quality formation service. So you know exactly what to pay attention to.
Features Covered
The services provided in the Nevada LLC service packages should meet most of your needs as an entrepreneur. Features to look for include entity formation, registered agent services, compliance assistance, business tax filing, and ongoing maintenance.
Utilization Efficiency
This means they can efficiently provide you with the needed services without any delays or unnecessary steps. A good Nevada LLC service should be able to handle all of the paperwork and document filing associated with setting up and managing your LLC, as well as provide guidance and support throughout the process.
Excellent Customer Service
Good Nevada LLC formation services enable you to communicate with an experienced and professional staff about any problematic or easy issue concerning your LLC. You should also receive an appropriate answer in a short period of time. Furthermore, look for a company that offers additional resources, such as educational materials and tutorials, to help you better understand the process of forming an LLC in Nevada.
Reasonable Prices
Neither of the LLC service packages should appear overloaded with extraneous elements. A good LLC service should be able to provide a reasonable price range based on the quality of service they offer without setting up a high price range.
FAQs
Is Nevada a Good State for an LLC?
Yes, Nevada is a good state for an LLC. As a state of incorporation, Nevada provides several advantages, mainly the convenience of incorporation, cheap business taxes, and the absence of state and local taxes. Nevada likewise provides a robust mechanism to protect company directors as well as a good corporation atmosphere.
Do LLCs Pay Taxes in Nevada?
No, LLCs do not pay taxes in Nevada. Nevada is one of only a few jurisdictions that doesn't levy corporate or personal federal taxes. Most LLCs owe no personal income tax, even those that have decided to be treated as companies.
Do I Have to Renew my LLC Every Year in Nevada?
Yes, you have to renew your LLC every year in Nevada. This allows the LLC to maintain its excellent reputation and continue conducting business in Nevada.
Our Top Choice for LLC Formation in Nevada
A Nevada LLC formation services provider can assist you in saving time and money because they are familiar with your legislature's LLC formation requirements.
Having gone through the entire formation process, ZenBusiness matched all our expectations.
We were also impressed by the low costs associated with the services and the time saved. The online dashboard was quite intuitive and allowed us to keep track of our progress every step of the way.
With its affordable pricing, many packages to choose from, and hands-on and professional staff, you will surely be satisfied with its service.
Our #1 Recommendation
Pros
A variety of formation packages to choose from
Economical packages
Worry-free compliance
The expeditious and prompt formation process
A multitude of positive customer ratings
Get the BEST PRICE until the end of March