10 Best Registered Agent Services in Vermont to Try in 2023
Choosing the right registered agent service is vital for your Vermont business. Finding a Vermont registered agent service may appear simple, but it can take time, unlike what you expected.
Our team comprised of seasoned legal professionals, undertook exhaustive research to identify the leading registered agent services in Vermont.
We delved into local state regulations and requirements and engaged with numerous firms to gather in-depth information about their offerings and pricing structures.
After carefully considering our options, we've produced a list of Vermont's top registered agent services to inform your decision.
Editor's Choice
Rated by more than 1000+ customers
Northwest
User Rating
2000+ Reviews
Click To Signup
79% of visitors chose this
#2nd Best Choice
Rated by more than 2000+ customers
ZenBusiness
User Rating
2000+ Reviews
Click To Signup
#3rd Best Choice
Rated by more than 1000+ customers
IncFile
User Rating
2000+ Reviews
Click To Signup
Top 10 Best Registered Agents in Vermont (December 2023)
1 - Northwest Registered Agent
(Best Overall)
Would you recommend Northwest Registered Agent (Best Overall)?
Northwest Registered Agent tops our list for its outstanding customer service and transparent, fixed pricing, ensuring budget consistency.
This ensures budget consistency for your business, making it a reliable and predictable partner in your corporate journey.
Setting up and operating your firm becomes a breeze with Northwest Registered Agent's straightforward formation packages. Their upfront pricing eliminates any surprises, allowing you to plan your expenses accurately.
Our personal experience with Northwest Registered Agent was highly satisfactory. The online interface is designed for ease of use, featuring straightforward navigation and intuitive commands.
This user-friendly approach significantly simplifies the process of managing your business's legal requirements.
We also appreciated their exceptional customer service, which guided us through each step of the incorporation process.
The packages offered by Northwest Registered Agent are not just about fulfilling legal requirements; they provide real value for your money.
Service Features:
Registered Agent Services ($125): Provides a physical address in your area, availability throughout regular business hours, and service of process acceptance. Plus, you can get the bonus of free emailing, lifetime customer support, pre-filled state forms, annual report alerts, same-day local scans, and online services.
Basic Package ($39 + $125 State Fee): If you engage Northwest to incorporate your LLC, the Basic Package includes organizational documents as the primary focus. On top of that, you will get a year of free registered agent service, if you opt for Northwest to form your LLC. The operational agreement and both normal and expedited processing speeds are also part of this plan.
Full Service LLC Formation Package ($225 + $125 State Fee): Formation Package includes same business day filing to make processes fast. Next to this feature operating agreement is included as well as a specially designed client account with free forms and tools. This package should support overall business growth.
Pros
Limits the visibility of private information
24/7 customer service
Expert in the field with over 20 years of experience
Transparent pricing
Their formation package includes a full year of unpaid registered agent service
Cons
An expensive option for registered agents
Sign Up To Northwest Registered Agent
2 - ZenBusiness
(Best Essentials)
Would you recommend ZenBusiness (Best Essentials)?
ZenBusiness streamlines court document filing for small businesses at an affordable rate. Though newer, their competitive pricing and strong customer support stand out.
ZenBusiness truly excels at what they do. They provided us with comprehensive formation assistance throughout the entire process. From start to finish, they made the whole experience stress-free and easy.
What truly sets ZenBusiness apart is their ability to combine competitive pricing with robust customer support. Their plans are not only reasonably priced but are specifically tailored to reduce the financial burden of essential services.
For instance, our basic court filings in South Carolina were handled efficiently, significantly cutting down our expenses.
Moreover, their registered agent service, priced at an annual fee of $199, epitomizes their commitment to affordability without compromising quality.
ZenBusiness is an excellent option if you're establishing a business entity on a low budget and searching for an incorporation service with an excellent overall rating.
Registered Agent Service ($199): Provides online access to all necessary documents. Additionally, you can also have expert assistance.
ZenBusiness Starter Package ($0 + $125 State Fee): The Basic package includes the LLC filing service along with a free month of banking and a bank account to assist with legal establishment. The Starter Package offers a standard filing speed of 2 - 3 weeks. With no upfront cost apart from the state fee, you can access a free month of bookkeeping and choose to enjoy worry-free compliance for an entire year. You can renew it for $199 per year.
ZenBusiness Pro Package ($199 + $125 State Fee): This package offers additional Vermont LLC formation services like the fastest ''rush'' filing service of 1 to 2 business days on average. If you are in need to set your business fast this is the package to opt for. The Pro plan provides an EIN for legal identification, and it also includes an operating agreement to aid in both legal and business structural aspects.
ZenBusiness Premium Package ($349 + $125 State Fee): Premium Vermont LLC formation package includes everything from the Pro Package, but expands to business document templates. This feature will help you cut heavy administrative tasks, and uplift your business procedures. Elevate digital presence with this package: website builder, domain registration, and domain privacy are included here.
Pros
Fair and simple price structure for registered agents
Long hours of customer support
Has a significant number of positive reviews
60 days money-back guarantee
Cons
Limited advanced features
Sign Up To ZenBusiness
3 - IncFile
(Most Affordable)
Would you recommend IncFile (Most Affordable)?
IncFile stands out as a leading LLC creation platform known for its affordability. Their offerings start with a compelling proposition: free basic LLC formation services and a year of complimentary Vermont registered agent service.
This unique blend of cost-effectiveness and quality service makes IncFile an unrivalled choice for budget-conscious entrepreneurs.
As your registered agent, IncFile ensures you receive timely reminders from the state legislature regarding essential annual business report forms, lawsuit notifications, and license tax records.
Upon evaluating them, we were quite impressed with the outcomes. IncFile's registered agent services capably managed court documents and IRS interactions on our behalf, allowing us to stay ahead of all matters.
IncFile made us feel like our business was their priority. They provided helpful advice and walked us through every step of the process in a friendly and professional manner.
Service Features:
Registered Agent Service ($119): IncFile can let you know the details of the service process right away, so you can start preparing the moment you get the paperwork. Plus, you can get their helpful Registered Agent dashboard which gives you ongoing access to the system and friendly reminders to keep up with important deadlines.
Silver Package ($0 + $125 State Fee): This package includes name availability search, a free year of registered agent services, unlimited phone and email support, order status monitoring, and lifetime company reports.
Gold Package ($199 + $125 State Fee): Gold Package contains Silver Package and brings in the following features including an EIN and IRS Form 2553, next to banking resolution. Also provides access to an online access dashboard making steps automated and easy to operate.
Platinum Package ($299 + $125 State Fee): This plan includes Gold Package features as well as free next day filing and business contract templates. To boost your online presence, this package comes with a domain name and business email for a more professional appearance and recognition.
Pros
Superb online dashboard
Every formation plan includes a full year of free Vermont registered agent services
Order processing is fast
There are no hidden costs
Sign Up To IncFile
4 - LegalZoom
(Best Premium)
LegalZoom excels in guiding customers through complex business processes, leveraging their strong brand reputation.
With over two decades of experience, they've assisted 2 million entrepreneurs, offering quality yet affordable legal counsel.
Their do-it-yourself platform offers a user-friendly approach with simplicity and effectiveness from beginning to end.
We love that they offer a wide range of services. We particularly liked their registered agent service However, it is worth noting that their business formation plans are somewhat expensive and do not include many registered agent services.
However, LegalZoom does provide Vermont registered agent services at a fee of $249 during the first year of operation to business formation clients.
LegalZoom registered agent is the best choice if you prefer expertise and flexibility.
Service Features:
Registered Agent Service ($299/Year): Their services for the formation of an LLC have an initial cost of $249 for the first year, after which they charge a renewal fee of $299. This package includes a Compliance Calendar and unlimited online data storage. Additionally, they provide identity theft protection coverage up to $1 million.
Basic LLC Formation Package ($0 + $125 State Fee): Provides a digital welcome packet, a name verification, articles of organization, and a customizable website powered by Wix.
Pro LLC Formation Package ($249 + $125 State Fee): It includes all of the features that come with the Basic package plus an EIN, an operating agreement, a comprehensive guide to obtaining a business license, and expert guidance on tax and insurance matters.
Premium LLC Formation Package ($299 + $125 State Fee): In addition to receiving all the Pro package features, you'll also benefit from personalized guidance provided by a professional local business attorney. Furthermore, this package includes unlimited consultations with an attorney for up to 30 minutes as well as timely updates on the formation documents for a period of 90 days from your initial subscription.
Pros
Accepts service refunds for registered agents
Adaptable service package
Brand recognition is widespread
Cons
High-priced registered agent service
Limited customization
Sign Up To LegalZoom
5 - Harbor Compliance Registered Agent
Harbor Compliance specializes in compliance services for small businesses and non-profits. They offer a comprehensive approach covering basic LLC creation and holistic enterprise solutions.
This implies they can support you from the beginning to end of the course.
We tested their registered agent service and were quite pleased with the outcomes.
They skillfully handled official correspondence between our business and government agencies, making certain that all legal requirements were fulfilled promptly.
However, their limited package selection is a significant drawback, as frequently mentioned by customers.
Even more, their single LLC creation package is relatively costly and barely qualifies as the best deal, mainly if you are on a tight budget.
Service Features:
Registered Agent Service ($89 to $99): This service enables instant online access to registered agent addresses. LLC must have a registered agent to receive additional business-related legal or government notices. The annual fee is $89 $89 to $99 per state with no extra charges.
Formation Package ($99 + $125 State Fee): This package includes planning and submitting articles of organization, name search, and initial operating steps.
Pros
Guarantees confidentiality
Provider of comprehensive LLC formation services
Has a solid track record
Cons
Costly fees
Can only provide advice on state laws and regulations
Sign Up To Harbor Compliance Registered Agent
6 - Swyft Filings Registered Agent
Swyft Filings focused on cost-effective and efficient business formation, is an excellent choice for entrepreneurs, especially those on a tight budget.
With their compliance guarantee, missing deadlines should be a thing of the past! It is designed to notify you of critical business activities that you must do.
Their efficient methodology and intuitive platform facilitated the establishment of our new venture with ease.
We were struck by their clear pricing structure and steadfast dedication to client satisfaction. Overall, our experience with them has been thoroughly enjoyable.
Their Automatic renewals made it really easy for us. You won't need to worry about manually renewing your agreement with them.
Swyft Filings registered agent is a great option if you want a service with short processing periods and excellent customer support.
Service Features:
Registered Agent Service ($99): This is a fee per three months. The initial role of the agent is to receive any formal documents and help you stay on track with each one. For this ongoing quarterly subscription, you will have professional support in filing out all needed documents.
Basic Package ($0 + $125 State Fee): This package covers submitting the LLC's articles of organization.
Standard Package ($199 + $125 State Fee): Standard Package covers all the benefits from the Basic plan while offering an EIN, and mandatory documents to kick off your business the right way. Some of the perks included in this package are banking resolution and organizational minutes.
Premium Package ($299 + $125 State Fee): Premium Package combines Basic and Standard services and presents new ones, such as free domain and business website hosting. Next to the custom digital corporate kit, there is the FedEx delivery with a tracking number.
Pros
Accessible and personalized business and financial consultation
Money return guarantee of 100%
They are well-versed in the various legislation and court needs of the state
Cons
They do not provide a free year of registered agent service
Taxes on self-employment
Sign Up To Swyft Filings Registered Agent
7 - Rocket Lawyer Registered Agent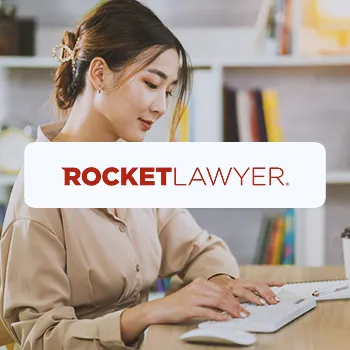 Rocket Lawyer, backed by seasoned attorneys, offers comprehensive legal assistance. Although it is not the cheapest option on the market, their expertise is definitely worth the price.
We gave them a try and we can genuinely affirm that creating legal documentation online in a time-efficient manner has reached new heights of simplicity.
They thoughtfully forward all essential emails to you, acting as a barrier against spam and empowering you to maintain your competitive edge in the business world.
Rocket Lawyer registered agent is an ideal online legal service that can create your LLC.
However, LLC registration and Vermont registered agent services for non-members are paid separately, which can be costly.
Service Features:
Registered Agent Service ($149.99): If you're a member, you can get a 25% discount for this service. The monthly membership fee is $39.99.
Formation Package ($99.99 + $125 State Fee): This package includes free incorporation service, attorney service, an operating agreement, and

free LLC formation services.
Pros
Provide phone, email, and live chat support
Offers a free trial
30 days money-back guarantee
Cons
Relatively pricey
No refund policy
Sign Up To Rocket Lawyer Registered Agent
8 - SunDoc Filings Registered Agent
SunDoc Filings stands out as a top choice for entrepreneurs seeking swift and reliable LLC formation services.
Known for their stellar reviews, SunDoc Filings caters especially to those who are time-constrained, ensuring a streamlined and efficient process.
Their commitment to reliability is evident in every interaction, making them a dependable partner in business formation.
After putting them to the test, we found them to be very reliable. Their customer service was great, ready to answer any questions at all times.
However, it's important to note that while their services are comprehensive, their average rate bundle may not include a wide range of features. This could be a consideration for those looking for a more all-encompassing package.
Service Features:
Registered Agent Service ($159):

Registered agents are only responsible for receiving subpoenas and any notices from the state that would then be forwarded to you. The annual charge without a new filing is $149. The charge for an existing entity is $159.

Basic Package ($79 + $125 State Fee): This package includes LLC formation, business license summary, and email delivery.
Key Package ($99 + $125 State Fee): Key Package contains features from the Basic plan and additional traits such as name availability check, business license summary, and email delivery.

Premier Package ($279 + $125 State Fee): Key Package features are upgraded with this plan, as it includes an EIN and LLC Kit & Seal.
Pros
Provides 24-hour processing
Convenient online filing services
Fast, accurate, and reliable services
Cons
They do not include Vermont registered agent companies in all payment levels
Their most basic $79 package is quite limited
9 - Vermont Registered Agent
In Vermont, all corporations and LLCs are legally required to have a registered agent.
The Vermont Registered Agent Service team, experts in local corporate formation, are well-versed in state application requirements.
This organization was ranked one of the best because of its high-quality services and focus on a single state (Vermont), ensuring you obtain legitimate services.
We decided to try them out and we couldn't find much to complain about. They were always on time and their customer service was very helpful. Plus, their packages are very reasonably priced.
Vermont registered agent service is the right choice if you want quality customer service. They commit to develop long-term connections with customers.
Service Features:
Registered Agent Service ($49): Provides a valid physical address, annual/biennial report reminders, same-day document processing, all year-round compliance monitoring, emergency alerts, and online formation documents.
Pros
High-quality Vermont registered agent service
Accelerated Filing
Affordable pricing
Cons
Limited additional services
You may need to hire an attorney to assist you with paperwork
10 - Jumpstart Filings Registered Agent
Jumpstart Filings believes in simplifying and economizing business administration. Our experience with them has been positively surprising and rewarding.
We've been sailing smoothly ever since we first contacted them.
If you want to form an LLC fast and efficiently, you won't go wrong with Jumpstart Filings.
Jumpstart can assist inexperienced businesspeople in breaking ground on their company growth path.
Specifically, they can get things moving by setting them up with a bank statement, company registration, and other legal documents.
Service Features:
Registered Agent Service ($150): Includes a legal address to which important documents can be sent if required.
Formation Package: Services include name search, LLC preparation and filing, 24-hour online data accessibility, 72-hour customer service, expedited filing, organizer's statement, compliance guarantee, filing US income tax returns, and same-day email support.
Pros
Excellent and dependable services
User-friendly online dashboard
Positive customer feedback
Cons
They do not provide a free Vermont registered agent service
The yearly charge for Jumpstart is rather high
How We Picked And Tested The Best Registered Agent Services In Vermont?
Businesses have diverse needs, making it crucial to pinpoint services that meet certain criteria.
In our quest to identify the top registered agent services in Vermont, our team, consisting of seasoned legal professionals, conducted thorough research.
We reviewed 23 companies, delving into local state regulations and requirements, and engaged with numerous firms.
This comprehensive approach allowed us to gather in-depth information about their offerings, pricing structures, and overall service quality.
Here's our step-by-step process of how we chose the 10 best-registered agents:
1. Pricing
Price matters, but it's value that counts. Understanding the cost implications is crucial for businesses, especially startups or those operating on a tight budget.
A cost-effective registered agent service can help businesses allocate their resources more efficiently to other areas, such as growth and development initiatives.
We sought services offering competitive prices without sacrificing quality. It's not just about cost but what you get for your money.
IncFile has distinguished itself as a leader in providing affordable registered agent services. With a pricing model that caters to budget-conscious businesses, IncFile offers its registered agent service at an annual fee of just $119.
On the other end of the spectrum, LegalZoom's registered agent service is priced at $299 annually.
2. Third-Party Reviews
Third-party reviews are crucial as they provide unbiased insights into the performance and reliability of a registered agent service.
We considered other businesses' experiences, focusing on services with consistently positive reviews and high ratings.
Known for their outstanding customer service, Northwest Registered Agent and ZenBusiness have garnered positive feedback from a large customer base.
LegalZoom's registered agent services have received mixed reviews, particularly regarding their pricing and limited customization options in their registered agent services.
3. Ease of Use
Ease of use is important as it enhances the efficiency of managing legal documents and compliance, especially for businesses without extensive legal expertise.
Northwest Registered Agent's online interface is user-friendly, with straightforward navigation and commands, making it accessible for users of all technical skill levels.
IncFile offers an intuitive platform that simplifies the process of managing legal documents and compliance.
While reliable, SunDoc Fillings service's average rate bundle lacks features, which might affect the overall user experience.
4. Turnaround Time
The speed at which a registered agent service processes and relays legal documents is critical for maintaining compliance and responding promptly to legal obligations.
Fast turnaround times ensure that businesses can act quickly on legal notices and maintain good standing with state regulations.
Northwest Registered Agent offers same business day filing as part of their Full Service LLC Formation Package, demonstrating a commitment to quick and efficient processing.
ZenBusiness Pro Package also offers the fastest 'rush' filing service, averaging 1 to 2 business days.
Despite their reliable services, SunDoc Filings' average rate bundle lacks a selection of features and their basic package is quite limited, which may affect the overall speed and efficiency of their service turnaround.
5. Comprehensive Services
Service features in a registered agent service are crucial as they determine the efficiency and comprehensiveness of the service.
We looked for various options, from basic agent services to comprehensive business formation packages.
Northwest Registered Agent service stands out with its comprehensive features, including a physical address, regular business hours available, service of process acceptance, and free emailing, among other services.
IncFile offers a robust Registered Agent dashboard, providing ongoing access to the system and reminders for important deadlines.
While LegalZoom is known for its brand reputation and range of services, their registered agent services are somewhat limited compared to their business formation plans.
6. Transition Process
A smooth transition process is important to ensure continuous compliance and document handling when switching to a new registered agent service.
We looked for services that had seamless transitions to ensure that all legal documents were managed properly without any interruption in service.
Northwest Registered Agent came on top by offering comprehensive packages that include formation and registered agent services, suggesting a streamlined process for new clients.
ZenBusiness also got good reviews for their range of packages, including starter and premium options structured process for transitioning new clients.
7. Confidentiality
Confidentiality in registered agent services is vital for protecting sensitive business information. Ensuring data protection helps maintain client trust and compliance with legal standards.
Northwest Registered Agents stood out by limiting the visibility of private information and having a long-standing reputation for maintaining client confidentiality.
Harbor Compliance Registered Agents also guarantee confidentiality and are known for providing comprehensive LLC formation services with a solid track record in handling sensitive information.
8. Customer Support
Customer support is crucial in the registered agent service industry as it ensures clients receive timely assistance and guidance. Effective support helps resolve issues, understand service details, and maintain compliance.
Northwest Registered Agent had outstanding customer service through their 24/7 support. ZenBusiness also performed well with its strong customer support, which is a part of its competitive edge.
How Much Does a Registered Agent Service Cost in Vermont?
Registered agent service providers in Vermont cost between $49 and $349. This range reflects the diverse offerings and service levels available, catering to different business needs.
Opting to be your own registered agent or appointing a friend or family member for this role is a cost-free alternative.
However, it's important to consider the value and expertise that professional services bring, especially in handling legal documents and compliance issues.
Requirements for a Vermont Registered Agent
Any business or individual can fulfill the role of a Vermont registered agent as long as they meet these qualifications:
The Vermont registered agent should receive necessary state and public documentation within regular business hours.
A Vermont registered agent's location must be a physical street address.
Registered agents need to legally reside in the state or have a physical office there.
If the registered agent is a firm, it has to be an organization with valid state registration.
Related Articles:
FAQs
How Do I Change My Registered Agent in Vermont?
To change your Registered Agent in Vermont, submit a change of registered agent form to the Vermont Secretary of State office. This form is available online and must be signed by an officer of the company. Include your company's name and registered agent information with the filing.
Is a Registered Agent Required in Vermont?
Yes, a registered agent is required in Vermont. All legal corporations in Vermont are legally obliged to have a Vermont registered agent.
Our Verdict on the Best Vermont Registered Agent
It's crystal clear that selecting the best Vermont registered agent service is paramount for your business's success.
While each service on our list brings unique strengths to the table, Northwest Registered Agent distinguished itself with its unwavering commitment to professionalism and customer support.
Northwest Registered Agent's team's expertise, honed over 20 years, instills confidence and ensures that all legal requirements are precisely met.
The simplicity and clarity of their online platform made managing our business affairs straightforward and efficient.
Their ability to provide dedicated assistance, coupled with robust protection and security measures, makes them an invaluable partner for businesses seeking reliability and trustworthiness in their registered agent.
Our #1 Recommendation
Northwest Registered Agent (Best Overall)
User Rating
2000+ Reviews
Pros
Limits the visibility of private information
24/7 customer service
Expert in the field with over 20 years of experience
Transparent pricing
Their formation package includes a full year of unpaid registered agent service
Get the BEST PRICE until the end of December
Cons
An expensive option for registered agents