If you've considered forming an LLC, there are many options available to you in New York. A do-it-yourself method can be used when creating your own LLC, but it can be difficult and time-consuming.
So we met with our attorneys and cross-checked all the factors in choosing a company that can help your business get started in New York.
Based on first-hand experience with the New York services, we have created a comprehensive overview of benefits, disadvantages, and service features and our personal recommendation.
Here is the list of the top companies you may want to consider for a hassle-free LLC formation process.
Editor's Choice
ZenBusiness
Click For Best Price
#2nd Best Choice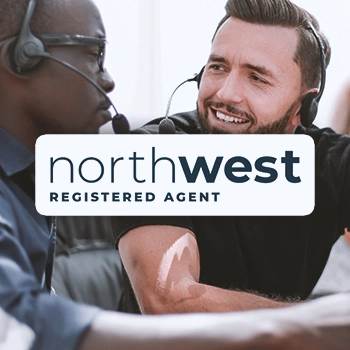 Northwest
Click For Best Price
#3rd Best Choice
IncFile
Click For Best Price
Top 7 Best LLC Services in New York (November 2022)
1 - ZenBusiness (Editor's Choice)
With quality New York LLC formation package features matched with affordable pricing, ZenBusiness stands as the best LLC service for New York startups and small business owners.
Since 2015, it has already formed over 300,000 LLCs nationwide and runs an average 4.7/5 rating across 4,500 online client reviews.
ZenBusiness offers three LLC formation service package tiers, with the most basic starting at $39 per year plus the New York state fee.
That price point already includes a one-year free registered agent service and a free operating agreement template.
Service Features:
Starter Formation Package: Includes LLC formation service, one-year service, and a free operating agreement template.
Pro package: Includes EIN (Employer Identification Number) registration, VIP processing, handling of annual report filings, and two yearly amendments.
Premium package: Includes rush filing, business domain name, website email address, and domain privacy.
Registered Agent Services: All three of its LLC formation packages include a full year of free registered agent service in New York. The service then renews annually for $119 or $99 a la carte.
Pros
Offers various LLC formation service packages
Reasonable and affordable pricing
Includes a worry-free compliance
They speed up the formation of businesses
It has a lot of positive feedback from the clients
Cons
The brand is relatively new
Click For Best Price
2 - Northwest Registered Agent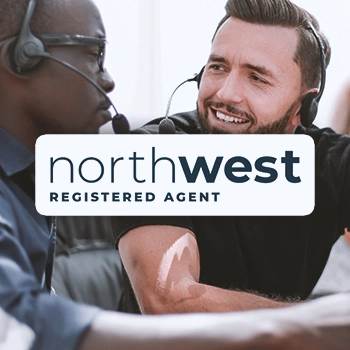 Providing New York LLC formation services since 1998, Northwest Registered Agent has already made a name for itself for having top-notch customer support in the industry and an affordable LLC formation package.
Northwest Registered Agent's LLC formation service pricing starts at $39 and includes a free year of service, keeping your initial costs low.
Plus, their highly trained customer support team can assist you through each stage of the formation process.
You may also contact Northwest Registered Agent at any moment if you have any questions or require assistance.
Northwest Registered Agent Features:
Base Formation Package: Includes all paperwork required for the LLC formation process, such as name searches, registration, and filing of all legal documents. Plus, the 1-year free registered agent is included.
Deluxe Package: Includes services from the base package plus access to an Employer Identification Number (EIN).
Registered Agent Services: Includes a free year of service. The service then renews annually for $125.
Pros
Offer 20 years of experience
They have a strict privacy protection
Transparent fees
A free 1 year of registered agent service if you avail of one of their packages for LLC formation services
Cons
Northwest Registered Agent is a quite pricey
Click For Best Price
3 - IncFile
If you're concerned about high startup fees in New York and only need your formation documents filed, then InFile is your best pick.
They offer a free LLC service in New York (Yes, ZERO dollars!), leaving you to pay only state fees and other minor charges like address and certification fees.
IncFile's customer service department is also plausible with its rapid response time.
This is corroborated by over 10,000 customer reviews, nearly all of which have perfect five-star ratings.
Service Features:
Free Silver Package: Includes New York LLC formation, 1 year of free registered agent service, and lifetime company compliance alerts.
Incfile Gold: Includes preparation of operating agreement, banking resolution, and EIN registration.
Platinum Package: Adds free business website and domain name, business contract templates, and priority expedited filing.
Registered Agent Services: Includes a free year of registered agent service. The service then renews annually for $119.
Pros
Very affordable
A free registered agent service for a year is included in their formation process
They helped form over 500,000 businesses
They have great phone and email support
Cons
Contains overwhelming upsells
Click For Best Price
4 - LegalZoom
LegalZoom is a one-stop online shop for legal services.
Because of this, they have assisted over 4 million people and businesses in various ways since its founding in 2011, half of which involve the formation of LLCs.
Compared to some other best LLC services in this list, LegalZoom fees & prices are too high for what you get.
Their entry-level package is reasonable but not as feature-rich as ZenBusiness and IncFile. Nonetheless, they aren't the strongest brand in the New York LLC formation services industry for nothing.
Service Features:
LLC formation Economy Package: Price starts at $79 + New York state fee. Includes basic LLC filing services.
Basic Economy Package: Price starts at $329 + New York state fee. Adds business name search, Peace of Mind Review™ compliance check, and 30-minute tax savings consultation.
Standard Package: Price starts at $349 + New York state fee. Adds deluxe organizer and official certificates and seal.
Express Gold Package: Price starts at $349 + New York state fee. Adds express shipping and VIP processing.
Business Advisory Plan: Offers tax advice, attorney help, and access to legal forms.
Registered Agent Services: Costs $159 in the first year if added to a formation package. The service then renews annually for $249.
Pros
Established brand in LLC formation services
Extended customer support hours
Extensive legal LLC services for your New York LLC
High client volume
Cons
LLC formation packages don't include a lot of features
No registered agent included
Many upsell to high-priced add-on LLC services
Click For Best Price
5 - Swyft Filings
Swyft Filings is a low-cost business creation service with some of the industry's shortest response times. Swyft Filings, founded in 2012, is a fledgling firm in the congested LLC creation service sector.
Swyft Filings has an overall review of 4.49 stars based on 32,309 reviews, showing that the majority of consumers are pleased with their transactions. Swyft Filings customers who are pleased most typically highlight the premium subscription, extra services, and customer support.
Service Features:
Silver ($0):

Includes articles of incorporation preparation and filing, free registered agent for one year, and limitless name searches. 

Gold ($149):

Contains all of the features in the Silver plan in addition to a banking resolution, life-long business notifications, an Employer Identification Number (EIN), a business tax number, an operating agreement, a digital subscription dashboard, a business tax consultation, endless phone, and email assistance, as well as a business banking account.

Platinum ($299):

Covers all of the services in the Gold package plus fast filing, a domain name, and a business email.

Registered Agent Service ($149):

If you want to use Swyft Filings as a registered agent, you'll have to pay an extra $149 per year in addition to your package fee.
Pros
Swyft Filings has received positive comments from its clientele.
Assurance of Success
Customer Support for the Rest of Your Life
Cons
There is no real-time chat assistance with any package.
Doesn't include free registered agent services.
Click For Best Price
6 - Harbor Compliance
Harbor Compliance is a legal technology firm that provides a full range of compliance solutions for companies and NGOs, such as entity administration, regulatory licensure, and tax registration.
Harbor Compliance is a trustworthy expert firm that provides LLC forms, incorporation, as well as other company compliance-related services.
They may assist you with a variety of critical responsibilities associated with establishing a brand-new firm. If you require service in numerous states or commit to multiple years, you may save a lot of money with their bulk orders.
They're extremely concerned with your privacy and safeguard their webpage with Norton and Trustwave screening and data encryption.
Service features: 
Formation Package ($399):

Their formation deal includes a name eligibility check, federal EIN, registered agent, articles of incorporation, and an operational agreement template.

Compliance Package ($799):

Every one of the aforementioned, plus publication, S Corp or C Corp, tax election, first report, managed yearly report service, and continuing support, are included.

Registered Agent Service ($99/year): Harbor Compliance provides a year of complimentary Registered Agent service in New York. They also serve customers that require a registered agent by offering pre-filled state paperwork, same-day document processing, and simple process monitoring software. Each state has a business address to accept your crucial legal paperwork.
Pros
Client service that is personalized
Harbor Compliance provides a savings option as well as prolonged agreements with their registered agent service in certain states.
Processing time of one day
Cons
Extremely costly
Fewer services are included in the formation bundle.
Click For Best Price
7 - BizFilings
Among the LLC formation service provider in this list, BizFilings has the highest price point. However, they make up for it by providing the best and lowest charge for New York publication service today.
Each of their LLC formation packages also includes six months of services, which, quite frankly, is better than nothing.
BizFilings is a pretty well-rounded New York LLC service. In addition to the New York publication service, they are well-known for their return policy.
If they make a mistake, they will "absorb all extra fees and expenditures necessary to fix the inaccuracy or mistake as quickly as possible."
While not every customer feedback is available online, BizFIlings has processed over 500,000 business filings since its founding in 1996. Plus, they are now a subsidiary of Wolters Kluwer, a major worldwide compliance firm.
Service Features:
Basic LLC Formation Package: Price starts at $99 + state fee. Includes preparation and filing of Articles of Organization, Business name search, 6 months BizComply tool.
Standard LLC Formation Package: Price varies from $159 to $244 + state fee. Adds LLC kit and seal, Sample LLC forms, Expedited BizFilings processing.
Complete LLC Formation Package: Price varies from $199 to $434 + state fee. Adds Federal Tax ID Number (EIN), Video instruction manual for your LLC formation, Certified copy of your documents with overnight shipping, and State-specific features.
Registered Agent Services: Includes six months free of registered agent services in every LLC formation package.
Pros
Includes publication and LLC formation services
6 months free of registered agent included
Experienced LLC formation service
Extended customer support hours
Cons
Higher price point of packages than competitors
Inconsistent turnaround times
Very few customer reviews are available online
Advantages of Creating an LLC in New York
Depending on the type of your business, there are various benefits to establishing an LLC in New York. This business entity offers the personal liability protection given by corporations and the tax flexibility of a sole proprietorship. Read below for more information.
Personal Liability Protection
Incorporating LLC as a business entity can keep you protected from personal creditors. This means that a business creditor cannot pursue an LLC member's personal assets, such as their home, vehicle, or bank accounts.
But, setting up a New York limited liability company does more than protect small businesses from debt collectors. They also protect them from potential personal liability incurred or brought on by other owners or members of the LLC.
Pass-Through Taxation
Forming an LLC in New York gives you an advantage over forming a corporation, especially with taxation. You can take advantage of pass-through taxation as an LLC, which means that taxes are passed through the business and straight to you as personal income tax.
As a result, unlike most large corporations, your New York-based LLC will not be obligated to pay taxes on both the corporate and personal levels. With a New York LLC, small business owners get to simplify managing and minimizing their taxes.
Less Complexity in Formation and Operation
If you feel that dealing with legal documents and paperwork on a regular basis is not for you, you may consider forming an LLC. Its formation process and operation are far more straightforward than that of a corporation.
A New York LLC formation only requires the filing of articles of organization with the New York Secretary of State. Furthermore, unlike a corporation, an LLC is not required to have annual meetings or keep detailed minutes.
Flexibility in Raising Capital
It may be easier for a New York LLC to raise capital than if it was structured as a sole proprietorship or general partnership. As an LLC in New York, you can add new members without giving them a complete say in management.
Unlike a sole proprietorship or general partnership, you cannot accept investments without becoming partners.
New York LLC Formation Process
Technically, the New York Secretary of State does not necessitate the use of an LLC formation service to start an LLC in New York.
Although these services are quite advantageous, you may save money by completing the process yourself.
You may form a New York LLC in eight easy steps:
Qualities to Look For in a New York LLC Service
There are a few factors to consider when selecting New York LLC formation services. Some of the qualities of the best LLC services to look for are as follows:
Competitive pricing of packages: Consider a reasonably priced bundle that includes all of the tools to establish your own business.
Ease of use: The order process of forming a business should be simple. An LLC formation service with an easy-to-use internet interface is also a plus as it gives a better online experience.
Customer support: For a hassle-free and worry-free experience, LLC formation services with a quick response time are the ideal option.
Proven track record: Customer reviews are there for a reason. Check to see if the firm has an excellent track record and client reviews. These things are easily found online.
FAQs
How Long Does It Take To Form My LLC in New York?
It takes four and a half months (with COVID measures in place) to form your LLC in New York by mail filing. The New York Secretary of State is also honoring expedited requests with three expedited LLC options for mail filings: 24-hour, same-day, and 2-hour processing. Online filing with the New York Secretary of State is approved immediately.
How Much Does It Cost to Create a New York LLC?
It costs $200 to create a New York LLC. It's a filing fee for the articles of organization due to the New York Secretary of State.
Do I Need an LLC Service in New York?
No, you don't need an LLC in New York. The Secretary of State does not require hiring LLC services for your business formation. But, if you don't want to deal with the paperwork and other legal matters, we recommend you consider hiring New York LLC formation services.
How Many Small Businesses Are There in New York Today?
There are 2.1 million small businesses in New York today, based on a recent report by the U.S. Small Business Administration. New York is one of the top states in the United States, with the highest number of small businesses.
Should I Form an LLC in New York?
Yes, you should form an LLC in New York. Although other types of business entities are useful and permitted in New York, forming an LLC will provide you with superior personal asset protection. It will protect you and your personal assets in the event that your company is sued.
Can I Switch From Sole Proprietor to LLC in NY?
Yes, you can switch from sole proprietor to LLC in NY. LLCs provide numerous benefits, including personal asset protection and tax advantages, and, most importantly, they make your company officially incorporated, which increases investor and customer trust.
How Do I Publish My LLC in NY?
You can publish your LLC in NY by placing an announcement or notice in a local newspaper, filing a certificate of publication, or obtaining an affidavit of publication. This should not be a problem if you hire an LLC service that includes an LLC publication.
How to Choose the Best LLC Service in New York for You...
While there are many New York LLC formation services that can help you form an LLC, our personal experience and research have confirmed that ZenBusiness is the best choice.
ZenBusiness has helped form over 300,000 LLCs in the short time they have been in the industry. Their services are oriented toward business owners getting started with their LLC formation, and their goal is to assess them through the registration process.
They offer a well-rounded service and possibly the lowest prices. And they have the highest and best online customer feedback.
Speed up the LLC formation process and hire ZenBusiness today.
Our #1 Recommendation
Click For Best Price
Pros
Offers various LLC formation service packages
Reasonable and affordable pricing
Includes a worry-free compliance
They speed up the formation of businesses
It has a lot of positive feedback from the clients
Cons
The brand is relatively new