8 Best LLC Services in Wyoming (2023) For Your Startup
As a startup owner in Wyoming, you want to hire a reputable LLC service to meet filing deadlines and maintain a high business standing with the Secretary of State.
To help you decide which LLC formation services suit your company's needs, I consulted our panel of legal advisors and business specialists.
In this article, we've evaluated Wyoming's top eight LLC services, considering service features, customer support, affordability, efficiency, and quick turnarounds.
Company
LLC Packages
LLC Fees
Registered Agent Price
Same & Next Day Filing
Money-Back Guarantee
Free Package Features
BBB Accredited
Advisory Services
ZenBusiness
(Best Overall)
3
From 0$
$199
Pro & Premium Package
60 days
LLC Filing & 100% Accuracy Guarantee
Yes
Accounting Consultation
Northwest
(Best Premium)
1
$39 (using our link)
First year free with LLC purchase / $125 from 2nd year
No
90 days
None
No, A rating
No
IncFile
(Most Affordable)
3
From $0
First year free with LLC purchase / $119 from 2nd year
Platinum Package
Order refundable before state payment (usually 24h), minus $30 fee.
LLC Filing, FREE Registered Agent (1 year), EIN, Operating Agreement, Business Tax Consultation & more
No
Tax: Free 1-hour
Consultation
Rocket Lawyer
(Best Essentials)
1
Free with Rocket Legal+ / $99.99 with Rocket Legal
$249.99 with Rocket Legal / $124.99 with Rocket Legal+
No
30 days
None
Yes
Legal: Ask-a-lawyer
via email &
30-minute monthly
phone consultation
per new matter (with subscription)
Swyft Filings
3
From $0
$199
Premium Package
60 days
LLC Filing & Lifetime customer support
No
No
MyCompanyWorks
3
from $59
First year free with when buying Entrepreneur & Complate Package / $99 from 2nd year
Yes
90 days
None
Yes, A+
Trademark Consultation & 1-hour Tax Webinar
Harbor Compliance
1
$99
$99
Depending on the state
No
None
Yes
No
LegalZoom
3
From $0
$299
No
60 days
LLC Filing, Digital welcome packet, Customizable website
Yes, A+ rating
Attorney Consultations (Premium Plan)
Editor's Choice
Rated by more than 2000+ customers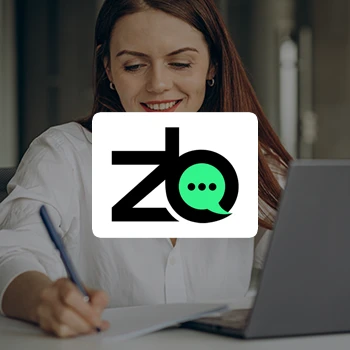 ZenBusiness
User Rating
2000+ Reviews
Click To Signup
81% of visitors chose this
#2nd Best Choice
Rated by more than 1000+ customers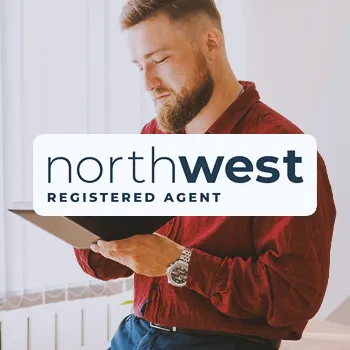 Northwest
User Rating
2000+ Reviews
Click To Signup
#3rd Best Choice
Rated by more than 1000+ customers
IncFile
User Rating
2000+ Reviews
Click To Signup
Top 8 LLC Formation Services in Wyoming (December 2023)
1 - ZenBusiness
(Best Overall)
Would you recommend ZenBusiness (Best Overall)?
ZenBusiness supports small company owners and entrepreneurs in establishing and maintaining a business presence in the US market.
Their primary service involves preparing and submitting business registration documents, ensuring accuracy and compliance with Wyoming authorities.
They conduct a name eligibility search before filing LLC registration applications, saving clients from outdated search methods and potential application rejections due to name issues.
Their user-friendly system allows for a quick 10-12 minute filing process, offering straightforward package options with essential features like an EIN. The process is efficient, with LLC approvals often completed in just four days, accompanied by a comprehensive New Business Kit.
Overall, ZenBusiness lived up to its reputation as the "Best Overall" choice. They provided us with a seamless and reliable service that significantly contributed to the successful establishment of our business.
The ease of use and efficiency of their services made setting up our business both straightforward and stress-free. We were impressed with the quick turnaround time for LLC approval and the comprehensive support they provided throughout the process.
LLC Formation Packages:
Starter Plan ($0 + $102 State Fee): This LLC formation service package contains unlimited name searches, filing of articles of organization, and LLC registration. You'll also enjoy standard filing speed (2-3 weeks), a 100% accuracy guarantee, and a worry-free compliance option for the first year (renewable at $199/year if accepted). Experience added value with a 1-month free trial of Banking, Bank Account, Money Pro Bookkeeping, and Website Builder.
Pro ($199 + $102 State Fee):  The Zen Business LLC formation service package now encompasses all the initial Starter features and additional enhancements. It includes expedited filing for the fastest "rush" processing speed, with an average completion time of 1-2 business days. The package also has a convenient option to obtain a custom LLC operating agreement is also available at $99 and an EIN.
Premium Plan ($349 + $102 State Fee): Includes features from lower tiers plus a business website, corporate email, business document templates, and domain hosting.
Registered Agent Services ($199): This fee covers the expense of engaging a registered agent independently from the additional services.
Pros
There are several forming packages available, including a registered agent service
Easy and speedy compliance filing
Plan costs are affordable
A quick method for creating a Wyoming LLC
Awesome online reviews
Cons
Formation of non-profit business is not supported
Sign Up To ZenBusiness
2 - Northwest Registered Agent
(Best Premium)
Would you recommend Northwest Registered Agent (Best Premium)?
At Northwest Registered Agent, we experienced a service beyond mere formalities; it's a partnership that values your business's success and legal compliance.
Their approach combines simplicity, client privacy, and genuine relationships, making them the best premium choice for LLC formation and registered agent services.
When we engaged Northwest Registered Agent, we were immediately assigned a local Corporate Guide from our state, a testament to their commitment to personalized service.
This expert was not just a guide but a cornerstone in our journey, assisting us at every step of registering our new company and providing continuous support thereafter.
The efficiency was remarkable - the initial steps were completed in just 9 minutes, and the entire process was finalized in 72 hours, a stark contrast to the 5-day option we initially considered.
As a Wyoming LLC service, Northwest Registered Agent excels in handling official and legal communications, ensuring your privacy is always protected.
Their ability to expand your business beyond Wyoming and incorporate your LLC in other states demonstrates their versatility and commitment to your business's growth.
Northwest Registered Agent is not just a service provider; they are a premium partner in your business journey, ensuring efficiency, privacy, and compliance every step of the way.
LLC Formation Packages:
Formation Plan ($39 + $102 State Fee) : This plan offers everything you need to start your Wyoming LLC, including name searches and business registration.
Wyoming Registered Agent Services ($125) : Northwest Registered Agent will act as your agent for free for the first year, and then the service renews for this standard amount.
Pros
Over 20 years of formation experience
No additional costs for the bundles
Includes free Wyoming registered agent services for a whole year
Strong data protection structure
Sign Up To Northwest Registered Agent
3 - IncFile
(Most Affordable)
Would you recommend IncFile (Most Affordable)?
IncFile has established a commendable reputation for delivering superior services at prices that are notably lower than its competitors. This makes it an ideal choice for budget-conscious entrepreneurs.
Our journey with IncFile was marked by efficiency and budget-friendliness. We were particularly impressed with their free Silver package.
This package, apart from the state fees, offers a plethora of services including free LLC regulatory notifications and a year of free Wyoming registered agent service.
The client dashboard offered by IncFile is a standout feature. It serves as a centralized hub for accessing crucial documents and tracking the progress of our transactions.
Moreover, the batch-shipping of all our paper copies and requested materials post the LLC formation step was a testament to IncFile's commitment to convenience and customer satisfaction.
This thoughtful approach saved us considerable time and hassle, allowing us to focus on other critical aspects of our business.
LLC Formation Packages:
Silver Package ($0 + $102 State Fee) : Apart from basic formation features, you also get lifetime alerts, a 2-day turnaround, and an LLC tax consultation.
Gold Package ($199 + $102 State Fee) : This Wyoming LLC plan includes a corporate binder for your official papers, a seal mark for your documents, and access to a resource library.
Platinum Plan ($299 + $102 State Fee) : Includes features from the Silver and Gold plans plus custom website and VIP processing.
Pros
Available email and phone support
Has created more than 800,000 LLCs since it began
Affordable LLC formation service
Excellent customer reviews
Sign Up To IncFile
4 - Rocket Lawyer
(Best Essentials)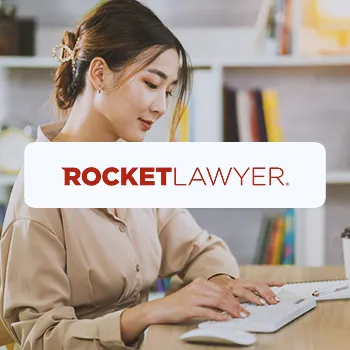 Rocket Lawyer, renowned for its expansive online legal services, has catered to over 25 million customers, establishing itself as a leader in the field.
Their best essentials package is particularly tailored for Wyoming company owners, offering a comprehensive suite of tools for legal document drafting and swift access to legal advice.
Our interaction with Rocket Lawyer's services was notably efficient and user-friendly. The initial seven-day free trial period was ample time to explore their offerings, including their intuitive user interface and the quality of service.
During this period, we had the opportunity to consult with various attorneys. This was instrumental in selecting the right legal support for our business needs.
The standout feature for us was Rocket Lawyer's mobile app, available for both Android and iPhone users. The app's straightforward design made it incredibly easy to create various legal documents on the go.
Additionally, the prompt and professional responses to our legal inquiries submitted through the app were impressive. This reflects the high level of expertise and customer service that Rocket Lawyer provides.
LLC Formation Packages:
Premium Member ($39 monthly + $102 State Fee) : Offers business formation services, free access to legal documents, a document defense feature, and 40% off when you hire one of their attorneys.
Registered Agent Services ($149.99) : As your own registered agent, Rocket Lawyer will handle compliance work on your behalf, and all legal documents will be mailed to their physical business address.
Pros
Free attorney services
Demo trial for the premium account
Swift compliance notifications
Cons
Asks for credit information during sign up
Pricey features
Sign Up To Rocket Lawyer
5 - Swyft Filings
Swyft Filings stands out as a versatile and customer-oriented business formation service, ideal for entrepreneurs seeking flexibility and comprehensive support.
Their installment payment plan caters to those with budget constraints, ensuring financial limitations don't hinder your business formation process.
While they offer a range of LLC formation packages, it's noteworthy that registered agent services are not included in all packages, allowing for more customized service selection based on your specific needs.
We put them to the test, and we were very pleased with their results. We appreciated that they had a system that would remind us when crucial deadlines were approaching.
This way, they helped us file compliance on time and maintain a high status with the Wyoming authorities.
Additionally, their team enables you to create your company's internet presence through website creation, hosting, and domain name registration.
LLC Formation Packages:
Wyoming LLC Formation ($0 + $102 State Fee) : Swyft Filings can guide you through forming an LLC.
Standard Package ($199 + $102 State Fee) : This package adds several more services, such as TIN, and customized banking resolution, to all the benefits of the previous plan.
Premium Plan ($299 + $102 State Fee) : Includes a website, articles of incorporation, an operating agreement, hosting, and a personalized digital LLC kit.
Pros
Swift turnarounds
First-rate customer support
Offer customized legal documents
Cons
Their registered agent plan is expensive
Feature listings are unclear
Sign Up To Swyft Filings
6 - MyCompanyWorks
MyCompanyWorks is a lesser-known company in this region, but we found their services to be pretty decent.
To find out if your selected business name is available or has already been registered by another firm, they will check the business database provided by your state of formation.
We love that this Wyoming LLC service built a helpful resource for us to stay on top of our filing and regulatory deadlines. We were also impressed with their knowledgeable support team.
MyCompanyWorks will obtain official copies of your state-filed company paperwork for $35 if you require any. This pricing is less than what the majority of rivals charge.
Another great perk about this Wyoming LLC formation service is that it offers foreign qualifications. This allows you to set up your business entity in states outside Wyoming quickly.
LLC Formation Packages:
Basic Plan ($59 + $102 State Fee : Includes endless Wyoming LLC name searches and verifications.
Entrepreneur Package ($199 + $102 State Fee) : This plan includes filing of articles of organization, unrestricted phone and email assistance, and same-day document preparation.
Complete Plan ($259 + $102 State Fee) : Consists of all services from lesser plans, plus lifelong website access, their starting wizard, and their LLC guide.
Pros
Strong client feedback
Lifelong customer support
Access to personalized business minutes
Cons
No free formation service
Outdated dashboard
Sign Up To MyCompanyWorks
7 - Harbor Compliance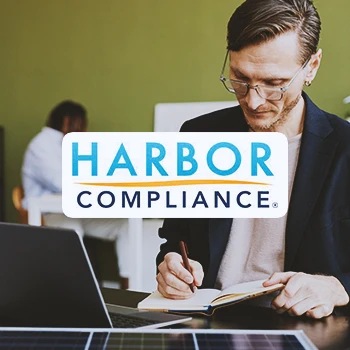 Harbor Compliance stands out as a reliable partner for businesses navigating the complexities of state compliance and legal formalities.
Their service is particularly beneficial for businesses that operate across multiple states, thanks to their nationwide coverage and efficient handling of multi-state registrations.
Regardless of size, all Harbor Compliance's registered agent service customers have access to its unique Entity Manager software.
This software stood out because it helps businesses track crucial annual report dates and manage their registration status across different states.
The customer support team at Harbor Compliance was responsive and highly knowledgeable, providing us with tailored advice and solutions. We were also impressed by the security measures in place, which gave us confidence in the safety of our sensitive data.
Moreover, the financial aspect of their service was also commendable. We appreciated the 10% discount offered on an additional service, which made their already reasonable prices even more attractive.
Their willingness to provide deals for long-term commitments further demonstrated their commitment to building lasting client relationships.
LLC Formation Packages:
Formation Package ($99 + $102 State Fee) : Under this plan, you get instant access to online documents, entity manager software, and the preparation and filing of legal papers.
Premium Registered Agent service ($99) : Harbor Compliance will handle your compliance work and receive legal documents from the SOS on your behalf. You'll also receive annual report alerts and access to their office address.
Pros
User-friendly software
One-day delivery
Yearly report notifications
Cons
Limited customization options
Not the cheapest service
Sign Up To Harbor Compliance
8 - LegalZoom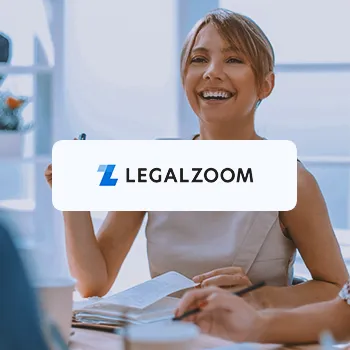 LegalZoom provides some of the broadest business formation services in the field of online legal services. LegalZoom can assist you whether you want to start a business or require family law guidance.
LegalZoom's Business Advisory Plan gives Wyoming business entity owners easy access to year-round legal assistance for a reasonable monthly price.
If you're an individual or business entity that needs ongoing support with treaties and agreements, legal documents, and copyrights would benefit greatly from this package.
In addition to offering excellent customer service, this business formation service offers more liberal support contact hours than its rivals.
Drawing from our experience with them, their team o very knowledgable and they were able to answer all of our concerns. We would highly recommend them to anyone starting out.
LLC Formation Packages:
Basic ($0 + $102 state fees) : Includes multiple name searches, preparing the articles of organization, Wyoming LLC services, a digital welcome packet and a Wix-powered website.
Pro ($249 + $102 state fees) : Has basic plan features plus tax consultations, EIN registration for opening a business bank account, operating agreement, and business license guide.
Premium ($299 + $102 state fees) : Includes features of the Pro plan plus access to attorneys and multiple LLC changes within 90 days.
Registered Agent Services ($299) : The price totals $249 for the first year. You'll then pay $299 per year.
Pros
Extended customer service hours
More than 20 years of industry experience
Affordable attorney services
Cons
Pricey registered agent service
Lots of upsells
Sign Up To LegalZoom
---
How We Picked And Tested The Best LLC Services In Wyoming
Before recommending any Wyoming LLC services, we meticulously evaluated 20 LLC services operating in sate.
Our team conducted a detailed examination of these services, ensuring a thorough and unbiased selection process.
Our methodology was to subscribe to their websites to test if they meet our criteria for reasonable pricing, faster turnaround, excellent customer support, and valuable service features.
Here is how we approached each criterion: 
1. Pricing
It's crucial for startups to find services that balance affordability and quality.
We looked at service providers offering a range of services at prices that align well with the needs of new businesses, ensuring accessibility without compromising on essential features.
Our analysis noted ZenBusiness's exceptional value, offering a comprehensive package at a highly competitive price. Incfile was affordable, offering a free LLC formation package (excluding state fees).
LegalZoom, while offering a broad range of services, was identified as the most expensive option, potentially limiting its appeal to budget-conscious startups.
2. Customer Support
A good LLC formation service should have effective customer support, characterized by multiple communication channels and prompt responses.
We verified this by contacting several support teams by phone, email, and chat and evaluating how quickly and competently they answered us.
ZenBusiness had efficient responsive and comprehensive customer support. Swyft Filings, although providing quality support, was not as prompt or diverse in its communication options as the leading services.
3. Turnaround
We searched for Wyoming LLC formation services with a speedy turnaround, ideally in 1-7 business days.
Additionally, we placed orders with several suppliers and selected those that provided express delivery to Wyoming.
We identified ZenBusiness and Northwest Registered Agent for their swift processing times, ensuring quick and efficient LLC formation.
LegalZoom, despite its many services, had a relatively slower turnaround time, which could be a drawback for time-sensitive businesses.
4. Service Features
The breadth and depth of services offered by an LLC service are critical in determining how well it meets the diverse needs of different businesses.
We selected Wyoming LLC services that provide advantageous and crucial service facets, particularly for startups, such as quick and straightforward compliance and tax solutions.
Northwest Registered Agent excelled with a wide array of included and additional services, catering to diverse business needs. Swyft Filings, despite its quick service, offered a more limited range of additional services than competitors.
5. Local Expertise
Understanding Wyoming's specific laws and regulations is crucial for effective LLC formation and operation within the state.
We focused on each service's knowledge of Wyoming-specific regulations and ability to navigate local legal requirements effectively.
Northwest Registered Agent demonstrated exceptional local expertise, deeply understanding Wyoming's legal landscape.
Harbor Compliance, while competent, did not distinctly stand out for its local expertise in Wyoming compared to others.
6. Ease of Use
An LLC formation service with a user-friendly online platform is essential for a seamless experience.
We evaluated the user-friendliness of the online platforms, including the simplicity of the LLC formation process and the clarity of information provided.
We picked ZenBusiness for its intuitive and straightforward platform, making the LLC formation process accessible and hassle-free.
MyCompanyWorks' platform was less intuitive, with a somewhat outdated interface that could complicate the user experience.
7. Reliability and Reputation
The reliability and reputation of an LLC service are paramount, as they reflect the service's track record in effectively supporting businesses.
We assessed the track record of each service through customer reviews, ratings on platforms like TrustPilot, and overall market presence.
ZenBusiness and Northwest Registered Agent both stood out for their strong reputations, reflected in high ratings and positive customer feedback.
MyCompanyWorks, though offering decent services, lagged in widespread recognition and user reviews, indicating a need for building a stronger reputation.
Related Articles:
Steps to Start an LLC in Wyoming
Here are seven key steps to start a Limited Liability Company in Wyoming.
Step 1: Find a name for your LLC.
Step 2: Hire a Wyoming registered agent service
Step 3: Draft articles of incorporation
Step 4: Draft an operating agreement for your business
Step 5: File a yearly report
Step 6: Meet tax requirements
Step 7: Open a business bank account
FAQs
Is Wyoming a Good State for an LLC?
Yes, Wyoming is a good state for an LLC because it has no state income tax on the entity and its members. Additionally, the formation costs are relatively low, and members get liability protection.
Can I Start an LLC in Wyoming if I Don't Live There?
Yes, you can start an LLC in Wyoming if you don't live there as long as you appoint a Wyoming registered agent service with a physical address within the state.
Our Verdict On The Best LLC Formation Service In Wyoming
After thoroughly exploring the top LLC services in Wyoming, our experience with ZenBusiness stands out as the most remarkable.
Our #1 Recommendation
ZenBusiness (Best Overall)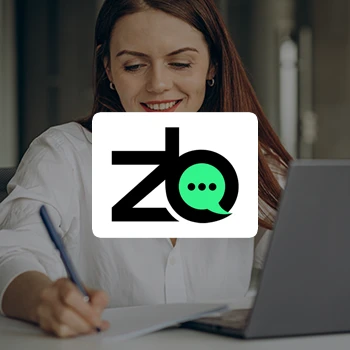 User Rating
2000+ Reviews
Pros
There are several forming packages available, including a registered agent service
Easy and speedy compliance filing
Plan costs are affordable
A quick method for creating a Wyoming LLC
Awesome online reviews
Get the BEST PRICE until the end of December
Cons
Formation of non-profit business is not supported