Hiring a reliable service provider will significantly cut your Washington LLC startup costs while offering essential registered agent services to get you started.
We teamed up with our professional lawyers to review and test different LLC services in Washington. We've narrowed them down to the seven best LLCs to make it easier for you.
Continue reading to get a detailed side-by-side comparison of these services. At the end of this article, you'll get a proper insight into our list and select one that perfectly suits your business entity type.
Editor's Choice
ZenBusiness
Click To Signup
#2nd Best Choice
Northwest
Click To Signup
#3rd Best Choice
IncFile
Click To Signup
7 Best LLC Formation Services in Washington (February 2023)
1 - ZenBusiness (Editor's Choice)
ZenBusiness offers a range of LLC formation services designed to make the process of forming an LLC in Washington as straightforward and stress-free as possible.
With over 300,000 LLCs formed, ZenBusiness has established itself as a leader in the LLC formation industry.
With its competitive prices, comprehensive services, and knowledgeable customer service team, ZenBusiness is an ideal choice for start-ups and entrepreneurs nationwide.
Our professional team ordered ZenBusiness LLC formation service to create an LLC for our business. We were impressed with the speed and efficiency of their process. Our LLC was registered in a few days and had all the necessary paperwork.
Aside from that, we also loved the discounts that ZenBusiness provided for their other legal services.
ZenBusiness rates at 4.7/5 from 4,500 online reviews. As a result of its track record, ZenBusiness is undeniably one of the best LLC service providers in Washington.
Service Feature:
Starter Formation Package ($0)

: You will receive a free CPA assessment, a free LLC formation, and a free operating agreement template from this LLC formation service.
Pro Package ($199)

: This LLC formation service package contains EIN registration, VIP processing, annual report filings, and two-year amendments.
Premium Package ($299)

: This LLC services package Includes rush filing, business domain name, and privacy. The package also offers a website and an email address.

Registered Agent Service ($199)

: All three LLC formation packages include a free year of registered agent service. After the first year, the service is renewed annually for $119.
Pros
Offering cost-effective LLC formation packages
Affordably priced LLC services packages
Feedback from online customers is outstanding
Speedy formation process
Offers hassle-free compliance
Cons
The brand is relatively new in the industry
Sign Up To ZenBusiness
2 - Northwest Registered Agent
As a highly experienced company founded in 1998, Northwest Registered Agent comes into the picture with outstanding accomplishments.
We tried Northwest Registered Agent's LLC formation service and were impressed with the affordability of their packages.
Northwest Registered Agent's LLC formation packages were highly affordable—starting at $39. And you already get a free year of registered agent services in this package.
We recommend this company for Washington-based start-ups and entrepreneurs due to its proven track record of reliability.
Their expert customer support team is always available to answer questions, provide guidance, and help with any issues.
Service Features:
Basic LLC Formation Package ($39):

This LLC services package includes the paperwork you need to form your Washington LLC, name selection and registration, and legal documentation. Additionally, it consists of a free year of registered agents.

Deluxe Package ($228):

Includes the services included in the Based Formation Package and access to an EIN.

Registered Agent Services ($125):

You'll have complete Basic and Deluxe features plus a renewal fee of $135 every year.
Pros
Transparent service fees
More than a decade of experience
A one-year free registered agent is included
Prioritizes client privacy
Cons
Its formation packages are a bit pricey
Sign Up To Northwest Registered Agent
3 - IncFile
With IncFile, you can form a Washington LLC at a much lower cost. In contrast to most other companies in the industry, it doesn't charge business owners and entrepreneurs for its LLC formation services.
LLC formation services at IncFile are free, except for the Washington state fees, address fees, and certification fees. Furthermore, everything else is handled by it, so you don't have to worry about it.
In our experience, they have an excellent customer service department that responds quickly to emails and phone calls. This feature makes IncFile among the best LLC service in Washington, with a 5-star average rating from over 10,000 customers.
The only downside of IncFile is its third-party offers and upsells. Despite this, IncFile remains one of the best in its field.
Service Features:
Free Silver Package ($0):

The service includes

forming your Washington LLC

, free agent service at $0, and lifetime company compliance notifications.
IncFile Gold ($149):

Including preparation of operating agreements, bank resolutions, and EIN registrations.
Platinum Package ($229):

Offers free business websites, domain names, business contract templates, and priority expedited filing.
Registered Agent Service (starts at $0):

Includes a full one-year service at $0. You'll then pay a renewal fee of $199 annually.
Pros
Provides affordable LLC formation services
Stable reputation with more than 800,000 businesses assistance
Registered agent is included for an entire year
Excellent support team
Cons
There are more pricey upsells
Sign Up To IncFile
4 - Rocket Lawyer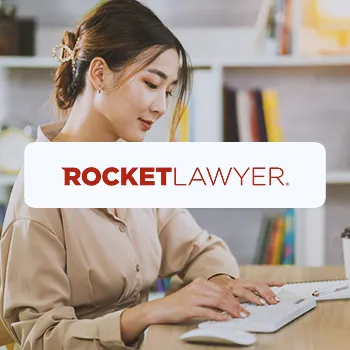 We recognize Rocket Lawyer for providing excellent LLC services in Washington.
Rocket Lawyer's incorporation service costs $29 plus state taxes. They also have limited liability company registration, premium registered agent packages, and client privacy protection, among other features.
The customer service is second to none at Rocket Lawyer. Their Corporate Guides are experienced professionals who are highly knowledgeable in LLC formation.
Every client is allocated a Corporate Guide for their individual account, so you can always speak with the same person if you have any issues or problems.
Various Rocket Lawyer packages are available to assist you with meeting federal, state, and local licensing obligations.
Service Features:
Registered Agent Services ($149.99/year for non-subscribers):

Include a 25% discount for a $39.99 monthly subscription.

Washington LLC Formation Services ($99.99 for non-subscribers):

Includes $45 and $50 for online and mail filing, respectively. The premium subscription gives new members free LLC formation filing, pre-formatted legal documents, and attorney services.
Pros
Helpful customer support team
One-year free registered agent
Solid data privacy
Cons
Expensive monthly subscription packages
You pay extra for add-ons
Sign Up To Rocket Lawyer
5 - Swift Filings
Swyft Filings is a powerful corporation that has seen significant growth in the few years it has been in operation.
They've risen to prominence for a reason. Their consumers have excellent feedback about choosing Swyft Filings over one of their numerous competitors.
Swyft Filings is one of the lowest pricing points for limited liability company formations online, at $49. They also guarantee their services and have excellent client feedback.
However, the absence of yearly reports or registered agent service in their formation packages is a minor disadvantage.
Swyft Filings might be an excellent choice for your LLC if affordable rates, short turnaround times, and 100% satisfaction assurance from a growing company appeals to your business structure.
Service Features:
Basic Package ($49):

In this Package, you get articles of organization for your business, name availability search, lifetime customer service, and corporate income tax consultation service.
Standard Package ($149):

Here, you get basic package services in addition to EIN registration, organizational minutes, and bank resolution documents.

Premium Package ($299):

This premium plan comes with a corporate kit and web and domain hosting services. The corporate kit includes a seal for your documents, a business ledger track, and customized certificates.
Pros
Cheaper base rate
Strong client feedback
Free 1 hour business tax consultation in all packages
Cons
Expensive registered agent per year
No annual reports
Sign Up To Swift Filings
6 - MyCompanyWorks
MyCompanyWorks was established in 2001. Since then, they've assisted over 60,000 corporate customers with LLC formations and other financial services.
This LLC filing service thrives in terms of client feedback. They have over 3,900 online reviews and consistently maintain high average rating values.
We typically laud their great overall value and the ease with which we could reach and contact their customer service representatives.
MyCompanyWorks provides excellent customer service since they handle everything in-house. The company didn't send us to an automated call center when we phoned them. Instead, we spoke with a qualified MyCompanyWorks representative.
Service Features:
Basic ($59):

Clients in this package receive organizational minutes, an LLC operating agreement, and unlimited phone and email customer service.
Entrepreneur ($199)

: Under the entrepreneur package, you'll get a free registered agent, EIN registration, and relevant business forms in addition to the previous tier features.

Complete ($299):

Here, you get a comprehensive My Company Works package that includes all service features from the two previous tiers.
Pros
Formed over 60,000 LLCs
Positive online customer reviews
Prompt customer support
Cons
The basic package does not have an EIN registration
No registered agent services for lower packages
Sign Up To MyCompanyWorks
7 - Harbor Compliance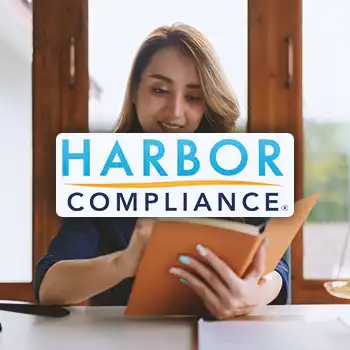 The Harbor Compliance website might be a little daunting, but that's just because the organization offers so many services. This is a one-stop solution for all your compliance needs, whether you run a for-profit or a nonprofit organization.
In addition to the business license and LLC establishment, this LLC formation service assures fundraising compliance while offering yearly reports and registered agent services in Washington.
Another crucial feature we appreciate about Harbor Compliance online legal services is that they are done quickly.
Harbor Compliance, unlike other online business formation services, saves you the burden of creating compliance papers.
As part of the LLC creation procedure, the firm assigns you a registered agent who collects your information and then prepares and mails any necessary documents.
Service Features:
Formation Package ($399):

This single package includes all essential services regarding forming and running your LLC per Washington state laws.

Free registered agent service (starts at $0):

This service is free for the first year of purchasing their formation package. After one year, you pay an annual $99 fee.
Pros
Registered agent services available
Personalized customer services
Single-day turnarounds
Cons
Pricey packages
No free domain services
Sign Up To Harbor Compliance
Advantages of Creating an LLC in Washington
Washington LLCs offer various benefits to your business, depending on its type. Find out how creating a Washington LLC can help you establish your company below.
1. Personal Liability Protection
An LLC in Washington provides its owners with personal liability protection. Thus, you cannot have your assets seized by debt collectors once your business has been established [1].
Also, LLCs offer small businesses and members protection if a fellow LLC or owner incurs liabilities.
2. Pass-Through Taxation
A Washington LCC gives you an advantage over corporations, especially regarding taxation. Taxes passing through your business as an LLC will be taxable to you as personal income because of pass-through taxation [2].
You can also minimize taxes with a Washington LLC. Due to this, your LLC in Washington benefits from a lack of corporate and personal income taxes.
3. Less Complexity in Formation and Operation
Your Washington LLC makes it easier to document legal paperwork. Forming an LLC is much more straightforward than with a corporation.
Moreover, your LLC only needs to file articles of organization with the South Carolina Secretary of State. And with your Washington LLC, you don't have to keep detailed minutes or hold annual meetings like a corporation.
4. Flexibility in Raising Capital
Unlike before, your Washington LLC allows you to raise capital more straightforwardly [3].
Additionally, new members can join with limited control over management. Unlike sole proprietorships and general partnerships, you must be a partner to accept investments.
Washington LLC Formation Process
The following seven (private will guide you through the formation of your Washington LLC:
Step 1

: Find an LCC name 

Step 2

: Have Washington registered agent

Step 3:

Provide the Washington formation certificate

Step 4

: Formulate your Washington LLC Operating Agreement

Step 5

: Get your EIN

Step 6:

Select the right LLC in Washington

Step 7

: File your Washington LLC yearly report
Our Selection Process
Teaming up with our attorneys, we selected these seven services based on customer support, prices, turnaround time, and service features. Let's take a look.
1. Service Features
When starting an LLC, we looked at the best LLC services provider who offered us value for our money.
This means their packages are well-jammed with excellent service features that allow you to set up and run your business efficiently per Washington state laws.
2. Price
For your Washington LLC formation, we needed a service with competitive pricing. We selected the best LLC services that offer the right tools you need for your business but at a reasonably affordable price.
3. Customer Support
We chose the best LLC services with quick response time to facilitate a hassle-free and worry-free LLC formation.
4. Turnaround Time
Here, we grouped the best LLC services with a track record of delivering legal documentation in less than seven business days.
We tested each one individually and prioritized ones that offer expedited processing at an affordable cost.
FAQs
How Long Does It Take For My LLC To Be Approved in Washington?
It takes 4-5 weeks for your LLC to be approved by mail in Washington. Online filling is a much faster option taking anywhere between 7 to 12 business days. With the online option, you'll not have an additional transit time due to the instant downloading of documents immediately after acceptance.
How Much Does It Cost To Create an LLC in Washington?
It costs $200 to create an LLC in Washington online. You can also file an LLC name reservation for $30, and if you want expedited processing, you'll have to pay an extra $50.
Do I Need An LLC Service in Washington?
No, you do not need an LLC service in Washington but hiring one takes a lot of work off your plate. An LLC service provider will handle all the hassle of creating your LLC, plus filing legal paperwork on time. This is a great way if you want to punctually comply with state laws and get a certificate of good standing.
Best Washington Online LLC Services
With a pool of LLC service providers available today, forming and running an LLC has become much more manageable.
However, because each provider offers different packages, choose an exclusive one with premium service features at a reasonable price.
We recommend ZenBusiness as our one-stop shop for a comprehensive LLC formation service.
We tried ZenBusiness's service, and we can attest that it is top-notch. They ensured we maintained good standing with the Washington secretary of state.
This business formation service also boasts robust brand power, an outstanding customer support team, and speedier turnarounds.
Our #1 Recommendation
Pros
Offering cost-effective LLC formation packages
Affordably priced LLC services packages
Feedback from online customers is outstanding
Speedy formation process
Offers hassle-free compliance
Get the BEST PRICE until the end of February
Cons
The brand is relatively new in the industry