Your registered agent will be responsible for receiving and managing legal documents on your business's behalf, so you need to be sure that you can trust them to handle these responsibilities in a timely and professional manner.
By following the detailed and thorough approach to evaluating different registered agents and legal services, we were able to determine which registered agent services offer the best combination of price and quality.
Although we have years of experience in this business, we are always looking for newer and better technologies.
Here is how these companies compare based on their customer support, features, packages, and other services essential for a quality registered agent.
Editor's Choice
Rated by more than 1000+ customers
Northwest
Click To Signup
#2nd Best Choice
Rated by more than 2000+ customers
ZenBusiness
Click To Signup
#3rd Best Choice
Rated by more than 1000+ customers
IncFile
Click To Signup
Top Reliable Registered Agent Services in 2023 (May 2023)
1 - Northwest Registered Agent (Editor's Choice)
Would you recommend Northwest Registered Agent?
Northwest Registered Agent is one of the best registered agent services around.
Clients consistently praise their exceptional customer service and appreciate their reliable and transparent pricing model.
With fixed prices, you can confidently engage in their services without having to worry about constantly adjusting your budget.
Setting up and operating your business through Northwest Registered Agent is a breeze thanks to their uncomplicated formation packages and upfront pricing.
We found that Northwest Registered Agent distinguishes itself from the competition with its complimentary email service that handled all our incoming and outgoing emails and provided digital mail scanning and forwarding.
Service Features:
Registered Agent Services ($125): If you select Northwest to form your LLC, the first year of registered agent service is free. If you want to open your business in all 52 jurisdictions, they offer you a discount. The registered agent service includes professional corporate advice, privacy, and free mail forwarding.
Basic LLC Formation Plan ($39 + State Fee): If you are on a limited budget, the basic plan is for you. It does include an operating agreement, articles of organization, and the registered agent included for a year.
Full Service LLC Formation Plan ($225 + State Fee): They will draft the operating agreement for you and file the LLC within a day. Additionally, a client account with free forms and services is provided, and the first year of registered agent service.
Pros
Data protection is priority
Exceptional client support
20 years of in this business field
No hidden fees
Basic package includes complimentary 1-year registered agent service
Cons
Northwest Registered Agent Service is not the most affordable option
Sign Up To Northwest Registered Agent
2 - ZenBusiness
Would you recommend ZenBusiness?
ZenBusiness Registered Agent simplifies the process of filing court documents for small business owners, providing an affordable and hassle-free solution.
Though not as well-established as some competitors, they excel in providing top-quality business formation services, with low-cost packages.
ZenBusiness provides registered agent service at an affordable price - just $199 for the first year and the same price annually after that.
Additionally, if you purchase registered agent services bundled with Worry-Free Compliance service, you can be confident your business is in good hands at all times.
We found their customer support to be particularly knowledgeable and helpful which is another big plus.
These ZenBusiness services are an unbeatable deal that can help you get your start in business efficiently and affordably.
Service Features:
Registered Agent Services ($199):

The registered agent fee is a delayed payment that is charged after the business is formed and renews annually at $199.

Starter LLC Service Package ($0 + State Fee):

This package has a standard filing speed (2 to 3 weeks), helps you track deductions and expenses, and 100% accuracy guarantee.

Pro LLC Service Package ($199 + State Fee): 4-6 days filing period, a guided operating agreement, and worry-free compliance included.
Premium LLC service Package ($299 + State Fee): Fastest rush filling speed (1-2 days), domain name & business email address, and customizable business website for a more professional look.
Pros
Reasonable and clear price structure
Extensive client support availability
Many favorable testimonials from clients
Offers a risk-free guarantee
Sign Up To ZenBusiness
3 - IncFile
Would you recommend IncFile?
IncFile is among the most affordable online registered agent services offering tiered pricing, making it accessible for many businesses.
The company offers free registered agent services if you're starting a new business and budget is an issue.
IncFile will accept all tax and legal documents on your behalf, like all registered agents. We found their online dashboard to check and retrieve your legal documents incredibly easy to navigate.
Our experience with IncFile left us feeling like our business was their top priority. Their team provided us with helpful advice and guided us through every step of the process in a friendly and professional manner.
Service Features:
Registered Agent Services ($119):

If you buy it separately, it will cost you $119/year, but if you decide to let IncFile create the business for you, they will give you a free registered agent service in the first year.

Free Silver LLC Formation Package ($0 + State Fee): Perfect to save your budget as you will receive the Articles of Organization, a free registered agent service for a year and more.
IncFile Gold LLC Formation Package ($199 + State Fee): Includes Silver package, EIN business tax number, IRS Form 2553. Additionally, business tax consultation, operating agreement, banking resolution, and online access dashboard are all included.
Platinum LLC Formation Package ($299 + State Fee): This package includes Gold Package. It offers free business websites, domain names, business contract templates, and the possibility to file for free on the next day.
Pros
Helpful online portal
No charge for recommended registered agent service included in LLC service packages
Order processing is quick
True to its price
Sign Up To IncFile
4 - Rocket Lawyer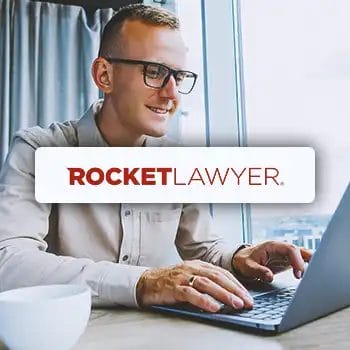 Rocket Lawyer is a well-established firm with a wide range of online legal services for business and individual requirements.
If you avail of their premium membership, which costs $39.99 per month, their registered agent service will offer a 25% discount.
After trying their services, we can confidently say that creating legal documents online with their help was very easy and time-efficient.
Their thoughtful approach includes forwarding all essential emails to you, acting as a barrier against spam, and giving you the power to stay competitive in the business world.
If you are not sure about their company, they are providing a 7-day free trial enjoying the benefit of premium members like a few free attorney services and legal document templates.
Service Features:
Registered Agent Service ($149.99 for non-members): There is a 25% discount for members. Membership costs $39.99 monthly.
LLC Formation Package ($99.99 + State Fee): Free with a $39.99 membership per month. You will take advantage of free legal documents and attorney services, and a 25% discount for registered agent services.
Pros
Provides great legal templates
Has a 7-day free trial period
Online legal services and consultation
Cons
Not the most affordable option
Limited customer support
Sign Up To Rocket Lawyer
5 - MyCompanyWorks
A standout feature of MyCompanyWorks is its refund policy feature, where the company covers you if you're unsatisfied. You have a 90-day window to request a refund.
They offer an online application called the "Startup Wizard" for launching your firm that involves an accounting system, obtaining a business license, or opening a bank account.
We found their app to be one of the best. It's easy to navigate through and we did not really have any issues.
There is also an additional $99 for online registered agent service, EIN ($59), and exclusive premiums for the LLC formation package, making it the cheapest registered agent provider on the market.
Service Features:
Registered Agent Service ($99): The first year of professional registered agent service is included for the both Entrepreneur and Complete bundles.
Basic LLC Formation Package ($59 + State Fee): This package offers organizational minutes, an LLC operating agreement, and

personalized operating management with a business bank account setup.

Entrepreneur LLC Formation Package ($179 + State Fee): You'll get everything the Basic Package includes, Federal Tax ID, a free registered agent in the first year, and lifetime forms & tax guide.
Complete LLC Formation Package ($259 + State Fee): MyCompanyWorks premium package includes all service features from the two previous tiers and initial and annual report filing service, Compliance Lock alerts, automatic minutes and resolutions, business entity monitoring, and priority support.
Pros
Favorable comments from clients
100% satisfaction guarantee
Startup Wizard online app
Free registered agent services for the first year on Entrepreneur and Complete packages
Cons
Does not include registered agent service for a basic package
A bit pricey for the same competitor's inclusions
Sign Up To MyCompanyWorks
6 - Harbor Compliance
The Harbor Compliance company's most significant standing point is its personalized customer support.
Harbor Compliance offers several special deals, including an extended-term agent-registration contract that significantly saves your business.
Paying upfront for multiple years saves you up to 10% on your total bill.
After testing their registered agent service, we were impressed with the positive outcomes.
Their team skillfully managed official correspondence between our business and government agencies, ensuring that all legal requirements were promptly fulfilled.
However, a significant drawback we noticed was their limited package selection, which has been frequently mentioned by other customers as well.
Also, their single LLC creation package is relatively costly and does not qualify as the best deal, especially if you're on a tight budget.
Service Features:
Registered Agent Service ($88): Yearly fees range from $89 to $99 per state, with no other expenses. If you pay for registered agent services in advance for more than two years, you can save 5-10%. You can immediately access the registered agent's address online.
LLC Formation Package ($99 + State Fee): Harbor Compliance will prepare and file the articles of organization for you, and check name availability.
Pros
Ultimate Convenience feature
Personal customer service
Access documents the same day
Cons
Registered agent service is not included in formation packages
Fewer registered agent services
Sign Up To Harbor Compliance
7 - LegalZoom
LegalZoom provides registered agent and LLC formation services with flexible price plans. The best thing about this company is that when you avail $299 registered agent service, there are no options for additional fees.
While several competitors offer lower pricing, LegalZoom offers more legal services capabilities in addition to simple document forwarding.
We appreciate the diverse range of services offered by this company, with their registered agent service being a standout feature.
In addition to allowing you to set your business hours, the best-registered agent provides you with a layer of privacy as an owner and helps avoid fines.
However, we must note that we found that their business formation plans are somewhat expensive and lack many of the registered agent services offered by other providers.
Service Features:
Registered Agent Services ($299):

 If you wish to create your LLC with them, the first year costs $249. Following that, renewal would cost $299. No fees until your docs are submitted to the state.

LLC Basic Formation Package ($0 + State Fee):

It includes a name search, a digital LLC package, articles of organization, and a website. 

LLC Pro Package ($249 + State Fee):

Includes everything from the Pro package. You'll get an operating agreement, an EIN, and insurance and taxes consultations.

LLC Premium Package ($299 + State Fee):

It covers everything in the Basic and Pro packages, including guidance and unlimited consultations from experienced state attorneys.
Pros
A refund policy of 60 days
Intuitive legal services platform
Discounted access to some of their other legal services
Cons
Registered agent service is pricey
Legal services add-ons are expensive
Sign Up To LegalZoom
8 - Swyft Filings
While Swyft Filings' registered agent service may not be as comprehensive as some of its competitors, it does offer a good solution for smaller businesses looking for a very low-cost option.
All their legal services come with convenient monthly installment payment options.
Also, the company offers a 100% money-back satisfaction guarantee which only applies if an error occurs while completing your LLC formation order.
We were impressed by their commitment to transparent pricing and unwavering focus on client satisfaction, which made for an enjoyable experience overall.
The convenience of their automatic renewals also made it incredibly easy for us, as we didn't have to worry about manually renewing our agreement with them.
For those seeking a registered agent service with quick processing times and exceptional customer support, Swyft Filings is a great option to consider.
Service Features:
Registered Agent Services ($99 per three months):

This will be a quarterly subscription.

Basic LLC Formation Package ($0 + State Fee):

This legal services package includes filing the articles of organization to form an LLC.

Standard LLC Formation Package ($199 + State Fee):

Includes everything in the basic package, plus Federal Tax ID (EIN) and most documents needed to start your business.

Premium LLC Formation Package ($299 + State Fee):

Includes the previous features and a free domain and company website hosting. You will also obtain a customized digital corporate kit plus a FedEx tracking number after your articles of incorporation get approved.
Pros
Flexible pricing on other services
Direct and reliable customer service
Guarantee against errors
Cons
A lot of upsells
Registered agent service costs extra
Sign Up To Swyft Filings
9 - Incorp
The Price-match guarantee is the most remarkable aspect of Incorp.
As a result, Incorp pricing is more flexible and competitive. They also offer volume discounts for their best-registered agent service in multiple states.
You may also rely on them to protect your data with a high level of security. Any LLC created using them has its legal information protected.
You will also be protected against identity theft through EntityWatch.
We liked their easy-to-use IOS app and overall, we would recommend them to you if you're just starting.
Service Features:
Registered Agent Services ($129):

With the purchase of multi-year service, you can pay $87 each year.

LLC Formation Package ($99 + State Fee):

Includes submitting Articles of Incorporation/Organization to the Secretary of State.
Pros
IOS app available
EntityWatch feature
Price match assurance
Cons
Limited online customer feedback
Registered agent service is not included in their packages
Sign Up To Incorp
10 - Tailor Brands
With Tailor Brands, you can quickly and easily create a cohesive brand experience with their comprehensive registered agent services that cover everything from building websites to creating a logo utilizing AI logo designer, making business cards using digital technology, and more.
We used their basic plan and overall, we had a positive experience with them. However, we must note that they are not the most suitable for someone that needs more advanced features.
Tailor Brands advise going with the premium (Elite plan, $199/year) if you want a complete package. But the package sadly excludes most registered agent services.
Service Features:
Registered Agent Services (an additional $199):

There is no free RA for the first year, and the price will be the same when renewing.

Lite LLC Formation Plan ($49 + State Fee):

One-time payment. Formation of an LLC and standard processing (application submitted within 14 days).

Essential LLC Formation Plan ($199 + State Fee):

Billed Annually.

LLC establishment, expedited processing (application filed in 2 days), yearly compliance, and operating agreement are all included in this plan.
The Elite LLC Formation Plan ($249 + State Fee):

Billed Annually. You get the same features as The Basic Plan, plus tools for growing your business (8 different logos, 1-year free domain, social media post maker, and business cards tool).
Pros
Cost-effective LLC service
Includes tools for branding
Easy-to-use online dashboard
Cons
Fewer advanced features
Customer support is limited
With so many registered agent services out there, choosing the best for your business can be challenging. We have reviewed the best and most popular companies for anyone's budget. We compared top registered agents in 2022, highlighting their pros and cons.
We aim to help small business owners in all US states with LLC formation.
Best Registered Agent Services - Choose Your State:
What Are the Benefits of Working With the Best Registered Agent Service?
Utilizing the best registered agent service to handle your legal papers has significant advantages [1].
1. It Saves You Time
You can focus more on building your own business rather than on paperwork with the best registered agent services handling them for you.
2. Your Privacy is Protected
Your personal information remains private [2].
3. Worry-free Compliance
Leading services ensure that legal correspondence will reach your company promptly and quickly [3].
4. Availability of Your Business
Quickly expand your company to other states. If you are planning to grow your business, having the best registered agent service in place makes more sense than acting as your own in your home state and then changing it once your company expands.
5. Less Paperwork
You can put all your attention on expanding your business without thinking of the paperwork since the best registered agent services will handle them for you.
How Much Does the Best Registered Agent Service Cost?
The best registered agent service costs from $89- $299. Some companies are offering registered agents free of charge when you get their LLC formation packages while others are offering these services as an add-on.
Our Selection Process
We have evaluated the cost of using your own registered agent services, comparing rates across various providers to find the best value options. We seek the best-registered agent services who can provide us with the utmost professionalism and integrity.
We look at the following criteria:
Service Features
Pricing mode
Online Dashboard
Turnaround time
Customer Support
After carefully evaluating and analyzing all these factors, our three top registered agent services stand out.
FAQs
Can I Act as My Own Registered Agent?
Yes, you can act as your own registered agent. But, this could cause problems if you don't have a fixed place of business or aren't present during regular business hours.
Do I Need My Own Registered Agent?
Yes, you need your own registered agent for your LLC formation or corporation if your business is registered within the state. It is usually called a statutory or resident agent, depending on your business's state.
Can a Registered Agent Be Allowed to Have a Virtual Address?
No, a registered agent cannot be allowed to have a virtual address. The business must select a registered agent who maintains a registered agent address in the state where it is permitted to operate.
What Does a Registered Agent Do?
A registered agent will receive, on your behalf, specific types of legal documents, such as state, regulatory, and tax-related ones. A registered agent will then share these documents by one or more of the following methods; digitally through an online portal, scanning and sending via email, and forwarding to your physical address.
Who Can Be a Registered Agent?
A registered agent can be an individual over 18 years of age or a business entity with a physical address in the state of business operation and who is available during normal business hours.
Can the Sole Member of an LLC Be the Registered Agent?
Yes, the sole member of an LLC can act as the registered agent for the business. Remember, doing so may restrict running and growing your business as you must be present at the address during standard business hours to receive legal, tax, and state correspondence.
Do I Need a Registered Agent for My LLC?
Yes, you need to appoint a registered agent for your LLC. All formal businesses like corporations and LLCs are required to list a registered agent provider. Common law business entities like sole proprietorships and general partnerships do not have the same requirement.
The Best Recommended Registered Agent Service
Our guidelines are designed to help you choose the best-registered agent service that will meet your needs and exceed them at every turn.
In their 20 years in the industry, Northwest Registered Agent is the leading registered agent service that has proven to be a highly experienced and trusted choice for registered agents.
Northwest Registered Agent's comprehensive pricing model is designed to ensure business owners can afford the services with quality service.
Our experience with their responsive customer support team that was ready to resolve any issues during the formation process is what set them apart from the rest.
Our #1 Recommendation
Northwest Registered Agent
Pros
Data protection is priority
Exceptional client support
20 years of in this business field
No hidden fees
Basic package includes complimentary 1-year registered agent service
Get the BEST PRICE until the end of May
Cons
Northwest Registered Agent Service is not the most affordable option