Starting an LLC can be challenging for small business owners or entrepreneurs unfamiliar with the LLC formation process.
It could also result in rejected filing forms and delayed processing for weeks or months. To avoid this, you should hire the best LLC service in Louisiana, which will handle all the legwork on your behalf.
In this guide, we have selected the industry-leading LLC services in Louisiana to help startups and small businesses like you set up a limited liability company as a business entity.
Let's get started!
Editor's Choice
ZenBusiness
Click For Best Price
#2nd Best Choice
Northwest
Click For Best Price
#3rd Best Choice
IncFile
Click For Best Price
Top 6 Best LLC Services in Louisiana (November 2022)
1 - ZenBusiness LLC Service (Editor's Choice)
ZenBusiness is well-known for the quality of the LLC formation package they offer at an affordable price, making them the best LLC service for Louisiana startups and entrepreneurs.
While they're relatively new in the scene, ZenBusiness has formed over 300,000 LLCs nationwide since 2015, with an average 4.7/5 rating across 4,500 online client reviews.
ZenBusiness provides three tiers of LLC formation packages to meet your unique business needs.
Prices range from $39 to $299 annually, excluding the Louisiana state fee. Each package already includes a one-year free registered agent service.
Service Features:
Starter Formation Package: LLC formation, free operating agreement template, and one-year Louisiana registered agent service.
Pro Package: Starter Formation Package features plus EIN (Employer Identification Number) registration, VIP processing, handling of annual report filings, and two yearly amendments.
Premium Package: Pro Package features plus business domain name, website email address, and domain privacy. It also permits you to use the rush filing option.
Registered Agent Services: Its three LLC formation packages include a one-year registered agent service. The annual service renewal is $119 or $99 when purchased separately.
Pros
Provide a variety of formation packages
Each package's price is reasonable
Offer stress-free compliance
Establish businesses as soon as possible
Has a lot of favorable customer reviews
Cons
Insufficient awareness of brand name
Click For Best Price
2 - Northwest Registered Agent LLC Service
Northwest Registered Agent, founded in 1998, has already established a reputation for providing industry-leading customer service and an affordable LLC formation package.
Their Louisiana LLC formation services pricing starts at $39, which includes a free year of registered agent service.
They also have highly trained customer service operators to assist you through each stage of the formation process.
Partnering with Northwest Registered Agent for your Louisiana LLC formation gives you the perks of contacting them anytime if you have questions or require assistance.
Service Features:
Base Formation Package: LLC formation process paperwork, such as name searches, registration, and filing of all legal documents. Plus, 1-year free registered agent.
Deluxe Package: Includes base formation package features plus access to an EIN registration.
Registered Agent Services: Its formation packages include a free year of registered agent service. The annual service renewal is $125.
Pros
Well-versed in the processes for 20+ years
Values privacy protection
Costs are very transparent
Free one-year registered agent service if you avail their formation package
Cons
A bit more pricey than its competitors
Click For Best Price
3 - IncFile LLC Service
In Louisiana, you may use an LLC formation service for free. Well, that is, if you worked with IncFile.
They do not charge any fees for their Louisiana LLC formation services, so you just have to pay the state fees and other minimal expenses such as address and certification fees.
Additionally, IncFile's customer service department provides fast response times. The company has over 10,000 customer reviews from satisfied customers, with almost all five-star ratings.
So, if you only need the basic LLC service, such as getting your formation documents filed in Louisiana, IncFile is the way to go.
Service Features:
Free Silver Package: Louisiana LLC formation, lifetime company compliance alerts, and 1-year free registered agent service.
Incfile Gold: Includes silver package features plus preparation of the operating agreement, EIN registration, and banking resolution.
Platinum Package: Includes gold features plus free business website and domain name, priority expedited filing, and business contract templates.
Registered Agent Services: Its formation packages include a year of registered agent service. The annual service renewal is $119.
Pros
Has free LLC service
Registered agent service is included in all formation packages.
Helped 800,000 businesses
Has phone and email support
Click For Best Price
4 - LegalZoom LLC Service
LegalZoom provides every legal service you might need. Since its founding in 2011, they have assisted over 4 million people and businesses, ranging from business formations and operations to intellectual property.
Although LegalZoom appears to be an expensive option compared to other LLC services on this list, it could be worth the investment.
Their entry-level plan is affordable but lacks helpful LLC features, such as EIN and Operating Agreement. Nonetheless, they aren't the most recognizable name in the LLC creation service sector for no reason.
Service Features:
LLC Formation Economy Package: Business name search, preparation and filing of Articles of Organization, lifetime customer support, and banking resolution.
Standard Package: Includes basic economy features plus a deluxe organizer and official certificates and seal.
Express Gold Package: Includes standard package features plus VIP processing and express shipping, which prioritizes your order above the economy tier and ships your documents with a tracking number, respectively.
Business Advisory Plan: Provides premium features, such as access to legal forms, tax advice, and help from vetted attorneys.
Registered Agent Services: It comes as an add-on feature in the formation package, costing $159 in the first year. The annual service renewal is $249.
Pros
Established brand in LLC formation services
Provides extended customer support hours
Has extensive legal services for your LLC
Has high client volume
Offers a 100% money-back satisfaction guarantee
Cons
Expensive LLC formation services
Registered agent service is only available as an add-on.
Has many upsell to high-priced add-on services.
Click For Best Price
5 - Rocket Lawyer LLC Service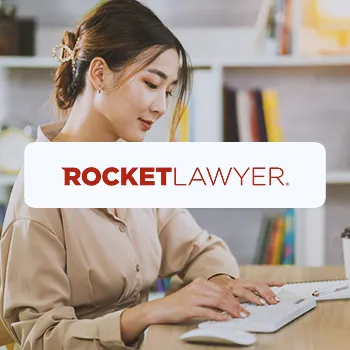 Rocket Lawyer is primarily a legal service company that also offers business formation and registered agent services in Louisiana.
They handle all legal paperwork on your behalf, including the service of process.
Rocket Lawyer, founded in 2008, has already delivered legal services to over 800,000 businesses and is well-known for its reasonable pricing and high-quality legal information and assistance.
Service Features:
Business Formation Service: Business name search, preparing and filing Articles of Organization, online document storage, shipping hard copies of documents, and phone and email support. It costs $99.99 plus state fees for non-members and $39.99 per month for a member formation plan.
Business Bundle Plan: Discounted prices for LLC formation and registered agent services, attorney services, and the creation of legal documents. It offers a 7-day free trial, after which you can subscribe monthly for $39.99.
Registered Agent Services: Non-members can get it for $149.99 yearly, while members get a 25% discount.
Pros
100% satisfaction guarantee
Provides discounts for premium members
Has extended customer support hours
Has impressive average rating scores across review websites
Cons
High prices compared to some competitors
Free trial converts automatically
Not specialized in business formation services
Click For Best Price
6 - Swyft Filings LLC Service
Swyft Filings is another LLC service in Louisiana that is relatively new but has rapidly made itself known in the business formation industry.
It has already helped thousands of entrepreneurs form their LLC businesses nationwide since its founding in 2012.
Swyft Filings' basic package starts at $49 and covers all the services needed to form a Louisiana LLC.
It also includes an online portal where you can review your important LLC formation documents, 30-minutes of free tax consultation with one of their in-house CPAs, and a registered domain name for your Louisiana LLC.
Service Features:
Basic LLC Formation Package: Business name search, preparing and filing of Articles of Formation, lifetime professional customer support, business tax consultation, compliance alerts, and one-year free domain name.
Standard LLC Formation Package: Includes basic package features plus federal tax ID number (EIN), a draft of the Operating Agreement, banking resolution, and organizational meeting assistance.
Premium LLC Formation Package: Includes standard package features plus immediate delivery of LLC documents, digital corporate kit and business website, and three months of hosting.
Registered Agent Services: Not included in any package. It is purchased individually and costs $149 per year.
Pros
Has a cost-effective LLC formation
Provides same-day processing
Has positive customer reviews
Payment by installment is allowed
Cons
No registered agent is included in any package
The order process can be quite confusing
Click For Best Price
Advantages of Creating an LLC in Louisiana
There are several advantages to creating an LLC in Louisiana, including asset protection, tax flexibility, and simpler and less expensive business formation and operation. Read more below:
1. Personal Asset Protection
Starting an LLC in Louisiana will protect you, as an LLC member, from personal creditors. If your business is sued, only its assets are at stake.
Business creditors can only sue the LLC, not the owner or investors, thereby protecting their assets such as houses, cars, or bank accounts.
Aside from that, Louisiana LLCs protect the owners and members from potential personal responsibility committed or incurred by other LLC members or owners.
This is why creating a Louisiana limited liability company is advantageous for small businesses.
2. Simple and Affordable Formation and Operation
LLCs require less information for their formation documents than corporations, and the procedure is also shorter. Unlike corporations, LLCs are not required to establish corporate bylaws, name executives or board members, have initial board meetings, or issue stock.
A Louisiana LLC formation only requires filing an Articles of Organization with the Louisiana Secretary of State. Furthermore, LLCs are not required to have annual meetings or keep detailed minutes.
3. Flexibility in Taxation
Regarding taxes, incorporating an LLC in Louisiana has an advantage over founding a corporation.
Pass-through taxation applies to LLCs, which means your taxes are transferred through the business and paid directly to you as personal income taxes.
As a result, your Louisiana LLC will not be compelled to pay both corporate and personal taxes, unlike many huge firms.
Basically, small company owners can simplify and minimize their taxes by forming a Louisiana LLC.
However, LLCs can still choose how they will be taxed–either as a C company or an S corporation–which gives them more taxation alternatives than corporations.
Related Articles: 
Louisiana LLC Formation Process
The Louisiana Secretary of State does not require business owners and entrepreneurs to hire a business formation service to create an LLC on their behalf.
Following these seven steps can get you started with an LLC in Louisiana:
Step 1: Choose a Business Name
Step 2: Appoint a Louisiana Registered Agent
Step 3: File Louisiana LLC Articles of Organization
Step 4: Make a Louisiana LLC Operating Agreement
Step 5: Open a Business Bank Account
Step 6: Obtain Employer Identification Number (EIN)
Step 7: Obtain Business Licenses and Permits
For more detailed information on how to start an LLC in Louisiana, read our free guide here.
Qualities to Look For in a Louisiana LLC Service
When deciding on the best Louisiana LLC formation service, there are a few variables to consider.
The following are some qualities to look for in a Louisiana LLC service:
Pricing of Packages: Consider a package with competitive rates containing all the services and tools you need to start your own Louisiana business.
Ease of Use: The order process must be simple with a user-friendly interface to give a seamless online experience.
Customer Support: Must have an informative support center and quick response time for a hassle-free and worry-free experience,
Proven Track Record: Must have an outstanding track record and client reviews, which you may check online.
FAQs
How Much Does Forming an LLC in Louisiana Cost?
$100 is the cost of forming an LLC in Louisiana for the Articles of Organization filed online and by mail due to the Louisiana Secretary of State. The name reservation for your LLC costs $25 when filed by mail or in person and is good for 120 days.
Conclusion
While several online Louisiana LLC formation services may assist you in forming an LLC, these six are among the best in the business formation service industry.
This makes it easy for entrepreneurs like you to get started without worrying about the LLC formation process. However, what you look for in service will still influence your choice.
We recommend ZenBusiness for quality and cost-effective LLC formation packages. They also provide excellent personalized customer service.
Our #1 Recommendation
Click For Best Price
Pros
Provide a variety of formation packages
Each package's price is reasonable
Offer stress-free compliance
Establish businesses as soon as possible
Has a lot of favorable customer reviews
Cons
Insufficient awareness of brand name