Selecting the best West Virginia registered agent service for your LLC or business is imperative. Several legitimate organizations in West Virginia provide registered agent services, making it tough to evaluate which one is the ideal choice for your business.
With years of experience in this field, together with my team of seasoned legal professionals, I decided to create this list in hopes to help anyone interested in selecting the best-registered agent for their company.
We analyzed over 10 West Virginia registered agent services and consulted with legal experts from West Virginia who had experience working in this field.
So without further ado, here's the list of best registered agents in West Virginia.
Editor's Choice
Rated by more than 1000+ customers
Northwest
Click To Signup
#2nd Best Choice
Rated by more than 2000+ customers
ZenBusiness
Click To Signup
#3rd Best Choice
Rated by more than 1000+ customers
IncFile
Click To Signup
Top 6 Best Registered Agents in West Virginia (May 2023)
1 - Northwest Registered Agent (Editor's Choice)
Would you recommend Northwest Registered Agent?
Northwest Registered Agent service is a dependable, competent, and professional registered agent service firm that can assist you in forming or incorporating your LLC immediately and skillfully.
Northwest Registered Agent is the country's second-largest registered agent company.
It provides high-quality LLC formation services nationwide and is an excellent solution for small firms that value privacy.
We found the Northwest Registered Agent customer support team provided quick and reliable response times and comprehensive answers each time we had questions. We also loved their easy-to-use dashboard.
It's ideal for people in business searching for a low-cost and dependable service to assist them in establishing and building their developing firm, making them the best-registered agent service on our list.
Northwest Registered Agent Service strives to exceed customers' standards. When you make a purchase, you should anticipate prompt, high-quality service.
To start your West Virginia LLC and sustain your business entity effectively, Northwest can supply you with anything you need, thanks to its streamlined bundles and fantastic relationship administration.
Service Features:
Registered Agent Services ($125 per year): Includes a physical address, annual report alerts, free e-mailing, presence throughout normal business hours, accepts service of process, scanned and securely stored paperwork, same-day local scans, Corporate Guides support, pre-filled state forms, and complete online access.
LLC Formation ($39 per year + $125 State Fee): Reminders for annual reports, scanning and uploading e-mail, customer service for life, formation and upkeep of an LLC, West Virginia registered agent service, business address, mail forwarding, No charge for 60 days of phone service, data protection, service corporate guide, your registered agent, federal tax identification number (EIN), operating agreement for an LLC, and Incfile will give you with a 30-minute tax consultation with a licensed tax professional.
Pros
Strong privacy data protection
Exceptional customer service
Experience of 20 years
No hidden fees
Formation bundle includes free first year registered agent service
Sign Up To Northwest Registered Agent
2 - ZenBusiness Registered Agent
Would you recommend ZenBusiness Registered Agent?
This organization is a registered agent service and is one of the most dependable in the industry. It ensures registered agents in each of the 50 states.
Despite being a young firm, it is outperforming its competitors with low-cost programs and outstanding customer service making it one of the best-registered agent services.
Drawing from our experience, accessing online files was effortless with the straightforward user interface and document organization.
We were also pleased with the excellent customer service and cost.
ZenBusiness registered agent service is the most effective LLC service for any company.
It is an excellent choice because of its cost, openness, items supplied, and simple interface. ZenBusiness possesses several key characteristics that distinguish it as a competitive challenger and among the top online services.
Service Features:
ZenBusiness Registered Agent Service Standard Package ($199): Expert support, business formation access, and use of online documents.
ZenBusiness Starter costs ($0 + $125 State Fee): This Starter West Virginia subscription comes at standard filing speed (2 to 3 weeks) and covers the standard corporate filing service, which covers name availability search capabilities and access to your files via the ZenBusiness site.
ZenBusiness Pro ($199 + $125 State Fee): ZenBusiness Pro comes at a faster-expedited filling speed (4 to 6 days) and provides different West Virginia LLC formation services like financial reports, employment ID number generation, and compliance reviews and alerts.
ZenBusiness Premium ($299 + $125 State Fee): This LLC formation membership plan comes at the fastest rush-filling speed (1-2 days) and incorporates the platform's services (plus state filing fees), while also providing a fully customizable business website.
Pros
Comprehensive and affordable price packages
Chat customer support is extended
Got a lot of positive customer reviews
Offers a money-back satisfaction guarantee
Sign Up To ZenBusiness Registered Agent
3 - IncFile Registered Agent
Would you recommend IncFile Registered Agent?
Incfile registered agent in West Virginia is one of the most well-known formation services available currently.
The organization mainly provides quick formation, compliance, and filing services for business people looking to build a business entity conveniently.
It is challenging to locate a company that will incorporate your LLC for free while also providing a year of free registered agent service. Of course, we had to try them out for ourselves.
The customer service we received from their support team was professional, friendly, and, frankly, one of the best we have experienced in our research.
If you use Incfile to find a registered agent in West Virginia, they will inform you instantly of the service process so you can be ready before you even get the paperwork in your possession.
You'll also get their useful Registered Agent Dashboard, which gives you continuous access to the system and notifications to help you keep on top of critical obligations and filing periods.
IncFile is excellent for business people seeking a free LLC formation service in West Virginia.
We particularly value this company's positive feedback from the customers and the provision of Virginia registered agent service through all LLC creation bundles.
The firm's low purchase price further ensures that you are never shut out, regardless of your budget. IncFile may be the ideal LLC service for you if you are willing to risk their unpredictable customer care to save money.
Service Features:
Registered Agent Services ($119 per year): They will tell you precisely about the service of the process so you may be ready when the docs arrive. You'll get their convenient online dashboard giving you a 24/7 gateway to the system and notifications to ensure you stay compliant.
LLC Formation (starts at $125 + $125 State Fee): Articles of Organization, Incfile will scan the business name database in your jurisdiction to confirm that the name you chose for your company is eligible, free Registered Agent services for one year, customer service for life, online document access, order tracking using the dashboard, company notifications, expedited filing, sample legal documents, business e-mail, and domain name.
Pros
Online dashboards are extremely useful.
A free registered agent service is offered with every formation package.
Processing orders promptly
Clear fees are stated properly
Cons
Support availability is limited
Sign Up To IncFile Registered Agent
4 - LegalZoom Registered Agent
LegalZoom is an excellent option for smaller firms that lack in-house legal teams or attorneys yet want frequent legal support.
LegalZoom is famous in the web-based technology market. They are also the industry's top player in legal assistance.
LegalZoom is not just an excellent alternative for forming a limited liability corporation (LLC).
It also offers legal assistance in other areas of your life, such as personal, family, and proprietary information.
Based on our experience, their Compliance Calendar has been an indispensable resource for keeping track of crucial compliance deadlines.
LegalZoom meticulously reviews and reproduces pertinent documents, and as registered agents, they promptly contacted us by phone when we received a court date.
Their acute attention to detail and steadfast commitment to client satisfaction has been truly noteworthy.
They also offer third-party expert registered agent services for $299 annually, saving you space and giving you privacy.
Nonetheless, if competence and the flexibility to reach customer service are high requirements for your firm, this could be a suitable choice.
Service Features:
Registered Agent Services ($299/year): To establish your LLC with LegalZoom, the initial year's fee amounts to $249, while subsequent renewals would require a payment of $299. The service entails a Compliance Calendar, limitless cloud storage, and a safeguard of up to $1 million against identity theft, and important email notifications.
Basic LLC Formation Plan ($0 + $125 State Fee): The package includes a thorough name search, a digital welcome packet, and articles of organization. As an added benefit, the package also offers a customizable website in collaboration with Wix.
Pro LLC Formation Plan ($249 + $125 State Fee): It entails all features of the Basic package, along with an operating agreement. Additionally, this package provides an EIN, consultations on tax-saving strategies, and a comprehensive guide to obtaining business licenses in West Virginia.
Premium LLC Formation Plan ($299 + $125 State Fee): Here, you'll get the Pro package features and a customized and interactive guide from a proficient West Virginia attorney at your disposal. Additionally, you'll have the privilege of availing unlimited consultation with an attorney for a duration of 30 minutes, and receive timely updates on your formation documents within 90 days of subscribing to our services.
Pros
Excellent customer service
Quality website
A lot of expertise
Cons
Expensive additional services
Limited features in formation packages
Sign Up To LegalZoom Registered Agent
5 - Swyft Filings Registered Agent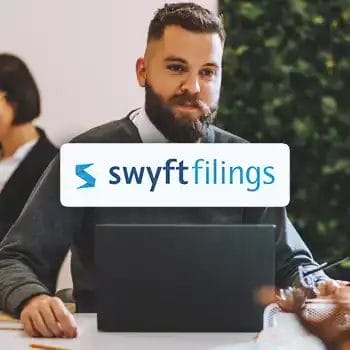 Swyft Filings is a legal internet service that will assist you directly and immediately in incorporating your small company organization and submitting the necessary paperwork with government agencies.
Swyft Filings registered agent, with its pliable price plan and short response times might be a good alternative for certain simple LLC forms or legal entities.
Their knowledgeable customer support team and user-friendly platform transformed our formation process into a smooth experience, saving valuable time and minimizing stress.
You will also receive their automated renewals, which eliminates the need for you to spend time extending your arrangement with their registered agent because it is fully automated.
Swyft Filings provides cost-effective services, and although their registered agent service is an exception, the quality they deliver is undeniable.
Similar to LegalZoom, they also offer a 100% refund if you are not satisfied with their service, demonstrating their commitment to customer satisfaction.
The platform is ideal for anybody wishing to launch a business in the United States as they will handle your company's requirements for you.
Unfortunately, they also had some disappointed consumers since they might be more transparent regarding annual payments, and their upsell process appears to be somewhat perplexing.
Service Features:
Registered Agent Service ($149 per year): You'll be able to control everything from your online dashboard, including getting any crucial notices or requests from your registered agent. You will also receive a worry-free guarantee.
LLC Formation ($0 + $125 State Fee): It helps you with filling out the documents of the business organization. You will get additional features if you choose to buy a premium package.
Pros
There is a full money-back guarantee
Swyft Filings registered agent considers PayPal, cheques, bank transfers, and debit/credit cards as payment options
Customers are generally pleased
Cons
Limited notices for annual charges for service
They do not have a free registered agent service in the first year
Sign Up To Swyft Filings Registered Agent
6 - Harbor Compliance Registered Agent
Harbor Compliance registered agent is a trustworthy expert firm that provides LLC forms, formation, and other corporate compliance-related operations.
They provide the fundamentals of LLC creation and full enterprise solutions, giving them benefits regarding their all-inclusive technique.
This implies they can support you with commencement and across your firm's whole life.
Every one of its customers is given a registered agent so that customers do not have to stand in a queue when initiating inquiries.
It is also easier to acquire personalized care as you'll never receive one-size-fits-all support for customers.
As per our experience with Harbor Compliance, we were impressed with their performance. They expertly managed official communications between our business and governmental entities, ensuring all legal obligations were met in a timely manner.
Their thorough approach and dedication to client satisfaction fostered a sense of confidence in their ability to proficiently address our business's compliance needs.
Harbor Compliance is an expert in corporate compliance. They guarantee that your LLC establishment or formation runs as efficiently as possible.
On the other hand, the LLC creation bundle is rather pricey for tiny start-ups and businesses on a tight budget.
They also should specify refund restrictions as well as service information to prevent possible confusion with customers.
Service Features:
Registered Agent Service ($89/year): The Harbor Compliance registered agent delivers formation packages and compliance solutions to small start-ups and big national enterprises through their software and management.
Basic Formation Package ($99 + $125 State Fee): It includes a draft of state documents including the articles of incorporation and contract, as well as confirming the availability of the name.
Pros
They take your safety seriously by securing their website using scanning and encryption software
Quick processing time
Harbor Compliance registered agents don't store your payment card information
Cons
Extremely costly
The website needs a significant overhaul
Sign Up To Harbor Compliance Registered Agent
What Are the Benefits of Working With a Registered Agent Service in West Virginia?
Online West Virginia registered agents provide services to major corporations that feature several advantages [1].
1. Online Registered Agents Provide Peace of Mind
Among the essential advantages of hiring your registered agent for business owners is that they are assured of getting alerts for any relevant papers pertaining to their company.
2. The Papers Are Often Completed Promptly
Many firms today are entirely digitally made, allowing their proprietors to travel as they want. A West Virginia registered agent should supply a permanent physical address to which every company notification can be delivered at any moment.
3. Confidentiality
No matter how or where the business is managed, the proprietor guarantees confidentiality and discretion by West Virginia registered agent services.
Clients, users, and relatives should not be aware of any significant information, particularly if the company owner has received a written warning.
4. Register Your Company in a Different State
A registered agent in West Virginia offers various jurisdictions across several states at less expensive rates than if you hired individual agents for each jurisdiction separately.
5. Lessen the Possibilities of Non-compliance
By using a West Virginia registered agent service, you may stay in accordance with the law, prevent high state overhead costs, and keep your business in a positive status in the state/s where it was formed.
If you aren't satisfied with you current registered agent, you can easily learn how to replace your registered agent in West Virginia.
How Much Does a Registered Agent Service Cost in West Virginia?
A West Virginia registered agent service normally costs between $50 and $300 yearly, which is pretty affordable considering the number of benefits you could gain instead of becoming your own registered agent.
The best-rated registered agents will help you comply with state regulations, provide expertise on statutory compliance laws, and ensure prompt responses to legal documents. These benefits make the cost of registered agent service a worthwhile business expense.
Your registered agent in West Virginia serves as a vital legal frontier for your company, offering detection of potentially severe problems.
Considering the dangers, choosing a professional agency that manages sensitive legal documents and swiftly transmits them for action seems essential. It's better than being your own registered agent instead.
What Are the Requirements for a West Virginia Registered Agent?
West Virginia's laws make registered agents liable for the most fundamental services. The following are the responsibilities of a West Virginia registered agent:
1. Physical Address in West Virginia
A registered office in West Virginia is required for a registered agent. The office could be any form of physical business address where correspondence and delivery of processes could be sent and received successfully.
2. Always Available
A West Virginia registered agent should be ready to take care of processes during normal business hours.
3. Accept Process Service
A West Virginia registered agent is required to receive service of procedure based on the firms they represent.
4. Obtain Official Alerts
West Virginia registered agents should be able to transmit court documents such as revenue notices and annual report alerts on the authority of the organization they represent.
5. Official Notifications
A West Virginia registered agent should be able to transmit court documents such as revenue notices and annual report alerts on the authority of the organization they represent.
A West Virginia registered agent is not obliged to retain correspondence connection records and information.
FAQs
How Do I Choose a Registered Agent in West Virginia?
To choose a registered agent in West Virginia, you must conduct an internet search. There are many registered agent services on the internet ready to accommodate you.
What Is the Difference Between a Commercial Registered Agent and a Non-commercial Registered Agent in West Virginia?
The differences between a commercial registered agent and a non-commercial registered agent in West Virginia have to do with the filing of state documents. A commercial registered agent submits a registration statement to the state of West Virginia. In contrast, a non-commercial registered agent is often an individual or small business that provides operations within just one or a few countries.
Do You Need a Registered Agent for an LLC in West Virginia?
Yes, you need a registered agent for an LLC in West Virginia. According to a Section of the Virginia Code, every company in the State of Virginia is obligated to have a registered agent.
The Most Professional Registered Agent in West Virginia is...
Choosing the perfect West Virginia registered agent service for your service procedures is critical.
Our thorough research lead us to the realization that Northwest Registered Agent is your West Virginia company's best-registered agent service option.
Since Northwest Registered Agent has been in the industry for over two decades, you can rely on their suite of registered agent services to provide you with everything you need for your LLC.
In addition, a team of experts and former lawyers is at your disposal anytime to answer all your questions and doubts free of charge.
Our #1 Recommendation
Northwest Registered Agent
Pros
Strong privacy data protection
Exceptional customer service
Experience of 20 years
No hidden fees
Formation bundle includes free first year registered agent service
Get the BEST PRICE until the end of May