Doing business in Michigan comes with its regulations, and ensuring you are compliant can save you a lot. A registered agent is a perfect solution to help you stay on track and avoid costly legal penalties.
We researched extensively to help you choose the best registered agent services available. We looked at ratings, reviews, customer feedback, and more to find the best registered agent services in the state. We also consulted industry professionals to get their perspectives on the matter.
After gathering this information, we are confident that we have identified Michigan's top-rated registered agent services.
Editor's Choice
Northwest
Click To Signup
#2nd Best Choice
ZenBusiness
Click To Signup
#3rd Best Choice
Incfile
Click To Signup
Top 8 Registered Agents in Michigan (January 2023)
1 - Northwest Registered Agent (Editor's Choice)
Northwest Registered Agent provides your business with all the services it needs to fulfill its legal duties. They give you a Michigan street address as your company's contact point.
Northwest Registered Agent can handle mail, process serving, legal notices, and legal documents for you during regular business hours. They made it so easy for us to manage our business compliance. We found the process quick and hassle-free, and their customer service team was exemplary.
Service Features:
Registered agent services ($125): For your convenience, they offer free mail forwarding and scanning services, same-day local document scanning, Privacy by Default®, and Local Corporate Guides®.
LLC formation package ($39 + state fee): The $125 annual fee starts in the second year.
Pros
Provides data protection
Offers personalized customer service
20+ years of experience in the industry
Transparent pricing
A year of free Michigan registered agent service is included in LLC formation
Click To Signup
2 - ZenBusiness
ZenBusiness assists with registration businesses in Michigan and provides registered agent services.
Together with the Michigan Department of Licensing and Regulatory Affairs, they can assist you in drafting your articles of incorporation.
ZenBusiness ensured our business was in good standing and compliant with all applicable laws and regulations.
For a price of $99 per year, they give your LLC a name and address in the state of Michigan, receive mail for your business, and allow service of process.
Service Features:
Registered Agent Services ($99): ZenBusiness offers top registered agent services at an affordable rate of just $99—without forming an LLC!
LLC formation package ($39 + state fee): They also provide their LLC formation package for only $39 plus the state filing fee if you wish to start your Michigan LLC with them. Plus, you can enjoy their one-year free Michigan registered agent. After your first year, you can begin paying the $119 per year rate.
Pros
Affordable package offers
Expert service and chat support extension
Excellent customer feedback
60-day money-back quality guarantee
Cons
Low level of brand recognition
Click To Signup
3 - Incfile Registered Agent Service
With IncFile, you can trust that your business is in good hands.
They authorize the use of the agent's name and personal or office address by your business, receive mail on regular business days, and accept processes and notices from the Secretary of State and the Michigan Department of Licensing and Regulatory Affairs on your behalf.
We found their website user-friendly and with plenty of resources that helped us get started.
Service Features:
Registered agent package ($119): You're sure to appreciate the extra perks of this package, such as LLC formation. You'll also benefit from the easy-to-use agent dashboard and email/SMS notifications that keep you in the loop. Other than the $119, you don't owe them anything except a filing fee of $50 for the first year.
Pros
Excellent online dashboard
All formation packages include a free national registered agent service
Swift order processing
No hidden costs
Click To Signup
4 - Rocket Lawyer Registered Agent Service
Rocket Lawyer is renowned for offering business owners and entrepreneurs trustworthy legal advice and assistance.
The business has extensive expertise in serving as its registered agent and providing legal information.
For its resident agent services, Rocket Lawyer guarantees complete customer satisfaction.
Service Features:
Registered Agent Service ($149.99 for non-members): Rocket Lawyer offers their premium members a 25% discount on their Michigan registered agent service and a regular charge of $149.99 for non-members. They provide a wide variety of online legal services.
Business Bundle Plan (starts at $0): Provides a free registered agent service in Michigan for the first year.
Pros
Excellent customer support
Provides expert legal assistance
Offers up to a 25% discount for premium members
Cons
Quite expensive when compared with other competitors
Requires a credit card to use the free trial
Click To Signup
5 - MyCompanyWorks
MyCompanyWorks is proud to be a member of the American Association of Registered Agents and Brokers, which means they are fully equipped to meet your needs. Plus, their easy-to-use online dashboard lets you monitor your account activity – anytime and from anywhere!
They have a tool called "Startup Wizard," an online startup checklist customized to your state and company type (corporation, LLC, etc.) that helps you organize your company correctly after it's formed with a step-by-step guide.
Service Features:
Registered Agent Service ($99/year): The service is free as part of their $179 entrepreneur package. This service includes the provision of a business address as well as mail forwarding.
Michigan LLC Formation (starts at $59): The filing fee for domestic and foreign LLCs costs $50. This package has everything you need to set up your business - Articles of Incorporation, filing of corporate records, a business name, and even an address! They have a one-time special offer of 20% off LLC or Corporation Orders.
Pros
Their incorporation procedure is simple
Provide a variety of services
Positive online review
Cons
In some states, their service is limited
Not the most cost-effective option
Click To Signup
6 - LegalZoom
LegalZoom has been in business for over 20 years and has an A+ rating with Better Business Bureau. The company provides economical, reliable, and essential services for small corporations and corporate entities.
Although they charge a higher price than their rivals, they offer an extra layer of protection for your information.
Service Features:
Registered Agent Service ($299): Includes notifications when they get an important email on your behalf. They can also provide information regarding necessary tax and yearly report dates using their compliance calendar. They also offer one million dollars in identity theft protection and limitless cloud storage.
Business Advisory Plan (starts at 39.08/month): Offers legal services from an attorney.
LLC Economy Formation package (starts at $79): Offers 20 business days of completion.
Standard($329): Has ten business days of completion plus a Founder's kit and personalized notebook.
Express Gold($349): Offers a 2 to 5 business days completion time and all features included in the Standard Formation package.
Pros
User-friendly platform
Low pricing in legal services
Satisfaction Guarantee for 60 days
Cons
Add-ons are pricey
Not budget-friendly
Click To Signup
7 - Harbor Compliance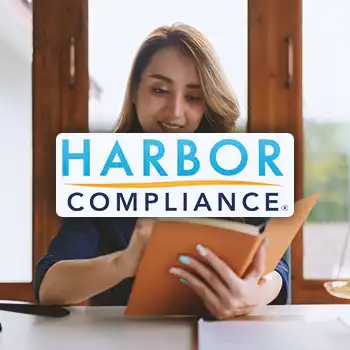 Harbor Compliance's registered agents are highly experienced in negotiations. You can rest assured that any issues won't need to be referred to you or your team for resolution.
They provide immediate online service once you sign up. They also offer a flat annual fee to scan your document on the same day and a 5–10% volume discount if you choose multiple years of service for registered agents.
Service Features:
Michigan Registered Agent Services (starts at $99): One-time payment for this service. As part of these features, they offer complimentary document scanning, custom notifications, yearly report notifications, and user-friendly software features.
Michigan LLC Formation Packages ($99): For essential services like creating OA templates, filing Articles of Incorporation, checking name availability, trademark registration, and obtaining an EIN with a free year of resident agent services, they have it all!
Pros
Solutions for compliance based on software
Great support for clients
Agent services in many jurisdictions
Cons
Formation packages offer limited services
Does not offer a refund
Click To Signup
8 - Swyft Filings
Swyft Filings is a reputable and professional Michigan-registered agent. They are formed by a team of professionals who understand businesses of all sizes' legal and compliance needs.
They can assist you with registration, and corporate compliance, accept documents on your behalf and serve as your agent in Michigan.
Service Features:
Michigan Registered Agent Services ($149): An online dashboard with instant access to your business documents. Plus, the organization takes compliance seriously and has your back! They employ a team of specialized consultants who, with the help of an automated monitoring system, can reach out to you if you ever have compliance issues.
Michigan Basic LLC formation Service($49): The Basic ($49), standard $149, and Premium $299 don't include registered agent services.
Pros
Total compensation in the case of dissatisfaction
Exceptional customer satisfaction
They can assist you at no cost
Cons
Operate only online
Their formation plans don't include registered agent service
Click To Signup
What Are the Benefits of Working with a Registered Agent Service in Michigan?
Taking on the role of registered agent yourself can be daunting. So you may want to consider the numerous benefits of using a Michigan registered agent service [1]:
1. Ensures Compliance
Your Michigan registered agent service is there to ensure that your business remains compliant with the regulations and rules of the state of Michigan.
2. Gives You Peace of Mind
An experienced resident agent is qualified to accept documents and serve as the point of contact for your business. You may feel more at ease knowing that professionals handle all formal paperwork.
3. Availability
Some business owners have unpredictable work schedules, travel regularly, or rarely go to the office due to unending field obligations.
Fortunately, registered agent services are available throughout regular business hours. They come in to simplify the work demands of busy business owners.
4. Maintains Privacy
Registered agents receive confidential documents and notify the business owner about the same.
Creating a Michigan LLC with a registered agent is a great way to keep your home address private. All documents, including legal documents, are directed to the registered office address [2].
How Much Does a Registered Agent Service Cost in Michigan?
In Michigan, registered agent services cost between $49 and $125. The price varies according to the features that the service offers. We recommend researching the different companies to find the one that best fits your needs and budget.
What Are the Requirements for a Michigan Registered Agent?
Your resident agent is required to comply with the following in line with Michigan Law sections 450.1241 (for corporations) and 450.4207 (for LLCs):
A registered agent in Michigan needs to have an official street address in the state.
It is a requirement that all Michigan registered agents must be 18 years or older and able to receive legal documents.
The registered agent service organization should be based in Michigan.
Our Selection Process
Our selection process consists of a thorough analysis of the client's needs, consultations with legal experts, and hours of research before determining the best-registered agents. Here are the most important criteria we used.
1. Price 
We compared all registered agents based on their value for money and current market prices. We also looked for agents with affordable packages suitable for large companies and small entrepreneurs.
2. Turnaround time
A Michigan LLC service provider should be able to prepare your paperwork promptly and assist you during your LLC formation. So we consulted our clients about the turnaround time of all the agents they had experience with and recorded the data that helped us choose this specific service.
3. Service Features
We got together with lawyers from our team and weighed all the agents based on the value of their services and packages. After that, we compared all registered agents in Michigan and selected the ones with the best individual service features and packages.
4. Customer support
We prioritize having a registered agent in Michigan who can respond to your concerns and guide you through the process. So, we contacted each agent and recorded their responsiveness through phone or email.
After that, we compared the same agents and rated them so that services that gave us a quick response and helped solve our queries got higher ratings
FAQs
Do I Need a Registered Agent for My LLC in Michigan?
Yes, it's necessary to have a registered agent for your LLC in Michigan. It is required by state law, and your LLC must be listed on specific forms for every business entity in Michigan.
How Do I Assign a Registered Agent for My LLC in Michigan?
To assign a registered agent for your LLC in Michigan, you can hire one that offers services that fit your budget. If you are forming a new company or changing agents, you must notify the Michigan Department of Corporations.
Can I Be My Registered Agent for My Michigan Business Entity?
Yes, it's possible to be a registered agent for your Michigan business entity. However, it would help if you were informed of the many responsibilities of this role.
Can I Change My Michigan Resident Agent?
Yes, you can change your Michigan resident agent. Fill out a change form and send it in with the $5 fee to change your resident agent in Michigan.
How Much Is the LLC Formation State Filing Fee in Michigan?
The state filing fee for LLC formation in Michigan is $50
Who Can Become a Registered Agent in Michigan?
A person or a business registered with the Secretary of State can become a registered agent in Michigan. The Registered Agent's name and address are public records and can be found online. The agent must be accessible Monday through Friday during regular business hours.
Do I Hire a Registered Agent Before or After Forming My LLC in Michigan?
It is highly recommended that you hire a registered agent before establishing your LLC in Michigan. Without an agent, forming an LLC or corporation would be nearly impossible.
BEST Registered Agent in Michigan is...
For your business, we recommend Northwest Registered Agent,  a renowned agent service in Michigan. They can manage all legal documents and processes that can impact your business.
Northwest Registered Agent makes managing business compliance so easy! They provided us with professional, experienced guidance every step of the way, ensuring that all our paperwork and filing were completed accurately and on time.
With Northwest Registered Agent, you can enjoy a year of free Michigan registered agent service, personalized customer support service, free email forwarding, scanning, and same-day local document scanning.
Our #1 Recommendation
Northwest Registered Agent
Click To Signup
Pros
Provides data protection
Offers personalized customer service
20+ years of experience in the industry
Transparent pricing
A year of free Michigan registered agent service is included in LLC formation
Get the BEST PRICE until the end of January