8 Best Registered Agent Services in Michigan to Try in 2023
As a seasoned expert in this field, I have conducted extensive research to help business owners choose the best registered agent services available in the state.
Having personally navigated the complexities of setting up a business in Michigan, I can attest to the importance of a reliable registered agent. My team and I delved deep, analyzing ratings, reviews, and gathering firsthand feedback to curate this list of the best registered agent services in the state
After gathering this information, we are confident that we have identified Michigan's top-rated registered agent companies.
Editor's Choice
Rated by more than 1000+ customers
Northwest
Click To Signup
79% of visitors chose this
#2nd Best Choice
Rated by more than 2000+ customers
ZenBusiness
Click To Signup
#3rd Best Choice
Rated by more than 1000+ customers
Incfile
Click To Signup
Top 8 Registered Agents in Michigan (November 2023)
1 - Northwest Registered Agent
(Best Overall)
Would you recommend Northwest Registered Agent (Best Overall)?
Northwest Registered Agent has the resources to provide your business with all the services it needs to fulfill all legal duties.
They give you a Michigan street address as your company's contact point as well.
Northwest Registered Agent can handle mail, process serving, legal notices, and legal documents for you during regular business hours.
We rank them first because of the wide scope of services provided and great customer service. They made it very easy for us to manage our business compliance.
We found the process quick and hassle-free, and their customer service team was exemplary and very knowledgeable.
You get get a free year of registered agent services within their $225 formation package which is not something a lot of their competitors would offer.
From what we've seen, they take their privacy policy very seriously and you shouldn't have any issues with data protection.
While their packages might be on the pricier side, considering the quality and the number of services you get, we believe it pays off well. We would highly recommend them to anyone looking for a reliable service.
Service Features:
Registered Agent Services ($125): The first year of registered agent service is free if you use Northwest to incorporate your LLC.
Basic LLC Formation Plan ($39 + $50 State Fee): For just $39, Northwest will draft the articles of incorporation, an operating agreement, and standard and accelerated processing rates. Additionally, one-year of free registered agent service is included. It can be used to establish LLCs, companies, and non-profit organizations.
Full Service LLC Formation Plan ($225 + $50 State Fee): It includes same-day filing, registered agent service for a full year, free limited mail forwarding, an operational agreement, and a client account with free forms and services.
Pros
Provides data protection
Offers personalized customer service
20+ years of experience in the industry
Transparent pricing
A year of free Michigan registered agent is included in LLC formation
Sign Up To Northwest Registered Agent
2 - ZenBusiness
(Best Essentials)
Would you recommend ZenBusiness (Best Essentials)?
ZenBusiness can assist you with business formation in Michigan and provide you with great registered agent LLC services.
Together with the Michigan Department of Licensing and Regulatory Affairs, they can help you with drafting your articles of incorporation.
We enlisted the ZenBusiness LLC formation service to establish an LLC in Michigan for our company. We were impressed by the swiftness and effectiveness of their procedures.
In merely a matter of days, our LLC was registered, complete with all the essential documentation. The customer service team at ZenBusiness was both responsive and well-informed.
Additionally, their platform was incredibly user-friendly.
For a price of $199 per year, they give your LLC a name and address in the state of Michigan, receive mail for your business, and allow service of process.
You're also eligible for a discount if you take on an additional service.
Service Features:
Registered Agent Service ($199): Renews annually for $199. The registered agent fee is a delayed charge and is not taken until after the formation of the business is complete.
Starter LLC Formation Package ($0 + $50 State Fee): This membership covers the standard corporation filing service and a name availability search. This product's filing rate is typically 2 to 3 weeks. The package also offers a 100% accuracy guarantee, a 1-month free trial for banking services, Money Pro Bookkeeping, and Website Builder. There's also optional worry-free compliance for the first year, which can be renewed at $199/year if chosen.
Pro LLC Formation Package ($199 + $50 State Fee): It has the Starter package features, an operating agreement ($99), and an EIN. With the package, you'll also get the fastest rush-filling speed (1-2 days).
Premium LLC Formation Package ($349 + $50 State Fee): This LLC formation plan covers the Pro package services, business document templates, business domain name, and privacy, email address, and a customized business website.
Pros
Affordable package offers
Expert service and chat support extension
Excellent customer feedback
60-day money-back quality guarantee
Sign Up To ZenBusiness
3 - Incfile
(Most Affordable)
Would you recommend Incfile (Most Affordable)?
IncFile authorizes your business to use the registered agent's name and personal or office address.
The registered agent receives mail on regular business days and accepts processes and notices from the Secretary of State and the Michigan Department of Licensing and Regulatory Affairs on your behalf.
We found their website user-friendly and with plenty of resources that helped us get started.
Based on our experience, their customer service is very knowledgeable and professional, as they promptly respond to emails and phone calls.
The one drawback of IncFile lies in its third-party promotions and upselling. However, despite this minor issue, IncFile continues to be a top contender in its industry.
Service Features:
Registered Agent Services ($119): If you buy any LLC formation packages, you receive the registered agent for free in the first year. After the first year, the renewal charge will be $119.
Free Silver LLC Formation Package ($0 + $50 State Fee): A year of free registered agent service and preparation and filing of the Articles of Organization.
IncFile Gold LLC Formation Package ($199 + $50 State Fee): The Silver package plus an EIN business tax number and an IRS Form 2553. You'll also get an operational agreement, banking resolution, lifelong company notifications, an online access dashboard, a business banking account, and business tax advice.
Platinum LLC Formation Package ($299 + $50 State Fee): Everything from the Gold Package. In addition, it offers free business websites, domain names, business contract templates, and filing for free on the next day.
Pros
Excellent online dashboard
All formation packages include a free national registered agent service
Swift order processing
No hidden costs for the registered agent in Michigan
Cons
Many upsells and third-party promotions
Sign Up To Incfile
4 - Rocket Lawyer
(Best Premium)
During my early days of entrepreneurship, I turned to Rocket Lawyer for legal guidance. Their reputation for assisting business owners with sound advice is well-earned, as I personally benefited from their expertise.
The business has extensive expertise in serving as its registered agent and providing legal information.
For its resident agent LLC services, Rocket Lawyer guarantees complete customer satisfaction.
We were very grateful for their customer service experts, who were consistently enthusiastic about assisting us. Their Corporate Guides are seasoned professionals with extensive knowledge in LLC formation.
We were assigned a dedicated Corporate Guide for our personal accounts, which allowed us to consistently communicate with the same individual in case of any concerns or challenges.
Rocket Lawyer offers a range of packages designed to help you comply with federal, state, and local licensing requirements.
Service Features:
Registered Agent Service ($149.99 for non-members): The cost of membership is $39.99 monthly. There is a 25% discount applicable for members.
LLC Formation Package ($99.99 + $50 State Fee): You might receive free legal documents and attorney services, as well as a free LLC business formation and a 25% discount on registered agent services. With a $39.99 monthly membership, it's free.
Pros
Excellent customer support
Provides expert legal assistance
Offers up to a 25% discount for premium members
Cons
Quite expensive when compared to other competitors
Requires a credit card to use the free trial
Sign Up To Rocket Lawyer
5 - MyCompanyWorks
MyCompanyWorks is proud to be a member of the American Association of Registered Agents and Brokers, which means they are fully equipped to meet your needs.
Their easy-to-use online dashboard lets you monitor your account activity – anytime and from anywhere.
They also have a tool called "Startup Wizard," an online startup checklist customized to your state and company type (corporation, LLC, etc.) that helps you organize your company correctly after it's formed with a step-by-step guide.
In our experience, our orders were processed on the same day as our purchase. Notably, this prompt processing is available in all their packages.
MyCompanyWorks delivers exceptional customer service, as they manage everything internally.
When we called them, we were not directed to an automated call center. Rather, we had the opportunity to speak with a competent MyCompanyWorks representative.
Service Features:
Registered Agent Service ($99): The free first year of registered agent service is featured in Entrepreneur Package and the Complete Package.
Basic LLC Formation Package ($59 + $50 State Fee): This package includes organizational minutes, an LLC operating agreement, and tailored operating management, as well as the establishment of a business bank account.
Entrepreneur LLC Formation Package ($179 + $50 State Fee): You'll obtain everything in the Basic Package plus lifelong forms and tax guides, one-year registered agent service, and a federal tax ID.
Complete LLC Formation Package ($259 + $50 State Fee): There is a MyCompanyWorks premium package including all service features from the two previous tiers and initial and annual report filing service, compliance lock alerts, business entity monitoring, and priority support.
Pros
Their incorporation procedure is simple
Provide a variety of services
Positive online review
Cons
The basic package does not have an EIN registration
Not the most cost-effective option
Sign Up To MyCompanyWorks
6 - LegalZoom
LegalZoom has been in business for over 20 years. The company provides economical, reliable, and essential services for small corporations and corporate entities.
Although they charge a higher price than their rivals, they offer an extra layer of protection for your information.
LegalZoom provides customers with a 60-day satisfaction guarantee, affording them sufficient time to assess their services and seek reimbursement if needed.
Their customer support is available during flexible hours, including weekdays and Saturdays during regular business hours.
We found the pre-populated Operating Agreement furnished by LegalZoom to be exceedingly convenient, and we were grateful for the knowledge and guidance of their expert support teams.
Nevertheless, a few companies that offer registered agent services in Michigan provide comparable quality and functionality to LegalZoom at a substantially lower price point.
Service Features:
Registered Agent Services ($299): The initial cost to form an LLC with them is $249 during the first year, with subsequent renewals priced at $299. Their service includes identity theft protection worth up to $1 million, unlimited online storage, and prompt notifications for crucial emails.
LLC Basic Formation Package ($0 + $50 State Fee): This bundle offers business owners all necessary resources to form an LLC, such as a thorough name search, a website developed jointly with Wix, articles of organization, and a comprehensive digital LLC welcome packet.
LLC Pro Formation Package ($249 + $50 State Fee): The package is inclusive of all features present in the Basic bundle along with additional perks such as an EIN, comprehensive guidance on Michigan licensing, expert advice on insurance and tax, and an operating agreement.
LLC Premium Formation Package ($299 + $50 State Fee): This package is inclusive of all Pro package features plus individualized guidance from a qualified Michigan business attorney. Additionally, you can expect revisions to your LLC formation document and extensive consultations with the attorney for a period of 90 days from the start of your subscription.
Pros
User-friendly platform
Low pricing in legal services
Satisfaction Guarantee for 60 days
Cons
Add-ons are pricey
Not budget-friendly
Sign Up To LegalZoom
7 - Harbor Compliance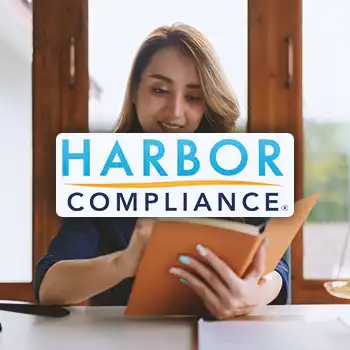 When I was in the initial stages of my business, Harbor Compliance was a lifesaver. Their registered agents, with their negotiation prowess, provided me with immediate online services, streamlining many of my initial setup processes.".
They also offer a flat annual fee to scan your document on the same day and a 5–10% volume discount if you choose multiple years of service for Michigan-registered agents.
Apart from acquiring the business license and forming the LLC, this LLC formation service guarantees adherence to fundraising regulations while providing annual reports and registered agent services in Michigan.
A significant benefit we valued about Harbor Compliance's web-based legal services is their prompt turnaround time.
Unlike other online business formation services, Harbor Compliance relieves you of the task of generating compliance documents.
As part of the LLC formation process, the company designated a registered agent to gather our details and prepare and dispatch any essential documents.
Service Features:
Registered Agent Service ($89): The year rates range from $89 to $99 per state, with no further expenses. You can save 5-10% if you pay for registered agent services in advance for more than two years.
LLC Formation Package ($99 + $50 State Fee): It consists of preparing and filing your articles of incorporation with the state, as well as confirming name availability.
Pros
Solutions for compliance based on software
Great support for clients
Agent services in many jurisdictions
Cons
Formation packages offer limited services
No refund policy
Sign Up To Harbor Compliance
8 - Swyft Filings
Swyft Filings is a reputable and professional Michigan-registered agent. They are formed by a team of professionals who understand businesses of all sizes' legal and compliance needs.
They can assist you with registration, and corporate compliance, accept documents on your behalf and serve as your agent in Michigan.
Although other online LLC formation services may provide lower prices, Swyft Filings offers incredibly versatile plans.
We were impressed with their user-friendly platform, and their customer support team was a delight to interact with.
Their customer service is exceptional, and we strongly recommend their services to individuals seeking swift LLC formation or legal guidance.
Typically, for those with the Basic or Standard package, incorporation documentation is sent via mail and arrives within 15 business days.
Service Features:
Registered Agent Services ($99 per three months): A quarterly basis subscription.
Basic LLC Formation Package ($0 + $50 State Fee): The package offers filing the articles of organization to form an LLC.
Standard LLC Formation Package ($199 + $50 State Fee): Everything in the basic plan, plus a Federal Tax ID (EIN) and the majority of the documentation required to establish your firm.
Premium LLC Formation Package ($299 + $50 State Fee): This package includes all basic and standard services, as well as extras such as free domain and company website hosting, and a customized digital corporate kit.
Pros
Total compensation in the case of dissatisfaction
Exceptional customer satisfaction
They can assist you at no cost
Cons
Pricey packages
Their formation plans don't include registered agent service
Sign Up To Swyft Filings
What Should I Consider When Choosing a Registered Agent in Michigan?
To identify the top registered agent services in Michigan, we reviewed over 20 providers, engaging anonymously for an unbiased experience.
Our methodology included insights from legal experts familiar with Michigan's business environment, focusing on factors like pricing, turnaround times, service features, customer support quality, and third-party reviews.
Each service was evaluated on criteria such as responsiveness, technological capabilities, and user experience, integrating average scores, external feedback, and provider reputation into our final recommendations.
1. Pricing
Price is a critical factor, especially for small businesses and startups operating on limited budgets. It's essential to balance cost with the quality of services received.
We found Harbor Compliance to be the one that offers the most budget-friendly option with a registered agent service priced at $89 annually. This makes it an attractive choice for cost-conscious businesses.
Northwest Registered Agent while slightly pricier at $125 annually, they provide a comprehensive range of services making them a value-for-money option.
LegalZoom on the other hand, is positioned at the higher end of the spectrum with a $299 annual fee, it may be suitable for businesses that prefer a brand with a long-standing reputation despite the higher cost.
2. Service Features
Comprehensive service features ensure that businesses remain compliant and receive the necessary support for various administrative tasks.
Based on our evaluation of the service features, we rated Northwest Registered Agent 5/5 as it offers a broad range of services including mail handling, legal notices, and a free year of registered agent services in their formation package.
IncFile on the other hand, despite being affordable, received a 3/5 because of its limited features, rigorous upselling, and third-party promotions, which might detract from the overall user experience.
3. Customer Support
Effective customer support is crucial for timely assistance and resolution of issues, ensuring smooth business operations.
Drawing from our analysis of customer support, Northwest Registered Agent ranks top with its excellent customer service, knowledgeable staff, quick responses, and a range of communication channels.
Conversely, LegalZoom fell slightly short because while providing extensive support, it has limited support hours.
4. Turnaround Time
A registered agent that consistently demonstrates quick turnaround times is likely to be more reliable and efficient. This reliability can be critical in situations where prompt action is required to protect your business interests.
MyCompanyWorks got a 5/5 for same-day order processing across all their packages.
On the other hand, Swyft Filings received a 3/5 because while offering versatile plans, their turnaround time may vary depending on the chosen package.
5. Confidentiality
A registered agent must be a trustworthy and professional entity because they are integral to your business operations. Knowing that your registered agent maintains confidentiality fosters a relationship of trust, which is essential for any business partnership.
Our top companies for confidentiality include Northwest Registered Agent which takes privacy policies seriously, offering robust data protection, and LegalZoom which offers an extra layer of protection for information, though at a higher price.
On the other hand, Harbor Compliance is known for prompt services but lacks specific mention of data protection measures.
6. Third Party Reviews
Reviews from actual users can give you a sense of what it's really like to work with a registered agent. They can share experiences about the agent's responsiveness, efficiency, customer service quality, and how well they handle legal documents and compliance issues.
Based on this criterion Northwest Registered Agent and ZenBusiness have received 5-star ratings and positive feedback for their services and customer support.
LegalZoom despite its reputation, has mixed ratings and feedback and it does not always align with customer expectations, especially considering its pricing.
7. Ease of Use
An intuitive and user-friendly platform is more accessible to people with varying levels of technical expertise. This inclusivity ensures that all relevant members of your team can use the service effectively, regardless of their technical background.
ZenBusiness got a 5/5 for offering an incredibly user-friendly platform.
IncFile also received a 4/5 as it offers an excellent online dashboard but has issues with upselling.
8. Transition Process
Changing registered agents can involve various administrative tasks, such as updating state records and informing relevant parties. A new agent that facilitates a smooth transition can significantly reduce the administrative burden on your business.
We found Northwest Registered Agent to excel the most in this area it has a hassle-free transition process and excellent customer support.
How Much Do Registered Agent Service Providers Cost in Michigan?
In Michigan, registered agent services cost between $89 and $299. Some companies include registered agents in their LLC formation packages, while others charge a fee for it.
This could substantially increase the cost of forming your Michigan LLC, so we suggest that you look into packages that include a free registered agent for the first year.
Alternatively, you can act as your own registered agent for free or choose a close friend or family member for the role.
Requirements For A Michigan Registered Agent
Your resident agent is required to comply with the following in line with Michigan Law sections 450.1241 (for corporations) and 450.4207 (for LLCs):
A registered agent in Michigan needs to have an official street address in the state.
It is a requirement that all Michigan registered agent professionals must be 18 years or older and able to receive legal documents.
The registered agent service organization should be based in Michigan.
Related Articles:
FAQs
Do I Need a Registered Agent for My LLC in Michigan?
Yes, it's necessary to have a registered agent for your LLC in Michigan. It is required by state law, and your LLC must be listed on specific forms for every business entity in Michigan.
How Do I Assign a Registered Agent for My LLC in Michigan?
To assign a registered agent for your LLC in Michigan, you can hire one that offers services that fit your budget. If you are forming a new company or changing agents, you must notify the Michigan Department of Corporations.
Do I Hire a Registered Agent Before or After Forming My LLC in Michigan?
It is highly recommended that you hire a registered agent before establishing your LLC in Michigan. Without an agent, forming an LLC or corporation would be nearly impossible.
Our Verdict on the Best Registered Agent Service in Michigan
For your business, we recommend Northwest Registered Agent, a renowned agent service in Michigan. They can manage all legal documents and processes that can impact your business.
Northwest Registered Agent makes managing business compliance so easy.
They provided us with professional, experienced guidance every step of the way, ensuring that all our paperwork and filing were completed accurately and on time.
With Northwest Registered Agent, you can enjoy a year of free Michigan registered agent service, personalized customer support service, free email forwarding, scanning, and same-day local document scanning.
Our #1 Recommendation
Northwest Registered Agent (Best Overall)
Pros
Provides data protection
Offers personalized customer service
20+ years of experience in the industry
Transparent pricing
A year of free Michigan registered agent is included in LLC formation
Get the BEST PRICE until the end of November