Finding the best Missouri registered agent service is crucial since it could make a difference whether your business thrives or not.
The ideal registered agent will ensure that your business entity complies with all legal requirements, that your private information is kept out of public view, and that your business's assets and information are secure.
To make choosing the right registered agent service for your LLC easier, we did thorough research and compiled a list of the best-registered agents in Missouri.
Editor's Choice
Northwest
Click For Best Price
#2nd Best Choice
ZenBusiness
Click For Best Price
#3rd Best Choice
Incfile
Click For Best Price
Top 4 Registered Agents in Missouri (October 2022)
1 - Northwest Registered Agent Service (Editor's Choice)
Northwest Registered Agent is the best registered agent service for the basic needs of any Missouri business.
By giving you a Missouri registered office address, which will be manned during regular business hours to receive service of process, legal notices, and notices from the Missouri Secretary of State, they safeguard your personal information and assets.
Northwest offers everything you need, including some of Missouri's most incredible LLC services.
Service Features:
The basic package is $125, which includes Privacy by Default®, Local Corporate Guides®, Free Mail Forwarding/Scanning, and Same-Day Local Document Scanning.

Missouri LLC Formation: Has a $39 price tag (filing fee excluded) with a year of free registered agent service. The $125 annual rate will start in your 2nd year.
Pros
Offers personalized customer service
Transparent pricing
20+ years of experience in the industry
A year free of registered agent service included in LLC formation
Cons
Higher price than competitors
2 - ZenBusiness
One of the best in Missouri registered agent services for LLC formation, ZenBusiness has just started making its services available to the general public.
Before making it available to everyone, ZenBusiness acted as Missouri registered agents for those who created a business entity with them; as a result, they have some experience in the area, although there are still some hiccups.
Service Features:
The basic service package costs $99 without LLC formation.
Missouri LLC Formation: The rate starts at $39 plus the state fee with free registered agent service in the first year. After that, your annual cost will be $119 per year.
Pros
Excellent customer feedback
Affordable package offers
Expert service and support
Free registered agent service in all packages
3 - Incfile
Another fair-to-good national agent service that falls short on pricing is IncFile.
They help you file your articles of incorporation, provide a Missouri registered office, and are reliable enough to manage service of process or other legal paperwork on your behalf.
IncFile is one of Missouri's most well-known LLC and registered agent services, with costs starting at just $119 per year.
Additionally, they offer a fantastic free LLC formation service if you haven't yet launched your business and need a Missouri registered agent during the process.
Service Features:
The package costs $119 annually with free registered agent service and LLC formation. The package also includes a convenient registered agent dashboard and email and SMS update notifications.

Missouri LLC Formation: Free of charge. You only need to pay the $58/$105 Missouri filing fee for the first year.
Pros
Free LLC formation with one-year free registered agent service
Has virtual mailbox feature
Has a registered agent dashboard
Thousands of positive customer feedback
Cons
Mediocre service quality
Doesn't offer compliance alerts
Unimpressive customer service
4 - LegalZoom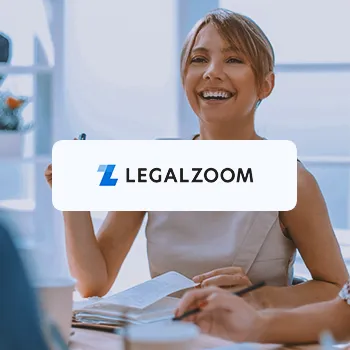 LegalZoom is the most well-known registered agent on this list. Despite being the most expensive, they offer enough advantages to make the cost seem relatively fair.
LegalZoom's good name and reputation may be enough to persuade you to hire them if you don't know any other registered agents on this list.
Millions of individuals have benefited from their wide range of legal products and services, which have been available for an eternity in internet years.
Service Features:
Includes LLC formation and features such as business data protection, compliance calendars, and unlimited cloud storage for $299 annually.
Missouri LLC Formation: Basic business formation service costs $79 plus the state fee.
Pros
The premium feature offers up to $1 million of identity theft protection.
Unrivaled Brand Recognition
High customer volume
Cons
Much more expensive than other competitors
Registered agent is not included in their LLC Formation Package
Mediocre customer reviews
What Are the Benefits of Working with Missouri Registered Agents?
The principal point of contact for your business with the state of Missouri is a registered agent who receives and distributes official communications on your behalf.
In some instances, employing a Missouri registered agent service is preferable to serving as your registered agent:
Ensures Compliance
With the help of your Missouri registered agent service, you can ensure that your company consistently complies with Missouri state law, including submitting important documents.
Gives You Peace of Mind
A skilled Missouri registered agent is competent to accept paperwork and act as your business's point of contact. Knowing that professionals handle all official paperwork may put you at ease.
Availability
Some business owners work irregular hours, travel frequently, or cannot come to the office because of ongoing obligations.
Registered agent services are helpful for busy business owners because they are available throughout normal business hours.
Maintains Privacy
Registered agents receive confidential documents, and they are an appropriate solution for additional security. When the papers come, they will inform you immediately.
When starting a Missouri LLC, you won't need to worry about disclosing your home address to the public.
They will supply the precise street location, and all paperwork, including those if your LLC is sued, will be delivered to the registered office address.
How Much Does a Registered Agent Service Cost in Missouri?
You can hire a registered agent service in Missouri for anywhere between $99 and $349.
Related Articles:
What Are the Requirements for a Missouri Registered Agent?
No matter if your company is a limited liability company (LLC), C-corporation, or S-corporation, Missouri Law 351.370 stipulates that a registered agent must provide the following services:
Must be a state resident or a business that offers registered agent services.
Obligated to keep a registered office (a physical address in Missouri).
During regular business hours, you must be accessible to accept documents (service of process).
FAQs
Do I Need to Hire a Registered Agent for My LLC in Missouri?
Yes, you need to hire a registered agent for your LLC in Missouri because the law mandates using a registered agent. The Articles of Organization must include a list of the registered agents.
What Is the Role of a Missouri Registered Agent?
The role of a Missouri registered agent is to accept and deliver all legal documents. To obtain legal documents (service of process) and official mail on behalf of your Missouri LLC, Missouri company or nonprofit, Missouri registered agents must have a physical address in the state.
Can I be my Own Registered Agent for my Missouri LLC?
Yes, you can be your own registered agent for your LLC in Missouri, provided you are at least 18 years old and have a Missouri physical address.
Can I Change my Registered agent in Missouri?
Yes, you can change your registered agent in Missouri. You must file a Statement of Change of Registered Agent form with the Missouri Secretary of State to change the registered agent. You must pay a filing fee of $10.
How Much Is the LLC Formation State Filing Fee in Missouri?
The LLC formation state filing fee in Michigan costs $58/$105.
How Do I Choose a Registered Agent in Missouri?
It is best to choose a reputable national registered agent based on your needs. Research its service features, costs, and online customer feedback.
What Does a Missouri Registered Office Mean?
Missouri registered office is the street address of the registered agent. The registered agent must be on site to sign documents during regular business hours. Additionally, many state agencies send registered agent reminders for annual reports and tax notices in the registered office.
Conclusion
You may not realize the importance of a registered agent service until you encounter problems, including service process delays. A registered agent's role is crucial to your business growth.
Although choosing the ideal registered agent service is quite challenging, we decided to make it easier for you. Our best pick is Northwest Registered Agent.
Your business will be secure, as they have been in the industry for twenty years and have good brand recognition and customer reputation.
Our #1 Recommendation
Northwest Registered Agent Service
Click For Best Price
Pros
Offers personalized customer service
Transparent pricing
20+ years of experience in the industry
A year free of registered agent service included in LLC formation
Get the BEST PRICE until the end of October
Cons
Higher price than competitors