Finding the best Missouri registered agent service is crucial as it can determine the success of your business.
Your business entity can be in good hands with a performing registered agent. They can ensure your business meets every legal requirement, your private information is kept out of public view, and your business's assets are secure.
We've done extensive research with the help of legal experts and created a list of the top-rated registered agent services in Missouri to make it easier for you to select the perfect one for your LLC.
Editor's Choice
Northwest
Click To Signup
#2nd Best Choice
ZenBusiness
Click To Signup
#3rd Best Choice
Incfile
Click To Signup
Top 4 Registered Agents in Missouri (February 2023)
1 - Northwest Registered Agent (Editor's Choice)
For all your Missouri business needs, Northwest Registered Agent is the best registered agent service choice!
They ensure you have a Missouri registered office address, which can be manned during regular business hours to receive service of process, legal notices, and notices from the Missouri Secretary of State.
Northwest Registered Agent Service safeguards your personal information and assets. They offered us everything we needed, including some of Missouri's most incredible LLC services.
Service Features:
The basic package ($125): Take advantage of their Privacy by Default®, Local Corporate Guides®, Free MailForwarding/Scanning, and Same-Day Local Document Scanning services.
LLC Formation (starts at $39): Enjoy a year of free registered agent service! After that, you'll pay $125 for each subsequent year.
Pros
Secures and safeguards customer data
Offers individualized attention to all of customers
Over two decades of expertise in the field
No hidden charges
A full year of free registered agent service when you form an LLC
Cons
An expensive registered agent option
Sign Up To Northwest Registered Agent
2 - ZenBusiness
One of the best in Missouri registered agent services for LLC formation, ZenBusiness has just started making its services available to the general public, which we've had the opportunity to try personally. They asked the right questions so that we could make the best decisions for our business.
Before making it available to everyone, ZenBusiness acted as Missouri registered agents for those who created a business entity with them. As a result, they have quality experience in the area, although there are still some hiccups.
Service Features:
The basic registered agent service package (starts at $99): Costs $99 without LLC formation.
LLC Formation (starts at $39): Plus the state fee with free registered agent service in the first year. After that, your annual cost should be $119.
Pros
Budget-friendly packages
Extended expert service and support hours for your convenience
Excellent customer feedback
60-day charge-back guarantee for added peace of mind!
Sign Up To ZenBusiness
3 - Incfile
IncFile is one of Missouri's most well-known registered agent services and LLC services providers, with prices beginning at $119 per year!
They help you file your articles of incorporation, provide a Missouri registered office, and are reliable enough to manage service of process or other legal paperwork on your behalf.
They offered us a fantastic free LLC formation service that we wholeheartedly recommend to our clients who want to start an LLC.
Service Features:
Registered Agent Service ($119): The package costs $119 annually with free agent service and LLC formation. This package comes with a handy dashboard, plus email and SMS notifications to keep you in the loop.
LLC Formation ($0): For the first year, a Missouri filing fee of either $58 or $105 is needed.
Pros
Has an amazing registered agent dashboard
Free LLC formation with one-year of unpaid registered agent service providers
Rapid processing turnaround
No unstated charges
Sign Up To Incfile
4 - LegalZoom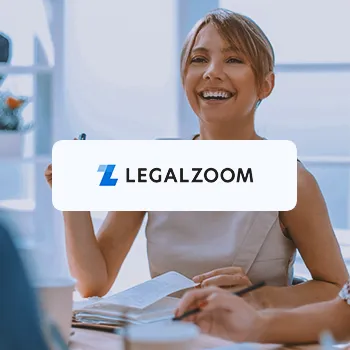 LegalZoom is a well-known service on this list. Despite being the most expensive, they offer services that make the cost worthwhile.
LegalZoom's good name and reputation may persuade you to hire them if you don't know any other Missouri-registered agents on this list.
Millions of individuals have benefited from their wide range of legal products and services.
Service Features:
Registered Agent Service ($299):

This LLC formation package has several beneficial features, including business data protection, compliance calendars, and unlimited cloud storage for $299 annually

.
Missouri LLC Formation ($79): Basic business formation service in Missouri is available for $79 plus the applicable state fee.
Pros
Enjoy up to $1 million in identity theft protection with their premium feature!
The brand stands out from the rest and is widely recognized
High numbers of customers
Cons
Their LLC Formation Package does not include a Registered Agent service
Expensive
Sign Up To LegalZoom
What Are the Benefits of Working with Missouri Registered Agents?
The primary contact point for your company in Missouri should be a registered agent. This agent can be in charge of receiving and distributing official communications on your behalf.
In some instances, employing a top registered agent is preferable to serving as your registered agent because of the following reasons [1]:
1. Ensures Compliance
With the help of your Missouri registered agent service, you can ensure that your company consistently complies with Missouri state law, including submitting important documents.
2. Gives You Peace of Mind
Having an experienced and knowledgeable Missouri-registered agent can give you peace of mind. They can take care of all the necessary paperwork and act as your business's primary point of contact.
3. Availability
Many business owners have unpredictable schedules with frequent travel or commitments, making it challanging to come into the office.
Registered agent services are helpful for busy business owners because they are available throughout regular business hours.
4. Maintains Privacy
Registered agents provide an extra layer of security when handling confidential documents. When the papers come, they can inform you immediately.
When starting a Missouri LLC, there is no need to worry about Sharing your residential address with the public.
They can provide the exact street address. All legal documents, even if your LLC is taken to court, can go to the registered office address [2].
How Much Does a Registered Agent Service Cost in Missouri?
Missouri registered agent service providers offer a range of affordable packages, starting at just $99 and going up to $349.
Related Articles:
What Does A Missouri Registered Agent Requires to Operate?
Regardless of the type of company you have, like an LLC, C-corporation, or S-corporation, Missouri Law 351.370 states that a registered agent must meet a certain criteria:
Must be a state resident or a business offering agent services.
Obligated to keep a registered office (a physical address in Missouri).
During regular business hours, you must be accessible to accept documents (service of process).
Our Selection Process
Each of the agent services in Missouri featured on our list has been ranked based on several specific and strict criteria to provide our clients with quality information.
Our rankings are also backed up by the expertise of our in-house legal team, who ensured we scored each of the companies correctly.
1. Price
We reviewed and ranked the cost of each of the company's services at a base level and through any specific offers to ensure you get the best service possible without spending too much money on it.
2. Expertise
We have scored each commercial registered agent service in Missouri based on how long it has been in business and on its past accomplishments. We want to ensure you get only the best quality service from professionals with vast knowledge in this niche.
3. Customer support
When using registered agents, you're likely to have additional questions or encounter issues you didn't expect. Because of this, we checked the responsiveness and quality of each company's customer service to give you an idea of what to expect.
4. Turnaround time
Finally, we made sure to score each agent's turnaround time. Speed is one of the most important things when using Missouri registered agent services.
Because of this, we made sure to make an order with each business and wait for them to complete it, recording the time it took them to do so. We then ranked each company based on its order processing speed.
FAQs
Do I Need to Hire a Registered Agent for My LLC in Missouri?
Yes, you need to hire a registered agent for your LLC in Missouri because the law mandates using a registered agent. The Articles of Organization must include a list of the registered agents.
What Is the Role of a Missouri Registered Agent?
The role of a Missouri registered agent is to accept and deliver all legal documents. To obtain legal documents (service of process) and official mail on behalf of your LLC, Missouri company, or nonprofit, Missouri registered agents must have a physical address in the state.
Can I be my Own Registered Agent for my Missouri LLC?
Yes, you can be the registered agent for your LLC in Missouri, provided you are at least 18 years old and have a Missouri physical address.
Can I Change my Registered agent in Missouri?
Yes, you can change your registered agent in Missouri. You must file a Statement of Change of Registered Agent form with the Missouri Secretary of State to change the registered commercial agent. You're required to pay a filing fee of $10.
How Much Is the LLC Formation State Filing Fee in Missouri?
Missouri's LLC formation state filing costs between $50 and $105.
How Do I Choose a Registered Agent in Missouri?
To choose a registered agent in Missouri, you can research its service features, costs, and online customer feedback. A reputable national registered agent is the best based on your needs.
What Does a Missouri Registered Office Mean?
Missouri registered office means the street address of the registered commercial agent. The registered agent must be on site to sign documents during regular business hours.
Our Favourite Registered Agent in Missouri Is...
You may not realize the importance of a registered agent service until you encounter problems, including service process delays. A registered agent's role is crucial to your business growth.
Although choosing the ideal agent service is quite challenging, we decided to make it easier for you. Our best pick is Northwest Registered Agent.
With Northwest Registered Agent, your business should be secure, as they have been in the industry for twenty years and have good brand recognition and customer reputation. We find their team is friendly and knowledgeable and always provides quick and helpful answers to our questions.
Our #1 Recommendation
Northwest Registered Agent
Pros
Secures and safeguards customer data
Offers individualized attention to all of customers
Over two decades of expertise in the field
No hidden charges
A full year of free registered agent service when you form an LLC
Get the BEST PRICE until the end of February
Cons
An expensive registered agent option