Hiring a Tennessee registered agent service is crucial to the success or failure of your LLC as the agent will handle most of your legal work.
So, to assist you to make an informed decision, we tested and reviewed the industry-leading registered agent companies in the state.
We at Venture Smarter are dedicated and meticulous in evaluating service providers and ranking them based on certain factors, such as their service features, convenience, and affordability, to keep your Tennessee business in good standing with the state.
Here's how these registered agent services compare.
Editor's Choice
Northwest
Click To Signup
#2nd Best Choice
ZenBusiness
Click To Signup
#3rd Best Choice
IncFile
Click To Signup
Top 6 Registered Agent Services in Tennessee (March 2023)
1 - Northwest Registered Agent (Editor's Choice)
Having been in the industry since 1998, Northwest Registered Agent is a guaranteed skilled and professional commercial registered agent.
This LLC service is renowned among business owners for its customer-centric service that consists of friendly and helpful representatives who guided us to complete and submit the required legal documents successfully.
We subscribed to their 7-day trial plan to get a glimpse of what their premium online account looks like. If you do so, remember to cancel the subscription before it auto-charges to your card.
While BBB does not officially accredit them, Northwest Registered Agent has an average of 4.5 rating on the platform. Plus, according to its website, the company has already maintained over 3 million businesses nationwide.
Service Features:
Registered Agent Service ($125): Includes a registered office address in Tennessee, a mail forwarding service, and an online account to access important business documents, such as the service of process documents. It can be bought as a separate order, but Northwest Registered Agent provides it for free when you purchase their LLC formation package.
Basic Package (Starts at $39 + $308 State Fee): This Basic Package includes essential LLC service features and tools, such as Privacy by Default® and Local Corporate Guides. Business formation packages can be upgraded at an additional cost.
Full Service LLC Package ($225+ $308 State Fee): This package is great for same business day filing, 12-month-long support of registered agent service (if you choose Northwest to help you establish your LLC) and free limited mail forwarding this package is great for those who enjoy free forms and tools.
Pros
Committed to protecting clients' privacy
Has a personalized and outstanding customer support
Over 2 decades of experience
Provides transparent fees
Provides free Registered Agent Services with formation packages
Cons
Expensive services when compared to other competitors
Sign Up To Northwest Registered Agent
2 - ZenBusiness
ZenBusiness is an online legal service provider that also provides LLC formation and Tennessee registered agent services.
Despite only being in the industry since 2015, ZenBusiness makes filings more streamlined and affordable for small-business owners using technology and automated processes.
Their registered agent service also auto-renews at $199 per year.
Based on their customer reviews, ZenBusiness scored an average rating of 4.51/5.00 on the BBB website.
Service Features:
Registered Agent Service Basic Package ($199)

: Includes filing of paperwork, a dedicated registered agent's address for receiving legal notices, and an online account dashboard. 

ZenBusiness Starter costs ($0 + $308 State Fee): This Starter Tennessee subscription covers the standard corporate filing service, which covers name availability search capabilities, standard filing speed (2 to 3 weeks), and access to your files via the ZenBusiness site.
ZenBusiness Pro ($199 + $308 State Fee): ZenBusiness Pro significantly provides different Tennessee LLC formation services like faster-expedited filling speed (4 to 6 days), financial reports, and employment ID number generation. However, they also offer compliance reviews and alerts.
ZenBusiness Premium ($299 + $308 State Fee): ZenBusiness Premium membership plan includes the fastest rush filling speed (1-2 days), customizable business website, business e-mail, and the rest of the platform's services (plus state filing fees).
Pros
Affordable commercial registered agent in Tennessee
Provides extended customer support hours
Has received many positive reviews online
60-day money-back guarantee
Cons
Not as experienced as other companies in the competition
Sign Up To ZenBusiness
3 - IncFile
Any sized business may use IncFile in Tennessee, but given its low price points, we recommend it for solopreneurs and small Tennessee businesses.
IncFile charged us zero fees for our LLC creation and statutory agent services during our trial, we only had to pay for state fees and other minor business fees.
One huge drawback we reviewed from IncFile is its limited customer support options since there are no customer service representatives ready to answer your concerns and questions on weekends.
Despite this disadvantage, IncFile has over 13,500 online reviews, with the majority of them good and only a few negative.
Service Features:
Registered Agent Service ($119/per year): This service will be free the first year if you purchase an LLC creation package, and it will continue to cost $119 per year after that.
Silver Package ($0 + $308 State Fee): The Silver Package makes it possible to prepare and complete the articles required to form an LLC. Includes unrestricted name searches as well as a year of free registered agent service.
Gold Package ($199 + $308 State Fee): Gold Package comes with every feature from Silver Package while offering IRS Form 2553, an EIN, and an operating agreement. This package was designed to support most bank-related tasks. 
Platinum Package ($299 + $308 State Fee): This plan contains Gold Package and free next day filing. For a smooth online presence and digital reputation, Platinum offers a domain name and business email.
Pros
User-friendly and effective online dashboard
Free Registered Agent and LLC formations services
Order process only takes a few minutes
Transparent fees
Cons
Their customer support is not that reliable
Sign Up To IncFile
4 - Rocket Lawyer
Rocket Lawyer is one of the most well-known registered agent service options nationwide. It claims to have worked with over 7 million business clients since its launch in 2008.
Additionally, Rocket Lawyer is home to different legal services, so if ever your Tennessee LLC needs other legal action to take, you can count on Rocket Lawyer to make the resolution.
Rocket Lawyer deviates from the norm regarding service arrangements, offering a monthly subscription basis.
Customers in Tennessee can choose between a member and non-member plan, each with its own set of perks and benefits.
Members, for example, benefit from legal consultations, bulk discounts, and document protection, whereas non-members must pay additional fees for services such as legal forms and document defense.
Service Features:
Registered Agent Service (Starts at $149.95/year)

: Non-members are charged the regular price, while members get a 25% discount (membership for this discount is $39.33 monthly)

Business Bundle Plan ($99.99 + $308 State Fee): This plan covers LLC formation, one year of legal services, and free registered agent service for the first year.
Pros
Excellent customer service
Subscription-based pricing
Provides support from legal experts
Cons
Limited features on their plans
Expensive service plans
Sign Up To Rocket Lawyer
5 - LegalZoom
LegalZoom is one of those legal service providers that charge more for its strong brand power.
It has been assisting businesses with compliance since 1999. It has already earned a reputation for being an incredibly dependable registered agent, as well as bringing other legal services that any business needs.
In fact, they have a BBB customer rating of 4.52/5 based on 5,020 reviews.
But, because of these factors, LegalZoom also has grounds to charge a much higher annual fee than its competitors.
Nonetheless, LegalZoom claims to have more than 1 million registered agent subscribers as of this writing. Given the expensive pricing policy, this is an outstanding consumer volume.
Service Features:
Registered Agent Service ($299/year): This service is only available as an add-on to the LLC formation packages. Covers premium registered agent service features and tools, like company data security, unlimited cloud storage, and identity theft protection.
Economy Package ($79 + $308 State Fee): Economy Package includes name search, tax savings help in form of consultation, customer support, an entrepreneur's business newsletter, and a customizable website powered by Wix.

Standard Package ($329 + $308 State Fee): This bundle includes all of the features of the Economy Package with 5-day priority processing and the addition of a founder's kit and a custom notepad.
Express Gold ($349 + $308 State Fee): Express Gold merges traits from the Economy and Standard package and offers above-average processing speed. Next to good support it also offers expedited shipping.
Pros
Unmatched brand power for their Tennessee registered agent packages
Has a high customer volume
Offers other legal services
Cons
Overpriced Tennessee registered agent
No registered agent is included in LLC formation
Sign Up To LegalZoom
6 - Harbor Compliance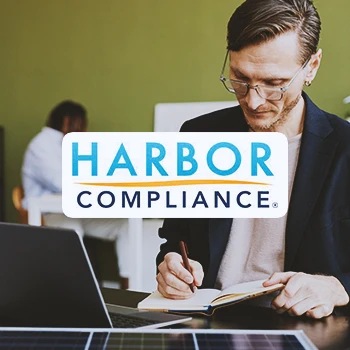 Harbor Compliance is a compliance specialist that offers one-on-one customer support to guide you through understanding business laws and regulations.
Its base package already covers every tool and service you need from a premium registered agent. It includes same-day document scans, annual report reminders, and a secure online database.
Moreover, if you have existing foreign LLCs outside Tennessee or have plans to expand your Tennessee LLC in other states, Harbor Compliance is best to consider as your company's registered agent.
This registered agent in Tennessee offers 5 to 10% discounts for multi-state LLCs or when you subscribe for multiple years.
Despite having fewer reviews than some of the competition, Harbor Compliance has an above-average overall rating of 4.5/5 across Google and an A+ rating on BBB.
Service Features:
Registered Agent Service (from $89 to $99/year): This service enables instant online access to registered agent addresses. There is a space for a 5 to 10% discount if you opt for Harbor's multi year's service.
Formation Package ($99 + $308 State Fee): Its basic package includes all services essential to LLC formation with a free registered agent service for a year.
Pros
Has an A+ rating from the BBB
Offers volume discounts
Free registered agent with formation package
Cons
High prices for services
Outdated and confusing website
Sign Up To Harbor Compliance
What Are the Benefits of Working With a Registered Agent Service in Tennessee?
The benefits of hiring a registered agent service in Tennessee include convenience, privacy, and location. For the most part, such benefits depend on your business type [1].
1. Highly Convenient
Your Tennessee registered agent service will be responsible for filing your papers, keeping track of all your submission deadlines, as well as receiving any legal notices to your LLCs.
So, if your LLC uses a third-party service to handle all of these registered agent tasks, you will have more time to focus on growing your business entity and even spending time with your family or friends.
2. Fewer Business Expenses
Several registered agent service providers offer volume discounts for multi-state LLCs. This is especially important for owners with domestic and foreign LLCs.
With a Tennessee registered agent service, state requirements are still meticulously tracked and delivered on time, preventing multi-state LLCs from incurring late penalties. Additionally, a few registered agents offer discounts for multi-year subscriptions.
3. Privacy Protection
LLCs registered in Tennessee are required to disclose their business address on the public record. So, if you operate your business from home, you face the risk of exposing your personal address to the public [2].
But, with a registered agent's assistance, your LLC will be provided with a street address or a registered agent office address to accept the service of process.
Furthermore, you won't have to worry about receiving your LLC's legal notices in front of your employees, friends, or family.
4. Always in Compliance
Legal documents are usually time-sensitive. So, if an LLC fails to submit on time, fines may be imposed, placing the LLC in bad standing with the state.
Professional Tennessee registered agents are reliable in submitting requirements punctually.
Plus, they commonly use tools such as a compliance calendar and alert messages to ensure that their clients are constantly in compliance with the Secretary of State.
How Much Does It Cost to Hire a Registered Agent Service in Tennessee?
It costs around $50 to $300 per year to hire a registered agent service in Tennessee.
The rates vary based on the service package and programs, as well as the authority of the company, meaning the bundle with more premium features is more expensive.
Similarly, a company with significant brand power is more likely to charge more. A few Tennessee registered agent services, like IncFile, provide their services for zero dollars in the first year.
What Are the Requirements for a Tennessee Registered Agent?
The requirements for a Tennessee Registered Agent include being over 18 years old, having a physical address in Tennessee, and being able to receive official documents during normal business hours.
A limited liability company business entity has four main options in designating a statutory agent:
The LLC as its own Registered Agent
The LLC owner as the Registered Agent
A trusted family member or friend as the Registered Agent
A professional Registered Agent Service Company
FAQs
Does Tennessee State Require a Registered Agent?
Yes, Tennessee state requires a registered agent for all Tennessee business entities, including LLCs, registered and formed within the state. If you fail to list a registered agent name, your LLC filing will be rejected by the Secretary of State.
Can I Make Myself My Own Registered Agent in Tennessee?
Yes, you can make yourself your own registered agent in Tennessee. By doing so, you will be responsible for receiving any legal notices on your company's behalf during normal business hours. Furthermore, you must keep track of, complete, and file any state-mandated annual reports.
How Do I Change to a New Registered Agent in Tennessee?
To change to a new registered agent in Tennessee, you must first file a Change of Registered Agent form to the Tennessee Department of State, Division of Business Services. Then you must pay the $20 filing fee due to the same department. This form can be filed by mail or in person.
Can I Use a PO Box Address for My Registered Agent Office in Tennessee?
No, you can't use a PO box address for your registered agent office in Tennessee. Instead, your resident agent must have a physical street address in Tennessee where they may receive legal papers on your behalf during office hours. It must be your business address--your registered office address.
What Is the Best Tennessee Registered Agent Service?
When appointing a Tennessee registered agent for your LLC, you want someone who is reliable and diligent in getting your company in the right standing with the state and understands the state and business laws.
Based on the list's breakdown and comparison of registered agent features, we selected Northwest Registered Agent as the best Tennessee registered agent. It strikes the ideal mix between providing the best-registered agent service and being affordable for any budget.
Northwest also has one of the best client feedback you can find across different platforms; we had a smooth and pleasant experience all around, especially with its customer support.
With their accurate tax documents, same-day delivery, compliance calendar, and excellent account management team, Northwest Registered Agent constantly proves to be the best in the sector.
Our #1 Recommendation
Northwest Registered Agent
Pros
Committed to protecting clients' privacy
Has a personalized and outstanding customer support
Over 2 decades of experience
Provides transparent fees
Provides free Registered Agent Services with formation packages
Get the BEST PRICE until the end of March
Cons
Expensive services when compared to other competitors