6 Best Registered Agent Services in Tennessee (2023)
The proper running of an LLC needs an experienced Tennessee registered agent service to help keep documents in order and business operations aligned with the state's requirements.
As an experienced business consultant with a strong understanding of LLC formation services, I have worked with different businesses to help them navigate through opening different LLCs and finding the best-registered agent services across Tennessee.
To test and find the best Tennessee-based registered agent service, I gathered a team of experts in the legal field to cover dozens of major services and test their features. These are our findings.
Editor's Choice
Rated by more than 1000+ customers
Northwest
User Rating
2000+ Reviews
Click To Signup
79% of visitors chose this
#2nd Best Choice
Rated by more than 2000+ customers
ZenBusiness
User Rating
2000+ Reviews
Click To Signup
#3rd Best Choice
Rated by more than 1000+ customers
IncFile
User Rating
2000+ Reviews
Click To Signup
Top 6 Registered Agent Services in Tennessee (December 2023)
1 - Northwest Registered Agent
(Best Overall)
Would you recommend Northwest Registered Agent (Best Overall)?
Northwest Registered Agent is a guaranteed skilled and professional commercial registered agent, making them one of the best registered agent service providers around.
This LLC service is big-name among business owners for its customer-centric service.
Their customer support is friendly and ready to guide you through every step.
From our experience, without their help to complete and submit the required legal documents successfully, we wouldn't be able to do it on time.
We subscribed to their 7-day trial plan to get a glimpse of what their premium online account looks like. If you do so, remember to cancel the subscription before it auto-charges to your card.
While BBB does not officially accredit them, Northwest Registered Agent has an average of 4.5 rating on the platform.
Service Features:
Registered Agent Service ($125): Includes a registered office address in Tennessee, a mail forwarding service, and an online account to access important business documents, such as the service of process documents. It can be bought as a separate order, but Northwest Registered Agent provides it for free when you purchase their LLC formation package.
Basic Package (Starts at $39 + $309 State Fee): This Basic Package includes essential LLC service features and tools, such as Privacy by Default® and Local Corporate Guides. Business formation packages can be upgraded at an additional cost.
Full-Service LLC Package ($225+ $309 State Fee): This package is great for same business day filing, 12-month-long support of registered agent service (if you choose Northwest to help you establish your LLC) and free limited mail forwarding this package is great for those who enjoy free forms and tools.
Pros
Committed to protecting clients' privacy
Has a personalized and outstanding customer support
Over 2 decades of experience
Provides transparent fees
Provides free Registered Agent Services with formation packages
Cons
Expensive Tennessee registered agent services when compared to other competitors
Sign Up To Northwest Registered Agent
2 - ZenBusiness
(Best Essentials)
Would you recommend ZenBusiness (Best Essentials)?
ZenBusiness is an online legal service provider that also provides LLC formation and Tennessee registered agent services.
Despite only being in the industry since 2015, ZenBusiness makes filings more streamlined and affordable for small-business owners using technology and automated processes.
Their registered agent service also auto-renews at $199 per year.
Based on their customer reviews, ZenBusiness has great customer support and customizable packages.
Their Tennessee registered agent service will submit documents on your behalf, provide two free changes to your filings per year, and cover the costs in case your company misses a deadline.
Our team had a chance to test ZenBusiness's services, and we were particularly impressed with their streamlined processes.
The automated features and the ease of managing multiple filings made our experience seamless. Their customer support was proactive, addressing our queries promptly.
Service Features:
Registered Agent Service Basic Package ($199): Includes filing of paperwork, a dedicated registered agent's address for receiving legal notices, and an online account dashboard. 
ZenBusiness Starter Package ($0 + $309 State Fee): The Standard Package covers LLC filing services, including a comprehensive name search. Operating with a standard filing speed averaging 2 to 3 weeks, this plan additionally provides a trial period for free banking services and a bank account. By choosing the optional worry-free compliance feature, you ensure timely adherence to deadlines. This option is free the first year, and is followed by a $199 annual renewal fee.
ZenBusiness Pro Package ($199 + $309 State Fee): ZenBusiness Pro significantly provides additional Tennessee LLC formation services like faster-expedited filling speed (1 to 2 business days) for fast formation. The ZenBusiness Pro Package speeds up filing through expedited "rush" processing (1 to 2 business days), streamlining business formation. It provides an EIN for official legal status and an operating agreement to assist in organizing internal and external processes. To manage taxes effectively and simplify tax season, the package includes complimentary bookkeeping for the first month.
ZenBusiness Premium Package ($349 + $309 State Fee): The Premium package includes the features of the Starter and Pro Packages while boosting them with valuable business document templates. Included is a customizable business website with a free one-month website builder trial, followed by a $15 monthly fee. You'll gain access to diverse website templates and advanced SEO tools, bolstering your digital presence. Additionally, a professional business domain and email address will further elevate your business's image.
Pros
Affordable commercial registered agent in Tennessee
Provides extended customer support hours
Has received many positive reviews online
60-day money-back guarantee
Cons
Not as experienced as other companies in the competition
Sign Up To ZenBusiness
3 - IncFile
(Most Affordable)
Would you recommend IncFile (Most Affordable)?
Any sized business may use IncFile in Tennessee, but given its low price points, we recommend it for solopreneurs and small Tennessee businesses.
IncFile charged us zero fees for our LLC creation and statutory agent services during our trial, we only had to pay for state fees and other minor business fees.
One huge drawback we reviewed from IncFile is its limited customer support options since there are no customer service representatives ready to answer your concerns and questions on weekends.
Despite this disadvantage, IncFile has over 13,500 online reviews, with the majority of them good and only a few negative.
Service Features:
Registered Agent Service ($119/per year): This service will be free the first year if you purchase an LLC creation package, and it will continue to cost $119 per year after that.
Silver Package ($0 + $309 State Fee): The Silver Package makes it possible to prepare and complete the articles required to form an LLC. Includes unrestricted name searches as well as a year of free registered agent service.
Gold Package ($199 + $309 State Fee): Gold Package comes with every feature from Silver Package while offering IRS Form 2553, an EIN, and an operating agreement. This package was designed to support most bank-related tasks. 
Platinum Package ($299 + $309 State Fee): This plan contains Gold Package and free next-day filing. For a smooth online presence and digital reputation, Platinum offers a domain name and business email.
Pros
User-friendly and effective online dashboard
Free Registered Agent and LLC formations services
Order process only takes a few minutes
Transparent fees for their Tennessee registered agent services
Cons
Their customer support is not that reliable
Sign Up To IncFile
4 - Rocket Lawyer
(Best Premium)
Rocket Lawyer is one of the most well-known registered agent service options nationwide. It claims to have worked with over 7 million business clients since its launch in 2008.
Despite this disadvantage, IncFile has over 13,500 online reviews, with the majority of them good and only a few negative.
Rocket Lawyer deviates from the norm regarding service arrangements, offering a monthly subscription basis.
Our experience with Rocket Lawyer was unique due to their subscription-based model.
Businesses in Tennessee can choose between a member and non-member plan, each with its own set of perks and benefits.
As members, we enjoyed the benefits of legal consultations and document protection. The bulk discounts and document defense features added value to our subscription.
Service Features:
Registered Agent Service (Starts at $149.95/year): Non-members are charged the regular price, while members get a 25% discount (membership for this discount is $39.33 monthly)
Business Bundle Package ($99.99 + $309 State Fee): This plan covers LLC formation, one year of legal services, and free registered agent service for the first year.
Pros
Excellent customer service
Subscription-based pricing
Provides support from legal experts
Cons
Limited features on their plans
Expensive service plans
Sign Up To Rocket Lawyer
5 - LegalZoom
LegalZoom is one of those legal service providers that charge more for its strong brand power.
From our experience, they will deliver every promise. They promised us top-rated customer support and customizable legal forms that we got, and for that we recommend them.
It has been assisting businesses with compliance since 1999.
It has already earned a reputation for being an incredibly dependable registered agent, as well as bringing other legal services that any business needs.
Because of these factors, LegalZoom also has grounds to charge a much higher annual fee than its competitors.
Still, LegalZoom claims to have more than 1 million registered agent subscribers as of this writing. Given the expensive pricing policy, this is an outstanding consumer volume.
Service Features:
Registered Agent Service ($299/year):  Should you wish to establish an LLC with this company, the initial yearly fee would amount to $249, whereas any subsequent renewals would require a payment of $299. Their services cover features like unlimited cloud storage, Compliance Calender, email alerts, and identity theft protection worth 1M dollars.
Basic LLC Formation Package ($0 + $309 State Fee): The features include name search, articles of organization, a WIX-powered customizable website, and a digital welcoming pack.

Pro LLC Formation Package ($249 + $309 State Fee): This bundle includes all of the features of the Basic Package plus an EIN for creating bank accounts and tax filing, and an operating agreement for laying down entity guidelines, and settling disputes. Furthermore, the bundle also offers a detailed guide on business licensing and consultations on issues to do with insurance and taxes.
Premium LLC Formation Package ($299 + $309 State Fee): The package contains all the components featured in the Pro package and an exclusive guide provided by a proficient Tennessee attorney. Additionally, you will have access to LLC formation document revisions and an unrestricted 30-minute consultation with a professional business attorney relating to the most current legal matters within the initial 3 months of subscribing.
Pros
Unmatched brand power for their Tennessee registered agent packages
Has a high customer volume
Offers other legal services
Cons
Overpriced Tennessee registered agent
No registered agent is included in LLC formation
Sign Up To LegalZoom
6 - Harbor Compliance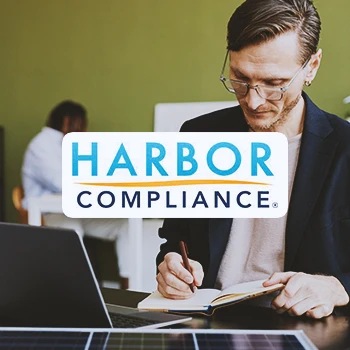 Harbor Compliance is a compliance specialist that offers one-on-one customer support to guide you through understanding business laws and regulations.
Its base package already covers every tool and service you need from a premium Tennessee registered agent. It includes same-day document scans, annual report reminders, and a secure online database.
If you have existing foreign LLCs outside Tennessee or have plans to expand your Tennessee LLC in other states, Harbor Compliance is best to consider as your company's registered agent.
This registered agent in Tennessee offers 5 to 10% discounts for multi-state LLCs or when you subscribe for multiple years.
Despite having fewer reviews than some of the competition, we liked Harbor Compliance's one-day processing time, we did find their website to be a little difficult to navigate.
They are serious about protecting your privacy, which is why they protect their website using data encryption and Norton and Trustwave monitoring.
Service Features:
Registered Agent Service (from $89 to $99/year): This service enables instant online access to registered agent addresses. There is a space for a 5 to 10% discount if you opt for Harbor's multi-year service.
Formation Package ($99 + $309 State Fee): Its basic package includes all services essential to LLC formation with a free registered agent for a year.
Pros
Has an A+ rating from the BBB
Offers volume discounts
Free registered agent with formation package
Cons
High prices for services
Outdated and confusing website
Sign Up To Harbor Compliance
How We Picked And Tested The Best Registered Agent Services In Tennessee?
Selecting the top registered agent services in Tennessee demands a detailed approach because of the varied needs of businesses and the essential role these services play in ensuring compliance and smooth operations.
While the perfect registered agent service might differ for each business, certain universal qualities distinguish the best from the rest.
Here are the criteria we used to choose the registered agent services in Tennessee:
1. Price
Price is critical for businesses, especially startups and small businesses because it directly affects their budget and financial planning. Affordable services enable businesses to allocate resources to other areas of operation.
We favored services that provide the best value for money, ensuring businesses receive top-tier services without straining their budgets.
IncFile offers a free package with a registered agent, which is exceptional for businesses seeking to minimize upfront costs.
Northwest provides a basic package starting at $39, which we found to be a competitive rate in the market, and includes a free registered agent when opening an account through our link.
2. Turnaround Time
In business, time is more than money; it's opportunity. The speed at which services process and deliver your legal documents can set the pace for your business's momentum.
Our analysis indicates that Northwest and ZenBusiness excel in efficiency, often processing and delivering documents faster than their competitors.
Harbor Compliance also offers rapid processing, but their platform's navigability issues may detract from the overall experience.
3. Confidentiality
Ensuring the confidentiality of business information is paramount for trust and legal compliance.
We assessed which companies take extra steps to protect data and those with potential weaknesses, including any history of data breaches.
Harbor Compliance and Northwest Registered Agent are strongly committed to safeguarding client data.
4. Services Offered
A broad spectrum of services ensures that a business's unique needs are met, from the standard compliance requirements to the more complex legal advisories.
The depth of services offered can be the deciding factor for businesses looking for a one-stop-shop solution.
In our comparative analysis, ZenBusiness and Northwest lead the pack with their extensive service offerings, which include but are not limited to operating agreements, EIN registration, and compliance alerts.
IncFile, while offering a free registered agent service, may have fewer included services, positioning it as a more basic, albeit cost-effective, option.
5. Ease of Use
Ease of use directly influences the efficiency with which business owners can manage their compliance and legal filings. A user-friendly interface can save time, reduce stress, and prevent costly errors.
Through our evaluation, ZenBusiness and IncFile distinguish themselves with their intuitive platforms, designed to simplify complex processes.
This focus on user experience demonstrates their understanding of the entrepreneur's need for clarity and ease in managing their business's legal framework.
6. Third-Party Reviews
In the compliance and legal service industry, reliability and reputation are not just about peace of mind; they are about the assurance that your business's standing with state agencies remains untarnished.
Our research into customer feedback and third-party reviews reveals that Northwest and ZenBusiness are the stalwarts of trust, with consistently high ratings and customer satisfaction.
LegalZoom, with its established presence, also commands a significant level of trust despite higher pricing tiers.
7. Customer Support
Effective customer support ensures that any issues can be quickly resolved, and questions answered, providing peace of mind for business owners.
Northwest's personalized approach to customer service set the bar higher during our analysis, while ZenBusiness's extended support hours ensured help is at hand when needed.
However, services like IncFile, while cost-effective, may leave you wanting more in terms of support availability.
8. Transition Process
A seamless transition to a new registered agent service is essential to avoid any gaps in compliance and service coverage.
We looked at companies that excel in ensuring a smooth transition and those that may not be as effective.
Northwest RA and ZenBusiness emerged as strong candidates for managing effective transitions.
Offering user-friendly online dashboards and a focus on simplicity, IncFile might be another good option for businesses looking for an easy transition process.
How Much Do Registered Agent Service Providers Cost in Tennessee
Registered agent service providers in Tennessee cost between $89 to $299 per year.
Northwest Registered Agent offers a basic package starting at $39 plus state fees, including a free registered agent for the first year. ZenBusiness charges $199 annually for their basic package.
IncFile provides a free registered agent service for the first year, with subsequent years costing $119.
You can be your own registered agent or appoint a friend or family member for this role at a free cost.
Requirements For A Tennessee Registered Agent
These are the requirements of a registered agent in Tennessee according to the Tennessee Business Corporation Act:
A Tennessee registered agent must be 18 and above years old.
The Tennessee registered agent must be an individual state resident or a corporation authorized to conduct business in Tennessee.
A physical street address in Tennessee is mandatory for the registered agent, where they can receive legal documents during normal business hours.
The registered agent is responsible for handling important legal and tax documents for the business and must be available during standard business hours.
FAQs
Does Tennessee State Require a Registered Agent?
Yes, Tennessee state requires a registered agent for all Tennessee business entities, including LLCs, registered and formed within the state. If you fail to list a registered agent name, your LLC filing will be rejected by the Secretary of State.
Can I Make Myself My Own Registered Agent in Tennessee?
Yes, you can make yourself your own registered agent in Tennessee. By doing so, you will be responsible for receiving any legal notices on your company's behalf during normal business hours. Furthermore, you must keep track of, complete, and file any state-mandated annual reports.
Can I Use a PO Box Address for My Registered Agent Office in Tennessee?
No, you can't use a PO box address for your registered agent office in Tennessee. Instead, your registered agent must have a physical street address in Tennessee where they may receive legal papers on your behalf during normal business hours. It must be your business address--your registered office address.
Our Verdict On The Best Registered Agent Services In Tennesee
When appointing the best Tennessee registered agent for your LLC, you want someone who is reliable and diligent in getting your company in the right standing with the state and understands the state and business laws.
Based on the list's breakdown and comparison of registered agent features, we selected Northwest Registered Agent as the best Tennessee registered agent. It strikes the ideal mix between providing the best-registered agent service and being affordable for any budget.
Northwest also has one of the best client feedback you can find across different platforms; we had a smooth and pleasant experience all around, especially with its customer support.
With their accurate tax documents, same-day delivery, compliance calendar, and excellent account management team, Northwest Registered Agent constantly proves to be the best in the sector.
Our #1 Recommendation
Northwest Registered Agent (Best Overall)
User Rating
2000+ Reviews
Pros
Committed to protecting clients' privacy
Has a personalized and outstanding customer support
Over 2 decades of experience
Provides transparent fees
Provides free Registered Agent Services with formation packages
Get the BEST PRICE until the end of December
Cons
Expensive Tennessee registered agent services when compared to other competitors