One of the critical steps in creating an LLC in any state is choosing a registered agent service, and Wyoming is no different.
Registered agent service will align your business with the requirements of the Secretary of State and follow through on every legal form and legislation.
From our rich experience, they should also secure the delivery of important legal documents and help you comply with critical deadlines.
Finding a registered agent in Wyoming is easy, but you must find the most suitable for your business entity. To assist you with this, we tested and listed the best-registered agents in Wyoming in this guide.
Editor's Choice
Rated by more than 1000+ customers
Northwest
Click To Signup
79% of visitors chose this
#2nd Best Choice
Rated by more than 2000+ customers
ZenBusiness
Click To Signup
#3rd Best Choice
Rated by more than 1000+ customers
IncFile
Click To Signup
Top 6 Best Registered Agents in Wyoming (October 2023)
1 - Northwest Registered Agent (Editor's Choice)
Would you recommend Northwest Registered Agent?
Northwest Registered Agent is our editor's choice for the best registered agent service in Wyoming for various reasons. They offer competitive pricing, fast turnaround times, and a user-friendly interface.
With over 15 years of experience in the industry, they are the go-to choice for businesses of all sizes.
We found their customer service top-notch and always willing to answer any questions, taking time to ensure you understand their response.
Northwest Registered Agent also has a wide range of services available, from essential registered agent services to more complex services such as document filing, document retrieval, and more.
For these features, you can be sure that your business is in good hands with Northwest Registered Agent, which is why we recommend them.
Based on our experience, their turnaround time is one of the fastest in the industry, and same-day filing was something that we loved, but we did find their add-ons and EIN service to be pricey if you are on a fixed budget.
Service Features:
Registered Agent Service ($125): Carefully created service to support your every step, including expert corporate guides, privacy by default, and free mail forwarding.
Basic Package ($39 + $102 State Fee): This package includes the filing of your Articles of Organization and the issuance of your Certificate of Formation. Standard and expedited processing speeds are also included in this package.
Full Service LLC Formation Package ($225 + $102 State Fee): To expedite every step, the Formation Package includes same-business-day filing. This package also includes an operating agreement and access to a client account with free forms and tools.
Pros
Strong privacy policy
Personalized customer support
Over 15+ years of experience
No hidden cost
Free one-year service that comes with formation packages
Cons
Not great options for affordability
Sign Up To Northwest Registered Agent
2 - ZenBusiness Registered Agent Service
Would you recommend ZenBusiness Registered Agent Service?
ZenBusiness is a great choice for businesses looking for a reliable and affordable Wyoming registered agent service.
Their services include filing documents, maintaining records, and providing registered agent services.
They also offer business formation services, like LLC and corporation formation, as well as trademark and copyright filing. Plus, their fees are among the lowest in the industry.
ZenBusiness is a cost-effective registered agent service with no hidden add-ons or upsells. All of their plans include an easy-to-use platform and access to your legal document at any time.
For these features, and worry-free compliance we recommend them. They will offer LLC formation for $0, but there won't be registered agent service included, which is a minus.
Yet, this won't affect the entire experience.
However, from our experience, ZenBusiness is not for those who want to use a registered agent service as part of the LLC formation.
Service Features:
Registered Agent Service ($199): Provides you with a dedicated Wyoming resident agent to receive and forward documents on your behalf.
ZenBusiness Starter Package ($0 + $100 State Fee): ZenBusiness Starter plan covers the standard filing speed service (2 to 3 weeks), which covers name availability search capabilities and access to your files via the ZenBusiness site. The package also includes a 1-month free trial of Banking and Bank Account services, a Website Builder, and Money Pro Bookkeeping for efficient financial management. You can opt for worry-free compliance in the first year, optionally renewing at $199/year.
ZenBusiness Pro Package ($199 + $100 State Fee): ZenBusiness Pro plan provides all Starter plan features plus different services like the fastest rush-filling speed (1 to 2 working days), financial reports, employment ID number generation, operating agreement guide at $99, and compliance reviews and alerts.
ZenBusiness Premium Package ($349 + $100 State Fee): This LLC formation package plan incorporates all the Pro plan services and the business document templates, a customizable website, a business email address, a domain name, and privacy.
Pros
Affordable LLC and corporation formations
Customer support extension hours
Money-back of 60 days guarantee
Worry-free compliance alerts
Cons
Low brand visibility and recognition
Sign Up To ZenBusiness Registered Agent Service
3 - IncFile Registered Agent Service
Would you recommend IncFile Registered Agent Service?
IncFile offers one of the most affordable registered agent services in Wyoming and is an excellent choice for startups and small business owners.
From our experience, their services include a free registered agent for the first year, free document filing retrieval, email forwarding, and personalized notifications.
IncFile provides an easy-to-use platform for filing your documents and 24/7 customer support.
We found getting set up was straightforward and customer support answered any questions quickly.
After testing their products, we can say that their rate is one of the best in the industry. If you choose to start your LLC with them, you will get an efficient registered agent service for a year.
They also have registered agents knowledgeable and experienced in Wyoming's business laws and regulations.
Service Features:
Registered Agent Service ($119): Includes registered agent services for an annual fee of $119. It also provides free Wyoming LLC Formation service – you need to pay the state fee.
Silver Package ($0 + $102 State Fee): This package offers free complimentary registered agent service for the first year. You only have to pay Wyoming LLC formation state filing fee.
Gold Package ($199 + $102 State Fee): The following features are included in the Gold Package, which also includes the Silver Package: an EIN, an IRS Form 2553, and a banking resolution. This package also provides access to a dashboard that can be accessed online, automating processes and making them simple to use.
Platinum Package ($299 + $102 State Fee): Together with free next-day filing and sample business contracts, this package also contains features from the Gold Package. The domain name and business email included in this bundle will help you increase your online presence.
Pros
User-friendly dashboard for their registered agents
Formation packages come with a free year of Wyoming registered agent service
Fast processing of an order
No hidden costs
Cons
Support could be stronger
Sign Up To IncFile Registered Agent Service
4 - LegalZoom
LegalZoom is a well-known provider of premium legal services and registered agent services. Their team of experienced professionals provides excellent customer service.
They will help you navigate your business through complex Wyoming business laws.
Their pricing may be higher than other providers but for a good reason. From our experience, you will love professional support and their solution-oriented attitude.
Any doubt that we had was solved in 24 hours, as long as we reached out to them during their working hours.
Drawing from our experience, their registered agent service is pricey if you are on a tight budget, but you should know that their 100% satisfaction guarantee with a 60-day refund feature should speak for itself.
With customizable legal forms and a wide range of legal services available, you can be sure that you will get a customizable service.
They assisted us with the documentation necessary to register our business, saving us the expense of hiring possibly pricy lawyers.
Service Features:
Registered Agent Service ($299):

 This feature is available for just $299/year. If you create an LLC with LegalZoom, you can use this service for $249 for the first year. The benefits include a 1 million dollar cover for identity theft, unlimited storage, a Compliance Calnder, and crucial email alerts.

Basic LLC Formation Package ($0 + $102 State Fee):

 Here, you'll get articles of organization, name check service, a customizable website by WIX, and a digital welcome pack.

Pro LLC Formation Package ($249 + $102 State Fee):

All basic plan features plus an in-depth guide on business licensing, an EIN, an operating agreement, and consultations on insurance and taxes.

Premium LLC Formation Package ($299+ $102 State Fee):

The plan includes all features on the Pro package and a practical guide from a proficient attorney based in Wyoming. Furthermore, you'll receive updates to your LLC formation documents and have access to 30 minutes of unlimited consultation with a business attorney regarding the latest legal topics within 3 months. 
Pros
Increased traffic of customers
Strong brand power
Above-average customer support
Cons
Costly add-ons
High prices
Sign Up To LegalZoom
5 - Harbor Compliance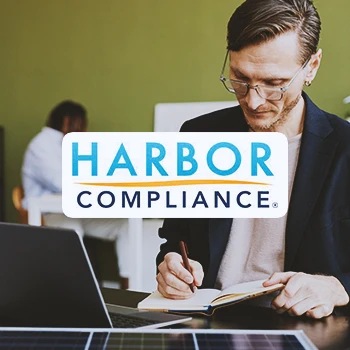 Harbor Compliance provides everything you need from service, from assisting with LLC formation to submitting your statement of information.
They charge a one-time fee of $99 to cover the entire process for a year, with discounts available for multi-year subscriptions.
With great service quality and maintaining a Better Business Bureau A+ rating, Harbor Compliance is one of the top registered agent services in Wyoming.
Hiring Harbor Compliance registered agent service comes with some advantages, such as several free compliance guides and whitepapers that no one other provider offers.
With this service provider, you won't have to worry about auto-billing, as they never save your credit card info. They don't sell info to the third party which made us feel safe.
We loved the single-day processing time and communicating with knowledgeable support representatives but we did find their website to be a bit outdated. If you hire them in multiple states you can get a 10% per year discount.
For these features, we recommend them to small business owners and entrepreneurs.
Service Features:
Registered Agent Services ($99): The yearly fee covers document scanning, same-day electronic document delivery, notification customization, and more. They offer bulk discounts if you sign up for multi years.
Formation Package: ($399 + $102 state fee): This package makes your articles of organization, confirms name availability, and submits them to the state.
Pros
Has electronic document delivery (same-day)
Offers specialized services
The formation package includes a registered agent
Cons
Expensive services
No refund option
Sign Up To Harbor Compliance
6 - Best Wyoming Registered Agent LLC
Best Wyoming Registered Agent LLC is the ideal service for you if you need one that specializes in all things Wyoming business. They are well-known for their commitment to both service and clientele.
This Wyoming registered agent delivers premium registered agent service at a reasonable cost, allowing them to do business in high volume.
One factor that steers us away from Best Wyoming is the limited consumer feedback available online.
Service Features:
Registered Agent Services ($50): Charges a $50 annual fee, which includes secure online accounts, a business address, mail forwarding, real-time document delivery, and digital notifications.
Wyoming LLC Formation Package ($200): Charges $200 for LLC formation process + one year of free registered agent service and complimentary mail forwarding, up to 5 documents a year.
Pros
Reasonable price
Secure online accounts
Fast and effective document delivery
Cons
Limited reviews available online
Relatively new company in the Wyoming registered agent service industry
What Are the Advantages of Using a Registered Agent Service in Wyoming?
It is common for entrepreneurs and startups to be their company's registered agents because it considerably lowers initial costs. However, we can't deny the apparent benefits of working with a service outweigh the cost [1].
These benefits include:
1. Cost Saving
You can save on costs and expenses by outsourcing the responsibility of being a registered agent to a professional service.
Entrepreneurs and startups can avoid the costs associated with filing the necessary paperwork, maintaining records, and responding to service of process notices.
2. It Highly Saves Time and Energy
Collaborating with a Wyoming registered agent service can be a great time saver for businesses.
This can be especially beneficial for those new to the business world and unfamiliar with the laws and regulations associated with business formation.
3. It Provides a Layer of Privacy
Working closely with a Wyoming registered agent service provides a layer of privacy for business owners.
A registered agent is a third party that acts as a point of contact for legal documents and notices from the state.
Thus, the agent will send all legal documents, notices, and other correspondence to the service provider's address instead of the business owner's.
This allows business owners to keep their personal addresses and contact information private.
4. It is Highly Dependable
A Wyoming registered agent service ensures that all paperwork is filed promptly and correctly. This minimizes the risk of any legal issues.
Furthermore, a registered agent service can respond quickly to changes in law or regulations. They will, thus, ensure that your business is always in compliance.
What is the Cost of a Registered Agent Service in Wyoming?
The cost of a registered agent service in Wyoming ranges from $100 to $300 yearly. The services may include filing annual reports, processing documents, and providing corporate legal advice.
Before selecting registered agent services, research the companies offering services in Wyoming and compare the fees and services best for you.
Who Can Serve as a Wyoming Registered Agent?
Any company or individual over the age of 18 and with a physical address in the state of Wyoming can serve as registered agent services for an LLC.
It is important to note that the registered agent must be available to receive documents and communications during normal business hours. Failure to do so may result in the LLC losing its legal status.
When forming an LLC in Wyoming, you have four options for designating registered agent services. These options are:
Option 1: You can be your own LLC Registered Agent as the business owner. This means that receiving and managing all legal documents on behalf of the LLC is completely your responsibility.
Option 2: The LLC itself can serve as its own Registered Agent. This option requires the LLC to be registered with the Wyoming Secretary of State. The LCC should also appoint a representative to accept legal documents.
Option 3: You can appoint a family member or friend you trust. The designated individual must provide their name and address to the Wyoming Secretary of State.
Option 4: A Wyoming Registered Agent Company can also provide an experienced and reliable source for maintaining your company's legal documents. They are also called Commercial Registered Agents.
Our Selection Process
We prioritize Wyoming registered agent services that can provide top-notch service within our requested timeframes. The type of service we seek combines efficiency and professionalism to meet client needs at every point in the process.
We consulted our licensed attorneys and legal experts to develop a solid registered agent recommendation for you.
1. Price
We accessed the prices of more than 30 registered agents, and choose only those that give excellent value for money. We also looked for registered agent services that can provide discounts and free additional services.
2. Service Features
We cross-checked the service packages of many of Wyoming's registered agent services and ranked them based on the best service features. We aim to help you choose a good starting package with minimum extra cost or add-ons.
3. Customer Support
Ultimately, we also look at their customer support system. We consider how easy it is to reach a customer service representative from the registered agent company and whether they are readily available within normal business hours.
4. Turnaround
Lastly, based on this criterion, we evaluated all registered agents regarding their flexibility and timeliness when filing documents. We want to make certain you get timely service.
If you are unhappy with your current registered agent, you should consider replacing a registered agent in Wyoming.
FAQs
Is My LLC Required to Have a Registered Agent in Wyoming?
Yes, your LLC is required to have a registered agent in Wyoming. Businesses in Wyoming need to be aware of the state law that requires them to have a registered agent and maintain a registered address. The business must also have a registered office address maintained during regular business hours.
Can I Be My Own Registered Agent?
Yes, you can be your own registered agent for your LLC. However, hiring a Wyoming registered agent service provides you with peace of mind and convenience and saves you money in the long run.
How Do I Select a Registered Agent in Wyoming?
To select your registered agent in Wyoming, you must list your chosen registered agent's information on the Wyoming Articles of Organization or Articles of Incorporation. For an individual registered agent, list the agent's name, address, and phone number. While for a premium Wyoming Registered Agent Service, you must list the Wyoming business name and address.
Can Wyoming LLC Have an Out-Of-State Business Address?
Yes, Wyoming LLC can have an Out-of-State Business Address. However, if you want to operate your business in the state where you live, you may be required to register it as a foreign LLC.
Why Is Wyoming the Best State to Start an LLC?
Wyoming is the best state to start an LLC because two of the strongest advantages are tax flexibility (no income tax on companies or individuals) and ease of use (there are no annual meetings required).
The BEST Registered Agent in Wyoming is...
Whether you take on the registered agent role or outsource it to another person or Wyoming business entity, the Wyoming registered agent must keep on top of things. Northwest Registered Agent is our recommended choice.
They will help expand your Wyoming business, complying with state offices and regulations while saving you time and money. We appreciate how seriously Northwest Registered Agent takes protecting the privacy of business matters.
You will receive a street address for your LLC, which will receive and manage all legal documents on your behalf, adhering to state regulations. They will file your tax documents on time and meet all deadlines.
Our experience with their high-quality customer support is what sets them apart from the rest receive our recommendation.
Our #1 Recommendation
Northwest Registered Agent
Pros
Strong privacy policy
Personalized customer support
Over 15+ years of experience
No hidden cost
Free one-year service that comes with formation packages
Get the BEST PRICE until the end of October
Cons
Not great options for affordability