When starting a business in Idaho, there are many legal requirements to be aware of and paperwork to manage. To help make this process easier and less stressful, many entrepreneurs turn to registered agent services.
With so many options available, choosing the best service for your company can seem like a daunting task. So, we conducted thorough research with the help of our legal team's experts and licensed attorneys.
Read on to find the 7 best-registered agent services we compiled based on our unbiased research.
Editor's Choice
Northwest
Click To Signup
#2nd Best Choice
ZenBusiness
Click To Signup
#3rd Best Choice
Incfile
Click To Signup
Top 8 Registered Agents in Idaho (January 2023)
1 - Northwest Registered Agent Service (Editor's Choice)
Northwest Registered Agent stood out as our top-listed best-registered agent service provider in Idaho.
They provide a wide range of services to business owners and entrepreneurs. They focus on personalized customer support while providing legal documents, high-quality services, privacy protection, and data security.
We tried their services and found that their customer service was top-notch, and their processes were incredibly streamlined.
We can confirm that Northwest was incomparably better than other competitors. They did all their services internally to minimize the risk of leaking our customer data.
So, if you care about your business data security and privacy, Northwest is your go-to registered service provider in Idaho.
Service Features:
ID Registered Agent Service (starts at $125):

Includes agent services, Privacy by Default®, and Local Corporate Guides®. You'll also get mail forwarding at $0 and document scanning within a 24-hour turnaround time.

ID LLC Formation (starts at $39+ state fee):

The package for business formation is $39 (filing fee excluded), with one year of free service. In your second year, you'll start paying ($125 annually). If you use Northwest services for more than ten states or if you use them as your registered agent for more than ten businesses, you will receive a $100 discount per year per business.
Pros
Data privacy for your information
Personalized customer service
Has an experience of 20+ years
Apparent fees
LLC formation package includes 1 year of free Idaho registered agent service
Cons
Pricey compared to other competitors
Click To Signup
2 - ZenBusiness
ZenBusiness has quickly established itself as a leader in the LLC formation industry.
The company offers services such as business formation and registered agent services. They have recently expanded their services to business loans, accounting, and website development.
After 2 months of using ZenBusiness services, we were pleasantly surprised by the cost-effectiveness of their services. The ease with which they helped us comply with the necessary filings was awe-inspiring.
In these 2 months, their customer service team was always available to answer our questions and provide guidance on filing.
We were delighted with our experience. We recommend ZenBusiness to anyone who wants to stay on top of their obligations. They have a Complete Coverage Upgrade, guaranteeing "worry-free compliance" with prompt and accurate report filling.
Service Features:
ID Registered Agent Service (starts at $99):

Annual à-la-carte registered agent rate.

ID LLC Formation (starts at $39):

Includes a personalized operating agreement and registered agent services – all for just $39 in the first year. You'll then pay a renewal fee of $119.
Pros
Low-cost pricing structure
Extensive client chat support
Impressive positive reviews from customers
60-day money return policy
Cons
Not that popular in the market
Click To Signup
3 - Incfile
Since 2004, Incfile has provided services to over 150,000 customers. Its Learning Center has provided plenty of helpful resources for business owners.
If you have a tight budget yet need a lot of extra services, Incfile is a fantastic registered agent service to use.
At IncFile, we found comprehensive service packages for LLC formation and registered agent services. These packages were tailored to our needs as LLC owners in Idaho.
We were happy to receive packages that provided step-by-step guidance and instructions. This ensured that our LLC was appropriately formed per all Idaho state regulations.
With their experience and expertise, Incfile has landed at number 3 on our list. Thus, we recommend the company to businesses or individuals looking for invaluable assistance in setting up and managing a business in Idaho.
Service Features:
ID Registered Agent Service (starts at $119/year):

Includes a handy dashboard for the registered agent and notifications of company updates through email and SMS.

ID LLC Formation (starts at $0 + state fee):

The silver package is free of charge and includes one year of free registered agent service, unlimited name searches, and preparing and filing the articles of the organization.
Pros
Efficient online dashboard
1-year zero-cost registered agent for all formation packages
Prompt processing of orders
Fees are transparent
Cons
Client support options are limited
Click To Signup
4 - LegalZoom
LegalZoom is a popular choice for entrepreneurs and business owners in Idaho. They offer an array of legal services, including assistance in creating an LLC or dissolving an LLC in Idaho.
With LegalZoom, you'll get services tailored to the specific needs of your business. These services include filing documents, managing legal paperwork, and providing advice on business formation, taxation, and other legal matters.
The company also provides a street address that is open during regular business hours to accept service of process. You can rest assured that LegalZoom will take care of your business legal needs with the utmost professionalism and efficiency.
Service Features:
ID Registered Agent Service ($299/year): This package includes LLC formation features. You'll get

extensive legal services, a calendar for compliance, document filing, managing legal paperwork, and limitless cloud storage.

Idaho LLC Formation (starts at $79 + state fee):

The basic

LLC formation service in Idaho

costs $79, excluding the state fee.
Pros
The ultimate one-stop shop
Up to $1 million of identity theft protection with the premium feature
Large customer base
Cons
Services are a bit pricier compared to other competitors
LLC Formation Package doesn't include a Registered Agent
Click To Signup
5 - My Company Works
My Company Works has been providing registered agent services in Idaho since 2001. In that time, they have earned the trust of over 10,000 companies.
The company provides the highest quality service, with a 100% satisfaction guarantee, free e-delivery of documents, and lifetime tracking of all documents they handle.
There is also a "Startup Wizard," an online checklist tool that assists you in launching your company.
Service Features:
Registered Agent Service ($99): With the

entrepreneur package

, you'll get timely reminders, a secure online portal,

and an experienced, professional registered agent to handle your company's legal filings and notifications. 

LLC Formation package ($59 plus Idaho state fee of $100): Includes the preparation and filing of the Articles of Organization, Operating Agreement, and filing of the required Idaho state fee of $100.

You'll have to pay an extra $99 to get a registered agent service.
Pros
Positive client reviews
100% customer satisfaction
A helpful Startup guide tool
Cons
The basic package does not include an Idaho Registered Agent service
Not the cheapest option for a registered agent
Click To Signup
6 - Harbor Compliance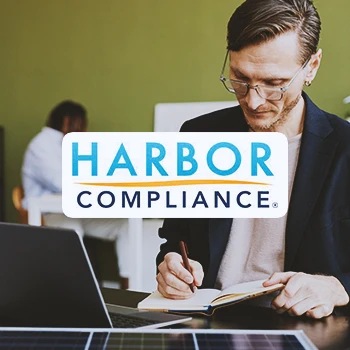 Harbor Compliance is a top-rated registered agent in Idaho, offering professional services and tailored software to help you quickly meet government licensing compliance.
Harbor Compliance stands out from other registered agents in Idaho due to its commitment to personalized customer service. Every client is assigned a human compliance specialist available to provide guidance and support throughout the process.
Their experienced team of compliance experts helps you navigate the complexities of state and federal regulations. They also provide compliance checklists, educational materials, and sample documents.
These resources will help you stay on top of your licensing requirements.
Harbor Compliance Company offers multi-year discounts that save 5–10% on your total bill.
Service Features:
Registered Agent Services ($89 - $99)/year):

Includes automatic document forwarding, annual reports filing, and a secure online portal to access records.

LLC Formation package (starts at $99):

For basic package (at $99) includes name availability search and articles of organization. They offer expediting filing included in their Expedite ($299) and Premium ($499) formation packages.
Pros
Offer multi-years discounts
You'll get personalized customer support
Same-day document access
Cons
Agent service is not included in formation packages
Fewer service options
Click To Signup
7 - Swyft Filings
Swift registered agent offers a good alternative for smaller businesses in Idaho looking for a low-cost option with quick turnaround time and less effort. They offer two monthly installments in all their packages.
The company also offers a 100% money-back guarantee. However, Swyft Filings' refund policy only applies when an error is made during the LLC formation process.
Service Features:
Idaho Registered Agent Services ($149/quarter):

Includes an experienced registered agent to receive and forward important documents, file your Articles of Organization, obtaining a Certificate of Authority. Additionally, you will be billed $596/year, separate from other packages, for this service. 

Idaho LLC formation services (starts at $49):

The Basic package ($49) includes all the necessary documents and filing fees to form an LLC plus an Idaho state filing fee of $100. The standard package ($149) and Premium package ($299) offer a wide variety of services if you want some add-ons.
Pros
Offer payments installments
Direct customer service
100% money-back guarantee
Cons
Many of upsells
Agent service not included
Click To Signup
Advantages of Utilizing an Idaho Registered Agent Service
Idaho business owners can act as their own registered agents, but some great benefits come with using a reputable registered agent service. Here are some of the best benefits [1]:
1. Discretion
Utilizing an Idaho-registered agent service gives you the utmost discretion [2].
Not only will your customers and staff be unaware of any legal proceedings, but the registered agent will also discreetly deliver the paperwork to you online after accepting any lawsuit service or process.
2. Availability
Idaho Registered Agent Services provide businesses with 24/7 availability and support. This means that your business can access the services of a registered agent at any time of day or night.
3. Peace of Mind
With an Idaho-registered agent service, business owners can rest assured that nothing is overlooked.
You can focus on running your business and leave the paperwork to the professionals. You'll be notified via a secure online account whenever documents arrive.
How Much Do Registered Agent Service Providers Cost in Idaho?
A commercial registered agent service provider typically costs between $50 and $300 per year in Idaho, depending on the services offered.
Considering how much time and effort you'd have to put in to do these tasks yourself, this cost is quite reasonable and a significant investment.
Requirements For An Idaho Registered Agent
To become a registered agent in Idaho, you must possess the following qualifications:
Be at least 18 or older
Be residents of the state, with domestic business entities registered in Idaho or foreign business entities permitted to conduct business in the state
Have a physical address in Idaho (also known as a "registered office" or "primary office")
Selection Process
The services we picked using a structured selection process are companies that prioritize the best value for money. Below are the specific criteria we used in our selection process.
1. Price
We understand how important affordability is to you, so we ensured the companies we chose gave excellent value for your money.
We spent months researching and consulting with our attorneys to find registered agent services with the most competitive prices. We also looked at additional fees or services in the price, so you know you're getting the most bang for your buck.
2. Expertise
We wanted to ensure your business formation journey was safe and smooth. So, we looked for professional services with many years of experience or a considerable number of positive client feedback.
Our list had services that are well-equipped to handle the complexities of business formation and provide reliable support.
3. Service Features
We selected registered agent services in Idaho that provide regular updates on all ongoing transactions. The services on our list also have secure online portals that clients can quickly and conveniently access in real time.
4. Customer Support
While Idaho has many registered agents, we chose the ones dedicated to meeting clients' needs. Northwest Registered Agent and ZenBusiness had the most substantial customer support.
5. Turnaround time
Our selection process is driven by efficiency. It serves as the basis for ensuring that filings are organized and consistent.
We investigated how swiftly the registered agents reacted to our queries and finished filings. We also scrutinized the frequency with which they kept us up-to-date on the progress of our filings.
After careful consideration, we compiled a list of the best Idaho registered agents with quick responsiveness and short turnaround time.
FAQs
How Do I Choose a Registered Agent in Idaho?
To choose a registered agent in Idaho, consider the factors that will save you time, privacy, and money. Idaho registered agent services vary considerably, and it is advised to hire a reputable national registered agent service that will save you time, privacy, and money.
Can I Be My Own Registered Agent in Idaho?
You can be your own registered agent in Idaho as long as you meet the state's requirements. The requirements include the following:
Having a physical address in the state
Being available during normal business hours
Being able to receive legal documents and notifications from the state
Can a Registered Agent Sign on Behalf of My Idaho LLC?
Yes, a registered agent can sign on behalf of your Idaho LLC, provided you properly authorize them. A registered agent is a legal representative appointed to receive important documents from the state, such as service of process, tax forms, and other notifications.
BEST Registered Agent in Idaho is...
Selecting Idaho registered agent services is likely not your most pressing priority as a business owner in Idaho, but it should still get your attention.
It is crucial to consider the registered agent's reputation and ability to provide reliable service.
After thorough research, we can confidently recommend hiring a Northwest Registered Agent. Northwest met all our key criteria for the best-registered agent.
After 3 months of using Northwest registered agent services, we were pleased with their professionalism and customer service.
Northwest managed all our legal documents with accuracy and efficiency and responded quickly to our questions or concerns.
Our #1 Recommendation
Northwest Registered Agent Service
Click To Signup
Pros
Data privacy for your information
Personalized customer service
Has an experience of 20+ years
Apparent fees
LLC formation package includes 1 year of free Idaho registered agent service
Get the BEST PRICE until the end of January
Cons
Pricey compared to other competitors