Forming an LLC in Pennsylvania can be complex, but hiring a professional LLC formation service can make the transition much smoother. These Pennsylvania LLC formation services can simplify the transition and allow you to save money to put back into your company.
We have done the hard work for you and have identified the top 7 LLC services in Pennsylvania. Our thorough research ensures each service meets the highest quality and reliability standards. Our main criteria for critique were features, cost, and turnaround time.
Read on to learn more about the best Pennsylvania LLC services to form your LLC.
Editor's Choice
ZenBusiness
Click To Signup
#2nd Best Choice
Northwest
Click To Signup
#3rd Best Choice
Incfile
Click To Signup
The 7 Best Pennsylvania LLC Formation Services (February 2023)
1 - ZenBusiness LLC Services
ZenBusiness uses the latest technology and automation to lower the cost of its LLC creation service. Their technology offers a customized online experience and personalized Pennsylvania LLC services.
Additionally, ZenBusiness has been operating for a long time and has helped over 200,000 firms, demonstrating their breadth of expertise in LLC creation services.
In our experience with ZenBusiness, their LLC services phone support is fantastic. The representative we spoke with didn't try to upsell LLC services like other businesses but gave us the truth about which package would be best for us.
Service Features Packages:
Starter LLC Formation ($49): The Pennsylvania LLC services package provides a free registered agent service for the first year and a free business tax consultation with a CPA. This package includes forming your LLC, filing with the state, an annual report, and a 100% accuracy guarantee.
Pro LLC Formation ($199): You'll get Pennsylvania LLC services, including name availability checks, filing of the Articles of Organization, and an operating agreement template.
Plus, you'll get access to a registered agent service and ongoing compliance reminders. With this LLC services package, you'll also get expedited filing, a business tax consultation, and a 4 to 6-day turnaround.
Premium LLC Formation ($299): You'll get both stater and pro Pennsylvania LLC services packages. You'll also enjoy personalized websites for business, business domain, and email, and a 1 to 2-day turnaround.
Pros
Many personalized business formation service options
Affordable LLC services price
Compliance notifications
Their customer feedback is overwhelmingly positive
Allows you to form your business quickly
Sign Up To ZenBusiness LLC Services
2 - Northwest Registered Agent
Northwest LLC service is one of the top LLC services providers in Pennsylvania. They help thousands of business owners reach their business goals through their business formation service and the like.
They primarily offer registered agent services and are there to help you form a new business with Pennsylvania LLC formation service package.
We found their experienced staff knowledgeable in all aspects of LLC formation and maintenance, and they provided us with the highest quality of service.
Service Features Packages:
Basic Pennsylvania LLC Formation Service ($29 with State Fees): Includes filing of the Articles of Organization with the Pennsylvania Department of State, a customized Operating Agreement, and a Federal Tax ID Number (EIN).
VIP Pennsylvania LLC Formation Service ($100 with State Fees): Includes all of the features of the Basic LLC Formation Package, plus a comprehensive business compliance review and a business bank account setup.
Pros
Reliable and secure source for setting up their business
Provide comprehensive LLC services
Transparent with no hidden costs
The ultimate privacy for Pennsylvania LLC formation services
Cons
Not as affordable as other services
Sign Up To Northwest Registered Agent
3 - Incfile
Incfile is one of the most affordable and accessible ways to form your LLC in Pennsylvania.
Incfile constantly reminded us of renewal dates to keep us compliant, and they stored our formation documents securely in case we needed to access them.
With a comprehensive suite of services, the company has been instrumental in helping over 500,000 businesses get off the ground and running.
Service Features Packages:
Silver LLC Formation ($0 + State Fees): This package includes filing your Articles of Organization with the Pennsylvania Department of State and a custom Operating Agreement tailored to your business.
Additionally, you'll receive a free business address and mail-forwarding service
Gold LLC Formation ($149 Plus State Fees): This package includes all Silver packages. It adds additional features such as a custom Operating Agreement, access to their online document storage portal, and an EIN from the IRS.
Platinum LLC Formation ($249 Plus State Fees): Includes both Silver and Gold packages. It also adds a Business Banking Resolution document, a customized business formation guide, and a complimentary business email address.
Pros
Inexpensive LLC service
Registered agent service included in LLC formation service package
Helped create 800,0000 businesses
Phone and email customized support
Sign Up To Incfile
4 - Rocket Lawyer
Rocket Lawyer is a comprehensive legal service providing quality legal services to its 25 million registered users for over a decade.
They offer legal documents, Pennsylvania business formation, and legal advice.
Rocket Lawyer has professional lawyers who can provide legal guidance while forming your Pennsylvania LLC.
Service Features:
Free membership ($0): This includes access to various legal documents, such as LLC operating agreements, and experienced attorneys who can answer legal questions.
With their free membership, you'll have business registration for $99, the creation of legal documents for $39.99, and $49.99 for legal questions.
You'll also get half an hour of legal counseling for any legal issues at $59.99 and registration of a business entity for $149.99.
Premium Membership at $39.99 Per Month: Includes all features in the free membership for free plus free business registration, unlimited legal documents, and endless legal questions.
Additionally, businesses can take advantage of a 40% discount when they hire a Rocket attorney for their LLC needs.
For an LLC Service Rocket Lawyer, you'll pay $99.99 with additional state fees. They charge $122.50.
Pros
Intuitive platform
30-Day money back guarantee
Excellent service team
Cons
It doesn't solely focus on the Pennsylvania LLC formation service process
A la carte options can be pricey
Sign Up To Rocket Lawyer
5 - Swift Filings
Swift Filings is an excellent, affordable, reputable LLC formation service that will help you open your Pennsylvania LLC.
They can also give tax advice, expert consultation, and more. With over 6 years of experience, Swift Filings has earned a reputation for providing top-notch customer service. Numerous positive ratings and reviews from customers back their services.
Service Features Package:
Basic LLC Formation ($49): Here, they check the business name availability, do LLC filing, and file Articles Of Incorporation. You'll also get a free business website, tax evaluation, and lifetime compliance alerts.
Standard LLC Formation ($149): You'll get all the features in the lower plan plus a federal Employer Identification Number. The package also offers an organizational minute, a custom operating agreement, and a business banking resolution for an LLC to form a business bank account.
Premium LLC Formation ($229): In this plan, you'll get all the features in standard LLC and express filing, a website, monitored shipments, a virtual seal, 3 months of hosting, and online delivery of papers.
Pros
Same day filing
Flexible payment options
Comprehensive platform
Cons
Excludes registered agent service
Certain services are outsourced to 3rd party
Sign Up To Swift Filings
6 - My Company Works
My Company Works is an experienced business formation service that has helped entrepreneurs build 60,000-plus business entities in Pennsylvania.
They provide several legal services in addition to Pennsylvania LLC formation. Their services include entity selection, document filing, and registered agent services.
Their perfect record of providing excellent service to their clients makes them reliable and trustworthy.
Service Features Packages:
Basic LLC Formation ($59 inclusive of State Fees):
This package includes all necessary documents and filing instructions to form a Pennsylvania LLC.
Additionally, the package consists of a registered agent service, free name search, LLC prep, and personalized minutes.
Entrepreneur LLC Formation ($199 inclusive of State Fees): This package has all the basic LLC formation features. It also offers the Articles of Organization filing with the Pennsylvania Department of State, preparing and filing the required documents, and providing a personalized Operating Agreement.
You'll also receive a customized LLC kit with a corporate seal and membership certificates.
Complete LLC Formation ($279 inclusive of State Fees): This package has all the entrepreneur package LLC formation features.
It also provides a premium package for filing annual reports, a free domain, and business licenses compliance package.
Pros
Fast turnaround
Business monitoring
Generous 90-day refund policy
Cons
Less affordable than other plans
Difficult web dashboard
Sign Up To My Company Works
7 - Harbor Compliance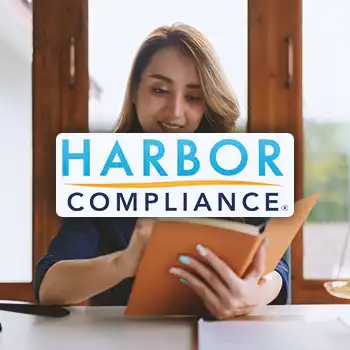 Harbor Compliance is a top-choice company that offers various services to help businesses form and maintain their LLCs.
Founded in 2012, the company has grown rapidly, serving more than 25,000 companies in the state.
They have industry experts as a part of their staff to solve every issue.
The company's software is designed to show customers where they are registered for business and keep track of renewal deadlines.
Service Features Packages:
Formation LLC ($399 inclusive of State Fees:) Offers a federal Employer Identification Number, one-year registered agent service in Pennsylvania, online access to the registered agent's physical registered office address, and same-day electronic document delivery.
The company also offers an Article of Organization and an operating agreement template.
Compliance LLC ($799 inclusive of State Fees): It includes all the formation LLC packages. It offers additional features like unlimited customer service, business name verification, and S or C corporation tax alternatives.
Pros
24 hours processing time
Comprehensive software
A specialized Pennsylvania registered agent
Cons
No money-back guarantee
Very costly
Sign Up To Harbor Compliance
Benefits Of Creating An LLC In Pennsylvania
Starting a Pennsylvania LLC comes with these benefits.
1. Flexibility
When you form an LLC in Pennsylvania, you have the flexibility to function as a single-member or multi-member LLC run by an operating manager.
2. Increased Credibility
As a limited liability company, the business entity is viewed as a more trustworthy business compared to a sole proprietor or individual. Forming an LLC can add credibility for employees and customers.
3. Tax Benefits
Forming an LLC gives you tax benefits, including [1]:
Mixed Use Development Tax Credit: used for reconstruction projects.
Coral Refuse Energy Tax Credit: a tax credit for businesses that use coral refuse for energy.
Research and Development Tax Credit: LLCs that conduct certain types of research qualify for this tax credit
Entertainment Production Tax Credit: Film or video game companies can apply for this tax credit.
4. Limited Liability
Limited liability separates the financial and legal obligations of an LLC's members from the small business.
If the individual or business entity is sued for any reason, the LLC members and their personal assets are protected from any litigation [2].
Our Criteria of Selection
Our team of experts conducted an extensive evaluation of the Pennsylvania's most professional LLC services and ranked them using the following criteria:
1. Cost
We looked for services that offered affordable pricing. We considered the fees associated with setting up an LLC, including filing fees, annual fees, and other associated costs. We want you to save money to put back into your small business.
2. Quality Of Customer Service
Before recommending LLC services, we made sure that their customer service was exceptional, that they walked you through the entire process, and they were easy to contact.
3. Processing Time
Regarding processing time, we wanted to choose a service with a fast turnaround time of 1 to 5 working days. When hiring an LLC service, the business formation process should be as quick and efficient as possible.
Pennsylvania LLC Formation Process
Pennsylvania requires following a specific process for their LLC formation service. The steps are as follows:
Step 1: Select an LLC

Name

Step 2:

Choose A Registered Office or Agent

Step 3:

Prepare and File the Certificate of Organization

Step 4

:Get an EIN

Step 5:

Receive A State Certificate 

Step 6:

Draft An Operating Agreement 

Step 7:

Comply With Employer Obligations
FAQs
How Long Will It Take To Approve My LLC In Pennsylvania?
It will take about 15 days to approve your LLC in Pennsylvania. The amount of time it takes depends on the number of applications that the state receives.
How Much Does It Cost To Form A Limited Liability Company In Pennsylvania?
It costs $125 to form an LLC in Pennsylvania. There is another fee for LLC name registration, which is $70.
Is Pennsylvania A Great State For LLCs?
Pennsylvania is a great state to form an LLC because it doesn't require annual reporting. LLCs in Pennsylvania are only required to file a report every 10 years on years ending in 1. These reports are to update the state of changes in your business.
Pennsylvania Top LLC Service Provider
Obtaining a Pennsylvania LLC is key to solidifying your business reputation.
Among the many LLC service providers in Pennsylvania, these seven services stand out for their commitment to service and customer satisfaction.
However, after extensive research, our recommended Pennsylvania LLC formation service for any-size business is ZenBusiness. During our collaboration, ZenBusiness formed our LLC in less time, and they punctually filed all our documents with the secretary of state.
ZenBusiness is also quite affordable, has many quality features, offers excellent customer service, and has a quick filing time. The company also offers name availability checks, filing of the Articles of Organization, and an operating agreement template, to get your company off to a great start.
Our #1 Recommendation
Pros
Many personalized business formation service options
Affordable LLC services price
Compliance notifications
Their customer feedback is overwhelmingly positive
Allows you to form your business quickly
Get the BEST PRICE until the end of February