Whether you're a group of business owners, an online retailer, or a small nonprofit organization planning to register your business in Alabama, it's essential to choose a place of formation, name, and a registered agent service that are reliable and will fulfill your needs.
To make this process easier for you, we spent weeks reviewing 10 of the best registered agent services in Alabama that are reliable and trustworthy to help you make an informed decision about which one is right for your business.
Editor's Choice
Northwest
Click For Best Price
#2nd Best Choice
ZenBusiness
Click For Best Price
#3rd Best Choice
IncFile
Click For Best Price
Top 10 Registered Agent Services in Alabama (November 2022)
1 - Northwest Registered Agent (Editor's Choice)
Northwest Registered Agent Service is considered the best registered agent service that provides all the services you need to maintain your business in Alabama. They offer a wide range of business services, including corporate formation and incorporation assistance. They also provide online tools for managing your business online.
Northwest Registered Agent offers additional consulting, tax planning and preparation, accounting services, and many others. This registered agent service can take care of everything from start-up to ongoing business needs.
Service Features:
Alabama Registered Agent Service ($149/year):

The package offers a variety of services, including a physical address in your authority, the presence of an agent during normal business hours, the ability to accept process services on your behalf, receive all official notices of your company's name and address, and email forwarding. The company also handles all state fees, all annual filings, including LLC formation service or corporation, life-long support from professional corporate mentors, and digitized and properly stored legal documents.



Formation Packages (start at $29):

The basic package includes basic LLC formation service, which entails assistance with filing taxes, applying for licenses, and permits, a check for name availability, and paperwork submission. Northwest Registered Agent will also mail you reminders and updates ahead of the deadline for your annual reports and manage your paperwork in one year with no additional cost. Their packages include one year of free registered agent service.
Pros
Privacy through a "Privacy-by-Default" method
Exceptional customer service
They've been in business for two decades
Pricing transparency
Free registered agent services for formation packages
Click For Best Price
2 - ZenBusiness
ZenBusiness is a full-service registered agent and business office provider, offering a range of services tailored to meet the needs of each client.
The company has been in the LCC industry since 2015 and has registered thousands of businesses in Alabama and the United States.
The company also offers two registered agent packages: the Standard and Complete Plans. The Complete Plan, which includes a free year of registered agent assistance, provides businesses with a designated location for receiving legal documents and court papers.
Service Features:
ZenBusiness Registered Agent Standard ($99/year):

Offers registered agent services, access to documents online, and unlimited customer support. 

ZenBusiness Registered Agent Complete ($149/year):

Offers a full range of registered agent services, including an online account, unlimited customer care, the ability to speak with knowledgeable customer service representatives seven days a week, and ZenBusiness's worry-free compliance. Compliance includes an annual report each year to let it know that its Articles of Incorporation are still on file with the Secretary of State. The company will also update your establishment documentation twice a year and provide you with a registered office address.
Pros
Cost-effective pricing model
Helpful customer support
A lot of positive reviews
60-day money-back guarantee
Click For Best Price
3 - IncFile
Incfile has assisted over 800,000 businesses in establishing themselves since its inception in 2004. Aside from that, it has gained recognition for delivering superior service at a smaller price than its competitors, making it more affordable to start and maintain your LLC or corporation.
IncFile's dashboard is in digital form so that you can access and update your information from your computer or mobile device.
Though they do not provide volume discounts on their registered service, IncFile's registered agent service is one of the most reasonably priced in Alabama.
Service Features:
Registered Agent Service ($0):

Registered agent services are free for a year, provided that you pick one of InFile's formation packages. The renewal fee after the first year is $119.

LLC formation packages (start at $0 + state fee)

: Their Silver Package is the first option, and it comes for free. Their Gold and Platinum packages start at $149 and $299, respectively. 
Pros
Comprehensible online dashboard
Formation packages with free registered agent service
Quick client processing
No hidden fees
Cons
Client support could be improved
Click For Best Price
4 - Rocket Lawyer
Rocket Lawyer is one of Alabama's top registered agent services that provide a business entity with registered agent service.
The company provides various LLC formation services and attorney services that will handle all the paperwork and filings for you. They also offer a free trial to try out their service before you commit.
Rocket Lawyer makes it easy to find and select a Registered Agent service that fits your needs. They have a detailed list of their premium service and pricing, so you can compare and find the best option.
Service Features:
Registered Agent Services ($149.99 for non-members, 25% discount for members):

Free legal consultation, tax form filing, annual report alerts, assistance from attorneys, and free e-signature solution for all of your documents for both members and non-members.

Alabama LLC Formation (starts at $39.99):

Includes change of address notifications, annual reports or other filing fees, EIN federal, and trademark registration.
Pros
Easy-to-use software
Offer free trial
Offers a 30-day money-back guarantee
Cons
The service is not applicable in all states
Membership is expensive
Click For Best Price
5 - MyCompanyWorks
MyCompanyWorks provides Alabama companies with a registered agent service that costs $99 annually. They also offer a simple, affordable solution for keeping your business compliant with state requirements.
In fact, the company is also a member of the American Association of Registered Agents and Brokers, and it offers an online dashboard where you can track your account activity.
Service Features:
Registered Agent Service ($99/year)

: Free service for their entrepreneur package, $199. It includes business address and mail forwarding.

Alabama LLC Formation (starts at $59)

: There is a state fee of $236. The package includes Articles of Incorporation and corporate records filing, business naming, and address.
Pros
Their incorporation process is simple and straightforward
Offer multiple services
They have a number of positive feedback online
Cons
The service is limited in some states
Not the most affordable option
Click For Best Price
6 - Harbor Compliance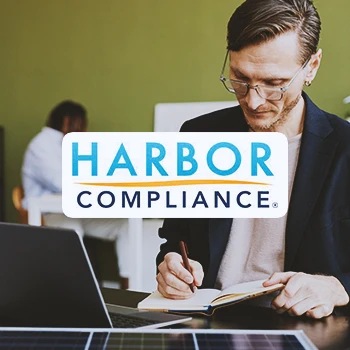 Harbor Compliance Registered Agent Service is an excellent choice for your business if you're looking for a company committed to providing the best registered agent services in Alabama.
Harbor Compliance's registered agents are all licensed professionals who have also experienced negotiators, meaning they can handle any issues that come up without having to refer back to you or your staff.
Service Features:
Alabama Registered Agent Services (starts at $89):

Pay only once per year with no additional fees or charges. This includes free document scanning, customization notifications, annual report alerts, Alabama registered agent, and easy-to-navigate software features.

Alabama LLC Formation Packages ($99):

Starts with basic services such as OA templates, articles of Incorporation, availability of names, trademark registration, and applying for EIN with free year Alabama registered agent services.
Pros
Software-based compliance solutions
Exceptional support for customers
Savings alternatives and extended agreements with their registered agent services in numerous jurisdictions
Cons
Limited services provided in the formation packages
Refunds are not unacceptable
Click For Best Price
7 - LegalZoom
LegalZoom is one of the leading Alabama registered agent services. It has been in business for over 20 years and is backed by an A+ rating from the Better Business Bureau.
The company offers affordable yet reliable and basic services for a small company and business entity, with a wide range of products, excellent customer service, and an excellent track record for dependability.
Service Features:
Registered Agent Service ($299):

Includes alerts whenever they receive an important email on your behalf. They will also send you notifications about critical tax and annual report deadlines with the use of their compliance calendar. They also have 1 million identity theft protection and unlimited cloud storage. 
Pros
Convenient online platform
Affordable pricing
Satisfaction Guarantee for 60 days
Cons
Their client feedback is transient
Not budget-friendly
Click For Best Price
8 - Swyft Filings
Swyft Filings is a trusted and experienced provider of registered agent services. They have a team of experts who are familiar with the legal and compliance requirements of businesses of all sizes.
They can help you with entity formation, provide your own registered agent, corporate compliance, accept documents on your behalf, and many other basic services.
With their affordable pricing structure and high level of customer satisfaction, they intend to help new, small business entities and growing companies get off the ground by providing all of their legal needs.
Service Features: 
Alabama Registered Agent Services ($149):

Includes an online dashboard that gives you immediate access to your business papers. The company provides assurance of compliance - a team of specialized business service consultants, supported by an automated monitoring system, will alert you if you fall out of compliance. Renewals on an automatic basis are included, so you can rest assured that your company's annual renewal will be completed on time and for a flat fee. There are no hidden costs, and their dependable associate will automatically extend your registration, so you don't have to consider continuing to deal with your registered agent.
Pros
100% money-back guarantee
Excellent customer satisfaction rating
Free advice and assistance
Cons
No physical office
Registered agent service not covered in the formation plans
Click For Best Price
9 - InCorp
InCorp is a full-service registered agent provider offering a wide range of services to help businesses comply with state and federal regulations.
The company provides registered agent services, incorporates businesses, filing fees, and forms LLCs (Limited Liability Companies) and corporations.
Their compliance experts will help you every step of the way, ensuring that your business complies with state and federal regulations.
Service Features:
Registered Agent Service ($129/year):

Includes registered mail, courier services, and business license compliance per license and jurisdiction. $87/per year when you avail of multi-service. 

LLC Formation packages (starts at $99):

Includes filing of articles of organization, corporate filing, tax return services, availability of names, trademark registration, and federal EIN.
Pros
24/7 monitoring system
Easy-to-use online portal
Offers a discount to customers
Cons
There are no testimonials listed on their website from past customers
Their website is not very useful
Click For Best Price
10 - Alabama Registered Agent Service
Alabama Registered Agent Service is a full-service registered agent service in Alabama. They provide not only statutory agent services but also virtual office services.
They also ensure that current Alabama companies retain good standing with the Alabama Secretary of State.
They can provide you with a physical address in Alabama, where they will receive all official correspondence on your behalf. They'll then forward those documents to you within business hours of receiving them via email or postal mail.
Service Features: 
Registered Agent Service ($49):

They offer various services, including 24-hour access to your mailbox and an address in the state of Alabama. Their services include handling physical street address notices, filing fees, registered mail forwarding, tracking, and auto-reply services.
Pros
Affordable prices
The quick and easy setup process
Excellent customer service
Cons
Brand power is lacking
It only has a few reviews online
What Are the Benefits of Working With a Registered Agent Service in Alabama?
Here are some of the benefits of using a registered agent service in Alabama:
1. Avoid Facing The Possibility of a Noncompliance
Alabama is a state requiring companies to have registered agent services. You need to comply with the law, especially regarding your business registration.
If you fail to do so, there will be legal consequences. A registered agent provides an address for your company's records.
2. Freedom
You don't have to bother about locating an address for your business because the registered agent service provider will take care of this.
You can then spend more time on things that matter, such as running your business, instead of worrying about compliance issues and other legal requirements like filing annual reports with the state of Alabama or paying taxes on time every year.
3. Privacy in Businesses
With the increase in cybercrime and identity theft, your business must be registered under a legal entity to protect your personal information.
Keeping your business registered under an LLC service or corporation will shield you from fraudulent claims against your company and protect you from liabilities arising from your business activities.
4. Documents organization
Alabama registered agent service can help you organize all the documents required by state laws. They can also assist you in managing these documents and accept mail on your behalf, making them easily accessible whenever law enforcement agencies or tax authorities require them.
5. One Alabama Registered Agent for Multiple Jurisdictions
Another asset of operating a registered agent service in Alabama is that they offer multiple jurisdictions across multiple states at lower rates than if you hire separate agents for each jurisdiction separately.
How Much Does A Registered Agent Service Cost in Alabama?
A registered agent service in Alabama costs between $50 and $300 annually.
What Are The Requirements for Alabama Registered Agents?
The requirements for a registered agent in Alabama, according to the Alabama Corporations and Associations Act, are:
The Alabama registered agent has to reside in the state, or it has to be a corporation that offers registered agent services in the state.
A registered office with a physical address in Alabama is required for Alabama registered agents.
The Alabama registered agent should handle relevant papers throughout regular business hours.
A person must be of legal age (18+) to be designated as a registered agent in Alabama.
Our Selection Process
One of the key considerations when choosing our Alabama registered agent is their knowledge and understanding of the state's mandatory requirements for businesses.
Each state has its own unique requirements, so it is important to have an Alabama registered agent who is well-versed in these regulations.
For example, in Alabama, you must first reserve your business name with a fee of $25 and $28 online before you can even start operating your business legally.
Given our extensive expertise and knowledge in this area, we have identified key considerations when choosing an Alabama registered agent service provider, including their expertise, prices, turnaround time, top features, and customer support.
Through careful research and evaluation, we are confident that our registered agent service is the best option for businesses seeking legal compliance in Alabama.
1. Expertise
They should be well-versed in the law and have a solid understanding of the complexities of setting up and running a business.
Reputable agents like Northwest registered agents with 20 years of experience in this field of formation services will have a deep understanding of the legal system and how it applies to businesses.
2. Price 
We assess their pricing structure and overall value compared to other options on the market, keeping in mind that we always aim to provide our clients with the best possible value for their money without compromising its quality of service.
3. Service Features
We cross-checked all companies' service features. As previously stated, some registered agents offer additional services beyond compliance help, such as document storage and online access to your account.
4. Customer Support
Next, we evaluate each service based on its responsiveness rate, taking into account factors such as how well they respond to customer inquiries and how courteous and efficient their customer service is.
5. Turnaround
When you need documents from your registered agent, you shouldn't have to wait weeks to receive them. Choose an agent with a quick turnaround time so you can get the information you need in a timely manner.
FAQs
Do You Need A Registered Agent in Alabama?
Yes, you need a registered agent in Alabama because your business won't be recognized by the state.
Do I Hire A Registered Agent Before or After Starting My Alabama Business?
You should hire a registered agent before starting your Alabama business. A registered agent may also be known as a resident agent, statutory agent, or agent of service of process.
What Is A Registered Agent's Primary Function in Alabama?
A registered agent's primary function In Alabama is to accept official letters and legal documents, correspondence, tax and request forms, filings, and reports.
Conclusion
From the moment you register your business in Alabama, you'll want to ensure that all of your fillings are done properly and on time.
If you're not careful, you could end up with fines, fees, and other penalties that could cost you thousands of dollars.
To avoid these issues, we recommend Northwest as your registered agent.
They offer many benefits to help you run your business smoothly and efficiently while maintaining an outstanding customer satisfaction rating, making them our best registered agent in Alabama.
Our #1 Recommendation
Northwest Registered Agent
Click For Best Price
Pros
Privacy through a "Privacy-by-Default" method
Exceptional customer service
They've been in business for two decades
Pricing transparency
Free registered agent services for formation packages