9 Best LLC Services in Oklahoma (2023) For Your Business
Forming an LLC is a popular choice for entrepreneurs in Oklahoma and if you need a smooth formation process its crucial to hire a reliable LLC service.
Together with our experienced legal team with over fifteen years of experience in the LLC formation industry, we've researched various LLC services, considering pricing, features, and value, to recommend the best options.
Read on to find out our best Oklahoma LLC service recommendation.
Editor's Choice
Rated by more than 2000+ customers
ZenBusiness
Click To Signup
81% of visitors chose this
#2nd Best Choice
Rated by more than 1000+ customers
Northwest
Click To Signup
#3rd Best Choice
Rated by more than 1000+ customers
Incfile
Click To Signup
9 Best LLC Services In Oklahoma (November 2023)
1 - ZenBusiness
(Best Overall)
Would you recommend ZenBusiness (Best Overall)?
ZenBusiness has assisted over 200,000 businesses with LLC formation. They offer essential guidance and various annual formation packages, simplifying the process for entrepreneurs
Their platform is tailored for users, ensuring a prompt 10-12 minute filing. My LLC was greenlit in a short span of four days, and I was promptly provided with a New Business Kit.
They also conducted a name eligibility check in Oklahoma before submitting my LLC registration application, sparing me the trouble of using outdated and time-consuming name search techniques.
I particularly liked their personalized website and wide range of package choices.
LLC Formation Packages:
Starter Formation Package ($0 + $104 State Fee)

: The Starter Plan includes standard filing speed (2 to 3 weeks), an online portal, phone/email support, complimentary accounting consultation, and Google ad credit. Plus, you'll enjoy a 100% accuracy guarantee and a 1-month free trial for Banking, Bank Account, Money Pro Bookkeeping, and Website Builder. Optional worry-free compliance for the first year is available, with a renewal cost of $199/year if accepted. 

Pro Formation Package ($199 + $104 State Fee)

: The Pro Plan includes everything in the Starter Plan plus the advertising consultant, operation agreement for the consultant, an Employer Identification Number, annual compliance, and the fastest "rush" filling speed (between 1 to 2 working days).

Premium Formation Package ($349 + $104 State Fee)

: All the Starter and Pro package features are included with the Premium Plan, along with a customized business website, business email, a business domain, and business document templates.

Registered Agent Service ($199):

The $199 annual renewal cost for the registered agent is a delayed charge that is not collected until after the business has been fully formed.
Pros
Several packages available
Worry-Free compliance
Positive customer feedback
Fast business formation
Extended customer support availability
Cons
Non-profit business formation is not provided
Sign Up To ZenBusiness
2 - Northwest Registered Agent
(Best Premium)
Would you recommend Northwest Registered Agent (Best Premium)?
Northwest Registered Agent is renowned for its exceptional customer service and expertise in LLC formation.
They prioritize privacy and security, with a responsive support team guiding you through each step.
During my trial, I navigated the initial filing in 9 minutes, and my filing was finalized in 72 hours.
I also found their online platform to be user-friendly with intuitive navigation and commands.
Based on my experience, I can verify that their packages provide excellent value for your money. Although their packages are on the more expensive side.
LLC Formation Packages:
Basic Plan ($39 + $104 State Fee):

The Basic Plan may be used to form corporations, LLCs, and nonprofits. It comes with articles of organization, a year of free registered agent service, an operating agreement, and both standard and expedited processing speeds available.

Full Service LLC Formation Plan ($225 + $104 State Fee):

The Full Service Plan includes mail forwarding, an operating agreement, same-day filing, and all of the Basic Plan's features. A customer account also has free resources and forms.

Northwest Registered Agent Services ($125):

If Northwest forms your LLC, the first year's registered agent service fee is free. Registering in all 52 jurisdictions will cost you $5,200. By default, expert corporate guides, free mail forwarding, and privacy are all included.
Pros
Transparent payment process
Free registered agent
Provide extra protection and privacy
Prioritizes customer support
Sign Up To Northwest Registered Agent
3 - Incfile
(Most Affordable)
Would you recommend Incfile (Most Affordable)?
IncFile provides three pricing plans for Oklahoma clients. The Gold plan is recommended for those needing EIN registration.
Their customer service is prompt, and they offer essential documents like the Operational Agreement.
When I was testing their services, I reached out to them via chat, email, and phone, and they replied in under 30 minutes.
IncFile has a reputation for excellent service and low cost, though we found in our experience they take plenty of opportunities to upsell services.
LLC Formation Packages:
Silver Package ($0 + $104 State Fee):

The Silver Package includes preparing & filing the articles of organization, free registered agent service for a full year, unlimited name searches, phone, and email support.

Gold Package ($199 + $104 State Fee):

In addition to the Silver Plan, the Gold Plan includes the following features: EIN Business Tax Number, IRS Form 2553, banking resolution, operating agreement, lifetime company alerts, online access dashboard, business banking account, and business tax consultation.

Platinum Package ($299 + $104 State Fee):

This plan has all the Gold Package plus a domain name with a business email, free next-day filing, and business contract templates.

Registered Agent Services ($119):

It is free for the first year if made with an LLC formation package. After that first year, the renewal will be $119 per year for Agent Services. It comes with a personalized dashboard to access your documents online.
Pros
Inexpensive
Registered agent service
Helped create over 800,0000 businesses
Personalized customer support
Cons
Relies heavily on upselling services
Sign Up To Incfile
4 - Rocket Lawyer
(Best Essentials)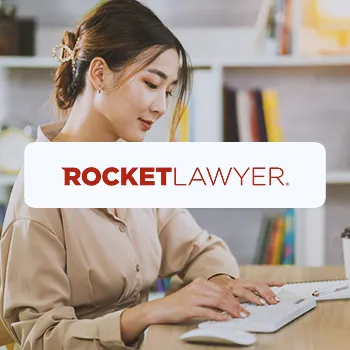 Rocket Lawyer, with 25 million users, offers the best online legal services in Oklahoma, including business formation and registered agent services.
Their on-call attorneys provide reliable legal assistance
You can expect to receive knowledgeable advice from lawyers who specialize in various areas such as company law, copyright law, and contract law.
After giving their service a try, we were pleasantly surprised to find that it lived up to its advertised claims.
They handled all aspects of the process, except for state, address, and certification fees.
With Rocket Lawyer's user-friendly form builder, it's relatively easy to create customized legal papers and contracts.
LLC Formation Packages:
Standard LLC Formation Package ($99.99 + $104 State Fee / Free with $39.99 per month membership)

The Standard LLC Package members benefit from free legal documents, LLC formation services, free attorney services, and 25% off registered agent service.

Registered Agent Service ($149.99):

Register Agent services are $149.99 per year, with a 25% discount if you have a membership. The monthly membership is $39.99.
Pros
7-Day trial membership
30-Day guarantee
The excellent customer service team
Cons
Occasional delays
Expensive membership and al a-carte options
Sign Up To Rocket Lawyer
5 - Swyft Filings
Swyft Filings is an Oklahoma LLC Formation company that has become a substantial part of the industry.
Swyft Filings offers a 100% money-back satisfaction guarantee but it only applies if an error occurs during the LLC formation process.
The convenience of their automatic renewals also made it incredibly easy for me, as I did not have to worry about manually renewing my agreement with them.
Swyft Filings is a great option for those in search of a registered agent service with quick LLC processing time in Oklahoma and exceptional customer support.
LLC Formation Packages:
The Basic Package ($0 + $104 State Fee):

The Basic Package is the ideal choice if you need the basic LLC incorporation and the filing of documents.

The Standard Package ($199 + $104 State Fee):

All the features of the Basic Package are included. Additionally, you will be provided with a Federal Tax ID (EIN) and most of the documents needed to start your business (operating agreement, banking resolution, and organizational minutes).

The Premium Package ($299 + $104 State Fee):

With the Premium Package, you can take advantage of all the Basic and Standard features, as well as many additional ones, such as free domain hosting, a customized digital corporate kit, as well as a FedEx tracking number for the delivery of your approved articles.

Registered Agent Service ($99 per three months):

This will be an ongoing quarterly subscription for the Registered Agent Services.
Pros
Custom customer support
Inexpensive
Comprehensive packages
Cons
Upselling of other features
Features are limited for the price
Sign Up To Swyft Filings
6 - My Company Works
MyCompanyWorks, formerly known as My New Company, has helped form over 60,000 business entities by now.
Their basic pricing plan offers most of the necessary LLC formation services, including a compliance notification system, a customized LLC operating agreement, and helpful customer support.
We found these services to be dependable and reasonably priced. We were able to stay on top of all our legal paperwork, and their support team was always available and very helpful.
If you prioritize positive client feedback and outstanding customer service for your LLC formation service, we recommend using MyCompanyWorks as your service provider in Oklahoma.
LLC Formation Packages:
Basic Formation Package ($59 + $104 State Fee):

The Basic Formation Package offers same business day processing, unlimited phone/Email support, name availability search, preparing and filing articles of organization, personalized operating management, business bank account setup, banking resolution, access to scanned docs online, online order tracking and status updates, free logo, the new LLC handbook, and lifetime access to the My Account Dashboard (MAD).

Entrepreneur Formation Package ($179 + $104 State Fee):

Includes everything the Basic Formation Package includes, plus MyCompanyForms lifetime forms & tax guide, federal tax ID, and one-year registered agent service.

Complete Formation Package ($259 + $104 State Fee):

All the features of the Entrepreneur Formation Package are included, as well as MyCompanyWorks Premium initial and annual report filing service: Automatic Minutes and Resolutions, ComplianceLock™ Alerts, Business Entity Monitoring, Electronic Ledger, Electronic Certificate, 5 GB Cloud Storage and Priority Support.

Registered Agent Service ($99):

Starting at $99 per year - The Entrepreneur Package and the Complete Package includes a free first year of registered agent service.
Pros
Tax Consultation
Business monitoring
Customized support
Cons
No free registered agent service
Non-user-friendly website
Sign Up To My Company Works
7 - Harbor Compliance
Having launched more than 20,000 businesses, Harbor Compliance is the one-stop shop for all your Oklahoma LLC formation needs.
Boasting a team of qualified professionals and rapid response times, they provide comprehensive packages beyond just filing formations, no matter how complex or specific your requirements may be.
During our trial, their team skillfully managed official correspondence between our business and government agencies, ensuring that all legal requirements were promptly fulfilled.
However, one major drawback we observed, which has also been mentioned by other customers, was their limited selection of packages.
LLC Formation Packages:
Formation Package ($99 + $104 State Fee):

This package includes preparing and filing your articles of organization with the state and checking the availability of names.

Registered Agent Service (89-$99):

Annual fees from $89-$99 per state with no additional charges. You get a 5-10 % discount if you pay ahead for your Registered Agent Service for 2+ years—immediate online access to the registered agent address.
Pros
One day filing
Specialized customer service
User-friendly software
Cons
Don't offer a refund
Their services are pretty costly
Sign Up To Harbor Compliance
8 - Legal Zoom
LegalZoom has built a reputation for becoming one of the best LLC companies in Oklahoma.
They offer LLC formation and registered agent services with flexible pricing plans.
One of the best things about this company is that the $299 registered agent service has no additional fees.
We appreciate the broad range of services that LegalZoom offers, and their registered agent service stands out as a particularly strong feature.
However, we must note that we found their business formation plans to be somewhat expensive and lacking in some of the registered agent services offered by other providers.
LLC Formation Packages:
Basic Package ($0 + $104 State Fee):

With the Basic package, you will get a comprehensive name search, an LLC welcome packet, a peace of mind review, a Wix-based customized website, and a business newsletter.

Pro Package ($249 + $104 State Fee):

Comes with all the goodies in the Basic package, but it also includes a tax savings consultation, a detailed guide on licenses, an operating agreement, and EIN.

Premium Package ($299 + $104 State Fee):

It includes everything Pro packages have, plus a hands-on guide from an experienced Oklahoma business attorney. You also receive countless 30-minute consultations on trending legal topics and up-to-date changes on your formation documents for the first 90 days of your subscription.

Registered Agent Services ($299):

If you use LegalZoom to launch your startup, the registered agent will cost you $249 for the initial twelve months. After that, this would cost $299 to renew.
Pros
Professional experience in the Legal industry
Several professional services are available
Excellent customer service and registered agent service
Cons
Overwhelming amount of LLC services upselling
Expensive
Sign Up To Legal Zoom
9 - Tailor Brands
Tailor Brands has invested in its AI logo generator to create unique logos for brands.
Aside from logos, Tailor Brands LLC's services also provide web design, print work, and social media marketing tools.
Tailor Brands has continued to expand and now offers services such as LLC Formation, merchandise design, and more.
I put them to the test and I appreciated the ease of use and the quality of the designs generated by the AI-powered logo maker.
The price point is very reasonable as I feel like I received good value for the money.
LLC Formation Packages:
The Lite Plan ($49 + $104 State Fee):

You get LLC formation and standard processing (application submitted within 14 days) for a one-time payment.

The Essential Plan ($199 + $104 State Fee) (billed annually):

This package consists of LLC formation, expedited processing (application submitted in 2 days), operating agreement, and annual compliance.
The Elite Plan ($249 + $104 State Fee) (Billed Annually): You get the same features offered by The Essential Plan plus business-building tools: 1-year free domain, eight free logos, a website builder, a digital business card, social media post maker, and a business cards tool.

Registered Agent Services ($199 per year):

Billed after processing. They don't offer a free RA for the first year; the price will be the same when renewing.
Pros
Personalized support
Helps to establish a strong brand Presence
Includes branding and other business-building tools
Cons
Several additional fees
Limited features included
---
How We Picked And Tested The Best LLC Services In Oklahoma
We conducted an in-depth analysis of the top LLC Services in Oklahoma, meticulously evaluating 18 different providers. Our approach involved anonymous testing to obtain a genuine understanding of their services.
During our evaluation, we considered various factors including the pricing of each service, depth of services, the ease of use of their platforms, their proficiency in Oklahoma-specific legal requirements, customer support, and reliability.
This comprehensive process ensured a balanced and thorough review of LLC services in Oklahoma.
1. Pricing
By examining the pricing structure, you can assess whether you are getting good value for the services provided.
We compared what each LLC service included in its pricing, such as state filing fees, registered agent services, EIN, and operating agreement drafting to ensure you're not overpaying for basic services or missing out on important features.
Based on our pricing structure analysis, ZenBusiness and IncFile stood out with their free LLC formation packages. However, Rocket Lawyer and LegalZoom are a bit pricey and may not be suitable for small startups with limited budgets.
2. Services Offered
Different LLC services offer varying features and evaluating the features will help you choose a service that aligns closely with what your business requires for effective formation and operation.
Key features we prioritized in our evaluation included operating agreements, EIN, assistance with annual report filings, legal document preparation, and registered agent services.
Based on this, Northwest outperformed its competitors with feature-rich packages. This company also offers free pre-populated operating agreement templates that you can edit and customize to fit your Oklahoma LLC.
Conversely, MyCompanyWorks is at a disadvantage here with its lack of a complimentary registered agent service in any of its packages.
3. Reliability and Reputation
A reputable and reliable LLC service often provides more than just basic formation services.
They may offer customized solutions tailored to the specific needs of your business, which can be particularly beneficial for unique or complex business structures.
During our testing, we ranked Northwest Registered Agent 5/5 for their 2-decade-long experience in forming different business structures including LLCs.
They also have solid 5-star ratings from their customers particularly for their personalized support and prompt document delivery.
4. Ease of Use
The ease of use of an LLC service is a key factor in ensuring a smooth, efficient, and stress-free formation process.
It impacts the time and resources spent on forming the company, the overall experience of the entrepreneur, and the likelihood of a successful and compliant business setup.
After evaluating different websites, we found that IncFile offers the most user-friendly platform; the website provides clear, concise, and easily understandable information about the LLC formation process, pricing, additional services, and FAQs.
5. Local Expertise
One of the primary reasons for forming an LLC is to protect personal assets from business liabilities. Familiarity with Oklahoma's legal framework regarding liability and asset protection can help maximize this benefit for LLC members.
Based on our trial, Northwest and IncFile showed the most expertise in Oklahoma's LLC laws; they handled our compliance requirements and guided us in meeting our tax obligations to stay in the right standing with the SOS.
6. Turnaround Time
When starting a business, you likely have a timeline for when you want to launch your operations, secure funding, or begin marketing activities. The turnaround time for your LLC formation can significantly impact these plans.
If the service is slow, it could delay your entire business timeline.
We placed different orders on the service simultaneously and rated how fast they filed and processed our documents. We prioritized services with a turnaround of between 1-5 business days.
Based on this, Northwest stood out for their same-day document delivery; they drafted our operating agreement immediately after requesting the service. ZenBusiness also offers a 1-5 business day turnaround if you buy their pro plan.
7. Customer Support
If you encounter any problems or errors during the LLC formation process, responsive and knowledgeable customer support is essential for quick resolution.
This can include issues with paperwork, understanding state-specific regulations, or dealing with filing errors.
We contacted the support via different channels like email, phone, and live chat and rated how prompt, professional, and customer-centric each service was.
Based on this criterion we found that ZenBusiness and Swyft Fillings offered the most comprehensive customer support; they responded almost immediately and were intentional in answering our queries.
Related Articles:
Steps To Start an LLC in Oklahoma
Here is the entire LLC formation broken into the most important steps:
Step 1: Choose An LLC Name
Step 2: Select A Registered Agent
Step 3: File Oklahoma Articles Of Organization
Step 4: File an Oklahoma Operating Agreement
Step 5: Obtain an Oklahoma Employer Identification Number
FAQs
What Are The Requirements To Form An LLC In Oklahoma?
The requirements to form an LLC In Oklahoma include that the LLC owner must be 18 or older, must be an Oklahoma resident or keep a physical office in the state in the case of a foreign LLC, and must pay the filing fee.
Do I Need To File An Annual Certificate For My LLC In Oklahoma?
Yes, you will need to file an annual recertificate for your LLC in Oklahoma. Each certificate is $25 to file. To complete the certificate, you will need your LLC name, state filing number, the anniversary date of when the LLC was formed, and the street address of the LLC.
Can I Form A Single Member LLC In Oklahoma?
Yes, you can form a single-member LLC in Oklahoma. A single-member LLC is looked at the same way as a multi-member LLC.
Our Verdict
Having navigated the maze of LLC formation services in Oklahoma, we can confidently recommend ZenBusiness.
Drawing from our experience, their platform was a breeze, ensuring our LLC was up and running in just four days. Plus, the name eligibility check they conducted saved us from the hassle of outdated name search methods.
While all the services we reviewed had their merits, ZenBusiness, with its user-friendly interface and diverse package choices, felt like the best bang for our buck.
If you're in Oklahoma and thinking of forming an LLC, we'd recommend giving ZenBusiness a shot.
Our #1 Recommendation
ZenBusiness (Best Overall)
Pros
Several packages available
Worry-Free compliance
Positive customer feedback
Fast business formation
Extended customer support availability
Get the BEST PRICE until the end of November
Cons
Non-profit business formation is not provided