Forming an LLC is the most popular option for entrepreneurs looking to establish a business in Oklahoma.
Before you decide which LLC service is right for you, you'll need to know about pricing, features, and other factors that impact your business.
We've extensively researched the most popular Oklahoma LLC formation services and consulted our legal team to help us along the way.
In the end, we've narrowed down the list to the LLC formation services that offer the most comprehensive coverage and the best value for money.
Read on to find out our best Oklahoma LLC service recommendation.
Editor's Choice
ZenBusiness
Click To Signup
#2nd Best Choice
Northwest
Click To Signup
#3rd Best Choice
Incfile
Click To Signup
9 Best LLC Services In Oklahoma (February 2023)
1 - ZenBusiness (Editor's Choice)
ZenBusiness has served as a reliable partner to more than 200,000 businesses in the LLC formation process for years.
Their track record speaks volumes about their experience and expertise, ultimately simplifying the LLC process while simultaneously lowering costs.
We particularly liked their personalized website and wide range of package choices.
Service Features:
Starter Formation Package ($49 Plus State Fees): Includes Oklahoma LLC formation service, quick filing, an online portal, phone/email support, complimentary accounting consultation, and google ad credit.
Pro Formation Package($199 Plus State Fees): The Pro Plan includes everything in the Starter Plan plus the advertising consultant, operation agreement for the consultant, annual compliance, and rush filing.
Premium Formation Package ($299 Plus State Fees): The Premium Plan includes everything in the Stater and Pro Plan plus a personalized business website, a business email, a business domain, and the quickest filing speed.
Pros
Several packages available
Worry-Free compliance
Extremely positive customer feedback
Fast business formation
Sign Up To ZenBusiness
2 - Northwest Registered Agent
Northwest Registered Agent has built a reputation since 1998 for being transparent in its pricing and the features they offer.
Northwest has unmatched customer service and expertly qualified staff that prioritize your privacy and security.
We noticed straightaway they did not sacrifice customer service to provide affordable prices. The customer service team responded timely and professionally to all our inquiries.
Service Features:
Basic Formation Package: The most affordable package costs $29 plus state fees. It includes an LLC in Oklahoma, an LLC operating agreement, a membership certificate, and free registered agent service.
VIP Formation Package: The VIP Formation Package is a more comprehensive option, costing $100 plus state fees.
This package includes all the basic formation packages. The package also offers a quick same-day filing turnaround time, a corporate guide, privacy, and compliance notifications.
Pros
Robust experience in the formation of an LLC
Transparent payment process
Free registered agent
Provide extra protection and privacy
Prioritizes customer support
Sign Up To Northwest Registered Agent
3 - Incfile
Incfile, formed in 2004, has become one of the top providers of Oklahoma LLC Services, creating over 500,000 business entities.
They specialize in accounting, business formation services, and more. Incfile has a reputation for excellent service and low cost, though we found in our experience they take plenty of opportunity to upsell services.
Service Features:
Silver Formation Package: This Oklahoma LLC formation services package provides a comprehensive Oklahoma LLC formation service at no cost to the customer. Includes registered agent services, compliance notifications, online Oklahoma LLC services, and fast ordering.
Gold Formation Package: This business formation service package includes all the Silver formation package contents.The package includes a free business name search, a free year of registered agent service, an LLC kit, EIN, and a free business consultation. The package costs $149 and includes state fees.
Platinum Formation Package: The Platinum Formation Package offers the most comprehensive Oklahoma LLC formation service with a fee of $249, including state fees. It has both Silver and Gold packages, an Oklahoma business entity domain, fast delivery, and a platinum LLC kit.
Pros
Inexpensive
Registered agent service
Helped create over 800,0000 businesses
Personalized customer support
Cons
Relies heavily on upselling services
Sign Up To Incfile
4 - Rocket Lawyer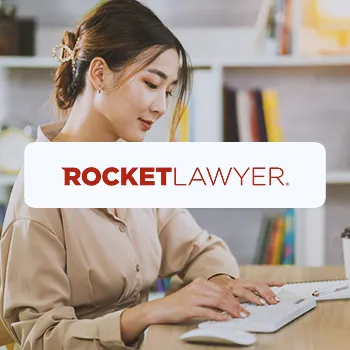 With 25 million users, Rocket Lawyer is a leader in providing legal services. Their expertise extends to Oklahoma business formation, registered agent services, and reliable legal aid.
They strive to provide the most effective guidance backed by experience lawyers that we found are readily available when you need them.
Service Features:
Free Membership: A no-charge package includes access to various legal documents and legal questions answered by certified lawyers. You will also get a 30-minute section for legal consultations and and access to discounted services:

$9.99 - for each document certified by lawyer
$39.99 - document drafting
$49.99 - legals question
$59.99 - legal consultation

Premium Membership: For $39.99 their monthly membership includes all of the free package features and a 40% discount on hiring On-Call attorney. The package also offers:

$99.99 - Rocket Lawyer's Oklahoma LLC formation service
$149.99 - Registered agent service
Pros
7-Day trial membership
30-Day guarantee
The excellent customer service team
Cons
Not primarily an Oklahoma LLC formation service
Expensive membership and al a-carte options
Sign Up To Rocket Lawyer
5 - Swyft Filings
Swyft Filings is an Oklahoma LLC Formation company that has become a substantial part of the industry.
This company has dozens of suppliers, which has helped to solidify its industry status.
With thousands of positive reviews from satisfied clients, Swift Filings is committed to providing quality services and first-rate customer service.
Service Features:
Basic Formation Package: Includes a business name check, Articles Of Incorporation filing, an Oklahoma business website, and business tax assessment. This package costs $49.
Standard Formation Package: The Standard Packages include all the basic package contents, including a federal EIN, an Oklahoma operating agreement, and a banking resolution. The package goes for $149.
Premium Formation Package: The Premium package includes all the basic and standard package features.
It also offers quick filing, shipment monitoring, an online kit for your LLC, a company website, and digital LLC formation documents. This package costs $229.
Pros
Custom customer support
Inexpensive
Comprehensive packages
Cons
Upselling of other features
Features are limited for the price
Sign Up To Swyft Filings
6 - My Company Works
Founded in 2001, My Company Works, formerly known as My New Company, has helped form over 60,000 business entities.
They were named one of the fastest-growing private companies of 2017. Only 3 percent of their reviews are negative, and customers often compliment their quick and easy process for Oklahoma LLC formation service.
Service Features:
Basic Formation Package: Includes an availability search of a business name, Oklahoma LLC filing, business meeting minutes, an LLC checklist, Ebooks, digital documents, and operating agreements. The package costs $59 and includes state fees.
Entrepreneur Formation Package: The entrepreneur Formation Package includes all the basic formation features, a free year of registered agent services, an EIN, and an Oklahoma LLC kit and seal. This package costs $199.
Complete Formation Package: The package includes all the entrepreneur and basic packages.The package offers a Premium upgrade that includes annual report filing, compliance checks, and business monitoring. This package goes for $279 inclusive of the state fees.
Pros
Tax Consultation
Business monitoring
Customized support
Cons
No free registered agent service
Non-user-friendly website
Sign Up To My Company Works
7 - Harbor Compliance
Harbor Compliance has established itself as a leader in the business formation industry since its founding 2012, helping launch more than 20,000 businesses.
Harbor Compliance is the one-stop shop for all your Oklahoma LLC formation needs. Boasting a team of qualified professionals and rapid response times, they provide comprehensive packages beyond just filing formations, no matter how complex or specific your requirements may be.
Service Features:
Formation Package: Includes an EIN, ongoing registered agent service, corporate record maintenance, and compliance monitoring. The package also gives you a compliance expert and Articles of Organization. The package goes for $399 and state fees.
Compliance Package: Includes all the features of the Formation Package plus a comprehensive compliance review, an annual report filing, and an annual compliance calendar. It also has continual support, name registration verification, S corporation or C corporation taxes, and initial analysis. The compliance package goes for $799, including state fees.
Pros
One day filing
Specialized customer service
User-friendly software
Cons
Don't offer a refund
Their services are pretty costly
Sign Up To Harbor Compliance
8 - Legal Zoom
LegalZoom has built a reputation for becoming one of the best LLC companies in Oklahoma. LegalZoom is full of real lawyers who can provide legal assistance, including the LLC formation process.
Service Features:
Economy Package: This Oklahoma LLC formation services package includes LLC name check, LLC registration, Articles of Organization, LLC review, long-term customer service, and a banking permission letter. You'll get this package at $79, including state fees.
Standard Package: In this LLC formation services package, you'll get all the Economic Package content, a company seal, VIP clearance, and an organizer.The package will cost you $329.
Express Gold Package: For this registered agent service package, you get both Economy and Standard packages plus express processing, rush processing, free domain name, personalized LLC kit, and express shipment. This package costs $349. and Legal Zoom offers a registered agents service for an additional $299.
Pros
Professional experience in the Legal industry
Several professional services are available
Excellent customer service and registered agent service
Cons
Overwhelming amount of LLC services upselling
Very costly
Sign Up To Legal Zoom
9 - Tailor Brands
Since its beginning in 2015, Tailor Brands has invested in its AI logo generator to create unique logos for brands.
Aside from logos, Tailor Brands LLC services also provides web design, print work, and social media marketing tools.
Tailor Brands has continued to expand and now offers services such as LLC Formation, merchandise design, and more.
Service Features:

LLC formation package ($49): Tailor Brands' only package is $49, which includes some essential Oklahoma LLC formation services. These essential services include LLC filing, an LLC name search, and 24/7 customer service.

They have several add-on services available, including registered agent service in Oklahoma for $199 per year, an EIN for $99, a $29 operating agreement, $49 express filing, and annual compliance alerts for $199 per year.
Pros
Personalized support
Helps to establish a strong brand Presence
Includes branding and other business-building tools
Cons
Several additional fees
Limited features included
Advantages Of Creating An LLC In Oklahoma
Creating an LLC in Oklahoma can have several benefits for LLC members. These include:
1. Flexibility
Creating an LLC gives the members more flexibility to develop structures suited to their unique preferences and needs. Members can also decide how to split the LLC's profits through the business bank account and share operational responsibilities.
2. Tax Credits
If you register an LLC in Oklahoma, there are many tax benefit programs for your business bank account, including [1]:
Small employer quality jobs program gives quarterly cash rebates of up to 5 percent on new payroll.
New jobs tax credit
New markets tax credit: a federal program that issues tax benefits for small business
3. Limited Liability
The owner or members of an Oklahoma LLC will have limited liability protection, which means they can't be sued for any litigation involving the LLC [2].
4. Tax Flexibility
An Oklahoma LLC can be taxed as an S or C corporation, partnership, or as sole proprietor.
Our Selection Process
We identified the top nine LLC services in Oklahoma based on the following key criteria:
Cost
We take our selection process very seriously. We ensure to choose the best features at a low cost so that you can put the money you save back into your business.
Quality Of Customer Service
We want your business to have impeccable customer service to ease the transition of scaling up your business.
Turnaround Time
We want a quick turnaround time for your business so that you can spend more time maintaining your business.
Oklahoma LLC Formation Steps
Here is the entire LLC formation broken into the most important steps:
Step 1: Choose An LLC Name
Step 2: Select A Registered Agent
Step 3: File Oklahoma Articles Of Organization
Step 4: File an Oklahoma Operating Agreement
Step 5: Obtain an Oklahoma Employer Identification Number
FAQs
What Are The Requirements To Form An LLC In Oklahoma?
The requirements to form an LLC In Oklahoma include that the LLC owner must be 18 or older, must be an Oklahoma resident or keep a physical office in the state in the case of a foreign LLC, and must pay the filing fee.
Do I Need To File An Annual Certificate For My LLC In Oklahoma?
Yes, you will need to file an annual recertificate for your LLC in Oklahoma. Each certificate is $25 to file. To complete the certificate, you will need your LLC name, state filing number, the anniversary date of when the LLC was formed, and the street address of the LLC.
How Much Does It Cost To Form An LLC In Oklahoma?
It costs $100 to form an LLC in Oklahoma. You can also reserve your LLC name by filing an LLC name reservation for $10.
Can I Form A Single Member LLC In Oklahoma?
Yes, you can form a single-member LLC in Oklahoma. A single-member LLC is looked at the same way as a multi-member LLC.
Which Business Formation Service is Our Top Choice?
Taking the step to create an Oklahoma LLC will legitimize your business to your customers. If you're searching for a quality company with an excellent track record, our recommendation is ZenBusiness as the best LLC service in Oklahoma.
ZenBusiness has flexibility with business formation services packages, affordability, and positive client feedback, which makes them our top choice. Additionally, the quick turnaround time and personalized customer support we experienced are second to none.
Our #1 Recommendation
Pros
Several packages available
Worry-Free compliance
Extremely positive customer feedback
Fast business formation
Get the BEST PRICE until the end of February