A registered agent service is important to ensure your business stays up to date with Ohio's laws and filing requirements.
As a team of experts with years of experience in LLC formation, we know how important it is to choose the right registered agent service in Ohio.
This is why we spent weeks researching and testing, so you don't have to.
Through our trial and error, we discovered seven (out of 25) registered agent services in Ohio that are worth trying.
Editor's Choice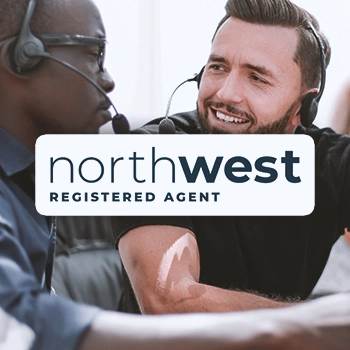 Northwest
Click To Signup
#2nd Best Choice
ZenBusiness
Click To Signup
#3rd Best Choice
IncFile
Click To Signup
Top 7 Best Registered Agents in Ohio (March 2023)
1 - Northwest Registered Agent (Editor's Choice)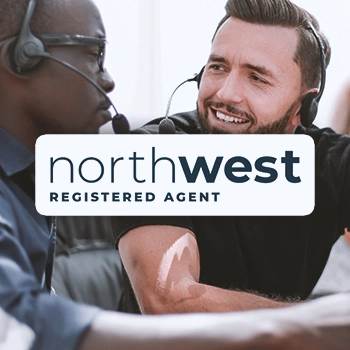 Northwest Registered Agent service leads our list of Ohio's top registered agent services.
With over 20 years of experience, they have a proven track record of great assistance with LLC formation.
Our team of legal experts tried their services and were impressed with their expertise and fast response.
From the initial order process to a follow-up and answering our questions, our experience with their customer service showed us exactly why they have the excellent reputation they do.
Northwest Registered Agent offers different business services, including document filing, EIN acquisition, a secure online portal to manage your registered agent services, and more.
Service features:
Registered Agent Service ($125): The first year of the Ohio registered agent service fee is free if you hire Northwest to form your LLC. Ohio registered agent service includes free mail forwarding, expert corporate guides, and privacy by default.
Basic Plan ($39 + $99 State Fee): Basic Ohio Plan includes articles of organization, operating agreement, one-year free registered agent service, standard & expedited processing speeds available, and it can be used to form LLCs, corporations, and nonprofits.
Full Service LLC Formation Plan ($225 + $99 State Fee): Full Service Ohio Formation plan includes same business day filing, a full year of registered agent service, free limited mail forwarding, an operating agreement, and a client account loaded with free forms and tools.
Pros
Northwest Registered Agent will not disclose or sell your info to a third party
Great customer service
With 20+ years in the industry of formation services
Clear fees
Has a free registered agent service for one year in their formation packages
Sign Up To Northwest Registered Agent
2 - ZenBusiness
ZenBusiness Registered Agent Service is second on our list because they offer low-cost LLC formation packages. ZenBusiness provides affordable corporate and LLC formation services in Ohio.
We have tested their Ohio registered agent service and from our findings, their service is solid.
If you have a rigid budget, we recommend starting with their Starter plan, which will provide you 100% accuracy guarantee.
The biggest downside is that Registered agent service is not included in their LLC formation plans, but that is compensated with a free LLC filing discount and its online account management system, where you get to manage everything in one place.
Service features:
Standard Registered Agent Service ($199): Registered representative, access to documents online, and expert assistance.
ZenBusiness Starter Plan ($0 + $99 State Fee): With this plan, you will get standard filing speed (2 to 3 weeks). This plan will cover the standard corporate filing service, which brings name availability search and access to your files via the ZenBusiness site.
ZenBusiness Pro Plan ($199 + $99 State Fee): Pro Plan brings faster expedited filling speed (4 to 6 days). ZenBusiness Pro Plan offers a variety of Ohio LLC formation services, including financial reports, the creation of employee ID numbers, compliance reviews, and alerts.
ZenBusiness Premium Plan ($299 + $99 State Fee): ZenBusiness Premium Plan offers the fastest filling speed (1-2 days). This LLC formation membership plan includes the platform's services (plus state filing fees), and you get additional business e-mail and a fully customizable business website.
Pros
Low-cost
Clear pricing structure
Extended customer service
Tons of positive recommendations
Money-back assurance for 60 days
Cons
Brand awareness still gaining traction
Sign Up To ZenBusiness
3 - IncFile
IncFile registered agent has a strong reputation and comes for a price of $119 with their LLC formation package.
The Ohio registered agent company provides a simple process for forming and advising LLCs. They are one of the most cost-effective services you can find, but you will face many upsells.
Our team tried out their Ohio registered agent packages and found out that with IncFile you don't have to sign a contract, their platform is user-friendly and you can easily complete all paperwork.
They also provided us with an address for our business. During our trial with this LLC formation service, their customer service managed to answer our questions, and we had many questions.
Service features:
Registered Agent Service ($119/year): Ohio registered agent service is free for the first year if made with an LLC formation package. After the initial year, the renewal will be $119 per year.
Silver Package ($0 + $99 State Fee): Silver Package includes preparing & filing the articles of organization, unlimited name searches, free registered agent service for a year, and unlimited phone & email support.
Gold Package ($199 + $99 State Fee): Gold Package contains everything Silver Package features plus EIN Business Tax Number, IRS Form 2553, operating agreement, banking resolution, lifetime company alerts, online access dashboard, business banking account, and Ohio business tax consultation.
Platinum Package ($299 + $99 State Fee): Ohio Platinum Package includes everything from the Gold Package, plus business contract templates, free next day filing, and domain name + business email.
Pros
Excellent online dashboard
All formation packages have a no-charge registered agent service
Order process is fast and efficient
Transparent pricing
Cons
Email response could be faster
Sign Up To IncFile
4 - LegalZoom
This well-known brand is one of the leading Ohio registered agent services. With more than two decades of experience, they have created around a million business formations.
LegalZoom's registered agent services are far more costly than many other services, and that price is backed by an A+ rating from the Better Business Bureau.
Their registered agent service comes with many benefits including instant online access to your account and an office address.
Based on our firsthand experience, LegalZoom has a wide range of registered agent products and knowledgeable customer service. Their basic registered agent packages were a great fit for starting our brand-new business.
Service features:
Registered Agent Service ($299): They don't offer free Ohio registered agent service, but you can pay $249 for the first year if you want to form your LLC with them, and the following year, it would be $299.
Economy Plan ($79 + $99 State Fee): Economy Ohio Package includes comprehensive name search and business entity filing, Peace of Mind Review, tax savings consultation, complete digital LLC welcome packet, digital tracker, seven days a week lifetime customer support, entrepreneur's business newsletter, and customizable website powered by Wix.
Standard Plan ($329 + $99 State Fee): Standard Ohio Package includes everything the Economy package contains, plus the founder's kit with a personalized notebook and 5-day priority processing.
Express Gold ($349 + $99 State Fee): Express Gold Ohio Package contains everything the Economy and Standard packages have, plus 1-day express processing and expedited shipping.
Pros
Adaptable service package
Customer support seven days a week
Real and professional lawyers
Cons
High-priced registered agent services and LLC creation
No free registered agent services in the first year
Sign Up To LegalZoom
5 - Swyft Filings
Swyft Filings is a trusted registered agent service that offers all the documents and other needs required to start an LLC in Ohio.
This includes a street address, and a registered agent service, next to three different formation packages.
Their registered agent package will help you with entity formation, and from our experience with corporate compliance also.
For $99 per three months, we got Swyft Filings professional support with many legal and compliance requirements for our business.
Service features:
Registered Agent Service ($99): Ohio registered agent service costs $99 per three months, and this will be an ongoing quarterly subscription, according to a sales representative.
Basic Plan ($49 + $99 State Fee): Basic Ohio Plan gets your business approved by the states, free 30-business tax consultation, and a free domain name.
Standard Plan ($149 + $99 State Fee): Standard Ohio Package contains everything in the Basic Plan and you also get an additional Federal Tax ID (EIN) and most documents needed to start your business (operating agreement, banking resolution, and organizational minutes).
Premium Package ($299 + $99 State Fee): Premium Ohio Package includes all basic and standard services and additional ones, including free eDelivery of state documents (docs uploaded to account for ease of access), customized digital LLC kit, and free business website and web hosting.
Pros
Personalizes customer service
Reasonable processing times
Sign Up To Swyft Filings
6 - Harbor Compliance
Harbor Compliance registered agent service is known for its great customer service, so we decided to test it.
Forming an LLC with them was a fast and straightforward process, as we were guided through every step. We got instant online access to registered agent address and a discount as first-time clients.
Our findings show that Harbor Compliance is a knowledgeable expert in the subject of corporate governance matters.
Service features:
Registered Agent Service ($89-$99): This Ohio registered agent service costs from $89 to $99 annually per state with no additional charges, and you get a 5-10% discount if you pay ahead for registered agent services for +2 years.
Formation Plan ($99 + $99 State Fee): This Ohio Formation Package includes checking name availability, and preparing and filing your articles of organization with the state.
Pros
Instant online access to the registered agent's address
Your documents will be delivered electronically the same day
Excellent customer service
Cons
Limited brand authority compared to other more known companies
Website needs significant overhaul
Sign Up To Harbor Compliance
7 - Ohio Registered Agent Service
Ohio Registered Agent Service assists existing Ohio companies in staying compliant with the Ohio Secretary of state. Additionally, Ohio Registered Agent Service helps out-of-state companies register a business entity in Ohio.
They offer instant pre-populated paperwork in your internet portal and filing guidance on the cheaper and more convenient methods to file in Ohio.
They will email you notifications to submit your Ohio yearly information promptly, and you can constantly keep a record of your deadlines in your web-registered agent portal.
Registered Agent Services ($49/year): Provides timely alerts to annual reports, an online account and dashboard, same day document delivery, as well as optional contract renewal.
Pros
There are no forwarding charges or additional fees
Fixed price
Personalized statutory agent service for your company
Cons
No discounts
Lacks brand power
What Are the Benefits of Working With a Registered Agent Service in Ohio?
Although an entrepreneur can act as his or her registered agent, there is indeed a multitude of important factors just why the tiniest of businesses pick the best registered agent service provider to manage this vital necessity.
Here are some of the benefits of having an Ohio Registered Agent Service [1]:
1. Privacy
Ohio registered agents provide a valuable service by allowing businesses to list their agent's address on the Ohio Secretary of State website and in other public records [2].
If you are your own registered agent for your company and name your residential address as the registered agent's office, your own contact details will appear on publicly available information, and task workers will send notices to your residence.
2. Our Corporation Operates in Multiple Jurisdictions
Whenever you establish your company to do an operation in jurisdictions besides the one where it was formed, a registered agent is required in each of those areas.
By choosing an Ohio Registered Agent service provider, you can have one firm handle this vital function within every area.
3. Organized Documents
Ohio Registered agent services are advantageous to entrepreneurs to ensure compliance with statutory standards and that every critical alert to the firm is stored in a single place with their registered agent.
An Ohio registered agent service provides and online account portal, allowing you to follow all mailings and updates.
You can quickly manage and trace your mail each day through the internet.
4. Legal Advantages
LLC registered agent services can help navigate the legal requirements of running a business, preventing costly penalties and keeping Ohio companies on par with other businesses in the area.
These service providers consist of experts who guide businesses through complex state laws so that compliance is always maintained ensuring optimal business success.
5. Risk Reduction
By transferring responsibility to the Ohio registered agent service, you limit the possibility of non-compliance.
An Ohio registered agent service will be accessible when needed and will give you timely notification of updates and just about any other steps that your company maintains, ensuring that your company never misses a due date.
How Much Does a Registered Agent Service Cost in Ohio?
An Ohio registered agent service costs between $50 and $300 each year, which is somewhat reasonable given the numerous privileges you may get from them.
What Are the Requirements for an Ohio Registered Agent?
An Ohio statutory agent (registered agent) is required by Ohio State Law (Title 17, Section 1701.07) to:
All Ohio Registered agents must be ready to accept legal papers
All Ohio Registered agents must be of legal age (18+)
All Ohio Registered agents must possess a physical, registered office address in the state of Ohio. There are strictly no P.O. Boxes
All Ohio Registered agents must be a citizen or a business entity offering registered agent services
FAQs
What Is the Primary Function of the Best Registered Agent Service in Ohio?
The primary function of the best registered agent service in Ohio is to serve as the point of contact and receive statutory and other papers on your behalfs, such as lawsuits, regulatory and tax warnings, and communications.
Do I Need Your Own Registered Agent for My LLC in Ohio?
Yes, you need your own registered agent for your LLC in Ohio. If you create an LLC or business, you must have an Ohio-registered agent and a principal place of business, regardless of where you establish your firm.
How Do I Change My Registered Agent in Ohio?
To change your registered agent in Ohio, you must submit an Ohio Statutory Agent Update form to the Ohio Secretary of State's Business Services Division. The Ohio Statutory Agent Updates should be filed personally or electronically ($25).
Our Favorite Registered Agent in Ohio is...
All businesses and LLCs in Ohio must appoint an Ohio statutory agent (also known as an Ohio registered agent service) to receive service of process at their behest. It's crucial to pick the right one for your business.
Our recommendation? It's the Northwest Registered Agent service. We felt confident our venture was in good hands with their cycle time transparency, compliance calendar, personalized services, life-long support, and outstanding customer support team.
Our #1 Recommendation
Northwest Registered Agent
Pros
Northwest Registered Agent will not disclose or sell your info to a third party
Great customer service
With 20+ years in the industry of formation services
Clear fees
Has a free registered agent service for one year in their formation packages
Get the BEST PRICE until the end of March