New York has a high LLC filing fee and requires new LLCs to publish notices advertising the formation of the LLC in designated newspapers and submit a Certificate of Publication along with publication affidavits.
When searching for the most suitable registered agent in New York for your business, you should consider the cost of their services, their reputation, and whether their services will meet your business needs.
So, to help you with this, we decided to test more than ten different New York agent services with the help of our legal advisors and comply with a list of industry-leading New York registered agents. Let's get started!
Editor's Choice
Northwest
Click To Signup
#2nd Best Choice
ZenBusiness
Click To Signup
#3rd Best Choice
IncFile
Click To Signup
Top 6 Agent Services (March 2023)
1 - Northwest Registered Agent (Editor's Choice)
Northwest Registered Agent delivers a seamless user experience, starting from registration to scanning and mail forwarding of legal documents.
Clients also receive notifications to ensure annual reports and other tax documents are filed on time so businesses remain compliant.
Among Northwest Registered Agent's many strengths, we found their US-based customer support team to be their strongest feature.
The Northwest Registered Agent customer support team comprises former attorneys, accountants, small business owners, and entrepreneurs, who have been very responsive, professional, and efficient during our cooperation.
Service Features:
Registered agent services ($125/year): You will get a physical street address and they will forward the mail to you. Additionally,  they offer lifetime professional assistance, pre-filled state paperwork, annual report notices, and more.
LLC Formation (starts at $39 + $205 State Fee): Includes a free year of high-quality registered agent services, operating agreement, articles of organization, and more.
Pros
Protection of personal information
Personalized and excellent customer support
20+ years of industry longevity
Fees are extremely transparent
No-charge registered agent service (1 year) with formation package purchase
Cons
Northwest Registered Agent is more costly compared to competitors
Sign Up To Northwest Registered Agent
2 - ZenBusiness
ZenBusiness offers agent services as a stand-alone service.
It costs $199 and is one of the most affordable prices on the list. Their basic package includes user-friendly software and personalized customer support.
ZenBusiness offers an upgraded option for an extra fee which we found helpful, particularly for beginners. It saved us a lot of time and covered all our queries.
ZenBusiness has earned the trust of thousands, with over 4500 customers giving an impressive average rating of 4.7/5 stars on their online reviews.
Service Features:
Registered Agent Service ($199):  LLC formation not included, and the plan renews annually for the same price.
ZenBusiness Starter costs ($0 + $205 State Fee): This basic ZenBusiness subscription package covers the usual corporate filing service, which covers name availability search capabilities and access to your files via the ZenBusiness site, and additional standard filing speed (2 to 3 weeks).
ZenBusiness Pro ($199 + $205 State Fee): This ZenBusiness package provides different New York LLC formation services like accelerated filing (4 to 6 days), financial reports, employment ID number generation, and compliance reviews and alerts.
ZenBusiness Premium ($299 + $205 State Fee): Their premium membership plan incorporates the ZenBusiness platform services (plus state filing fees). Also, you get additional fastest rush filling speed (1-2 days) and customizable business website with ready-to-use website e-mail address.
Pros
Simple and low-cost price structure
Chat support has an extended hours
Earned positive reviews from clients
Money-back satisfaction guarantee
Sign Up To ZenBusiness
3 - IncFile
New York has one of the highest LLC filing fees among the states. So, if you want to cut your startup costs, consider IncFile, which provides free LLC formation in New York and agent services.
But, when we purchased their agent services separately, they charged us an annual fee of $199. IncFile will assist you in getting started and getting things going in the right direction.
Despite offering free services, IncFile guarantees quality service, as evidenced by 13,500+ positive online reviews. Their New York agent services are highly acclaimed for their convenience and outstanding customer support.
Service Features:
Registered Agent Services ($119): It has a customizable Dashboard that makes it simple to view your papers online.
LLC Formation: (starts from $0 + $205 State Fee): You only have to pay the $205 New York filing fee due for the first year.
LLC Certificate of Publication Service: Incfile does not currently offer this service.
Pros
Has a registered agent dashboard
Free year of agent services with formation packages
Quick turnaround orders
There are no unstated costs
Cons
Support options are limited
Sign Up To IncFile
4 - LegalZoom
Similar to Rocket Lawyer, LegalZoom provides legal services all under one roof.
What sets them apart is that LegalZoom has already established a prominent name in the LLC formation and registered agent service industry and comes in a higher service fee.
Their agent services offer unlimited cloud storage, company data security, and a compliance calendar.
LegalZoom is ideal for anyone looking for a more premium registered agent service than some other providers offer.
Service Features:
Agent Services ($299): Charged annually and includes data protection, a compliance calendar, and unlimited cloud storage. The premium feature offers identity theft protection (up to $1 million). If you start your company using their service, you get a $50 discount in the first year for their registered agent service.
LLC Formation: (starts at $79 + $205 State Fee): Name search & filing service, tax consultation, welcome package, digital tracker, and more.
LLC Certificate of Publication Service: LegalZoom does not currently offer this service.
Pros
Has high customer volume
Offers wide a variety of legal services
Great brand power
Cons
Mediocre customer reviews
No registered agent included with LLC formations
Sign Up To LegalZoom
5 - Rocket Lawyer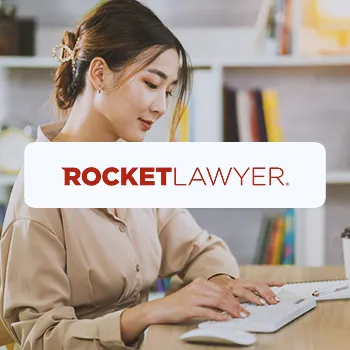 Rocket Lawyer is an online legal services provider that aims to resolve all your business formation and legal needs, including agent services.
They offer a free seven-day trial period of their premium membership, where clients can access all of their features before committing to the full subscription.
Rocket Lawyer has extensive experience and is trusted by tens of thousands of businesses for their quality and affordable legal services.
Service Features:
Agent Services ($149.99 for non-members): It also includes online legal document storage and Certificate of Formation submission. Charged annually. A $39.99 monthly membership will give you a %25 discount for the registered agent service.
LLC Formation ($99.99 + $205 State Fee): They won't charge you for an LLC formation if you are e member ($39.99 monthly). Apart from the multiple services included, you will also get a %25 discount on the registered agent service.
LLC Certificate of Publication Service: Rocket Lawyer does not currently offer this service.
Pros
Subscription-based pricing
Provides legal documents
Provides support from legal experts
Cons
Limited features
Free trial requires credit card
Sign Up To Rocket Lawyer
6 - Harbor Compliance
While Harbor Compliance is not authorized to provide legal advice, they provide one of the most comprehensive services in all states, including formation and agent services.
Harbor Compliance also offers add-on features that are absent in their basic and premium packages, such as the service of publishing a notice in a newspaper.
One of the highest-rated registered agent services nationwide, Harbor Compliance offers multi-year discounts and comprehensive services for LLCs in multiple states.
A Better Business Bureau A+ rating speaks to their commitment to excellence.
Service Features:
Registered Agent Services ($88-$99/year): Includes no-charge document scanning, same-day digital delivery of documents, customizable alerts, and more. Discounts are available for bulk orders.
LLC Formation (Starts at $399 + $205 State Fee): Check if your proposed LLC name is available, prepare and files the article of organization in your name.
LLC Certificate of Publication Service: Currently, they offer this service as an add-on.
Pros
Has same-day digital delivery
Has automatic process
Complimentary registered agent in New York service with a formation package
Cons
Pricing is expensive
Customer support needs improvement
Sign Up To Harbor Compliance
What Are the Benefits of Working With a Registered Agent Service in New York?
Working with a New York registered agent service can save you from the time-consuming, costly, and frustrating business formation and maintenance process. Below is more detailed information [1]:
1. Personal Assets Protection
Members of an LLC are not personally liable for the debts of the business, including debts incurred due to lawsuits filed against your LLC.
This means a business creditor cannot seize an LLC member's personal assets, such as their home, car, and bank accounts [2].
2. Convenience
Professional registered agents will handle all the tedious paperwork of LLC formation and representation. This includes filing LLC documents and annual reports, assisting in publication, and managing due dates.
This way, you can streamline your operations and focus on growth, leaving administrative tasks to a registered agent service.
3. Maintains Privacy
Rather than exposing your personal address in the public record, your New York registered agent will provide the registered office address for your LLC.
This means that all service processes will be served to that address during regular business hours, so there is no chance you will receive them in front of your family members, customers, or friends [3].
4. Flexible Tax Options
LLCs have the most flexibility regarding how they will be taxed under federal law. A single-member LLC can be taxed as a sole proprietorship, an S corporation, or a C corporation.
Meanwhile, a multiple-member LLC can be taxed as a partnership, an S corporation, or a C corporation.
How Much Does a Registered Agent Service Cost in New York?
The cost of a New York registered agent service can range from $50-$300 annually. Hiring an experienced registered agent is a worthwhile investment.
It can save you time and energy by helping you form your LLC business and take care of other legal requirements, such as filing reports and monitoring due dates and renewals.
Who Can Be a Registered Agent?
Companies and individuals in New York must be at least 18 years old with a physical NY address and available during standard business hours can become registered agents for local LLCs.
However, suppose you are still unsure who to appoint as your registered agent. In that case, you have four options:
Option 1: Select yourself as your LLC's registered agent.
Option 2: Designate your LLC as the registered agent.
Option 3: Assign any family member or friend you trust
Option 4: Employ a New York registered agent company.
FAQs
Do I Need a Registered Agent for My LLC?
Yes, you need a registered agent for your LLC. Otherwise, the New York Secretary of State will reject the LLC formation filing.
What Does a New York Registered Agent Do?
A New York registered agent do is to act as the point of contact for your business. This means they are responsible for receiving service of process, like legal notice of a lawsuit and legal documents from the Secretary of State on behalf of your LLC.
Can I Act as My Own New York Registered Agent?
Yes, you can act as your own registered agent in New York, which means you will receive all official documents on the company's behalf.
Can I Use the Registered Agent Office Address as My New York Business Address?
No, you cannot use the registered agent's office address as your New York business address. Generally, it is only meant to receive official government documents relevant to your business entity.
Can I Use a PO Box for My LLC in New York?
Yes, you can use a PO Box for your LLC as an LLC member. On the other hand, your registered agent must have a physical address.
Can I Use a Virtual Address for My New York LLC?
Yes, you can use a virtual address for your LLC.
How Much Is the Fee to Start an LLC in New York?
$200 is the cost to start an LLC for Article of Organization. You need to publish your LLC in two newspapers within 120 days of formation. The Certificate of Publication and affidavits of publication must be submitted to the New York Department of State, the filing fee is $50.
And the Best Registered Agent Service in New York is...
Starting an LLC is relatively costly, but several requirements exist. If you want a registered agent service offering the LLC Certificate of Publication, we recommend you pick Northwest Registered Agent.
Northwest is the top registered agent service because it offers reliable services and responsibly takes care of your legal documents and annual reports so that you can focus on your business strategies and growth.
We appreciated how committed they were to protect our business privacy.
The US-based customer support team is always available for all your problems during the formation and growth of your business entity.
For these reasons, Northwest Registered Agent stood out from the rest to become our recommended choice.
Our #1 Recommendation
Northwest Registered Agent
Pros
Protection of personal information
Personalized and excellent customer support
20+ years of industry longevity
Fees are extremely transparent
No-charge registered agent service (1 year) with formation package purchase
Get the BEST PRICE until the end of March
Cons
Northwest Registered Agent is more costly compared to competitors