Hiring a reliable registered agent ensures that you have a business entity representative who receives service of process and does compliance filing on your company's behalf.
Given their important role in a business entity, it is also essential to choose one that is credible to ensure that there wouldn't be any repercussions.
We teamed up with our legal team and reviewed the best-registered agents in Oklahoma. Here are the 7 services that stood out the most in terms of service features, faster document filing, and affordable pricing.
Editor's Choice
Northwest
Click To Signup
#2nd Best Choice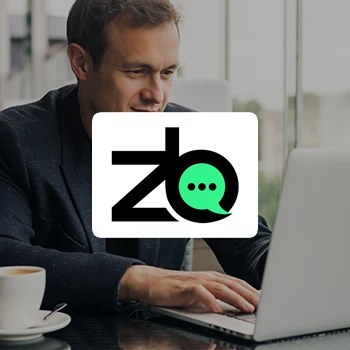 ZenBusiness
Click To Signup
#3rd Best Choice
IncFile
Click To Signup
Our Top Products (March 2023)
1 - Northwest Registered Agent (Editor's Choice)
As a family-owned business formation service, Northwest registered agent upholds an excellent reputation for client service.
Through its straightforward packages and upfront pricing, we got our company incorporated in no time.
Northwest registered agent is a perfect choice for forming your Oklahoma LLC as they offer high-quality registered agent services.
In our experience, we found their customer support quite dependable, and they promptly responded to our queries.
Also, their fees are clear and straightforward.
We love that Northwest Registered Agent provides fixed costs for business formation services in Oklahoma rather than different pricing plans with plenty of needless features.
Service Features:
Registered agent service ($125): The first year of the Oklahoma registered agent service fee is free if you hire Northwest to form your LLC, and if you get registered in all 52 jurisdictions, it will cost 5,200. Oklahoma registered agent service includes free mail forwarding, expert corporate guides, and privacy by default.
Basic Plan ($39+ $104 State Fee): Basic Oklahoma Plan Includes articles of organization, operating agreement, one year free registered agent service, standard & expedited processing speeds available, and it can be used to form LLCs, corporations, and nonprofits.
Full Service LLC Formation Plan ($225 + $104 State Fee): Full Service Oklahoma Formation plan includes same business day filing, a full year of registered agent service, free limited mail forwarding, operating agreement, and a client account loaded with free forms and tools.
Pros
Has protection for your vital information
Top-notch customer service
Pretty adept in their 2 decades of experience
Pricing is clear to customers
Formation package includes free one-year Oklahoma services
Cons
Price is not the lowest one offered for commercial registered agent service
Sign Up To Northwest Registered Agent
2 - ZenBusiness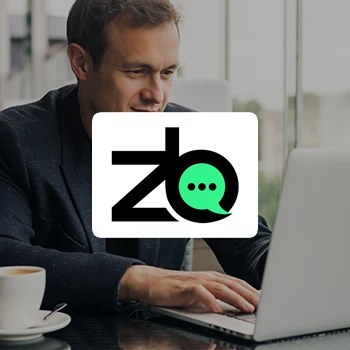 With ZenBusiness regulatory filings for startups are made simple and affordable.
What we liked about ZenBusiness registered agent is the ability to create and submit our LLC creation paperwork.
This reduced the need for our company to pay attorneys or expensive professionals to accomplish the task.
We applaud ZenBusiness registered agent service for its excellent customer service and low cost. Their employees are well-informed and trustworthy when it comes to handling the legal aspects of your business.
Service Features:
Basic Registered Agent Service ($199): A registered agent, plus access to online legal documents, and professional guidance.
ZenBusiness Starter costs ($0 + $104 State Fee): This sZenBusiness Starter subscription covers the Oklahoma's standard corporate filing service, which covers name availability search capabilities and access to your files via the ZenBusiness site. Also, it is important to mention that it comes with standard filing speed (2 to 3 weeks).
ZenBusiness Pro ($199 + $104 State Fee): With this package, you will get faster expedited filling speed (4 to 6 days). Furthermore, ZenBusiness Pro swill provide different Oklahoma LLC formation services like financial reports, employment ID number generation, and compliance reviews and alerts.
ZenBusiness Premium ($299 + $104 State Fee): The last package, which is their Premium, offers the fastest rush filling speed (1-2 days). Also, this LLC formation membership plan incorporates the platform's services (plus state filing fees), and you will get access to the business website.
Pros
Offers low-cost and clear pricing model
Long hours of Chat customer support
Has a ton positive customer feedback for their registered agent
Run a 60-day refund policy for unsatisfied clients
Cons
Brand awareness is low compared to its competitors'
Sign Up To ZenBusiness
3 - IncFile
Established in 2012, IncFile is a business development service aimed at assisting business owners in remaining compliant and structured.
It also helps incorporate your LLC and file required papers and financial statements.
With their prompt customer service and professional agents, your company will be up to date on a variety of legal regulations.
We recommend this agent service because you can use them to form Limited liability companies (LLCs), C-corporations, S-corporations, and nonprofits.
We appreciate that we could purchase accounting and reporting add-ons which made our bookkeeping easier.
Service Features:
Registered Agent Services ($119/year): Oklahoma registered agent service is free for the first year if made with an LLC formation package, and after the first year, the renewal will be $119 per year.
Silver Package ($0 + $104 State Fee): Oklahoma Silver Package includes preparing & filing the articles of organization, unlimited name searches, free registered agent service for a year, unlimited phone & email support.
Gold Package ($199 + $104 State Fee): Oklahoma Gold Package includes everything Silver Package features plus EIN Business Tax Number, IRS Form 2553, operating agreement, banking resolution, lifetime company alerts, online access dashboard, business banking account, and business tax consultation.
Platinum Package ($299 + $104 State Fee): Oklahoma Platinum Package includes everything from the Gold Package, plus business contract templates, free next day filing, and domain name + business email.
IncFile registered agent also gives you a dashboard where you can access your online account and manage alerts regarding compliance and filing.
Pros
Flexible customer online panel
Features free Oklahoma services in all bundles
Speedy processing of registered agent orders
Their registered agent costings are very clear
Cons
Restricted customer support service options
Sign Up To IncFile
4 - LegalZoom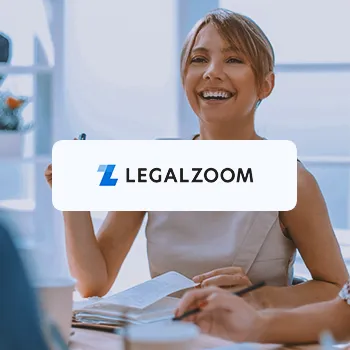 This service was launched in 1999 and has since then worked with over 3.5 million customers including forming a myriad of firms.
LegalZoom is undoubtedly one of the most famous Oklahoma registered agent services and LLC formation providers in Oklahoma.
The LegalZoom registered agent works on your company's behalf, providing a level of anonymity to you and your business.
They also filed our compliance on time hence we eliminated state penalties while also allowing us to choose our own working hours.
They contact you as a form of politeness before mailing any court paperwork. Not that many of their rivals give these things for free, and others do not feature them in any way.
Service Features:
Registered Agent Service ($299): They don't offer free Oklahoma registered agent service, but you can pay $249 for the first year if you want to form your LLC with them, and the following year, it would be $299.
Economy ($79 + $104 State Fee): The Economy Oklahoma Package Includes comprehensive name search and business entity filing, Peace of Mind Review, tax savings consultation, complete digital LLC welcome packet, digital tracker, seven days a week lifetime customer support, entrepreneur's business newsletter, and customizable website powered by Wix.
Standard ($329 + $104 State Fee): The Standard Oklahoma Package includes everything the Economy package includes, plus the founder's kit with a personalized notebook and 5-day priority processing.
Express Gold ($349 + $104 State Fee): The Express Gold Oklahoma Package includes everything the Economy and Standard packages have, plus 1-day express processing and expedited shipping.
Pros
LegalZoom provides more continuing legal services than competitors
Strong brand recognition
Within 60 days after purchase, you can receive a complete refund of any costs paid to LegalZoom
Cons
Customer feedback is average
High costs
Sign Up To LegalZoom
5 - Swyft Filings
Swyft Filings, with its flexible pricing model and quick turnaround times, can be a great alternative for basic Oklahoma LLC formations or incorporations.
Despite the fact that they started operating in 2015, they have gotten thousands of positive feedback from satisfied customers.
Swyft Filings was established by senior personnel to make it simpler for startups to open their LLCs in Oklahoma.
The brand is famous for its personalized service and quick response time on LLC formation which we experienced firsthand during our trial.
Generally speaking, Swyft Filings is the cost-effective choice for forming a limited liability company, particularly if you choose their basic package. However, it is their customer care that most users praise.
Service Features:
Registered agent service ($99): Oklahoma registered agent service costs $99 per three months, and this will be an ongoing quarterly subscription, according to a sales representative.
The Basic Package ($49 + $104 State Fee): The Basic Oklahoma Package gets your business approved by the states, free 30 business tax consultation, and free domain name.
The Standard Package ($149 + $104 State Fee): The Standard Oklahoma Package includes everything in the basic package and you also get additional Federal Tax ID (EIN) and most documents needed to start your business (operating agreement, banking resolution, and organizational minutes).
The Premium Package ($299 + $104 State Fee): The Premium Oklahoma Package includes all basic and standard services and additional ones, including free eDelivery of state documents (docs uploaded to account for ease of access), customized digital LLC kit, and free business website and web hosting.
Pros
Excellent customer service
Excellent customer feedback
Flexible pricing structure
Cons
Registered agent service is prohibitively expensive
Upselling excessively
Sign Up To Swyft Filings
6 - Harbor Compliance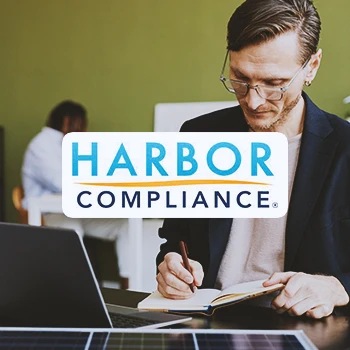 Harbor Compliance, formed by a group of regulatory compliance professionals and digital innovators, is a service offering compliance solutions for companies of all sizes.
Harbor Compliance, in particular, assists businesses in meeting federally, local, and statewide business entity licensure regulations.
The company has licensed professionals that produce the necessary file requests, charges, and timeframes using their unique software.
Overall, Harbor Compliance provides a low-cost agent service on which you can depend to keep your business in good standing with the state regulations.
You could trust Harbor Compliance to assure you that you can stick to running and expanding your business.
Service Features:
Registered Agent Service ($89-$99): This Oklahoma registered agent service costs from $89 to $99 annually per state with no additional charges, and you get a 5-10% discount if you pay ahead for registered agent services for +2 years.
Formation Package ($99 + $131 State Fee): This Oklahoma Formation Package includes checking name availability, preparing and filing your articles of organization with the state.
Pros
Rapid application procedure
Quick turnaround
Upfront fees
Cons
There is a scarcity of free Oklahoma registered agent services
Uneven support quality
Sign Up To Harbor Compliance
7 - Oklahoma Registered Agent Service
This service focuses on making the LLC procedure quick and simple for you. You will immediately be able to log in to your internet account once you register for their agent service for $49 per year.
Their signup process is relatively easy, and you can be done in a few minutes. Another great thing about this service is that you can use their agent's name and address on your state forms.
Service Features:
Registered Agent Services ($49/year): Includes a reminder to file your annual reports on time, online account and dashboard, annual statements, and optional contract renewal.
Pros
Inexpensive
Oklahoma Registered Agent service offers a strong security client account where you can save all of your company documents
No hidden costs
Cons
Lacks brand awareness
Offers zero discounts on bundle purchases
What Are the Benefits of Working With a Registered Agent Service in Oklahoma?
1. Organized Documents
Any business owner will benefit from a commercial registered agent because they ensure compliance with state requirements and store every document vital to the company.
A reliable registered agent in Oklahoma also ensures you have your own account online, where you will be able to track all notifications and documents.
You can conveniently track and organize daily email notifications.
2. You Do Not Want to Face the Possibility of a Non-compliance
Non-compliance might be intimidating if you are new to the full procedure.
By hiring your own registered agent, you may stay in compliance, prevent high state penalty costs, and keep your Oklahoma business entity in good status in the state where it was formed.
3. Statutory Advantages
Hiring an Oklahoma registered agent offers you many statutory advantages because, as a new business owner, understanding legal compliance can be challenging.
Registered agents are knowledgeable in Oklahoma state laws and can help your company file compliance orders and ensure that you remain in good standing with the Oklahoma secretary of state [1].
4. Operates in Multiple States
A person cannot be in multiple locations at the same time. Your company must have an Oklahoma registered agent with a physical address in the jurisdiction wherein you formed and in every state where you do commerce.
An Oklahoma registered agent service eliminates the need for several offices and registered representatives.
Using a registered agent service allows you to retain secrecy and compliance while lowering your chances of chronic lateness and being penalized or fined.
5. Eliminate Spam Mail
The registered agent's location is publicly available. This implies that everyone, even salespeople, may utilize it. It is fairly uncommon for the registered agent to receive a substantial volume of "spam emails" on behalf of the firm.
Your company will also receive fewer unsolicited letters if you choose an Oklahoma registered agent service provider.
6. Increased Leisure
Your Oklahoma registered agent is available during normal business hours on your behalf to receive and handle crucial paperwork. This way, if you set your own work schedule you get more leisure time to do other personal activities.
7. A Corporate Identity Will Be Strengthened 
Using an Oklahoma registered agent ensures that you get invoices for litigation as well as other legal paperwork in a confidential setting.
Without an agent, you'll receive a service of process in front of employees, customers or family members. This might seriously affect your company's reputation not only with consumers but also with the staff.
Using an Oklahoma registered agent ensures that official and legitimate correspondence is obtained confidentially, but perhaps more significantly, that it is responded to promptly.
How Much Does a Registered Agent Service Cost in Oklahoma?
A registered agent service in Oklahoma costs anywhere between $50 to $300 per year.
The costs vary because different registered agent services offer different features, so the more premium features you want the more the price and vice versa for basic services.
What Are the Specifications for the Best Oklahoma Registered Agent?
The specifications for the best registered agent in Oklahoma as per the state statutes (Title 18, Section 1022 (corporations), and Section 2010 (LLCs)) include:
All Oklahoma registered agents must be legal residents or a firm that provides statutory agent services.
All Oklahoma registered agents must always maintain a registered office (a physical address in Oklahoma).
Throughout normal business hours, official papers (service of process) must be accepted by all registered agents.
FAQs
Is a Registered Agent a Must in Oklahoma for My Limited Liability Company?
Yes, a registered agent in Oklahoma is a must for your Limited Liability Company. The position of the registered agent for a corporation in the US is important if you want to stay compliant with the state and get a certificate of good standing.
Why Should You Use a Professional Registered Agent in Oklahoma?
You should use a professional registered agent in Oklahoma because they keep a compliance calendar and, therefore, will notify you when annual reports or even other files are expected, as well as assist you in submitting them. This allows you to prevent penalties and maintain your firm in great shape, both of which are necessary to preserve your LLCs security.
Can One Be Their Own Registered Agent in Oklahoma?
Yes, one can be their own registered agent in Oklahoma as long as they have a physical business address in the state in which their Oklahoma business entity or LLC is established. Being your own registered agent will also save you money.
Our Favourite Registered Agent in Oklahoma is...
A registered agent service is required by law throughout every jurisdiction for businesses. This is applicable to both entrepreneurs and small enterprises, as well as Limited Liability companies and organizations.
After extensive research, our vote for the best Oklahoma registered agent goes to Northwest Registered Agent.
We highly recommend this service because they launched our firm in no time and they maintained and simultaneously managed all our legal documents efficiently.
As the best-registered agent, Northwest offers services that assist you in staying in complete compliance with your state throughout your business period.
These services include privacy by design, legal mail forwarding/scanning for free, local business consultants, and same-day scanning of local documents.
Our #1 Recommendation
Northwest Registered Agent
Pros
Has protection for your vital information
Top-notch customer service
Pretty adept in their 2 decades of experience
Pricing is clear to customers
Formation package includes free one-year Oklahoma services
Get the BEST PRICE until the end of March
Cons
Price is not the lowest one offered for commercial registered agent service