4 Best LLC Services in Connecticut (2023) To Work With
Choosing the right LLC service in Connecticut ensures timely paperwork and compliance with the Connecticut SOS.
Together with our certified business experts who've been in the LLC industry for over a decade, we've evaluated the top four LLC companies in the state based on pricing, features, and efficiency.
This article highlights the top four LLC service providers in Connecticut. Read on to find the best fit for your business.
Editor's Choice
Rated by more than 2000+ customers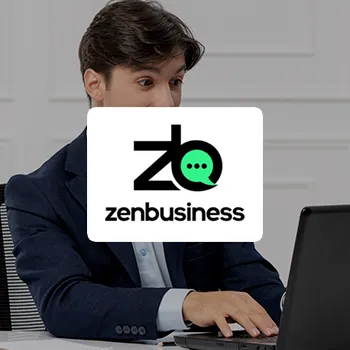 ZenBusiness
Click To Signup
81% of visitors chose this
#2nd Best Choice
Rated by more than 1000+ customers
Northwest
Click To Signup
#3rd Best Choice
Rated by more than 1000+ customers
IncFile
Click To Signup
4 Best LLC Formation Services in Connecticut (November 2023)
1 - ZenBusiness
(Best Overall)
Would you recommend ZenBusiness (Best Overall)?
ZenBusiness offers a seamless and expert-guided process. Their user-friendly platform and excellent customer support ensure smooth incorporation.
They showcase transparent package choices, enriched with key features like an EIN. My LLC was operational in just four days, and I was promptly provided with a New Business Kit.
The platform's dashboard is designed for clarity, offering a post-filing timeline, and its abundant resources are perfect for business management insights.
ZenBusiness provides customer support Monday through Friday from 8 a.m. to 8 p.m. and on Sundays from 10 a.m. to 7 p.m. CST, which is more extensive than some competitors.
Notably, they initiate billing for registered agent services only after the LLC is in place, emphasizing their dedication to clients.
LLC Formation Packages:
Starter Formation Package ($0 + $120 State Fee):

You can subscribe to this LLC formation service plan to form your LLC. Additionally, you get standard filing speed (2 to 3 weeks),

expense and deduction tracking, and a 100% accuracy guarantee. The new worry-free compliance feature is optional and free for the first year. If accepted, it will renew at $199/year. Plus, benefit from a 1-month free trial for Banking, Bank Account, Money Pro Bookkeeping, and Website Builder services, each followed by affordable monthly rates.
Pro Package ($199 + $120 State Fee): In addition to the starter features, you get TIN or Employer ID Number (EIN) registration, initial yearly reports, and the fastest "rush" filing speed with an average of 1-2 business days. You'll also get an operating agreement template (at $99). 
Premium Package ($349 + $120 State Fee):

This plan includes all features from lower tiers plus business document templates, a customizable business website, and services like domain name and privacy.

Registered Agent Service ($199):

As your registered agent, ZenBusiness handles all compliance work on your behalf.
Pros
They provide varied formation package options
Each package is priced at a reasonable price
They make business formation as quick as possible
Their offer Worry-free Compliance services
Has many outstanding customer reviews online
Cons
Non-profit business formation is unavailable
Sign Up To ZenBusiness
2 - Northwest Registered Agent
(Best Premium)
Would you recommend Northwest Registered Agent (Best Premium)?
Using Northwest Registered Agent for my business, I found the LLC formation process to be straightforward and quick.
I completed the initial filing in just 9 minutes, and my documents were ready in 72 hours.
The registration forms and payment pages' layout clearly show how much each feature will cost.
Additionally, I found their web dashboard to be neat, and it arranged all of my papers well.
However, the greatest strength of Northwest Registered Agent is its excellent customer service.
The service includes expert guidance for forming LLCs or corporations and access to legal forms. Their Corporate Guides® are available to answer complex business questions.
Clients are provided with custom-built, back-end software and business maintenance tools.
They also get a secure online account where they can receive every document accepted on their company's behalf.
LLC Formation Packages:
Base Formation Package ($39 + $120 State Fee):

This base plan for their Connecticut LLC formation services has name search and verification, operating agreements, mail forwarding, and annual reports filing. 

Full Service LLC Formation Package ($225 + $120 State Fee):

The formation package comes with the registration of EIN and all the services included in the Base package. There are additional features, such as free limited mail forwarding.

Registered Agent Service ($125):

Each package includes a commercial registered agent service in the first year. It may be renewed for $125. Yet, if you use Northwest to set up your LLC, the first year is free.
Pros
They provide a competent business formation process coupled with over 20 years of experience
Client privacy is their top priority
Their service packages have transparent fees
Includes one year of Connecticut registered agent services
Cons
Expensive service fees compared to other competitors
Sign Up To Northwest Registered Agent
3 - IncFile
(Most Affordable)
Would you recommend IncFile (Most Affordable)?
IncFile stands out for its vast array of services, including preparing and filing documents, providing registered agents, tax consultations, and lifetime alerts.
This makes it a one-stop solution for many aspects of business formation and maintenance.
During our review, IncFile provided us with a variety of free tools and resources, such as a DIY email course, a business entity quiz, and various calculators.
We found these resources to be valuable to understand and navigate the complexities of business formation and operation.
IncFile offers customer support through email, phone, and chat, with a quick response time and a comprehensive knowledge base for self-help.
Your paper copies and any requested materials will be shipped together by Incfile once the LLC formation procedure has been completed in your state.
LLC Formation Packages:
Silver Package ($0 + $120 State Fee):

This plan offers free Connecticut LLC formation service, excluding state fees. You also get lifelong legal email alerts to stay on top of deadlines.

Gold Package ($199 + $120 State Fee):

Apart from the Silver package services, the Gold plan has EIN/TIN filing, banking settlements, and an operating agreement.

Platinum Package ($299 + $120 State Fee):

The platinum plan offers business contract templates and VIP filing processes.

Registered Agent Service ($119):

The registered agent provides a resident address where all your legal papers will be forwarded to. After the first year, the renewal will be also $119.
Pros
Has decent customer support service
Most affordable LLC formation package in the industry
Includes one year of registered agent service
They provided the best LLC services to over 800,000 businesses
Cons
They upsell other essential LLC formation features
Sign Up To IncFile
4 - LegalZoom
(Best Essentials)
I've turned to LegalZoom multiple times over the years for various legal needs. Their two decades at the forefront of Internet legal services are evident in their expertise.
LegalZoom offers a network of experienced professionals to guide your business launch and growth. This includes access to attorneys for legal consultations and advice.
Beyond LLC formation, LegalZoom also provides name checks, registered agent services, operating agreements, EIN, and assistance with obtaining business licenses.
The support staff at LegalZoom is available every day of the week.
From my experience, their team demonstrates exceptional knowledge and skill in addressing my questions.
Their DIY website offers a user-friendly experience, emphasizing simplicity and efficiency throughout the process.
If you're unhappy with LegalZoom's services, they'll make things right or give you a 100% refund without hesitation.
LLC Formation Packages:
Basic Package ($0 + $120 State Fee):

The Connecticut LLC services offer multiple name searches, LLC registration, drafting articles of organization, and a digital welcome packet.

Pro Package ($249 + $120 State Fee):

 Besides the Basic plan, you get an operating agreement document and EIN for your LLC. You'll also get detailed business licensing guides and initial phone consultations regarding insurance and taxes.

Premium Package ($299 + $120 State Fee):

The Connecticut LLC services include Pro features plus tailored guidance from a business attorney, 30-minute countless consultations with an attorney on new legal topics related to your business throughout the initial 90 days of your subscription. The package also covers any modifications to your LLC formation documents during the initial 90-day period.

Registered Agent Service ($299): This package offers top-tier registered agent assistance, safeguarding against identity theft, limitless virtual storage, and sturdy data protection to ensure maximum security for your business.
Pros
Robust brand authority
Professional staff team
Exclusive legal services
Cons
No statutory agent services in the base plan
Expensive add-ons
Sign Up To LegalZoom
---
How We Picked And Tested The Best LLC Services In Connecticut
To recommend the best LLC services for your Connecticut business entity, we tested ten different companies anonymously to gain unbiased insight into their features.
After consultng with an independed legal team, we cherry-picked each service based on its customer support, turnaround times, service features, and pricing. Here's our selection process for the best LLC service in Connecticut.
1. Customer Support
Accessible customer service was given priority here since, with all the complications involved in opening an LLC in Connecticut, you need a professional to guide you through it all.
After getting in touch with customer support for several LLC services in Connecticut, we rated ZenBusiness 5/5 for its prompt, professional, and client-driven email or phone customer service staff.
2. Turnaround Times
In this stage, we identified all LLC service providers who offer short processing and lead times. To test this out, we placed several orders with these service companies and timed their completion.
Then, we prioritized the services with an LLC processing period in Connecticut that provides expedited filing among those with turnaround times of at least 1 to 5 working days.
Based on this criteria ZenBusiness stood out with their 1-2 business day turnaround on their pro plan. Northwest also offers next-day document delivery and is a good option if you value swift processing.
3. Service Features
While some of the best LLC services provide a free base plan, others offer a variety of add-on packages and more extensive service options.
As far as service features go, effective registered agent services in Connecticut, free name searches, and website and domain hosting, among other things, were some of the key characteristics we considered.
Based on our testing, Northwest Registered Agent shines in this category with its comprehensive features that also include personalized support from a corporate guide and customizable business forms.
4. Pricing Plans
Here, we chose the best LLC services that provide more features at the fairest, most cost-effective pricing. It's crucial to work with an affordable service company because most companies have a limited budget allocated for the LLC formation procedures.
By doing this, you can avoid depleting your other business cash.
From our evaluation, ZenBusines and IncFile are the top performers with their free basic LLC formation plans that include all the essentials of starting a business from name searches and verifications to preparation and filing of the Articles of Organization.
5. Reliability and Reputation
A reliable LLC service can save you time and potentially money. They streamline the process, reducing the time it takes to form your LLC. Additionally, their expertise can help avoid costly errors that you might make if you were to attempt the process on your own or with a less experienced service.
Based on user reviews on credible platforms like Trustpilot, ZenBusiness, Northwest, and IncFile have garnered positive ratings for their service features, customer service, and pricing structure, reinforcing their reliability.
6. Ease of Use
An easy-to-use service minimizes the risk of errors during the application process. When forms are straightforward and guidance is clear, there's a lower likelihood of making mistakes that could lead to delays or legal issues.
We tested the usability of each LLC service and looked for ease of navigation, clarity of content, consistency in design, error prevention and recovery, and overall user control.
Based on this evaluation, ZenBusiness and IncFile scored 5/5 as they made it easy to find information about LLC formation, understand pricing, complete an LLC application, or access customer support.
7. Local Expertise
Apart from initial formation, LLCs must adhere to ongoing compliance requirements. Knowledge of Connecticut's specific requirements in these areas is essential for ensuring that the LLC remains in good standing with the state.
From our trial, Northwest demonstrated a deep understanding of Connecticut's laws such as annual reports, franchise taxes, and maintaining a registered agent.
Related Articles:
Steps To Start an LLC in Connecticut
Follow these eight steps to form your LLC in Connecticut:
Step 1: Get a name for your business
Step 2: File Certificate of Organization with the Secretary of State
Step 3: Appoint a Connecticut Registered Agent
Step 4: Draft and File a Connecticut LLC Operating Agreement
Step 5: Get a Tax ID Number (EIN)
Step 6: Register with the Connecticut Department of Revenue Services
Step 7: Open a Connecticut Business Bank Account
Step 8: Get the necessary Licenses and Permits
FAQs
Must I hire a Connecticut LLC service?
Yes, you must hire a Connecticut LLC service if you don't want to deal with all the paperwork associated with the LLC formation process and instead concentrate on expanding and managing your business.
Is Connecticut a Good State to Form an LLC?
Connecticut can be a good state to form an LLC due to its strong legal protections for LLC members, relatively low filing fees, and easy online filing process.
Our Verdict
Having delved deep into the world of LLC services in Connecticut, we've come to appreciate the nuances each service offers.
ZenBusiness stood out with its user-friendly platform, transparent package choices, and swift incorporation process.
Our LLC was up and running in a matter of days, and their post-filing resources were invaluable. While other services have their merits, ZenBusiness truly resonated with our short-term and long-terms business needs.
If you're on the fence about which service to choose, we'd wholeheartedly recommend giving ZenBusiness a shot.
Our #1 Recommendation
ZenBusiness (Best Overall)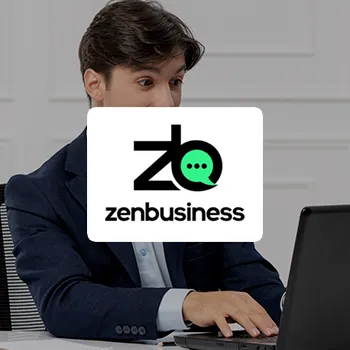 Pros
They provide varied formation package options
Each package is priced at a reasonable price
They make business formation as quick as possible
Their offer Worry-free Compliance services
Has many outstanding customer reviews online
Get the BEST PRICE until the end of November
Cons
Non-profit business formation is unavailable