A reliable Kentucky registered agent service can help you with the state's regulations and laws, including legal-related matters.
With so many different services across Kentucky, it can be tricky to choose the best one, which is why we can help you.
As a team of experts with years of experience in LLC-related business, we took weeks to do research, test, and note down our experience, including pros and cons, so that you could get the final list of the most trusted and experienced registered agent services.
Editor's Choice
Rated by more than 1000+ customers
Northwest
Click To Signup
79% of visitors chose this
#2nd Best Choice
Rated by more than 2000+ customers
ZenBusiness
Click To Signup
#3rd Best Choice
Rated by more than 1000+ customers
IncFile
Click To Signup
Top 7 Registered Agent Businesses in Kentucky (September 2023)
1 - Northwest Registered Agent (Editor's Choice)
Would you recommend Northwest Registered Agent?
They will remind you of upcoming compliance filing due dates. This will help you submit your yearly report, franchise tax, and other tax forms on time.
When running a business, this can come in handy. We liked that their team is US-based, this way we got an answer to every question within the same day.
If you want quality customer service, you will love Northwest Registered Agent service. From our experience, to get their registered agent service, you must form an LLC with them and it will be free for the first year.
Know that their LLC features do not include an EIN, but this wasn't a deal breaker, as their support team composed of former attorneys, accountants, and entrepreneurs, compensates for everything.
For this and other features, such as same-day filing, a user-friendly platform, and strong data protection, we recommend Northwest Registered Agent.
Service Features:
Registered Agent Services ($125): It offers free mail forwarding, experienced business counsel, and default privacy. If you establish your LLC with Northwest Registered Agent Service, the first year of registered agent service is free.
Basic LLC Formation Plan ($39 + $40 State Fee): It can be used to establish LLCs, companies, and non-profit organizations. This package includes articles of incorporation, an operating agreement, and a one-year free registered agent service. There are also standard and accelerated processing rates.
Full Service LLC Formation Plan ($225 + $40 State Fee): This package includes same-day filing, registered agent service for a full year, free limited mail forwarding, and an operating agreement. It also features a client account with free forms and services.
Pros
Provides exceptional privacy protection
They provide personalized and dependable customer service
20 years of experience
Very transparent fees
A free one-year registered agent service is included in their formation package
Cons
An expensive option for a registered agent in Kentucky
Sign Up To Northwest Registered Agent
2 - ZenBusiness
Would you recommend ZenBusiness?
ZenBusiness is a good choice if you are looking for one of the most affordable and result-oriented Kentucky registered agent services.
For $199, we gained access to their user-friendly software and personalized customer assistance, which proved very helpful.
They also offer comprehensive Kentucky registered agent service, which is going to be enough for the majority of businesses.
ZenBusiness is well-known for its reasonable prices, transparency, user-friendly interface, and customer dedication.
From our experience, they are great for those who are on more of a tight budget but want professional assistance.
Service Features:
Registered Agent Services Basic Package ($199): The payment for their Kentucky registered agent services is charged after the business is founded and costs $199 each year.
Starter LLC Formation Package ($0 + $40 State Fee): It features standard filing speed (ready in about 2 to 3 weeks), and expense and deduction tracking. There is also a 100% accuracy guarantee. Worry-free compliance is optional here for a year, and it renews at $199 yearly.
Pro LLC Formation Package ($199 + $40 State Fee): Pro option features faster-expedited filling speed, between 1 to 2 business days, making it suitable for swift business formations. There is also a guided operating agreement to help you navigate through operation framework, while EIN allows to track and manage tax-related activities for business.
Premium LLC Formation Package ($349 + $40 State Fee): Premium option builds on Pro features and adds business document templates to streamline processes and cut on administrative mandatory tasks. It is also packed with many web-related perks, such as a domain name, email address, and a company website that can be customized.
Pros
Affordable pricing model
Extended customer support hours
Money-back guarantee for 60 days
It has a lot of positive customer feedback
Cons
Compared to its rivals, ZenBusiness has low brand recognition
Sign Up To ZenBusiness
3 - IncFile
Would you recommend IncFile?
IncFile is proud to be the only company that offers free LLC formation services in Kentucky, plus one year of Kentucky registered agent service.
They are often promoted as the first-choice service for startups and those on very fixed budgets. From our experience, you will get fair customer support for any plan, as we tested them all.
If you're a startup or a small business owner, IncFile can help you get started and get things off to a good start, especially if you have a limited budget.
They will provide a Kentucky registered office, free LLC formation service, and an easy-to-use platform.
Their support options are limited, which is why their turnaround time is slower, especially compared to Northwest Registered Agent, but they make it up for this with very good formation pricing, a personalized dashboard, and a free first year of registered agent service with each plan.
Service Features:
Registered Agent Services ($119): This Kentucky registered agent service is free for the first year if formed using an LLC creation package. The renewal fee is $119 every year after the first year.
Free Silver LLC Formation Package ($0 + $40 State Fee): You will get preparing & filing the Articles of Organization, be able to use unlimited name searches, and have free registered agent service for a year.
IncFile Gold LLC Formation Package ($199 + $40 State Fee): This package includes the Silver package. In addition to that, there are EIN business tax numbers and IRS Form 2553. You will also have an operating agreement and lifetime company alerts, as well as an online access dashboard, business banking account, and business tax consultation.
Platinum LLC Formation Package ($299 + $40 State Fee): This package contains the Gold Package. It provides free business websites, domain names, business contract templates, and the option to file for free the next day.
Pros
They have a handy online dashboard
All formation packages include a free registered agent service
Quick order processing
There are no hidden costs
Cons
Has limited support services
Sign Up To IncFile
4 - LegalZoom
LegalZoom has a very strong reputation as a reliable registered agent service.
With decades-long experience, they do their best to justify their reputation, which is why they have some of the most knowledgeable representatives in the industry.
They have an excellent reputation in the registered agent industry, so their prices may be slightly higher than some other options.
As a Kentucky registered agent service, they offer various services, including data security for companies, a compliance calendar, and exclusive cloud storage.
From our experience, their customer support will respond to you in a range of a few hours to 24 hours max.
This time can vary from to state, but in Kentucky, they will have a fast response time. LegalZoom is the one-stop solution for setting up an LLC and providing legal help for any sort of property.
After testing their product, we can say that although they are a bit pricey, their 100% satisfaction guarantee with a 60-day refund gave us peace of mind.
For these features and a wide range of legal services, we recommend them.
Service Features:
Registered Agent Services ($299): This Kentucky registered agent services offer a first-year payment of $249. After that, the renewal will cost you $299. The agent services include unlimited cloud storage, important email alerts, and identity theft protection worth 1 million dollars.
LLC Basic Formation Package ($0 + $40 State Fee): The features include a thorough digital LLC welcome packet, extensive name search, a WIX-powered website, and articles of organization.
LLC Pro Formation Package ($249 + $40 State Fee): Includes LLC Basic formation package with an operating agreement for making entity's guidelines and settling disputes. The package also provides an EIN for bank account setup and filing taxes. You'll also get tax-saving consultations and a comprehensive legal attorney guide on licensing.
LLC Premium Formation Package ($299 + $40 State Fee): This plan includes the LLC Pro Formation package. Additionally, within the first 90 days of your subscription, your LLC document will get modifications, and you'll also have numerous consultations with attorneys regarding the newest legal developments. As a client, you'll receive valuable and interactive expert advice from a highly-skilled business lawyer in Kentucky.
Pros
High customer volume
Provides a broad selection of legal services
Great brand reputation
Cons
LLC formation packages don't include a lot of features
Many upsells to high-priced add-on services
Sign Up To LegalZoom
5 - Swyft Filings
Swyft Filings is best suited for LLC owners in Kentucky who have no time to deal with the complications and inconveniences of paperwork.
From providing 24/7 online access to sending important emails and reminders for important due dates and deadlines, Swyft Filings can handle all your filing needs.
Based on our experience, Swyft Filings offers one of the quickest turnaround times for business creation at a reasonable price.
Hiring them comes with some advantages, like a flexible pricing model and the ability to pay in installments, which is handy if you have to stick to a budget.
The biggest downside of working with them was a bit confusing website, so we advise contacting their sales department, before you sign up for anything, for extra clarification.
Swyft Filings is relatively new to the professional registered agent service industry, but they're already among the service providers with the best customer reviews online.
Service Features:
Registered Agent Services ($99 per three months): A quarterly subscription.
Basic LLC Formation Package ($49 + $40 State Fee): Filing the articles of organization to create an LLC.
Standard LLC Formation Package ($149 + $40 State Fee): It has everything the same as in the basic package. Besides, there is also a Federal Tax ID (EIN) and most documents needed to start your business.
Premium LLC Formation Package ($299 + $40 State Fee): This plan provides all basic and standard services. There are also some extras: domain and company website hosting, a tracking number for FedEx delivery of your articles that have been approved, and a customized digital corporate kit.
Pros
Has a 100% money-back guarantee
Affordable LLC formation package
Free order shipping
Sign Up To Swyft Filings
6 - Harbor Compliance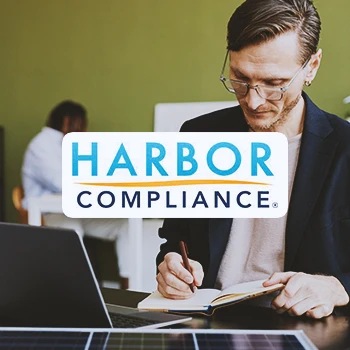 Next on the list of our registered agents is Harbor Compliance, competitive regarding its price and services.
It's no secret that this LLC service provider is one of the most expensive in the industry, but they justify it with their high customer satisfaction level and fast turnaround time.
Their registered agents are hands-on and always available, and with them, you will get a fast Kentucky LLC processing time, which will only take one day.
Their registered agents are hands-on and always available. If you opt for their registered agent service you will get same-day document access, instant access to state addresses, and annual report notifications.
We loved the single-day processing time, but we did find their website to be a bit outdated, especially compared to more user-friendly sites that LegalZoom or IncFile offer.
Although they could put more attention to user experience, they are trusted when it comes to keeping your data safe.
They do not sell data to third party, and they use data encryption and Norton and Trustwave monitoring to secure their website.
Service Features:
Registered Agent Service ($88): The annual rates range from $89 to $99 per state, with no further costs. You can save 5-10% if you pay for registered agent services in advance for more than two years. You may get the registered agent's address online right away.
LLC Formation Package ($99 + $40 State Fee): This plan provides preparing and filing your articles of organization with the state, and lets you check name availability.
Pros
Pricing transparency
Easy-to-use software
Consists of knowledgeable staff and industry experts
Cons
It isn't the cheapest option
Limited features available in the formation package
Sign Up To Harbor Compliance
7 - Kentucky Registered Agent
Kentucky Registered Agent helps out-of-state businesses register to do business in Kentucky. It's also known for keeping local Kentucky businesses in good standing with the Kentucky Secretary of State.
They provide timely reminders to file your annual report, login into your database to see any documents you receive on your behalf, and send you notifications to renew your membership.
Service Features:
Kentucky Registered Agent Services ($49 annual fee): Includes compliance tracking and same-day document scans.
Kentucky LLC Formation ($189): Their LLC formation package includes the Incorporation service fee, 1-year Registered agent service, and the Kentucky state filing fee.
Pros
Same-day document scans
No hidden fees
Provides agent services outside of Kentucky
Cons
Registered agent's online reviews are very few
Local service
What Are The Benefits Of Working With A Registered Agent Service In Kentucky?
Working with a registered agent service in Kentucky can benefit businesses in multiple ways [1].
1. Boosts Convenience on Your End
Thanks to the help of a registered agent service, you'll be able to get the job done quickly and easily.
The registered agent takes care of the time-consuming paperwork for you and provides you with an online account that securely saves all company files and documentation in one location.
2. An Ideal Long-Term Investment
Having your own registered agent can be an absolute lifesaver for entrepreneurs with multi-state LLCs, saving them time and money.
Not only does a registered agent help submit legal documents and pay state filing fees on time, but it also prevents the LLC from incurring extra expenses due to late submissions.
3. Protects Your Privacy
As an LLC owner, you can rest easy knowing that your own registered agent service won't make your address public [2].
The registered agent can provide the physical street address for all legal documents to be sent, including legal cases.
4. Flexible and Dependable Legal Services
Kentucky registered agents help LLC owners stay in good legal standing, providing the necessary services to keep their businesses running smoothly.
How Much Do Kentucky Registered Agent Companies Cost?
Hiring good registered agent services in Kentucky could cost around $50 to $300 annually. Considering how much time and energy you will save, it's worth the investment.
But, if you want to avoid paying for your own registered agent, you can identify service providers offering free agent services as part of their LLC formation packages.
Keep in mind that, particularly if you are on a tight budget, using a premium registered agent service could significantly raise the cost of starting a Kentucky LLC.
What Are The Requirements For A Kentucky Registered Agent?
Any entity or individual can act as a registered agent for a Kentucky business entity. However, they are required to be over 18 years old, have a physical address in the state where the LLC is being formed, and be available during regular business hours.
You have four different options when it comes to designating a registered agent in Kentucky:
Option 1: You can be your LLC's Registered Agent.
Option 2: You can make your LLC act as a Registered Agent.
Option 3: Another option is to appoint a trusted friend or family member as a Registered Agent.
Option 4: It's possible to hire a Kentucky Registered Agent Company.
If you want to change your current agent, you can see our article and easily learn how to change a registered agent in Kentucky.
FAQs
Do I Need A Kentucky Registered Agent For My LLC?
You need a Kentucky Registered Agent for your LLC. Every business entity formed and registered with the Kentucky Secretary of State must appoint a registered agent. Without it, the Secretary of State will reject your LLC formation filing.
How Do I Find A Registered Agent In Kentucky?
You can find a registered agent in Kentucky by conducting a company name search on the Kentucky State website or looking up agent services in your local phone book. Doing this can give you access to the Registered Agent's name, business address, and regular business hours.
Can I Be My Own Kentucky Registered Agent?
Yes, you can be your own Kentucky Registered Agent. It's a relatively simple process, and you'll be able to register your business entity in no time. All you need to do is fill out the appropriate forms from the Kentucky Secretary of State's website and send them in with the applicable fees.
What Is A Kentucky CBI Number?
A Kentucky CBI number stands for Commonwealth Business Identifier. It's a unique ten-digit number that is issued to all Kentucky businesses. The Kentucky CBI number enables businesses to be easily identified by all state agencies that use the Kentucky OneStop Portal.
Best Registered Agent Service in Kentucky is...
With the above list, your search for the best Registered Agent service in Kentucky should be less stressful.
We recommend Northwest Registered Agent if you want customer-centered support and reliable services. They have been in the industry for more than twenty years, and many clients confirm the quality of their services.
We were attracted to their competitive rates and top-notch customer service. They ensured we have a street address and that all our business entity documents are managed and stored confidentially.
Also, rest assured of receiving timely notifications of all your compliance filings.
Our #1 Recommendation
Northwest Registered Agent
Pros
Provides exceptional privacy protection
They provide personalized and dependable customer service
20 years of experience
Very transparent fees
A free one-year registered agent service is included in their formation package
Get the BEST PRICE until the end of September
Cons
An expensive option for a registered agent in Kentucky