Establishing a limited liability company in Montana can be complicated if you're unfamiliar with the processes. This is why we tested over 12 different services and narrowed to the 6 best.
Once we found the best LLC services in Montana we opened up 12 LLC businesses.
Hiring the right LLC formation service can help you start your business quickly and on the right ground.
Here are the best LLC formation services that Montana has to offer.
Editor's Choice
Rated by more than 2000+ customers
ZenBusiness
Click To Signup
81% of visitors chose this
#2nd Best Choice
Rated by more than 1000+ customers
Northwest
Click To Signup
#3rd Best Choice
Rated by more than 1000+ customers
IncFile
Click To Signup
Our Top Products (October 2023)
1 - ZenBusiness (Editor's Choice)
Would you recommend ZenBusiness?
ZenBusiness is a Montana LLC service passionate about helping entrepreneurs set up, manage, and grow their businesses.
ZenBusiness makes filing court documents for start-up entrepreneurs not only easier but also more affordable.
We tested their service and found that their online tools can make it easy to get LLC filings and paperwork.
My LLC was greenlit in a short span of four days, and I was promptly provided with a New Business Kit.
They can help you create and submit your business formation documents, eliminating the need to hire expensive attorneys or specialists.
The dashboard is a wellspring of knowledge, offering clarity on the next steps. Their client-first approach, especially in billing, is praiseworthy.
Service Features:
ZenBusiness Starter ($0 + $35 State Fee): This Montana LLC service plan includes filing your LLC formation documentation,

expense and deduction tracking, and a 100% accuracy guarantee

. This Montana LLC services package does not offer an expedited process, so you will receive standard filing speed (2 to 3 weeks). This package also comes with worry-free compliance, free for the first year and renewable at $199/year if accepted. These include a complimentary one-month trial of banking and bank account services, followed by $5/month, along with a 1-month free trial of Money Pro Bookkeeping, available for $30/month thereafter. The package also boasts a Website Builder with a 1-month free trial, subsequently priced at $15/month.
ZenBusiness Pro ($199 + $35 State Fee): This LLC services package includes the Starter plan LLC Filing services, plus a special guided operating agreement, an EIN, and the fastest "rush" filing speed (1 to 2 business days).
ZenBusiness Premium ($349 + $35 State Fee): This LLC services package includes the starter and pro features, business document templates, and online tools (domain, business email, customizable business website).
Registered Agent Service ($199): The fee renews annually for $199 if you decide to keep working with them.
Pros
A large number of package options
Low-cost and competitive prices
Free tax break tagging and cost monitoring
Expeditious formation process
Positive feedback from customers
Cons
Without non-profit business formation
Sign Up To ZenBusiness
2 - Northwest Registered Agent
Would you recommend Northwest Registered Agent?
The efficiency of Northwest Registered Agent's LLC formation process impressed us.
We completed the initial steps in 9 minutes, and by the 72-hour mark, everything was in place, even though we had selected a 5-day service.
Northwest Registered Agent commits to offering top-notch services and customer relations.
Their user-friendly platform enabled us to quickly and easily set up our new business.
They provide a comprehensive set of resources, from step-by-step instructions to filing services and more, making the entire process easier.
Only some of the best LLC services come with a full year of registered agent service at the time of creation, and that is the case with Northwest Registered Agent, making them among the top six registered agent services in Montana.
Service Features:
Basic Package ($39 + $35 State Fee): You can use the Basic plan to form corporations, non-profits, and LLCs. This LLC service package comes with an operating agreement and articles of organization, with standard and expedited processing speed included. Also, you get a full year of registered agent services for free.
Full Service LLC Formation Package ($225 + $35 State Fee): In this LLC formation service package, you get limited mail forwarding for free, business filling in 24 hours from the time of the request, an operating agreement, and an account with many free forms and tools. All Basic Plan features are included.
Registered Agent Service ($125): Professional corporate guidance, with privacy and free mail handling, are some of the services you get with Northwest Registered Agent Services. If you sign up with a Basic or Full-Service Plan, you get the first year for free.
Pros
Competent and well-versed in the formation process
Exquisite privacy protection
No hidden fees for their LLC service
An entire year of unpaid registered agent service
Sign Up To Northwest Registered Agent
3 - IncFile
Would you recommend IncFile?
Since its launch in 2004, IncFile has become one of the most respected LLC formation services, having helped to set up over half a million businesses.
The LLC formation service provider offers a full year of free registered agent service, free basic business formation, email notifications, and registration paperwork that is discreetly maintained electronically.
We tested their comprehensive LLC formation packages and found them to provide everything needed to start an LLC, from customized articles of organization to registered agent services.
With these packages, you can rest assured that your LLC in Montana is set up correctly and quickly.
Service Features:
Silver Package ($0 + $35 State Fee): Purchasing the Silver Package with get you a full year of free registered agent service, phone and email unlimited support, and unrestricted name searches with assistance in filling your business documents.
Gold Package ($199 + $35 State Fee): In addition to everything from Silver Package, when signing up for the Gold Package you get an online access dashboard, Tax consultation call, company alerts, a business bank account, banking resolution, IRS Form 2553, operating agreement and EIN Business Tax Number.
Platinum Package ($299 + $35 State Fee): By purchasing this LLC services package, you get all Gold Package features plus a domain name. It also comes with next-day filling and a unique business email.
Registered Agent Service ($119): This LLC service comes with a customized online dashboard and access to your documents. When LLC is purchased from IncFile, it gets you a free year of access to registered agents.
Pros
Affordable packages for LLC services
A whole year of free registered agent
Record of over 500,000 established businesses
Customized support services
Sign Up To IncFile
4 - LegalZoom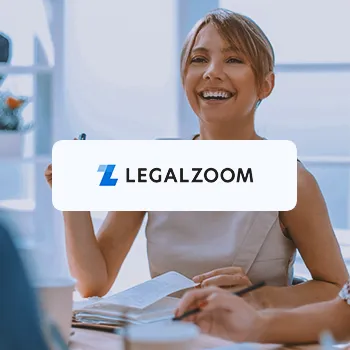 So far LegalZoom has incorporated approximately 4 million companies, making it one of the most popular LLCs globally.
From our experience, they will help you easily access judicial products and solutions, offering an easy-to-use platform, and ongoing legal support.
Their initial LLC service plan covers seven days a week of lifetime customer support, while for five days of priority processing, you have to invest in a more expensive package.
Service Features:
Basic Package ($0 + $35 State Fee): This LLC service bundle includes a welcoming digital LLC package, a comprehensive name search, business entity filling, and articles of organization. You also get a customizable website powered by Wix.
Pro Package ($249 + $35 State Fee): Choosing this LLC service package will get you an operating agreement for entity guidelines and dispute settlement, an EIN for creating a business bank account and filing taxes, and initial consultation for tax saving and insurance. It also has all the Basic package features.
Premium Package ($299 + $35 State Fee): This LLC service package comes with all features from previous packages and personalized guidance from a Montana business specialist attorney. You will also get limitless access to 30-minute consultations from an attorney and up-to-date changes on the LLC formation documents for the first 90 days of the initial subscription.
Registered Agent Services ($299): Forming your LLC with any LegalZoom package will get you a $249 price for the first year. After the first-year price will be $299.
Pros
Simple online portal
A money-back satisfaction guarantee for 60 days
Cheap and ongoing legal assistance
Cons
Expensive add-ons
Cannot replace a lawyer in certain cases
Sign Up To LegalZoom
5 - Swyft Filings
Swyft Filings was established to streamline and optimize business entity formation registration while reducing company formation expenses.
They guarantee that all company formation packages can be filed within one day.
Swyft Filings provides the following features:
Business formation services

Compliance alerts

Custom company kits

Tax identification purchases
The cost of these LLC service packages is reasonable, but they do not come with a free registered agent service for your Montana firm.
Service Features:
Basic Package ($0 + $35 State Fee): Swyft Fillings Basic Package will handle your LLC incorporation and document storage.
Standard Package ($199 + $35 State Fee): With The Standard package you will get all features from Basic Package and Federal TAX ID (EIN). Services like an operational contract, banking resolution, and corporate minutes are all included in this bundle.
Premium Package ($299 + $35 State Fee): By purchasing the Premium Package besides all services that you get from Standard Package will get you access to new features like FedEx delivery of your articles that comes with a tracking number and personalized corporate kit. It also includes a free domain name and hosting of your own business website.
Registered Agent Service ($99 per three months): Swyft Lawyer will act as your own Registered Agent for $99 quarterly.
Pros
Rapid application procedure
Offers genuine, customizes services
Reasonable package prices
Cons
Application process might be challenging
Registered agent services are not included in LLC creation packages
Sign Up To Swyft Filings
6 - Harbor Compliance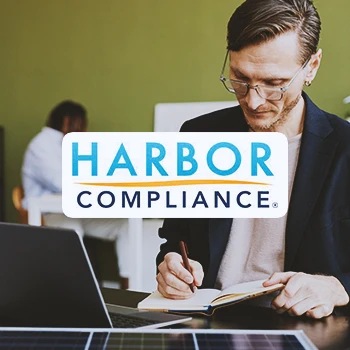 Harbor Compliance is a trustworthy expert firm that provides LLC formations, incorporation, registered agent services, and other corporate compliance-related solutions.
They do not offer a free trial, so we carried full LLC formations with them. When working with them we got a full service for businesses and nonprofits.
We can recommend Harbor Compliance with confidence because of their quick and easy LLC formation procedure that is suited to various business needs, based on our own expertise.
Service Features:
Formation Package ($99 + $35 State Fee): LLC Formation with Harbor Compliance involves drafting and submitting your articles in the state of Montana. One of the great features of this package is the business name availability check.
Registered Agent Service (89-$99): If you decide to hire Harbor Compliance as your registered agent for 2 or more years, and pay in advance, you will receive a 5-10 % discount on the services with immediate access to the registered agent address.
Pros
Efficient and precise compliance analysis
Quick business formation
1-day processing time
Cons
There are no returns
Expensive LLC service
Sign Up To Harbor Compliance
---
Montana LLC Formation Process
Take these six procedures to form your Montana LLC:
Step 1: Select a Name for Your Limited Liability Company
Step 2: Select a Registered Agent in Montana
Step 3: File Articles of Organization
Step 4: Make an Operating Agreement for a Series Montana LLC
Step 5: Get an EIN
Step 6: File Annual Reports
Benefits of Creating an LLC in Montana
The main perks of opening an LLC in Montana include the following:
1. Protects Personal Property
Members of a Montana LLC are safe from corporate obligations. Therefore, their assets are protected if the firm is charged [1].
Creating an LLC can protect your assets, like your home, car, and finances, from any liabilities that may arise from the business. Your possessions remain safe if the company faces a penalty or cannot fulfill a contract.
2. Offers Various Taxation Options
Selecting a Montana LLC for your entity provides you with several possibilities for paying income tax. Only if an LLC opts to be treated as C corporation earnings are passed onto the members as individual income rather than corporation tax [2].
This is known as pass-through taxes, and it saves money by eliminating excessive taxation.
3. Economical and simple to develop 
In general, LLCs are affordable to organize and manage. The state court fees are the primary expense of incorporating an LLC. LLCs in Montana are generally simple to form and operate, with minimal paperwork or cost [3].
A Montana LLC does not require to convene conferences, develop rules, or preserve documentation of business proceedings and decrees.
4. Versatility in administration and ownership
Underneath the rules of an LLC's partnership agreement, shareholders can select how earnings are divided. Shareholders of an LLC are not restricted to what they can own.
However, they could choose to split earnings differently. Earnings might be distributed according to the conditions of the operating agreement in LLCs.
5. Builds Reputation
A sole proprietorship or corporation falls flat when it forms a Montana LLC. Clients and other companies can perceive a Montana LLC as more reputable, and creating an LLC may demonstrate to the public that you take your company seriously.
6. Minimal labor and operational difficulties
Forming and maintaining a Montana LLC is much easier and requires much less paperwork than other types of business structures.
Filing Articles of Formation and submitting a fee to the State Secretary of State are the necessary steps for setting up a Montana LLC.
Qualities to Look For in a Montana LLC Service
---
Check out these qualities to inform your decision on choosing the right Montana LLC service:
All-Inclusive Solutions
They must have competitive rates, outstanding customer service, a user-friendly web interface, and a customer satisfaction rating.
Simple to Use
Their internet interface should be straightforward, free-of junk, and simple to grasp. The portal should also feature several relevant articles that clarify the various components of creating a new company organization in a language that is easy to understand.
Well-Known and Has Outstanding Customer Feedback
They should be regarded as trustworthy and receive favorable feedback from customers on review websites, including Trustpilot.
On positive user reviews, previous customers should testify to experiencing a seamless Montana LLC creation process and competent and courteous customer care.
Unmatched Plans and Prices
Affordability is an essential consideration when choosing a Montana LLC creation provider.
You would want the services you evaluate to bring value to your business while not costing you a fortune, as a premium package could easily add to your Montana LLC price.
However, consider a particular service bundle's price and its entire worth. Based on your circumstances, a pricey service plan is still great if it includes the specific services you require.
Short Turnaround Time
When they submit your paperwork, the Montana LLC services have not influenced the time it takes to incorporate your business venture.
Nevertheless, the best Montana LLC service can continue to offer value by fulfilling requests within the same day.
They can also rely on their physical locations to provide information in person whenever doing so can expedite the establishment of your Montana LLC.
A good LLC formation service should also minimize filing mistakes, which can delay you for months.
This can make you postpone other important business formation processes and reduce overall Montana LLC processing time.
FAQs
Is Montana a Good State for an LLC?
Yes, Montana is a good state for an LLC. Although it's such an affordable state, it remains one of the finest areas to register an LLC owing to the convenient filing procedure.
How Hard Is it to Get an LLC in Montana?
It is not hard to get an LLC in Montana. You only need to file your articles of organization and pay the $35 filing fee.
Do LLCs Pay Taxes in Montana?
No, LLCs do not pay taxes in Montana as they're pass-through entities by default. However, LLC members are subject to a 15.3% federal self-employment tax rate.
BST LLC Service Provider In Montana Is...
If you are serious about starting a business entity in Montana you should work with LLC that comes with proven expertise, great support, and an even better price.
After testing the top Montant LLC services, ZenBusiness is undoubtedly up to the task.
Hiring ZenBusiness to create your LLC might save you money and time.
From our experience, ZenBusiness's service is fast, worth your money, and reliable.
Our #1 Recommendation
Pros
A large number of package options
Low-cost and competitive prices
Free tax break tagging and cost monitoring
Expeditious formation process
Positive feedback from customers
Get the BEST PRICE until the end of October
Cons
Without non-profit business formation