Finding the best Nevada registered agent service is important as it can determine the course of your business.
When it comes to choosing a good registered agent, you want someone who can help make the process as easy and hassle-free as possible.
A performing registered agent will make sure that your business meets every legal request, keeps your information private, and runs a business following state regulations.
To see which registered agent service in Nevada is the best, we decided to test them. To provide a non-biased list, we included attorneys and legal professionals in our testing.
After spending weeks testing over 20 different services, we made a final list of the best registered agent service providers based on their offer, price, and customer support. Here are our findings.
Editor's Choice
Rated by more than 1000+ customers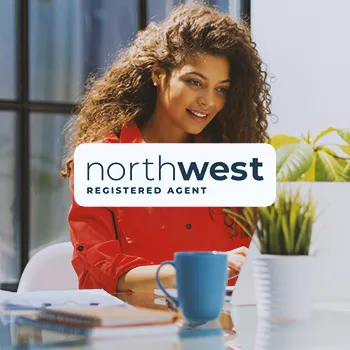 Northwest
Click To Signup
79% of visitors chose this
#2nd Best Choice
Rated by more than 2000+ customers
ZenBusiness
Click To Signup
#3rd Best Choice
Rated by more than 1000+ customers
IncFile
Click To Signup
Top 8 Registered Agent Services in Nevada (October 2023)
1 - Northwest Registered Agent (Editor's Choice)
Would you recommend Northwest Registered Agent?
Northwest Registered Agent Services leads for many reasons.
They will provide you with a Nevada registered office address, and make sure that your tax paperwork, such as financial reports and license tax, is filed on time.
From our experience, they have a full understanding of how important it is to meet deadlines, which is why they will always alert you of upcoming compliance filing dates.
This helps you to keep things in order. Northwest Registered Agent provided us with a US-based customer support service run by former attorneys, company owners, accountants, and entrepreneurs.
We consider this to be one of their strongest features as we could solve any burning question the same day. This feature showed us they are very reliable and efficient.
Plus, they invest a lot in using advanced technology to keep their security protocols strong, giving us peace of mind.
Dive into the Northwest Registered Agent review to uncover important details about this company.
Service Features:
Registered Agent Services ($125): If you incorporate your LLC with Northwest Registered Agent Services, the first year of Nevada registered agent service is free.
Basic LLC Formation Plan ($39 + $425 State Fee): This plan comes with an operating agreement and articles of incorporation are included in this bundle. It also offers normal and quick processing rates, as well as a one-year free registered agent service.
Full Service LLC Formation Plan ($225 + $425 State Fee): This package includes same-day filing, a full year of Nevada registered agent service, and an operating agreement. There is also a client account with free forms and services.
Pros
Data information is strictly confidential
Excellent client service
2 decade-long LLC formation experience
Transparent and clear fees
One year free registered agent services with formation packages
Cons
Northwest Registered Agent is pricey
Sign Up To Northwest Registered Agent
2 - ZenBusiness
Would you recommend ZenBusiness?
ZenBusiness offers feature-rich packages at an affordable price.
They offered us full registered agent service for $199.
We've decided to rank ZenBusiness among the top 3 registered agent services in Nevada because of their reasonable pricing, transparency, friendly user interface, and customer commitment that we've experienced.
Through our trial and error, we discovered that ZenBusiness comes with some of the lowest prices in the market.
Using competitors' services will cost you more, and hiring a business lawyer could cost you more than times their worth.
Although their platform is user-friendly and there are a lot of add-ons to choose from, certain features are expensive, such as paying $70 for EIN filing.
Compared to Northwest Registered Agent they do have a free business formation package, while Northwest Registered Agent for a higher price offers a full year of premium registered agent service and personalized customer support, making their offer more attractive.
To gain deeper insights into this organization, we encourage you to explore our comprehensive review of ZenBusiness.
Service Features:
Registered Agent Service ($199): The registered agent service annual renewal is $199.
Starter LLC Formation Package ($0 + $436 State Fee): This membership covers the standard corporation filing service, a name availability search, and a typical filling speed of 2 to 3 weeks. Their LLC formation service package also includes a 100% accuracy guarantee, banking, a bank account, Money Pro Bookkeeping, and a Website Builder. Optionally, enjoy worry-free compliance for the first year, with a renewal cost of $199/year if chosen.
Pro LLC Formation Package ($199 + $436 State Fee): The package includes all Starter plan features plus the fastest rush-filling speed (1-2 days). You'll also get a guided operating agreement template and an EIN.
Premium LLC Formation Package ($349 + $436 State Fee): This LLC formation plan covers all the Pro features plus company domain name and privacy, business document templates, company email address, and a customized business website.
Pros
A reasonable and clear pricing structure
Expanded chat customer service
Has received favorable customer feedback
60-day reliable refund structure
Cons
Brand recognition is lacking
Sign Up To ZenBusiness
3 - IncFile
Would you recommend IncFile?
If you're a startup or a small business entity owner, IncFile will make many things easier for you, especially with your starting budget.
IncFile is the only agent firm that offered us unpaid LLC creation service, we only paid state fees.
Additionally, its Nevada registered agent services are free in the first year, including 24/7 access to your account on the online dashboard, mail forwarding, and customized notifications.
Their client service is friendly, which we have experienced firsthand during our collaboration, but they could speed up their turnaround time.
Since their unpaid LLC creation service is free, they are very busy, and you may not get a hold of their customer support.
However, you will be able to leave a message, and they will get back to you. This is something that you won't experience with Nevada registered agent services that have higher pricing plans.
Service Features:
Registered Agent Services ($119): If you are just about to start a new LLC then the Nevada registered agent is for free in the first year if you name IncFile to make the formation for you. Renewing the registered agent services will cost you $119 a year.
Free Silver LLC Formation Package ($0 + $425 State Fee): There will be Articles of Organization preparation and filing, unlimited name searches, and a year of free registered agent service available.
IncFile Gold LLC Formation Package ($199 + $425 State Fee): The silver bundle is included in this package, along with an EIN business tax number, IRS Form 2553, and an operational agreement. There are also banking resolutions, an online access dashboard, and a tax advice feature for the firm.
Platinum LLC Formation Package ($299 + $425 State Fee): The Gold Package is included in the plan along with free business websites, domain registrations, and business contract templates. Users also can file for free the next day.
Pros
Reliable registered agent services dashboard
Free Nevada registered agent services with business formation packages for a year
Fast turnaround time of orders
No unclear fees
Cons
Few customer care alternatives
Sign Up To IncFile
4 - LegalZoom
You should consider LegalZoom if you're looking for a Nevada LLC formation service or a premium registered agent as well as well-rounded legal-based services.
You may expect their price to be more expensive than the rest of the competitors because they have already developed a substantial position in the sector.
Their Nevada registered agent services offer business unit data security, a regulatory calendar, and infinite data storage.
The premium component of their solution is that they additionally give up to $1 million in identity theft insurance.
Based on our firsthand experience, they will contact you by phone as soon as you receive a court summons. If saving money is your main concern, then LegalZoom may not be the best option for you.
Before you cut them off, know that they will return your paid fees within 60 days no questions asked, if you are not satisfied with their Nevada registered agent services (we loved that we had this option, but we didn't have to use it).
Service Features:
Registered Agent Services ($299): Should you choose to establish your LLC through their services, the initial year's charge amounts to $249 while subsequent renewals are at $299. The Nevada registered agent service package comes with boundless online storage, one million dollars allocated towards identity theft security measures, and email notifications.
LLC Basic Formation Package ($0 + $425 State Fee): The package offers a thorough digital LLC welcome packet, extensive name search, a website, and articles of organization.
LLC Pro Formation Package ($249 + $425 State Fee): It comprises all Basic plan features, initial tax and insurance consultations, company EIN registration, operating agreement creation, as well as a comprehensive guide on business licensing.
LLC Premium Formation Package ($299 + $425 State Fee): Here you'll receive all the features included in the Pro plan, along with valuable guidance from a skilled local attorney. Additionally, your formation documents will be revised as needed, and you will have access to an unlimited 30-minute consultation with your attorney within the first three months of subscribing.
Pros
Has a large number of clients
Provides a wide range of services
Excellent brand strength
Cons
Average customer ratings
Expensive plans
Sign Up To LegalZoom
5 - MyCompanyWorks
This LLC service provider will offer you a Basic LLC plan for only $59, and a complete package with registered agent service for $279.
With now, over two decades of experience, MyCompanyWorks has helped tens of thousands of businesses form their LLCs and corporations.
They have a custom web checklist called "Startup Wizard" which includes setting up your accounting system, putting a bank account, and obtaining a business license.
You can get free Nevada registered agent services when you avail of their entrepreneur or complete package, and they won't charge you extra fees for next year.
Registered agent service will renew automatically each year, and if you want to cancel it you must provide proof of assigning registered agents.
The same applies if you decide to terminate your entity.
We loved that they have a fast response time (they will get back to you within 30 minutes) when you contact them during their working hours, while the biggest downside was a big over-packed website with information.
Service Features:
Registered Agent Service ($99): The Entrepreneur Package and the Complete Package both provide one year of free registered agent services.
Basic LLC Formation Package ($59 + $425 State Fee): This package comprises organizational minutes, an LLC operating agreement, and customized operating management. Along with that, there is the business bank account establishment.
Entrepreneur LLC Formation Package ($179 + $425 State Fee): Users will be given access to everything included in the Basic Package. They will also receive lifelong forms and tax instructions, a one-year Nevada registered agent service, and a federal tax ID.
Complete LLC Formation Package ($259 + $425 State Fee): The premium package includes all service features from the previous two tiers, as well as initial and yearly report filing service, compliance lock notifications, and automatic minutes and resolutions. In addition to this, the package offers business entity monitoring and priority help.
Pros
Positive customer rating
100% satisfaction guarantee
Unlimited phone and email support
One year of free registered agent services starting on the Entrepreneur Package
Cons
Does not include free registered agent services in their basic package
Price is not too competitive
Sign Up To MyCompanyWorks
6 - Rocket Lawyer
Nevada registered agent services for LLCs offered by Rocket Lawyer represent only a small portion of the company's portfolio.
As such, their registered agents are best suited for Nevada business entity owners or entrepreneurs seeking long-term legal benefits in addition to LLC incorporation.
Thanks to their attorney services, we were able to handle various paperwork and filings before committing.
Their ten days trial period is a great way to see what kind of premium service they offer and if it is for you. If you opt for this, know that they will auto-bill your credit card.
Since they offer a 30-day money-back guarantee, we decided to form an LLC with them.
From this, we learned that their membership is expensive if you don't need legal forms or lawyers.
In case you need legal support they are a great option. You will also love their live chat support.
To gain further insights about this corporation, check out our detailed Rocket Lawyer review.
Service Features:
Registered Agent Service ($149.99 for non-members): Monthly Nevada registered agent services membership is $39.99. Members will receive a 25% discount.
LLC Formation Package ($99.99 + $425 State Fee): With a $39.99 monthly membership, it's free. You might receive free legal documents and attorney services, as well as a free LLC business formation and a 25% discount on registered agent services.
Pros
Reliable Nevada registered agent services
Pricing dependent on subscriptions
Support from legal professionals
Cons
Less features for services
Bank card needed for the free trial plan
Sign Up To Rocket Lawyer
7 - Harbor Compliance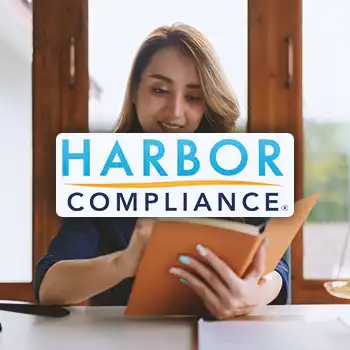 This registered agent service is best-know for its personalized customer support. This service also has a "Compliance Online" offer, which is an online interface for each customer.
We like that compliance specialists are also provided to each client.
As an online business, they are serious about security and keeping your information safe.
This is why they use data encryption and Norton and Trustwave monitoring to secure their website and never sell data to a third party.
They do not provide legal-based services, although they can efficiently help you form an LLC or corporation.
The Harbor Compliance offers several special deals, including a long-term agent registration contract that saves money. For instance, paying upfront for multiple years can save you 5–10%.
Hiring Harbor Compliance comes with some advantages like fast turnaround time, great customer support, and a single-day processing time.
They may not be the best option if you are on a tight budget, or if you want a modern and very user-friendly such as IncFile has to offer.
For personalized customer service, professional customer support, and one-on-one consultation with a compliance expert, we recommend them.
Service Features:
Registered Agent Service ($88): Annual charges range from $89 to $99 per state, with no additional fees. If you pay for registered agent services in advance for more than two years, you can save 5-10%.
LLC Formation Package ($99 + $425 State Fee): This plan includes preparing and filing your articles of incorporation with the state, as well as confirming name availability.
Pros
Access up-to-date legal documents
Personal customer service
Same-day document access
Cons
Agent service is not included in formation packages
Limited options
Sign Up To Harbor Compliance
8 - Swyft Filings
Swyft Filings allow installments, making it a great fit if you're tight on money.
The biggest downside of Swyft Filings is that their registered agents are not included in all LLC formation bundles.
This business entity also provides a 100% money-back assurance. It's crucial to realize, though, that this refund guarantee only applies if Swyft Filings errs in processing your LLC formation request.
The flexible pricing model is something that we loved, making installment payments easy to follow and pay.
From our experience, their customer support is reliable, and they do have in-depth knowledge of various laws and legal requirements.
After testing their product, we can recommend Swyft Filings to those business owners who want a lot of customer feedback and plans based on their needs.
Discover additional insights about this company by checking Swyft Filings' review.
Service Features:
Registered Agent Services ($99 per three months): The company's registered agents are a quarterly subscription.
Basic LLC Formation Package ($0 + $425 State Fee): With this package, you will be able to file the articles of organization to form an LLC.
Standard LLC Formation Package ($199 + $425 State Fee): This plan covers everything that the basic package provides. Then, it also has Federal Tax ID (EIN) and most documents needed to start your business in addition.
Premium LLC Formation Package ($299 + $425 State Fee): This package can provide you with all basic and standard services with some extras like free domain and company website hosting. There is also a personalized digital corporate kit and a FedEx tracking number for authorized articles.
Pros
Installments payment plan
Direct assistance to clients
100 % refund policy
Cons
Many of upsells
Does not include registered agents
Sign Up To Swyft Filings
What Are the Benefits of Working With a Registered Agent Service in Nevada?
The benefits of working with a registered agent in Nevada include the following [1].
1. Convenient
Many entrepreneurs and company owners wish to concentrate on growing their companies rather than struggling with administrative responsibilities. They can accomplish so with the help of a registered agent service.
The registered agents can tackle painful paperwork and give their customers an internet portal where all company data and documentation are safely saved in one area.
2. Saves Money in the Long Run
Registered agents can assist business people with multi-state businesses in timely delivering legal paperwork and settling state filing costs. Businesses can avoid paying additional costs as a result of being late in this manner.
3. Provides Privacy
You will have no concerns about disclosing your private address to public data if you use a registered agent service.
Conversely, the registered agent service will supply a real office address, which implies that any paperwork, such as if your company is sued, will be serviced at their headquarters address [2].
4. More Dependable
When it comes to state or corporation law, things can rapidly get difficult. A registered agent with a long history of dealing with other business organizations may be of use to you.
Registered agents also offer extra legal services to help you manage your business efficiently and legally.
How Much Does It Cost to Hire a Registered Agent?
It costs $89 to $299 to hire a registered agent. Several of these leading services also provide ancillary services.
In addition to dealing with the paperwork needed to form an LLC, a registered agent service may aid you with filing yearly reports, keeping track of deadlines and renewals, and receiving other legal services.
Who Can Be a Nevada Registered Agent?
A Nevada registered agent can be anyone with a local business address in the state where the LLC is established and one who is at least 18 years old.
Here are four alternatives you have when choosing your own registered agent for your LLC.
Option 1: Be your own Nevada Registered Agent for your LLC.
Option 2: Your LLC can be its own Registered Agent.
Option 3: Name a dependable friend or relative as the registered agent for your LLC.
Option 4: You can use the services of a Nevada Registered Agent firm.
See our article on how to change a registered agent in Nevada, if you need to.
Our Selection Process
In our selection process, we take into account affordability, top-featured services, processing time, and the reliability of each service. We examined which companies can give tailored support and guidance to their clients and offer strong contact support.
1. Price
The cost of the registered agent is an important factor for businesses in Nevada. That's why we've done thorough research and price comparison of all services on the market to give you the best choice.
2. Expertise
We are always looking for the market's most reliable and trusted service. We picked registered agents that have extensive experience and genuinely know how to run your business and handle all legal matters.
3. Service Features
We spent many hours talking with our legal advisors, with years of experience in LLC formation, to help us choose agents with the best service packages. We've searched for the best deals on registered agent services necessary to keep your business up and running.
4. Customer Support
We reached out to customer support and compared how each registered agent responded to our emails and phone calls. This is a crucial criterion because it measures their professionalism and client credibility.
FAQs
Is My LLC Required to Have a Registered Agent?
Yes, your LLC is required to have a registered agent. The Nevada Secretary of State requires every business entity formed and registered with the state to appoint a registered agent with a registered office address maintained during business hours, including a limited liability company.
Can I Be My Own Statutory Agent?
Yes, you can be your own statutory agent for your LLC. This means you will maintain up-to-date paperwork yourself and handle necessary government, tax, and legal documents served on your business.
What Is a Noncommercial Registered Agent in Nevada?
A Noncommercial Registered Agent in Nevada is an individual or entity with a physical address who does not act as a registered agent for ten or more entities registered with the Secretary of State.
What Is the Difference Between a Noncommercial Registered Agent and a Commercial Registered Agent?
The difference between a noncommercial registered agent and a commercial registered agent is that the former is an individual or small company that provides services in only one or a few states. In contrast, a commercial registered agent typically has a physical address across many states and works with hundreds or thousands of business entities.
And the Best Registered Agent in Nevada is...
Based on our research and experience, one of the best registered agents in Nevada is the Northwest Registered Agent. In the basic package, they provided all the services we needed for starting our LLC with personalized customer support.
All your important business and legal documents will be sent to the street address they provide and managed from there. Plus, their privacy system ensures your information is well-kept.
With this agent service, you will receive notifications for all your payments and filing reports, so you don't miss anything.
Northwest Registered Agent will keep your information private while providing great customer support.
They may not be the cheapest option, but just the fact that they don't sell data to a third party should be enough to trust them.
Our #1 Recommendation
Northwest Registered Agent
Pros
Data information is strictly confidential
Excellent client service
2 decade-long LLC formation experience
Transparent and clear fees
One year free registered agent services with formation packages
Get the BEST PRICE until the end of October
Cons
Northwest Registered Agent is pricey