As a business entity owner in South Carolina, it's essential to hire a good LLC service provider who'll ensure that your business is in the right standing with the state.
With an array of LLC creation services out there, it can be an uphill task to find the best one that fits your entity.
To help you out, we solicited expert advice from our legal team and reviewed the companies that have the best LLC service in South Carolina.
Continue reading to understand their attributes so that you can select the most appropriate South Carolina LLC services for your South Carolina company.
Editor's Choice
Rated by more than 2000+ customers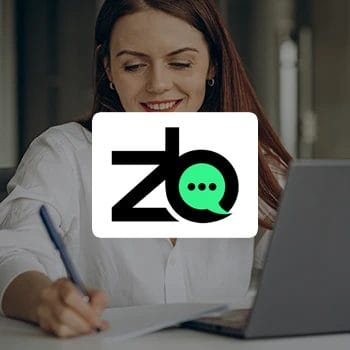 ZenBusiness
Click To Signup
#2nd Best Choice
Rated by more than 1000+ customers
Northwest
Click To Signup
#3rd Best Choice
Rated by more than 1000+ customers
IncFile
Click To Signup
Top 5 LLC Formation Services in South Carolina (May 2023)
1 - ZenBusiness (Editor's Choice)
Would you recommend ZenBusiness?
ZenBusiness promises rapid and easy business creation, worry-free services, and knowledgeable assistance for timely and correct business filing.
This formation service incorporates your limited liability company using an interactive chat function. The agent will ask you several questions and record your replies to start putting together your LLC paperwork.
To confirm that your name is accessible in your state, ZenBusiness also does a thorough name search.
While ZenBusiness offers three different packages, we recommend the Pro Plan to large and mid-sized firms seeking a streamlined process and submission of an Employer ID Number.
We found that this is the most satisfactory option for large businesses that cannot manage compliance independently.
Using ZenBusiness was simple in our experience, and we had access to excellent assistance along the process.
Another useful feature we appreciated was the option to monitor the status of our orders and track the progress of our formation filing on their dashboard.
Service Features:
Starter Formation Package ($0 + $132 State Fee)

: This starter plan has basic LLC formation services plus an operating agreement and standard filing speed (2 to 3 weeks).

Pro Package ($199 + $132 State Fee)

: Includes starter plan features plus EIN registration, lifetime compliance, and faster-expedited filling speed (4 to 6 days). 

Premium Package ($299 + $132 State Fee)

: Includes pro plan features plus domain name hosting and privacy, business website, business e-mail, and the fastest rush-filling speed (1-2 days). 

South Carolina Registered Agent Service ($199)

: The $199 annual renewal charge for their registered agent services is a delayed payment and is not paid until after the business has been fully incorporated.
Pros
Pocket-friendly plans
Responsive and personalized customer service
Fantastic client feedback
Speedy turnarounds
Smooth compliance
Cons
Non-profit business formation is not provided
Sign Up To ZenBusiness
2 - Northwest Registered Agent
Would you recommend Northwest Registered Agent?
Northwest Registered Agent comes into the picture with outstanding accomplishments as a highly-experienced company.
We appreciated their customer support team. They were extremely attentive and eager to give extensive and helpful information when required.
This South Carolina LLC service provider is available throughout typical work hours, and we appreciate their courteous and prompt responses.
Northwest Registered Agent offers a straightforward signup process, with a user-friendly website dashboard that is easy to navigate.
However, it is worth noting that their full-service package can be relatively expensive. For those requiring a more extensive array of services, Northwest Registered Agent may not be the most cost-effective choice.
Service Features:
Basic Plan ($39 + $132 State Fee): This plan you get to use in forming corporations, nonprofits, and LLCs. It comes with two processing speeds available, standard and expedited. Other features are: working contracts, articles of organization and the first year of Registered Agent service come for free with this plan.
Full Service LLC Formation Plan ($225 + $132 State Fee): With Full Service, you will get free limited mail forwarding, operating contracts, same-business-day filing, and a client account loaded with free forms and tools in addition to the service features from the Basic Plan.
Northwest Registered Agent Services ($125): If Northwest creates your LLC, the first year's registered agent service fee is free of charge. Expert corporate guides, free mail forwarding, and privacy are all included by default.
Pros
Solid client privacy system
Includes a free year-round statutory service
Has more than a decade of experience
Fees are explicit
Cons
Pricey full-service package
Sign Up To Northwest Registered Agent
3 - IncFile
Would you recommend IncFile?
IncFile is an online LLC service that offers free formation plans, excluding state fees.
Incfile offers bookkeeping and accounting services at a reasonable monthly fee. With this, you can access accounting software, monthly reports, and tax consultation.
IncFile's customer service is outstanding; we always received prompt and satisfactory responses from their team.
IncFile assists startups creating a South Carolina LLC that are looking for a straightforward way to do so by taking care of the essential parts of LLC formation services.
While many business formation providers take weeks or months to finish the LLC services, IncFile has a quick turnaround time—we got our orders within a single working day.
Service Features:
Silver Package ($0 + $132 State Fee): Silver Package includes preparing & filing the articles of organization, free registered agent service for a full year, unlimited name searches, and phone and email support.
Gold Package ($199 + $132 State Fee): In addition to the previous plan, in Gold Package you get an EIN Business Tax Number and an IRS Form 2553, banking resolution, an operating agreement & online access dashboard, business banking account, and business tax consultation.
Platinum Package ($299 + $132 State Fee): This plan has all the Gold Package plus a domain name with a business email, free next-day filing, and business contract templates.
Registered Agent Services ($119): IncFile offers you a personalized dashboard to access your documents online. If you decide to start your LLC with IncFile, the first year of the registered agent is included in the formation package. After that first year, the renewal will be $119 per year for Agent Services.
Pros
Helped over 800,000 clients
Offers affordable LLC formation services
Includes a full year of statutory agent service
Has excellent help desk
Sign Up To IncFile
4 - Rocket Lawyer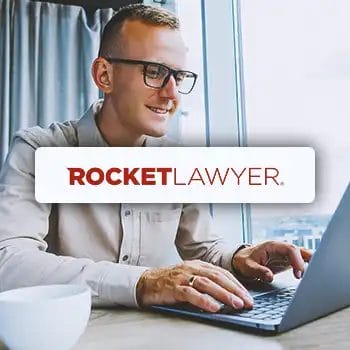 Rocket Lawyer provides its consumers with legal services and guidance in a variety of methods, including corporate entrepreneurship, legal forms, paperwork access, powers of attorney, and actual legal advice from skilled professionals.
Rocket Lawyer also includes free LLC business incorporation as part of the monthly price.
Drawing from our experience with Rocket Lawyer, we were able to produce papers that were tailored to our needs, which we immediately downloaded and shared.
We like that they also provide a seven-day free trial so you can sign up for this, test it out, and determine if their legal services are a suitable fit for your business requirements.
Rocket Lawyer also offers a money-back guarantee for 30 days. This is a remarkable deal that not all web-based LLC service providers have, which is why Rocket Lawyer has a significant edge apart from the free trial.
Service Features:
Standard LLC Formation Package ($99.99 + $132 State Fee / Free with $39.99 per month membership): If you opt for Standard Package membership, you will benefit from free legal documents, LLC formation services and attorney services, and 25% off registered agent service.
Registered Agent Service ($149.99): $149.99 per year for Register Agent services - A 25% discount is applied if you have a membership. Membership costs $39.99 per month.
Pros
Available and extended support for South Carolina LLC services
Free trial offer
Legal services come with discounts
Cons
Pricey a la carte documents
Free features available for subscribers only
Sign Up To Rocket Lawyer
5 - Swyft Filings
Swyft Filings was formed by experienced attorneys to make it easier for small business owners in South Carolina to start and manage their dream firms.
We rank this firm because of its individualized customer service and quick turnaround time on business formation services. We also found that Swyft Filings provides trustworthy direct customer service lines.
As such, it is one of the only organizations that assign a business professional to each of its customers to assist them with business formation services and to provide crucial information.
We purchased their basic package, and although it does not include several crucial elements, such as articles of incorporation, we were able to purchase these extra items individually.
Swyft Filings does not need you to purchase one of its premium packages to use this service.
The website is also easy to use and receives what you want. If you want a quick and easy service with few upsells, we recommend this service.
Service Features:
The Basic package ($0 + $132 State Fee): Basic package is ideal if you want basic LLC incorporation plus document filing.
The Standard package ($199 + $132 State Fee): Includes all LLC services from Basic Package. You'll also obtain Federal Tax ID (EIN) and most documents needed to start your business (operating agreement, banking resolution, and organizational minutes).
The Premium package ($299 + $132 State Fee): Premium includes all basic and standard services and additional ones, including free domain and business website hosting, the customized digital corporate kit, and the FedEx delivery of your approved articles with a tracking number.
Registered Agent Service ($99 per three months): This will be a subscription that will be renewed every three months.
Pros
Cheaper lower-tier package for LLC services
Great customer care team
Lots of positive client reviews
Cons
Limited package features
Registered agent is expensive
Sign Up To Swyft Filings
Advantages of Creating an LLC in South Carolina
Creating your South Carolina LLC benefits your business in the following ways [1].
1. Personal Liability Protection
Owning a South Carolina LLC is the best way to safeguard personal liability. In case the company is sued or goes into bad debt, the collectors will not touch your personal assets or those of your partners.
2. Pass-Through Taxation
You have a competitive advantage over businesses by forming your South Carolina LLC, particularly in terms of taxes. As per the law, you will receive personal income taxes directly from your firm as a result of pass-through taxation as an LLC [2].
This taxation structure also limits double taxation. This means you'll not pay taxes at an individual and corporate level simultaneously.
3. Easy To Create and Manage
Creating an LLC in South Carolina is simple and requires less paperwork. The only thing required during the registration process is filing and submitting your articles of incorporation to the SOS.
Unlike other business structures, LLCs do not require frequent business meetings or recording minutes; hence less paperwork translates to easier management.
4. Easy To Raise Capital
With a South Carolina LLC, you can bring in new people without sharing your management authority with them. And new members can bring in more funds without becoming partners, unlike other partnership structures.
Our Selection Process
We selected these five LLC services based on the following aspects:
1. Price
When evaluating LLC services in South Carolina, we compared the different pricing plans to determine which service or package offers the most value for money.
After subscribing to different packages, we proceeded to rank the ones that we found most affordable but still provided the essential features that entrepreneurs need to get started on their businesses, such as business formation services.
This way, we try to minimize the cost of starting a South Carolina LLC as we know how important this is for a startup.
2. Customer Support
As for customer support, you want to work with providers that are prompt to respond to your questions and issues. We reached out to the support teams of the different LLC services via chat features, phone, and email.
We then rated them based on their promptness, communication, and problem-solving skills.
3. Service Features
One of the key aspects we cherish when evaluating service providers is their service features. This is important because there are services that offer expensive packages that are feature-limited.
To experience this firsthand, we bought different packages from the best LLC services in South Carolina and tested the features therein.
We then rounded up the services that offer service features that are crucial for startups, like business formation, compliance filing, and EIN registration.
4. Turnarounds
Before recommending any of these LLC services, we made sure their turnarounds are efficient and speedy as possible.
To put them to the test, we filed different orders at the same time on each website and patiently waited to see how soon deliveries were done.
We then ranked services with the best and fastest turnarounds – one to five business working days.
South Carolina LLC Formation Process
You can start an LLC in South Carolina by yourself —saving hundreds of dollars for other expenses. Here's how:
Step 1:

Choose a name for your South Carolina LLC

Step 2: Search for a registered agent in South Carolina
Step 3

: File the South Carolina Certificate of Formation

Step 4

: Create a South Carolina LLC Operating Agreement

Step 5:

Obtain your Employer Identification Number (EIN)

Step 6:

Select the type of your LLC in South Carolina

Step 7: File your South Carolina LLC annual report
FAQs
How Long Does It Take To Process My LLC in South Carolina?
It takes 5-7 business days to process your LLC in South Carolina. Depending on your service, getting your South Carolina LLC approved may take some time. Submitting the Articles of Organization typically takes 24 hours online.
Is an LLC Service Important in South Carolina?
Yes, an LLC service is important in South Carolina if you want to form your limited liability company as quickly as possible. An LLC service will also handle and organize all the paperwork on your behalf.
What Is the Best LLC Service in South Carolina For You?
If you're looking to hire an LLC service provider with diverse, exclusive service features that provide the tools necessary for your business, we highly recommend ZenBusiness.
As the best LLC service in South Carolina, ZenBusiness offers well-rounded business formation plus dependable legal services.
Using ZenBusiness may help your South Carolina business save significant time and money by handling all legal requirements and the extra services, such as website design, paid premium registered agent service, and compliance, to get your new company off the ground fully.
They've done an excellent job assisting us with our new business formation and other responsibilities. We particularly liked their customer service professionals who were very knowledgable and eager to help.
Our #1 Recommendation
Pros
Pocket-friendly plans
Responsive and personalized customer service
Fantastic client feedback
Speedy turnarounds
Smooth compliance
Get the BEST PRICE until the end of May
Cons
Non-profit business formation is not provided