Before submitting the LLC formation paperwork for your business in Massachusetts, you must complete a few tasks, such as choosing a business name and a Massachusetts registered agent.
A trustworthy and dependable individual or organization should hold this role. It's crucial to be selective because this entity will probably receive sensitive legal documents that could relate to your company's financial or legal status.
As part of our research, we consulted with top attorneys and legal advisors in the field to compile a comprehensive list of the best registered agent services in Massachusetts.
Our goal is to help entrepreneurs and business owners make informed decisions and ensure a smooth and successful LLC formation process.
Editor's Choice
Rated by more than 1000+ customers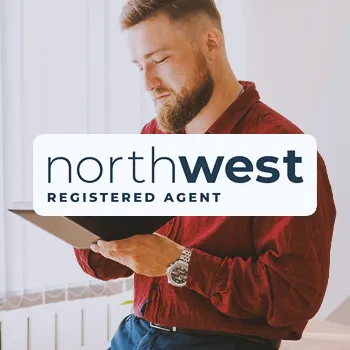 Northwest
Click To Signup
79% of visitors chose this
#2nd Best Choice
Rated by more than 2000+ customers
ZenBusiness
Click To Signup
#3rd Best Choice
Rated by more than 1000+ customers
Incfile
Click To Signup
Top 4 Best Registered Agents in Massachusetts (September 2023)
1 - Northwest Registered Agent Service (Editor's Choice)
Would you recommend Northwest Registered Agent Service?
Northwest Registered Agent sets a high standard for quality and security among Massachusetts registered agent service companies.
Their registered agent service gives you a Massachusetts street address, accepts service of process from a process server, and handles all of your mail and legal documents on your behalf.
These features have made our business run more smoothly.
In addition, Northwest Registered Agent has a stellar customer service team, who provided us with prompt, knowledgeable answers to all our inquiries, which is the main reason they earned such a solid reputation as one of the top Massachusetts registered agent services.
Based on our personal experience, we found that their packages provide great value for the cost. However, it's important to keep in mind that their pricing tends to be towards the higher end.
Registered Agent Services ($125): The first year of registered agent service is free if you form your LLC with this service.
Basic LLC Formation Plan ($39 + $520 State Fee): This package includes articles of incorporation & operating agreement. It also provides processing rates that are standard and efficient, as well as a complimentary one-year registered agent service.
Full Service LLC Formation Plan ($225 + $520 State Fee): You will get same-day filing, a year of registered agent service, and an operating agreement. Additionally, free forms and services are in the customer account.
Pros
Prioritizes privacy protection
Personalized registered agent services is their standard
They are experts in the field
Pricing is transparent
Formation package includes a complimentary year of registered agent service
Sign Up To Northwest Registered Agent Service
2 - ZenBusiness Registered Agent Services
Would you recommend ZenBusiness Registered Agent Services?
ZenBusiness could also be a good option for you if you need an LLC formation service in Massachusetts in addition to registered agents.
ZenBusiness offers a wide range of features at a low cost in addition to helping you with your Certificate of Organization or Articles of Organization.
We signed up for the first year of registered agent service at a heavily discounted price, which is excellent for keeping startup costs low, and found the ordering process through their website straightforward.
Based on our personal experience, ZenBusiness conducted a thorough name availability check in Massachusetts before submitting our LLC registration application.
This saved us from the hassle of using outdated and time-consuming name search methods and ensured that our proposed entity name was available, preventing potential rejections due to minor errors.
Service Features:
Registered Agent Service ($199): The annual renewal for this registered agent service is $199.
Starter LLC Formation Package ($0 + $520 State Fee): This membership includes both the basic company filing service and a name availability search. The normal LLC filing time in Massachusetts for this product is 2 to 3 weeks. With a 100% accuracy guarantee, you can trust a seamless process. Additionally, enjoy added benefits such as a 1-month free trial for banking, bank account services, Money Pro Bookkeeping, and Website Builder. The package also presents the option of worry-free compliance during the first year, with an opportunity to renew at $199/year if accepted.
Pro LLC Formation Package ($199 + $520 State Fee): This LLC formation plan includes not only the Starter package features but also a 1-2 days fastest rush-filling speed, an operating agreement template at $99, and an EIN.
Premium LLC Formation Package ($349 + $520 State Fee): This LLC plan includes all the Pro features plus domain name and privacy, business email address and document templates, and a customized business website.
Pros
Affordable and transparent pricing
Great chat support
Positive customer reviews
Money-back satisfaction guarantee
Sign Up To ZenBusiness Registered Agent Services
3 - Incfile
Would you recommend Incfile?
IncFile has has helped successfully launch more than 150,000 clients, and its Learning Center contains valuable resources for business owners.
After signing up with IncFile Massachussetts registered agent services, we gained access to a compelling registered agent dashboard that enabled us quickly access and track crucial business paperwork and notifications.
They also notified us by email and SMS about our Massachusetts LLC documentation so we would have an easier time following the whole process.
But we must also note one aspect that we found unappealing. There were a lot of upsells and third-party offers that come with specific packages.
Service Features:
Registered Agent Services ($119): IncFile has a great deal and will offer you a free-of-charge registered agent within the first year if you decide to create your LLC using any of their packages. The renewing price after the first year is $119.
Free Silver LLC Formation Package ($0 + $520 State Fee): They will prepare and fill the Articles of Incorporation, as well as unlimited name searches and a year of free registered agent service.
IncFile Gold LLC Formation Package ($199 + $520 State Fee): Apart from the silver bundle, you will get the IRS Form 2553 and the EIN business tax number. The company also has banking resolutions, tax advice options, and an online access dashboard.
Platinum LLC Formation Package ($299 + $520 State Fee): Gold Package, and additionally business contract templates, free business websites, and domain registrations.
Pros
Excellent and useful web dashboard
All formation packages include a free registered agent service
Quick order processing
Has costs transparency
Sign Up To Incfile
4 - LegalZoom Registered Agent
LegalZoom provides legal support services for both individuals and businesses in Massachusetts.
We decided to try them out because of their Basic package program feature ($0), where they will not charge you until your filing documents are submitted to the state and then charge you for the first year.
They also offer legal advice for business-related matters, although this service incurs a monthly fee of $249.
We were quite pleased with the results. They ensured that our business conformed with the Massachusetts LLC laws and regulations and we managed to stay on top of all of our legal matters.
They will make keeping the good standing of your Massachusetts LLC an easy task, even though they are a little pricey.
Service Features:
Registered Agent Services ($299): The first year of an LLC formed with them costs $249. Following that, renewal would cost $299. The cost will include limitless cloud storage, alerts from important emails, Compliance Caleneder, and a $1 M settlement in case of identity theft.
LLC Basic Formation Package ($0 + $520 State Fee): Here you'll receive a name search service, a comprehensive digital LLC welcome packet, articles of organization, and a company customizable website.
LLC Pro Formation Package ($249 + $520 State Fee): The bundle includes the Basic plan, an operating agreement, an EIN, consultations on taxes and insurance, and in-depth guidance on business licensing.
LLC Premium Formation Package ($299 + $520 State Fee): The plan includes everything offered by the Pro package, as well as a hands-on guide from a professional Massachusetts attorney. The package also comes with half an hour of unlimited consultations by an attorney regarding new legal topics and updates on your LCC document within the first 3 months of subscribing.
Pros
60-day satisfaction guarantee
Huge customer base
Provides a vast array of legal services
Cons
Expensive
Below average customer rating for a registered agent company
Sign Up To LegalZoom Registered Agent
What Are the Benefits of the Best Registered Agent Service?
Appointing a professional registered agent can provide several advantages when operating a Massachusetts LLC, including peace of mind knowing all legal documents are being handled by an expert [1].
Using the best registered agent service has the following advantages:
1. Ensures Compliance
With the aid of your registered agent, you can ensure that nothing is forgotten and that your business always complies with all relevant Massachusetts state regulations.
2. Gives You Peace of Mind
When you enlist the services of the best registered agent service, it allows you to dedicate all your resources solely to growing and developing your business.
You are sure that nothing will slip through the cracks, and they will notify you if any documents are sent or received.
3. Maintains Privacy
Registered agents accept confidential documents on your behalf. The appropriate solution for added security is to get a reliable service. When documents arrive, you'll get a notification right away.
Forming a Massachusetts LLC through an agent service allows you to keep your home address private.
The Massachusetts registered agent service will supply the actual street address to receive all documents. In the event that your LLC faces a lawsuit, any related documents are sent directly to the address of the registered agent [2].
4. Availability
Some Massachusetts business owners who work unconventional hours, frequently travel or are otherwise unable to go to the office due to ongoing obligations.
Access to Massachusetts registered agent services during regular business hours is convenient for busy business owners.
How Much Does a Registered Agent Service Cost in Massachusetts?
Depending on the degree of service you need, a registered agent service will cost you differently. In Massachusetts, the standard fee for registered agent service ranges between $89 and $299 annually.
See our guide to find out more information on the cost of forming an LLC in Massachusetts.
What Are the Requirements for a Massachusetts Registered Agent?
Regardless of whether your business is a corporation or limited liability company (LLC), Massachusetts law (Title XXII, Chapter 156D, Section 5.01) mandates the following of registered agents:
Must be a Massachusetts resident or a business entity offering registered agent services.
Must have a registered office street physical address (no PO boxes) in the State of Massachusetts where they can receive official mail and legal documents.
Must be at least 18 years old and capable of accepting service of process and annual reports during regular business hours.
If you aren't satisfied with your current Massachusetts registered agent for whatever reason, see our article on how to change a registered agent in Massachusetts.
FAQs
Can I Be My Own Registered Agent for My Massachusetts LLC?
Yes, you can be your own registered agent for your Massachusetts LLC. The owner or another employee frequently fills this position. Other options include using an agent service to gather the paperwork for your business and alert you when it arrives.
Is it Necessary to Designate a Massachusetts Registered Agent?
Yes, it is necessary to designate Massachusetts registered agents. All LLCs registered in Massachusetts must list a resident agent on their Certificate of Organization.
How Do I Choose a Registered Agent in Massachusetts?
To select a registered agent in Massachusetts, you must choose local or national providers. Whatever you prefer, remember that this is essential, so make sure you research before choosing one.
What Happens If I Do Not Assign a Registered Agent in Massachusetts?
If you do not assign a registered agent in Massachusetts, it might result in the Secretary of the Commonwealth (SOC) rejecting your business filing. All registered businesses in the Commonwealth of Massachusetts are required to designate a registered agent.
How Do I Terminate My Massachusetts Registered Agent Designation?
To terminate your Massachusetts registered agent designation, you must submit a Statement of Resignation of Resident Agent (LLCs). Or submit a Statement of Resignation of Registered Agent (corporations) to the Corporations Division of the Massachusetts Secretary of the Commonwealth.
Our Favorite Registered Agent in Massachusetts Is...
A Massachusetts registered agent is essential for your business to follow the law and maintain its legal standing.
From the outset of its formation, we believe the best pick for your Massachusetts LLC is Northwest Registered Agent.
With more than 20 years of experience in the industry, Northwest will ensure that all business-related activities are handled properly and confidentially.
Their expertise was evident as we interacted with their support team of former attorneys and business owners, and we received a comprehensive answer to each inquiry without delay.
This experience highlights the quality of their personalized service and why they have such a positive industry reputation, which is why they made the top of our list.
Our #1 Recommendation
Northwest Registered Agent Service
Pros
Prioritizes privacy protection
Personalized registered agent services is their standard
They are experts in the field
Pricing is transparent
Formation package includes a complimentary year of registered agent service
Get the BEST PRICE until the end of September