Before submitting the LLC formation paperwork for your business in Massachusetts, business owners must complete a few tasks, such as choosing a business name and a resident agent.
A registered agent, also called a resident agent, is a person or company that receives business correspondence on your behalf.
This role should be held by a trustworthy and dependable individual or organization.
It's crucial to be selective because this entity will probably receive sensitive documents that could relate to your company's financial or legal status.
To help you set up your Massachusetts LLC and choose a capable resident agent, here is a list of the best registered agent services in Massachusetts.
Editor's Choice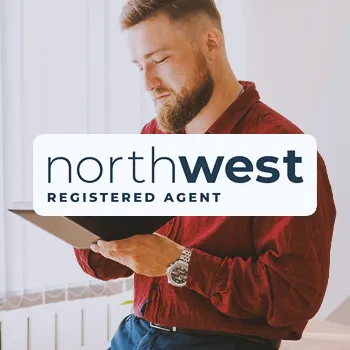 Northwest
Click For Best Price
#2nd Best Choice
ZenBusiness
Click For Best Price
#3rd Best Choice
Incfile
Click For Best Price
Top 4 Best Registered Agents in Massachusetts (September 2022)
1 - Northwest Registered Agent Service (Editor's Choice)
Setting the bar for every Massachusetts registered agent service is Northwest Registered Agent.
Northwest Registered Agent gives you a Massachusetts street address, accepts service of process from a process server, and handles all of your mail and legal documents on your behalf.
These features make your business run more smoothly.
In addition, their stellar customer service team is the main reason they earned the gold medal in the world of resident agent service.
They're at the top of the list of the best Massachusetts registered agent services out there.
Service Features:
Northwest has always been the leading Massachusetts registered agent service provider because they offer excellent services for only $125 per year.
Northwest's registered service agent package includes Local Corporate Guides®, Privacy by Default®, Free Mail Forwarding/Scanning, and Same-Day Local Document Scanning.
If you plan to start your Massachusetts LLC with Northwest, they offer their formation package for only $39 plus the filing fee, and you can enjoy a year free of registered agent service that comes with the package on your first year.
Your second year will mark the commencement of the $125 yearly rate.
Pros
A year of free resident agent service is included in LLC formation
Offers personalized customer service
Transparent pricing
20+ years of experience in the industry
Cons
More expensive than competitors
2 - ZenBusiness
ZenBusiness could be a fantastic option for you if you need an LLC formation service in addition to a registered agent.
ZenBusiness offers a wide range of features at a low cost in addition to helping you with your Certificate of Organization or Articles of Organization.
Service Features:
ZenBusiness offers the lowest annual à-la-carte registered agent rate at only $99.
As with their formation package, you can form your Massachusetts LLC with ZenBusiness for only $39 for the first year plus the filing fee, after which you have to pay $119 for the year after.
A "worry-free compliance" assurance is also available to upgrade ZenBusiness's "complete coverage" registered agent service.
This guarantee includes two free changes to your filings per year, annual filing report notifications, papers submitted on your behalf, for which you will only be liable for state fees, and protection for any expenses if you fail to comply with the state.
Pros
Outstanding customer feedback
Affordable package offers
Stellar service and support
3 - Incfile
Since 2004, Incfile has provided services to over 150,000 clients, and its Learning Center contains valuable resources for business owners.
Additionally, Incfile provides a compelling registered agent dashboard that enables you to keep track of and quickly access crucial business paperwork.
Further, the company notifies you by email and SMS about your Massachusetts LLC documentation status so that you can stay informed.
Service Features:
Incfile's registered agent services include features like convenient dashboards for registered agents, email and SMS update alerts, and a free LLC formation for only $119 per year.
With Incfile, you don't owe anything except the $275/$500 filing fee for the first year when filing your Massachusetts LLC.
Pros
Has virtual mailbox feature
Has a registered agent dashboard
Thousands of positive customer reviews
Cons
Mediocre Massachusetts resident agent service
It doesn't offer compliance alerts
4 - LegalZoom
Since LegalZoom is well renowned for its business services and has a solid track record of doing business ethically, locally, and nationally, you can count on them to fulfill any promises they make to your business.
They will ensure that your business conforms with the Massachusetts LLC laws and regulations, as required by a Massachusetts resident agent.
They will make keeping the excellent standing of your Massachusetts LLC an easy task, even though they are a little pricey.
Service Features:
LegalZoom's registered agent service package includes complete legal services, corporate data protection, a compliance calendar, and unlimited cloud storage, costing $299.
This package already consists of an LLC formation and a premium feature that offers up to $1 million worth of identity theft protection.
However, if you only want to form your Massachusetts LLC with LegalZoom, you must pay $79 plus the state fee.
But note that registered agent service is not included in their business formation package.
Pros
Unrivaled brand recognition
High customer volume
Cons
Much more expensive than other competitors
Mediocre customer reviews
What Are the Benefits of Massachusetts Registered Agent Services?
Although you can act as the agent for your Massachusetts LLC, there are several advantages to using a professional. There are benefits to paying a company to accept legal paperwork on your behalf, including:
1. Ensures Compliance
With the aid of your agent, you can ensure that nothing is forgotten and that your business always complies with all relevant Massachusetts state regulations.
2. Gives You Peace of Mind
When an agent is in charge, you are free to focus all your time, energy, and attention on expanding your business. You are sure that nothing will slip through the cracks and that they will notify you if any documents are sent or received.
3. Maintains Privacy
Registered agents receive confidential documents. The appropriate solution for added security is to get a reliable service. When documents arrive, you'll get a notification right away.
When forming a Massachusetts LLC through an agent service, you don't need to worry about disclosing your home address to the public.
As a result, since the registered agent service will supply the actual street address, all documents, including those if your LLC is sued, will be delivered to the registered office address.
4. Availability
Some Massachusetts business owners work irregular hours, must travel frequently, or are otherwise unable to go to the office due to ongoing obligations.
Access to registered agent services during regular business hours is convenient for busy business owners.
How Much Does a Registered Agent Service Cost in Massachusetts?
Depending on the degree of service you need, a registered agent service will cost you differently. In Massachusetts, a registered agent service typically costs between $99 and $349.
What Are the Requirements for a Massachusetts Registered Agent?
Regardless of whether your business is a corporation or limited liability company (LLC), Massachusetts law (Title XXII, Chapter 156D, Section 5.01) mandates the following of a registered agent:
Must be a state resident or a company that offers registered agent services.
Must have a registered office street physical address (no PO boxes) in the State of Massachusetts where they can receive official mail and legal documents.
Must be at least 18 years old and capable of accepting service of process and annual reports during regular business hours.
FAQs
Can I Be My Own Registered Agent for My Massachusetts LLC?
Yes, you can be your own registered agent for your Massachusetts LLC. The owner or another employee frequently fills this position. Other options include using a resident agent service to gather the paperwork for your business and alert you when it arrives.
Is it Necessary to Designate a Massachusetts Registered Agent?
Yes, it is necessary to designate a Massachusetts registered agent. All LLCs registered in Massachusetts must list a resident agent on their Certificate of Organization.
How Do I Choose a Registered Agent in Massachusetts?
Choose a registered agent in Massachusetts depending on what your business needs. There are a lot of companies that offer registered agent services.
You can select local or national providers. Whatever you prefer, just keep in mind this is essential, so make sure you do your research before choosing one.
How Can I Change My Massachusetts Registered Agent?
The Massachusetts Secretary of the Commonwealth must receive a Statement of Change of registered agent form to change your Massachusetts registered agent. Along with the form, you also need to pay a filing fee of $25.
What Happens If I Do Not Assign a Registered Agent in Massachusetts?
If you do not assign a registered agent in Massachusetts, it might result in the Secretary of the Commonwealth (SOC) rejecting your business filing.
All registered businesses in the Commonwealth of Massachusetts are required to designate a registered agent.
How Do I Terminate My Massachusetts Registered Agent Designation?
To terminate your Massachusetts registered agent designation, you must submit a Statement of Resignation of Resident Agent (LLCs). Or submit a Statement of Resignation of Registered Agent (corporations) to the Corporations Division of the Massachusetts Secretary of the Commonwealth.
Conclusion
A Massachusetts registered agent is essential for your business to follow the law and maintain its legal standing. This job involves handling relative activities, but if you mishandle them, you could incur significant fines and even risk having the state dissolve your business.
From the outset of its formation, we believe the best pick for your Massachusetts LLC is Northwest registered agent. With more than 20 years of experience in the industry, Northwest will ensure that all business-related activities are handled properly and confidentially.
The quality of their service is highlighted by the personalized customer support team formed by former attorneys and business owners.
Our #1 Recommendation
Northwest Registered Agent Service
Click For Best Price
Pros
A year of free resident agent service is included in LLC formation
Offers personalized customer service
Transparent pricing
20+ years of experience in the industry
Get the BEST PRICE until the end of September
Cons
More expensive than competitors