Starting an LLC can be a time-consuming, heavy, and expensive process. That is why most startups prefer to use professional LLC formation services.
Together with my team of experienced legal professionals with extensive knowledge of business formation, we reviewed and tested a number of formation services available today.
Our primary focus for this analysis is to show how the companies we reviewed performed based on customer ratings and reviews, affordability, and convenience in their packages, including exclusive offers.
We have also included the advantages and disadvantages of each service, summarizing the essential details you need to keep in mind when selecting the best LLC service.
Editor's Choice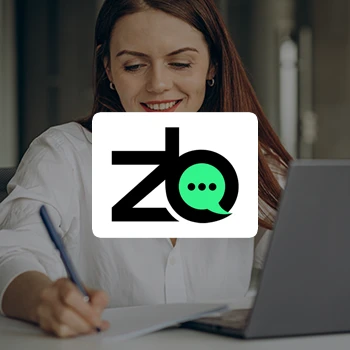 ZenBusiness
Click To Signup
#2nd Best Choice
Northwest
Click To Signup
#3rd Best Choice
Incfile
Click To Signup
Top 10 LLC Services in 2022 (March 2023)
1 - ZenBusiness (Editor's Choice)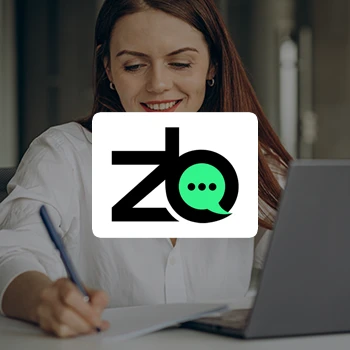 ZenBusiness offers discounted business services, low-cost LLC formation, and expert support to make starting a business easier.
Since ZenBusiness is committed to simplicity it manages thousands of businesses. This best LLC service has over 10,000 reviews on Trustpilot, with 86% positive customer feedback.
Also, ZenBusiness understands the importance of outstanding customer support, as each time we reached out with questions, they provided thorough answers without delay.
They provided us with high-quality LLC formation services at an affordable price point. We were impressed with their expert assistance, advanced services, and customizable platform, which made the process of forming our new LLC a breeze.
Recent news reports that ZenBusiness has acquired Ureeka Inc., a growth-engine platform designed to help small businesses attract new customers.
Service Features:
Starter ($0 + State Fee): Standard filing speed (ready in about 2 to 3 weeks), expense and deduction tracking, name availability search capabilities and access to your files via the ZenBusiness site, and 100% accuracy guarantee.
Pro ($199 + State Fee):

Faster-expedited LLC filing service speed (4 to 6 days). In addition, you get worry-free compliance, financial reports, guided Operating Agreements, employment ID number generation, and compliance reviews and alerts.

Premium ($299 + State Fee):

Everything from the two packages above plus the fastest rush filling speed (1-2 days), domain name, email address, and customize the business website.

Registered Agent Service ($199): ZenBusiness offers its registered agent service for $199, which is charged after the business is formed, and annual renewal comes at the same price.
Pros
Several formation packages available alongside legal services
Pricing is reasonable
Guaranteed compliance, especially for the Operating Agreement
Business formation is quick
A large number of positive customer ratings
Cons
Not as well known as other services
Sign Up To ZenBusiness
2 - Northwest Registered Agent
Choosing Northwest Registered Agent as your registered agent comes with a lot of benefits. You will have access to a variety of documents, email delivery, and company address solutions to help streamline your business operations.
Their manifesto includes Corporate Guides® and Privacy by Default®. Through this manifesto, they maintain over 3 million businesses nationwide.
Northwest Registered Agent is an expert in the field with over two decades of experience, which was evident as they addressed each of our questions quickly and inside out.
Using PrivacybyDefault® ensured us that we didn't have to worry about protecting our data.
Service Features:
Basic Plan ($39 + State Fee):

Standard formation service with additional state filing fees, including one year of free registered agent service if you form your LLC with Northwest Registered Agent.

Full Service LLC Formation Plan ($225 + State Fee): Same-day filing, a full year of registered agent service, no-cost restricted mail forwarding, an operating agreement, and a client account stuffed with free forms and different resources.
Registered Agent Services ($125): Once you form your LLC with Northwest Registered Agent you will get the first year of this service for free. After the first year, it will be billed annually. Discounted to $100 national registered agent service for multi-state business.
Pros
Well-versed in the procedure due to 20 plus years expertise
They prioritize your privacy
Their service fees are apparent
1-year free registered agent service for the formation package
Sign Up To Northwest Registered Agent
3 - Incfile
IncFile was initially a small business that grew into a national, full-service incorporation company.
Headquartered in Houston, IncFile is the cheapest LLC formation service as it offers zero fees with no hidden charges. Their goal is to provide an unmatched customer experience at an unbeatable price.
From our perspective, they achieved that goal as we experienced prompt replies from both phone and email support.
IncFile has a high customer rating with almost 38,000 reviews, 84% positive reviews, or a 4.8 customer rating.
Service Features:
Silver Package ($0 + State Fee):

This silver package is a free best LLC service. The only charge is the mandatory state filing fees depending on the location and any add-on legal services depending on your needs. 

Gold Package ($199 + State Fee): It includes everything Silver Package features plus EIN Business Tax Number, IRS Form 2553, operating agreement, banking resolution, lifetime company alerts, online access dashboard, business banking account, and business tax consultation.
Platinum Package ($299 + State Fee): Everything available in the Gold Package is also included in the Platinum Package, plus business contract templates, free next-day filing, and a domain name and business email.
Registered Agent Services ($119): Initial year free (if

made with an LLC formation package

), then $119 annual renewal charge.
Pros
Low-cost professional LLC service
Initial year of no-charge registered agent service
They helped over 800,000 businesses with LLC formation services
Phone and email customer support
Cons
More add-ons along the process
Sign Up To Incfile
4 - Rocket Lawyer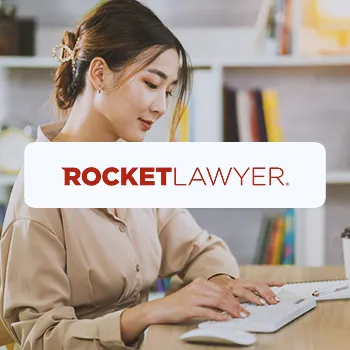 The founder of Rocket Lawyer, Charley Moore aimed to provide affordable, simple, and available legal services.
After the 7-day free trial period, the Rocket Lawyer membership costs only $39.99/month and you can cancel it anytime.
That is why people opt to check Rocket Lawyer out during its 7-day free trial period since Rocket Lawyer offers a premium package for the free trial.
We tested the premium package for ourselves, and we love their easy-to-use legal templates. It made the whole process so much easier and quicker for us. We would definitely recommend them to anyone who's jsut starting out.
Service Features:
Formation of LLC services ($99.99 + State Fee):

This is the basic business formation LLC service and only covers basic LLC service filing. However, if you are a subscriber, Rocket Lawyer offers it for free for new members and 25% off from the registered agent service. 

Registered Agent Services ($149.99): You will get a 25% discount if you have a monthly membership priced at $39.99. Price Membership costs $39.99 monthly.

Pros
Rocket Lawyer offers easy-to-use legal templates
Provides a 7-day free trial of a premium subscription.
Rocket Lawyer has online legal services
Cons
Rocket Lawyer is mot the cheapest option
Rocket Lawyer has limited live interaction
Sign Up To Rocket Lawyer
5 - Swyft Filings
Swyft Filings is a business filing service that was founded by an experienced lawyer who saw a need to simplify the process of incorporating companies.
He designed this incorporation service to help businesses get started as efficiently and affordably as possible.
Swyft Filings has a customer rating of 4.8 and 88% positive reviews on Trustpilot.
They caught our eye right away and we had to try them out for ourselves.
Their exceptional customer service team and user-friendly technology made our business formation process a breeze, saving us valuable time and reducing stress. We also appreciated their completely automatic renewals, which eliminated the need for us to manually extend our contract with their registered agent.
With competitive pricing and a comprehensive range of services, Swyft has quickly emerged as a dominant player in the market.
Service Features:
Basic LLC formation services ($49 + State Fee):

Plus state filing fee, depending on the location.

Standard LLC formation services ($149 + State Fee):

This package includes a Federal Tax ID number, Custom LLC Operating Agreement, Banking Resolution, and Organizational Minutes.

Premium LLC formation service ($299 + State Fee):

Premium options offer all basic and standard services, including a custom Digital LLC kit, a Business website, and three months of free web hosting.

Registered Agent Services ($99):

It is an additional charge on top of the best LLC service packages. This price will be charged quarterly on an ongoing basis.
Pros
Offering installments
Personalized customer service, even for the Operating Agreement
100% money-back guarantee
Cons
Lots of upsells
Agent service not included
Sign Up To Swyft Filings
6 - MyCompanyWorks
MyCompanyWorks' entire focus has been to make creating LLCs quick, easy, and affordable.
It has one of the industry's most substantial refund policies. If you are not happy with their level of service, they will refund your service charge at any point within 90 days—no questions asked.
This is something not a lot of their competitors will offer and we must say that it is a useful perk. We tried them out and we were impressed with their attention to detail. Their account dashboard was excellent and the customer support was nice to work with as well.
Based on verified consumer evaluations from ShopperApproved, MyCompanyWorks has an A+ rating from the BBB and high customer satisfaction.
Service Features:
LLC Formation-basic package ($59 + State Fee):

This basic package includes features like a free logo, rewards and discounts valuing $250,000, a free E-book, a startup guide/wizard, and lifetime access to the vendor network.

The Entrepreneur Package ($179 + State Fee): Includes everything the Basic Package includes, plus MyCompanyForms lifetime forms & tax guide, federal tax ID, and registered agent service.
The Complete Package ($259 + State Fee): Complete Package covers everything the Basic and Entrepreneur Packages offer, plus MyCompanyWorks premium, including priority support.
Registered Agent Services ($99):

The Entrepreneur or Complete Package plans are recommended since they offer a free first year of registered agent service.
Pros
Excellent reviews from customers
100% assurance of fulfillment
Online account dashboard
Cons
Basic services excludes registered agent
Comparably LLC filing companies cost is a bit pricey
Sign Up To MyCompanyWorks
7 - Harbor Compliance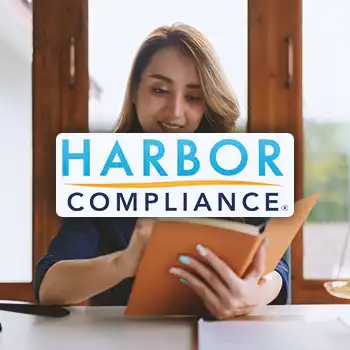 Harbor Compliance is a major company and they have assisted more than 35,000 clients across all industries with licensing applications, acquisitions, and maintenance.
Based on our personal experience, we can confidently say that the level of service provided by Harbor Compliance is more than satisfactory.
In our interactions with the company, they demonstrated great skill in facilitating official communications between our business and government institutions, ensuring that all legal requirements were met within the prescribed timelines.
Overall, their services proved to be highly effective in meeting our legal needs.
The company's strong point is its personalized customer support; whereas other competitors use an online interface, Harbor Compliance provides each client with an actual human compliance specialist.
Service Features:
LLC Formation Package ($99 + State Fee):

This is the basic formation package that includes a name search and Articles of Organization.

Agent Services (89-$99):

Depending on the state, with no additional fees for receiving documents. You can get a 5%- 10% discount if you pay upfront for two years, or more. Bulk discounts are available when ordering for several entities or combining agent services.
Pros
Ultimate Convenience feature
Personal customer service alongside other services
Same-day document access
Cons
Website not user-friendly
Fewer online legal services
Sign Up To Harbor Compliance
8 - Legalzoom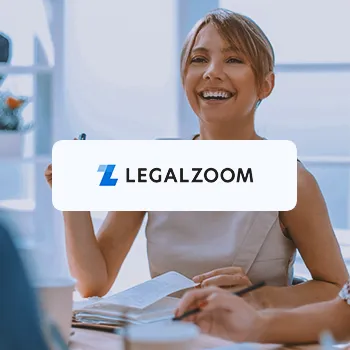 The company is an American online legal technology firm with the opportunity to add additional LLC services.
LegalZoom plans are flexible and affordable. Over the past 20+ years in the industry, they have helped over 2+ million businesses.
LegalZoom has certainly impressed us with its Compliance Calendar feature, which has proven to be an invaluable tool for monitoring compliance deadlines. With this feature, we were able to stay ahead of the game and ensure that all necessary legal requirements were met in a timely manner.
Also, LegalZoom offers an independent network of attorneys to help you with the appropriate advice since it firmly believes that every business deserves the complete protection of the legal system.
Service Features:
Basic Package ($0 + State Fee):

This package includes everything a beginner needs, from name search, an article of organization to a customizable website powered by WIX.

Pro Package ($249 + State Fee):

This package comes with complete basic package features. The pro package also offers extra features, including operating agreement guidelines, an EIN for filing taxes, phone consultations on taxes and insurance, and a detailed license guide.

Premium ($299 + State Fee):

Has complete pro package features plus one-on-one 3 months of guidance from a professional legal business attorney. The package also includes a lifetime 30-minute hand-on consultation with a legal attorney on business-related laws. A professional attorney will also amend the legal contract documents during the initial 90-day period of your LLC formation, plus full library access to monthly editable legal documents.
Pros
60 days refundable policy
User-friendly online platform
Affordable legal help
Cons
Registered agent service pricier than competitors
Pricey Add-ons
Sign Up To Legalzoom
9 - Tailor Brands
Tailor Brands offers all the resources required to transform your concept into a functioning company.
With Tailor Brands' one-stop shop for branding and website building, you can create a logo, business cards, and a website representing your brand.
We loved their concept of automating branding and marketing activities for small enterprises. The business has raised more than $70 million in funding since 2015.
These investors include, among others, Armat Group, GoDaddy, OurCrowd, and Mangrove Capital Partners.
We loved their easy to use online dashboard as well and we appreciated that their customer support was always ready to cater to all of our concerns.
Service Features:
The Lite Plan ($49 + State Fee): They offer

LLC formation and standard processing.

The Essential Plan ($199 + State Fee): This plan includes LLC establishment, quick processing, yearly compliance, and an operating contract.
The Elite Plan ($249 + State Fee): Full customization with access to an E-Commerce Store and all social media files. This plan offers identical features to the Essential Plan, plus business-building tools.
Agent Services ($199):

You will be asked whether you need a registered agent, while the price remains the same after renewing.
Pros
Budget-friendly LLC service
Plenty of choices for business formation
Online dashboard is simple to use
Cons
May be too much for startups with basic needs
Weak client support
Sign Up To Tailor Brands
10 - Incorp
With over 250,000 clients served, Incorp is one of the best LLC service providers out there today.
The most extraordinary thing about them is that they'll match rival competitors. That is the reason why their pricing is more adaptable and competitive.
We had to test them out of course, and we were very pleased with the results. Their customer support was very helpful and we managed to stay on top of all of our legal issues.
They have developed a security program that strictly monitors transactions that occur all at once and sends alerts for unauthorized permissions called EntityWatch.
Service Features:
LLC Formation basic ($99 + State Fee):

The pricing is location dependent and begins at $99 plus state fees. They don't offer LLC Formation if you don't opt for Registered Agent as well.

Registered Agent Services ($129):

They offer a multi-year discount to save money. For example, the five-year plan costs $87 annually.
Pros
IOS compatible app
EntityWatch program
Price match guarantee
Cons
Limited online customer feedback
Packages do not include registered agent service
Sign Up To Incorp
Best LLC Formation Services - Choose Your State
If you're looking for the best LLC service to form an LLC, you probably already know that there are a lot of options out there. Many entrepreneurs are overwhelmed by the idea of registering a limited liability company themselves, but also don't want to spend money on an attorney.
If you're looking for a reliable LLC formation service that fits your budget, don't worry!
TOP Picks of LLC Business Formation Services for Every State:
Advantages of the Best LLC Formation
There are numerous advantages of establishing an LLC, which we have experienced ourselves after establishing numerous companies and helping our clients to form their LLCs.
In this article, we will highlight only some of the most important ones for business formation.
1. Limited Personal Liability  
Your personal assets are separated from your company's assets. In the event you encounter legal issues, your assets are protected [1].
2. Hassle-free Paperwork
Most of the best LLC services offer a bundle or package that includes filing documents and voluntary paperwork so your focus can be growing your business.
3. LLC Tax Advantages
Online LLC services can take advantage of "pass-through taxation," in which the business is not required to pay LLC taxes. It will pass through the owner's tax returns and pay personal income tax [2].
4. Flexibility in Management Structure
An LLC may be managed by a member, manager, or member manager.
5. Cost-effective
Forming a Limited Liability Company is relatively easy and inexpensive compared to corporations. It also involves less operational complexity with the formation process.
Our Selection Process
We carefully evaluate and compare the various business formation service options available to identify the most qualified and reputable LLC services.
We also consult with our team members, experienced lawyers, and legal advisors who help us select the best LLC formation services.
We make our recommendation after evaluating the following criteria:
Service Features
Turnaround time
Pricing mode
Online Dashboard
Customer Feedback
In addition, we consider the level of high-quality customer support they offer alongside their business formation service, and whether they can provide our clients with the professional guidance and business formation services they need at every step along the way.
Business Formation Processes
The Secretary of State will require business owners and entrepreneurs to hire a business formation service in some states to form an LLC.
We recommend hiring ZenBusiness LLC to help you form an LLC and save you time and effort with their business formation services.
But in other states, you might be able to complete the business formation process yourself.
So these are the steps you will need to go through:
Step 1: Name your LLC
Step 2: Appoint your registered agent
Step 3: File the Article of Organization / Certificate of Formation
Step 4: Draft an Operating Agreement
Step 5: Acquire an EIN
Step 6: Open a Business Bank Account
Step 7: Get Business Licenses and Permits
FAQs
Why Do I Need an LLC Service?
You need an LLC Service because it protects you from personal liability for the actions of your employees, co-owners, and company members.
You can also set up a structure for your business that allows you to make decisions and divide profits and losses. LLC gives you a taxation option.
Can I Start an LLC in Any State?
Yes, you can start an LLC in any state regardless of location, but in most cases, staying in your native home will be your best bet.
What Type of LLC is Best?
The type of LLC that is the best is the single-member because it is the most economical and straightforward legal entity to register.
It offers an unmatched cost benefit and requires a fraction of the paperwork necessary for other filing types. Single-member LLCs work similarly to sole proprietorships regarding taxes, company transactions, and debts.
An LLC is worthing because it benefits small and medium business owners significantly. These benefits include personal asset protection, legal name and credibility, less paperwork and requirements like annual meetings, tax advantages, and flexibility with profit sharing if the business is a multi-member LLC.
How Much Do LLC Companies Cost?
The cost of utilizing an LLC filing company can range from $0 to a few hundred dollars, depending on the services offered. LLC filing services can help you navigate complex legal documents and help your business comply with state regulations. Most times, the fees charged by LLC filing services are far more cost-effective than hiring a traditional lawyer.
Do I Need a Registered Agent for My LLC?
Yes, your LLC needs a registered agent. You can act as the registered agent for your business if you have a physical address where you are available during traditional business hours. You can also assign a trusted family member or friend. Additionally, many LLC filing companies offer registered agent services to receive documents on your behalf.
What State Is Best to Start an LLC?
The best state to start an LLC is Delaware because it has a reputation for being a friendly-business state with increased business owner protection and fast filing. Wyoming also offers good tax advantages and low filing fees for business owners.
Best LLC Services: Conclusion
After reviewing these companies and comparing their features, pricing, turnaround time, and customer support, we came to the conclusion that ZenBusiness provided the best value for money.
We also had a great first-hand experience with ZenBusiness and can confirm that it is the best LLC formation service. They make the business formation process easy and enjoyable for any business owner.
They offer a level of customer support that no other company comes close to; their website features a high volume of positive reviews, and the service features guarantee worry-free compliance without anything to add any extra cost.
Our #1 Recommendation
Pros
Several formation packages available alongside legal services
Pricing is reasonable
Guaranteed compliance, especially for the Operating Agreement
Business formation is quick
A large number of positive customer ratings
Get the BEST PRICE until the end of March
Cons
Not as well known as other services