Finding the ideal registered agent for your company in South Dakota may take time and energy. You may need to research the best agent in a flooded market, which may be time-consuming.
To make the search easier for you, we've done extensive research and compared all of the leading registered agent services in South Dakota.
We consulted our attorneys and evaluated all alternatives to rank them based on specific criteria.
In the past few years, we've assisted dozens of businesses in South Dakota in finding and working with registered agents that best meet their unique needs.
We were finally able to find the time to compile this list of South Dakota's best-registered agent services, which you may find helpful.
Editor's Choice
Rated by more than 1000+ customers
Northwest
Click To Signup
#2nd Best Choice
Rated by more than 2000+ customers
ZenBusiness
Click To Signup
#3rd Best Choice
Rated by more than 1000+ customers
IncFile
Click To Signup
Top 7 Best Registered Agents in South Dakota (May 2023)
1 - Northwest Registered Agent (Editor's Choice)
Would you recommend Northwest Registered Agent?
Northwest registered agent service offers excellent value for your money.
They do everything from scanning documents, forwarding the papers, and reminding you of other deadlines and filings.
They ensure you don't miss any of it, especially the taxes that must be paid.
We have personally tested the Northwest Registered Agent service packages and can confirm that they have provided us with exceptional quality and dedication.
This is evidenced by numerous good reviews about them available on the Internet.
And although it's not the cheapest registered agent service, Northwest Registered Agent is worth the price because they provide the high-quality services you need.
They offer competent, friendly, and knowledgeable employees and solid confidentiality and privacy security.
Thanks to its streamlined packages and excellent administration, Northwest Registered Agent can supply you with whatever you need to start and sustain your company efficiently, making it the best-registered agent service in South Dakota.
Service Features:
Premium South Dakota Registered Agent Service ($125): This registered agent service package includes 60 days of free phone service, physical address for business, forwarding of mail, privacy by design, and reminders to annual reports. The first year of this service is free if you choose Northwest to form your LLC.
Basic Package ($39+ $150 State Fees): With this plan, you will get all the necessary documentation to form your LLC, including expedited processing speed.
Full Service LLC Formation Package - ($225 + $150 State Fees): Full Service includes same business day filing, free limited mail forwarding, and a space for the additional business upgrade. Next to operating agreement, this package brings a client account packed with forms and tools that are free.
Pros
Values data privacy
Great customer service
20 years and very well-versed in their field
Very transparent charges
Formation packages come with a free year of South Dakota registered agent service
Cons
Not the cheapest option available
Sign Up To Northwest Registered Agent
2 - ZenBusiness Registered Agent
Would you recommend ZenBusiness Registered Agent?
ZenBusiness registered agent focuses on business entity formation services In South Dakota with low-cost plans and high-quality customer support.
ZenBusiness makes legal filings for small business owners easy and affordable.
With $199 per year, you can have a commercial registered agent responsible for scanning and forwarding the documents for you, reminders of your deadlines, and personalized assistance.
Not only did we find their process fast and easy, but they also provided us with the necessary support to ensure we succeeded in our venture.
ZenBusiness registered agent service is one of the most efficient LLC services for any company. Even though there are no free offers, their pricing range can work for anyone on a budget.
The service is simple, and there are several add-on packages from which you can choose to create a strategy that addresses your requirements.
Service Features:
Basic Registered Agent Service ($199): Provides a registered agent service for $199 billed annually.
ZenBusiness Starter Package ($0 + $150 State Fee): This subscription comes with the basic filing speed (2 to 3 weeks) and covers the standard corporate filing service, which covers name availability search capabilities and access to your files via the ZenBusiness site.
ZenBusiness Pro Package ($199 + $150 State Fee): ZenBusiness Pro significantly provides different South Dakota LLC formation services like financial reports, employment ID number generation, faster expedited filling speed (4 to 6 days), and compliance reviews and alerts.
ZenBusiness Premium Package ($299 + $150 State Fee): This LLC formation membership plan comes with the fastest rush filling speed (1-2 days), customizable business website and incorporates the platform's services (plus state filing fees).
Pros
A fair and simple pricing structure
More chat customer service hours
Has earned favorable testimonials from clients
60 days money-back guarantee
Sign Up To ZenBusiness Registered Agent
3 - IncFile Registered Agent
Would you recommend IncFile Registered Agent?
Incfile has garnered a reputation for its budget-friendly offerings, kicking things off with a complimentary basic package (state fees not included) for establishing LLCs, corporations, and nonprofits.
Forming an LLC with IncFile is free and includes a full year of South Dakota Registered Agent Service for the business.
However, if you already have a Limited Liability Company and want to receive only registered agent service, they offer it for $199 annually.
This is precisely the Package we tested, and we got a personalized dashboard of registered commercial agents and a compliance calendar. They also stored and scanned all documents before forwarding them to us.
IncFile registered agent in South Dakota has been in operation for almost twenty years, and its key selling point is its inexpensive costs of various services.
They even provide extras, such as a year of Registered Agent service at no cost and free LLC compliance updates.
Service Features:
Registered Agent Service ($119): Standard registered agent service, charged annually. This is the standard price for every renewal.
Silver Package ($0 + $150 State Fee): Starting an LLC in South Dakota with them can give you a year of free registered agent services with all the features on offer.
Gold Package ($199 + $150 State Fee): Gold Package builds on the Silver Package offer and brings more features. This package includes an EIN, IRS Form, and operating agreement to make business processes straightforward. With lifetime company alerts, you will be up to date on any changes.
Premium Package ($

299

+ $150 State Fee): Premium Package includes Gold Package features and business contract templates, free next day filing, and digital online support. With this package, you will get a domain name and a business email to start building your brand from day one.
Pros
Provides a handy online dashboard
A year of free South Dakota registered agent service in all formation packages
Quick turnaround time
No extra costs
Cons
Only a few support alternatives
Sign Up To IncFile Registered Agent
4 - Harbor Compliance Registered Agent
Harbor Compliance is a well-known LLC creation service provider in the United States. They assist business entities and NGOs in various sectors with their LLC development.
It provides premium services to separate itself from other competitors.
We signed up with Harbor Compliance as our registered agent and were quite pleased with their performance.
They adeptly handled official correspondence between our company and government bodies, making certain that all legal obligations were fulfilled promptly.
Their meticulous approach and commitment to client satisfaction instilled in us a sense of trust in their capabilities to manage our business's compliance requirements proficiently.
Harbor Compliance offers one of the cheapest best registered agent services on the list. For only $99, you can have someone receive your legal documents.
They make it possible for you to receive customizable notifications and annual reports. In addition, they will also offer discounts on multiple orders.
If you want to get the most return on investment, this expert LLC formation firm is a perfect option because it provides tailored help to every one of its customers.
Conversely, Harbor Compliance is costly for a small firm looking to incorporate an LLC.
Registered Agent Service ($89 to $99): This registered agent service package includes a compliant calendar, scanning and preparing documents, same-day forwarding of electronic records, etc. Charged annually.
Formation Package (Starting at $99 +  $150 State Fee): This registered agent service package includes name search, Articles of incorporation, Operating Agreement, EIN, and a year free registered agent.
Pros
An entire year of free registered agent service (if you form an LLC with them)
Provides a savings alternative
Offers prolonged contracts with their registered agent service in certain states
Cons
Fewer services are included in the bundle
No money-return
Sign Up To Harbor Compliance Registered Agent
5 - LegalZoom Registered Agent
LegalZoom is one of the most established registered agent options in the industry, given its wide variety of services.
Although LegalZoom is not the cheapest choice in the industry, they provide clients with proven dependability, availability of products, and excellent customer service.
Their South Dakota registered agents provide compliance calendars and scanning and forward essential documents. In addition, they refund unsatisfied customers. That's why it's worth trying them. It's a win-win.
Drawing from our experience, their Compliance Calendar has proven to be a valuable tool for staying up-to-date with essential compliance deadlines.
LegalZoom meticulously examines and duplicates relevant documents, and as registered agents, they swiftly reached out to us via phone when we were given a court date.
Their keen attention to detail and unwavering dedication to client satisfaction has been genuinely remarkable.
Overall, LegalZoom is a reliable service provider with extensive industry knowledge and tools that could get tasks accomplished for your company.
Service Features:
Registered Agent Services ($299): If you go for LegalZoom to form your LLC you will pay $249 for the first year and $299 for subsequent renewal. This registered agent service package includes email alerts, unlimited cloud storage, a Compliance Calendar, and a $1 M worth of identity theft cover.
Basic LLC Formation Package ($0 + $150 State Fee): The package features a name search, a customizable website powered by Wix, a digital welcome packet, and articles of organization.
Pro LLC Formation Package ($249+ $150 State Fee): This package contains all the features available in the Basic bundle, as well as added benefits like an EIN, thorough guidance on South Dakota licensing, professional recommendations on insurance and taxes, and an operating agreement.
Premium LLC Formation Package ($299 + $150 State Fee): The comprehensive package encompasses all the features of the Pro package alongside customized assistance from an experienced business lawyer. Furthermore, you will receive changes on your LLC formation documentation and infinite 30-minute consultations with an attorney within the initial 90 days of your subscription.
Pros
Provides a variety of legal services
They provide dependable legal documents
Offers one of the most outstanding return policies in the industry
Cons
Costly
Limited registered agent service options
Sign Up To LegalZoom Registered Agent
6 - Swyft Filings Registered Agent
Knowledgeable attorneys formed Swyft Filings to make it simpler for startups and business entity owners to form their firms.
Swyft Filings makes the whole process of establishing your firm more manageable. In addition, they provide LLC dissolution in South Dakota, corporate kits, LLC kits, and fast processing.
Their slick approach and easy-to-use platform turned our formation process into a breeze, sparing us precious time and keeping those stress levels at bay.
Swyft filings offer low-cost services. But a registered agent is an exception. Regardless of that, their service delivers!
Just like LegalZoom, they also give a 100% refund if you're unsatisfied with their service.
Swyft Filings may have some dissatisfied customers since they seem less transparent about payments. However, most of their customers have positive experiences.
Registered Agent Service ($99):

This registered agent service package is inclusive of registered agent service plus an online dashboard and compliance reminders. For this service, you will pay an ongoing quarterly subscription

of $99.
Basic Package ($0 + $150 State Fee): Basic Package offers everything that you need to form your LLC, including filing the articles to form an LLC. 
Standard Package ($199 + $150 State Fee): For those who want the basic features with an EIN, Standard Package is the go-to option. This plan offers the majority of documents that you need to start your business, including banking resolution. 
Premium Package ($299 + $150 State Fee): Premium Package includes all basic and standard services and extra features, such as business website hosting. There is a customized digital corporate kit and a free domain. As for the delivery options, the Premium plan offers FedEx delivery with a tracking number.
Pros
Full money return
Excellent client service
Free tax consultation
Cons
Registered agent service not included in LLC formation
Excessive add-ons
Sign Up To Swyft Filings Registered Agent
7 - South Dakota Registered Agent
South Dakota also has a local registered agent service that you can use for a very affordable price.
The registered agent service only focuses on businesses in South Dakota, so you can bet that they know your state's requirements, papers, and rules.
They have a physical address to receive the documents on your behalf.
We put them to the test and their registered commercial agents quickly scanned, prepared, and forwarded our documents and even reminded us of the deadlines that we had to comply with.
We'd highly recommend them if you're looking for a solid registered agent service in South Dakota.
Registered agent service ($49):

This registered agent service package includes an account to log into their portal, where you can access all posted documents. Also provides Compliance reminders.
Pros
Affordable services
Efficient and reliable
Compliance assurance services
Cons
Extra services cost additional fees
Doesn't offer any free or discounts
Advantages Of Working With the Best Registered Agent Service In South Dakota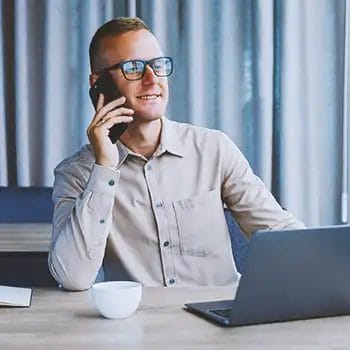 There are many benefits to hiring the best registered agent service for your South Dakota business.
1. Frees Your Time
For one, you can get more freedom. Having an LLC requires a lot of communication and interactions with the state. You also need to be mindful of any deadlines and taxes to be paid.
South Dakota registered agents' presence throughout regular business hours guarantees that critical paperwork, notifications, and documentation are received systematically.
2. Ensure Privacy
Another reason why getting a South Dakota registered agent is worthwhile is that it can provide you with more privacy. You need a registered agent if you don't want your contact information or physical address to be made public.
Instead of your contact information and address, the commercial registered agents' contact information and address can be made public. They can also receive any documents or packages on your behalf.
3. Comes with Peace of Mind
This should be helpful if you want to avoid receiving service of process notices at your residence.
Having a South Dakota-registered agent can give you peace of mind. This helps you stay in compliance, which can prevent state penalties and keep your business entity in good standing.
4. Solution to Business Risks
Lastly, a South Dakota registered agent service can assist you with any issues with your company entity.
The team of experienced professionals can answer any questions and help you navigate the complexities of managing your business.
You can rest assured that all your company needs can be taken care of adequately.
How Much Does Your Own Registered Agent Service Cost in South Dakota?
Good registered agent services in South Dakota typically cost between $99 and $349 annually. Some moderately priced registered agent services cost between $49 and $80.
Select the best option that suits your needs. Although your choice may cost you a few extra dollars, it should save you money, time, and energy in the long run.
See more about the full cost of forming an LLC in South Dakota.
What Are the Requirements for a South Dakota Registered Agent?
South Dakota has some pretty relaxed standards when it comes to registered agents.
If you're looking for someone to serve in that capacity, a company or individual may be able to help as long as they meet the following requirements:
They should be able to receive critical state and legal documentation within regular business hours.
If the registered agent is an individual, the individual's name and physical address are necessary.
The registered agent must be above 18 years old.
The address of the South Dakota registered agent should be an actual street address. PO mailboxes are not permitted.
A South Dakota registered agent should physically live in the company's state or have a virtual office.
If the agent is a corporation, it has to be in good standing and registered in the state.
FAQs
Can I Be My Own Registered Agent in South Dakota?
Yes, you can act as your registered agent in South Dakota, provided you meet the necessary stipulations laid out in South Dakota's legal guidelines.
What Does South Dakota Law Say About Commercial Registered Agents?
As per South Dakota Law, all formal corporations in South Dakota are mandated to have a Registered Agent. They obtain relevant documentation from the State of South Dakota and any service or procedure that may be issued to a firm in litigation.
BEST Registered Agent In South Dakota Is...
The list we've compiled constitutes Registered Agents with unmatched services. Our research shows Northwest Registered Agent stands out as the state's leading registered agent service provider.
We tried Northwest Registered Agent and were pleased with their helpful resources that came in handy when managing our business.
They made it easier for us to monitor payment deadlines and secured important data.
Northwest Registered Agent service has a team of professionals that will provide personalized assistance and valuable insights to help you with your LLC needs. Plus, their services will save you time and money, so you can focus on growing your business.
Our #1 Recommendation
Northwest Registered Agent
Pros
Values data privacy
Great customer service
20 years and very well-versed in their field
Very transparent charges
Formation packages come with a free year of South Dakota registered agent service
Get the BEST PRICE until the end of May
Cons
Not the cheapest option available