Direct Incorporation Review (2023) Is It a Legit Company?
The formation of an LLC should be handled by a professional formation service like Direct Incorporation.
To provide a thorough review of this LLC service, I solicited expert help from a team of certified business experts who've been in the industry for over a decade.
We tested this Michigan-based service to determine if the service is a good fit for your startup company.
What Is Direct Incorporation?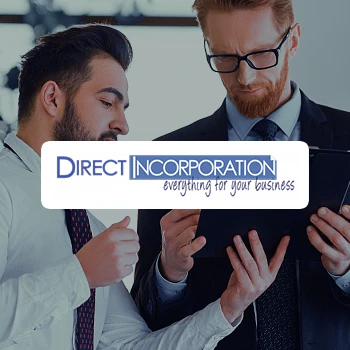 Direct Incorporation is an online service launched in 2003 in Ann Arbor, Michigan.
Apart from processing legal papers, this LLC service also offers the LLC formation process, filing corporate paperwork, and domain licensing in its different packages.
Since its launch, the company has created over 80,000 enterprises in the US.
Service Features and Prices
Here's a breakdown of the LLC formation packages offered by the Direct Incorporation service.
Standard Package ($174 + state fees): Includes a

federal income tax ID number, annual report, and a 3-week trial membership to the Executive Club.

Premier Package ($279 + state fees):

You get features from the standard package plus an LLC kit, corporate suite, and an operating agreement.

Venture Package ($699 + state fees):

Includes features from the elite bundle plus trademark security, a custom business logo, a 12-month subscription to the Executive Club, and a DBA name.
Our #1 Recommendation
Direct Incorporation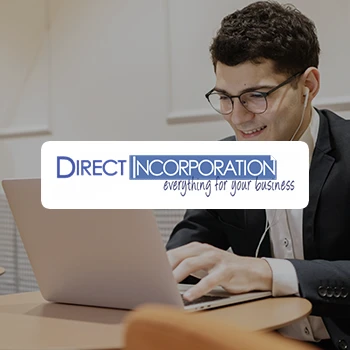 Pros
Intuitive ordering process
Offer exclusive features
Quick phone customer response
Continuous business compliance program
Get the BEST PRICE until the end of November
Cons
Free registered agent service is offered for 6 months only
This service is pricey
Additional Services
These are the additional services Direct Incorporation offers:
C-Corp starts at $174 + state fees

S-Corp starts at $174 + state fees

DBA Filing Service $89 + state fees

$9.95/month

Startup Tax Program $59/month

Annual Report $97

Trademark Protection Service $295

Websites & Domain Registration $13.95/month per site

Dissolution Service $132 + state

Executive Club $13.99/month

Foreign Entity Qualifications $199 [

1

]
Benefits
Here are the benefits of using Direct Incorporation service to form an LLC.
1. Good Customer Support
I personally reached out to various formation companies as part of my role as a business consultant, and I infer that Direct Incorporation offers great customer service through email and phone.
The customer support of the company delivered prompt and exceptional service, and the staff was knowledgeable on all aspects of business formation.
2. User Friendly
Utilizing Direct Incorporation's platform is simple. I found out that before creating an account, the webpage will display a comparison of each LLC package and the costs.
The image below shows the pricing range of the company's offered services, which I found transparent and helpful. On the official site, you can scroll down to view the full list.
Depending on your situation, the company says it can create an LLC in about 10 minutes.
3. Long-term Maintenance
A long engagement is the primary goal of Direct Incorporation's services.
In my experience, I subscribed to the Elite package Business Compliance Program.
This stand-alone service gave me continuous access to stock scanners, IRS filing notices, operating agreements, license renewal notifications, and essential details about our LLC's standing with the state.
4. Complimentary EIN Registration
A federal tax ID number, or an EIN, is included in their LLC formation packages.
Thanks to this, you can do many things, like create checking and/or savings accounts for your company, recruit staff, and submit business taxes [2].
Unlike Direct Incorporation, most LLC formation services we've tried offer this feature as a separate add-on.
5. Efficient E-commerce Plan
We found their e-commerce features quite valuable. It comes with a cart for your site, a vendor account that enables you to take credit payments in your online marketplace, and individualized assistance on running and managing everything.
6. Comprehensive Trademark Search
When launching one of my LLCs, I sought legal advice from Direct Incorporation and the company provided the services of a qualified trademark attorney that efficiently handled the search and registration process.
7. Convenient Dissolution Services
Direct Incorporation will finish and submit your paperwork for dissolution, dissolving your company and relieving you of duty for continuing maintenance obligations
Downsides of Direct Incorporation Service
One of the major downsides to this LLC formation service is its high pricing structure. For starters, there are no free packages and services.
Plus, the most affordable choice is as expensive as some mid-tier deals from competing LCC firms.
Also, their registered agent service runs free for six months only.
Who Should Hire Direct Incorporation Service?
Any entrepreneur or LLC owner looking for a comprehensive compliance filing at a premium price should hire Direct Incorporation service.
This LLC service is also a good fit if you're looking for a Venture bundle that offers rich features like trademark protection, logo design, and pro website services.
Other User Testimonials
"I've worked with Direct Incorporation service for over 6 years, and their service team is always professional, prompt, and thorough when handling my compliance."
- Max, Colorado 
"On my first trial, purchasing their plan was easy. I also called one of their support members, and he promptly responded and guided me through the order filing process."
- Dave, Texas 
"I didn't appreciate the slow turnaround times. After purchasing their venture package, I waited for three months to get my LLC paperwork filed."
- Beth, Arizona 
"I really enjoyed my registration and filing experience with Direct Incorporation, but I feel like their pricing is way higher compared to other LLCs in the market."
- Phoebe, Massachusetts 
Comparison To Other Services
Here's how Direct Incorporation service compares to other top LLC formation services in the industry.
1. ZenBusiness
ZenBusiness is a big name in the LLC sector. In terms of pricing, ZenBusiness offers fair prices as opposed to Direct Incorporation service.
The lower plan for ZenBusiness goes for $0, while Direct Incorporation charges $174. Hence we recommend hiring ZenBusiness if you're tight budget-wise.
LLC creation packages of Direct Incorporation compare well with ZenBusiness.
For starters, ZenBusiness does not provide registered agent service; if purchased separately, this service costs $99 for the first year and $199/yr afterward.
On the other hand, Incorporation includes six months of registered agent service at no additional cost. However, they charge $159 per year for continued service after that period.
2. Northwest Registered Agent
Northwest Registered Agent is relatively affordable; for $39, it offers 12 months of registered agent service, which is a huge plus.
Unfortunately, Northwest Registered Agent lacks popular services like domain registration and website design, even in its premium versions, so if you want internet integration, we recommend using the Direct Incorporation service.
Regarding customer support, both companies offer excellent and qualified customer care.
3. Incfile
Similar to Direct Incorporation, IncFile operates swiftly and provides paperwork to the state in a single day.
In my experience, the staff members of these companies are kind, knowledgeable, and helpful.
Also, as far as turnaround time is concerned, both IncFile and Direct Incorporation offer relatively close delivery times.
IncFile has a 1-day 8-week turnaround depending on your state, while Direct Incorporation offers 2 days to 12 weeks.
Related Articles:
FAQs
Is Direct Incorporation Legitimate?
Yes, Direct Incorporation is legitimate. This online LLC formation service has been in business since 2003 and has worked with more than 80,000 clients nationwide.
Does Direct Incorporation Offer A Free Registered Agent?
Yes, Direct Incorporation offers a free registered agent but only for 6 months. After that period, the service auto-renews for $159 per year.
Does Direct Incorporation Offer Ongoing Support?
Yes, Direct Incorporation offers ongoing support to all its customers. Their primary focus is to provide long-term maintenance, especially through their Business Compliance Program.
Our Verdict on Direct Incorporation
After personally exploring Direct Incorporation's services, their comprehensive offerings are commendable. However, a sticking point for me was the pricing as their packages come at a premium.
If you're looking for a more budget-friendly option with a robust set of features, ZenBusiness might be your go-to.
They offer a free basic plan, inclusive of worry-free compliance for a whole year, and their customer service is top-notch.
In my experience, for those starting out and wanting value for money, ZenBusiness seems to have the edge with its first-rate customer care, shorter turnarounds, and affordable prices.
Our #1 Recommendation
ZenBusiness
Pros
Wide variety of LLC creation packages
Their formation process is swift
Budget-friendly plans
Stress-free compliance filing
Superb customer feedback
Get the BEST PRICE until the end of November
Cons
Non-profit business formation is unavailable