If you're a business owner, you need to hire an LLC service provider who offers comprehensive services without breaking the bank.
A reliable LLC service will ensure your formation and filing process with the Secretary of State is completed without difficulties.
We teamed up with our legal advisors to help you hire a well-grounded LLC service and reviewed all available options across the LLC services industry.
Here are the eleven cheapest business formation services that offer the most value for money to small business owners.
Editor's Choice
Rated by more than 2000+ customers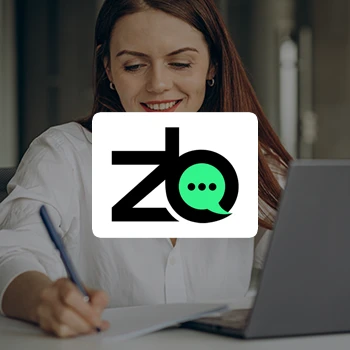 ZenBusiness
Click To Signup
81% of visitors chose this
#2nd Best Choice
Rated by more than 1000+ customers
Northwest Registered Agent
Click To Signup
#3rd Best Choice
Rated by more than 1000+ customers
IncFile
Click To Signup
11 Cheapest Business Formation Services (October 2023)
1 - ZenBusiness (Editor's Choice)
Would you recommend ZenBusiness?
ZenBusiness is an online LLC formation service that, despite its freshness in the industry, is outperforming its competitors with its free LLC formation and other low-cost packages.
You may form a limited liability company (LLC) or corporation with one of their three plans, each of which includes a free yearly report service to ensure your business entity doesn't miss any reporting deadlines.
When we subscribed to ZenBusiness, we gained access to elements not generally included in the offerings of other LLC providers.
As the best LLC service, it offers free invoicing software, an operating agreement template, and a slew of other products that helped us go beyond just forming an LLC.
Service Features: 
Starter ($0 + state fee) : This best LLC service will submit your LLC formation paperwork for $0 each year plus state filing costs. You'll also experience the convenience of standard filing speed (2 to 3 weeks), a 100% accuracy guarantee, and a worry-free compliance option for the first year (renewable at $199/year). Additionally, enjoy a 1-month free trial of Banking, Bank Account, Money Pro Bookkeeping, and Website Builder, followed by affordable monthly rates. 
Pro ($199 + state fee) : You'll get accelerated filing speed (1-2 business days on average) for your company and the preparation, operating agreement guide ($99) and submission of EIN documentation so that you may acquire your tax ID number promptly. The package also has all Starter plan services. 
Premium ($349 + state fee) : This pack provides everything included in the two lower-priced options, as well as a business entity domain, webpage, email, hosting, and business document templates.
Pros
An array of best LLC formation services
Affordable plans
Smooth filing process
Outstanding ratings
Faster LLC creation
Cons
The brand power isn't strong
Sign Up To ZenBusiness
2 - Northwest Registered Agent
Would you recommend Northwest Registered Agent?
Northwest Registered Agent primarily provides registered agent services and assists with business creation.
It also focuses on offering excellent customer service from representatives in the United States and guarantees never to share your information.
Northwest Registered Agent is a decent value if you only need the basics. To begin, the business charges $39 to form an LLC, and you are liable for paying any state fees that apply.
They also offer a monthly installments payment plan which is ideal if you're tight on cash.
When working with them, we were pleasantly surprised to see Northwest agents scan up to 5 legal documents for free on our behalf.
This is a great perk considering other services charge for document scanning and forwarding.
Service Features:
Formation Plan ($39 + state fees) : Northwest Registered Agent forms your LLC at this standard price plus the respective state filing fees. It does include a FREE year of registered agent.
Full Service LLC Formation Plan ($225 + state fees) : This plan features 24-hour business filing, a full year of registered agent service, free limited mail forwarding, an operating agreement, and a client account loaded with free forms and tools.
Pros
Decade long expertise
Free registered agent services
Solid user privacy
Cons
On the upper side of cheaper LLC services
Lots of add-ons
Sign Up To Northwest Registered Agent
3 - IncFile
Would you recommend IncFile?
Incfile is an online legal paper drafting and filing service. It addresses limited liability company paperwork and makes it simple to establish a business organization and manage the other requirements swiftly.
In our experience, choosing the business to file, picking a plan, and entering our order information was simple.
As a cheap service, every plan includes infinite name inquiries, a free registered agent for a year, and article creation and submission.
Furthermore, it provides good customer support and an exceptional price; the Silver plan is free; you only pay your state filing cost. With these advantages, entrepreneurs may easily manage all aspects of business creation.
In addition to commercial services, Incfile provides many free resources and services for entrepreneurs, such as a DIY emailing course, a limited company quiz, a how-to-establish business manual, and a company operating checklist.
Service Features:
Silver ($0 + state fee) : Has access to live phone and email support, unlimited name searches and verifications, plus a free registered agent.
Gold ($199 + state fee) : Offers everything in the silver package plus EIN registration.
Platinum ($299 + state fee) : Offers everything in the lower tiers, unlimited support, and expedited shipping.
Pros
Fits every budget
The formation plan has free registered agent services
Worked with over 800,000 firms
Responsive email and phone helpdesk
Sign Up To IncFile
4 - Swyft Filings
Swyft Filings is a low-cost LLC creation service that includes everything you want from a business formation service.
It provides compliance alerts, tailored company kits, an operating agreement, tax identity registration, and other tools to assist you in getting your business up and operating quickly.
Swyft Filings also collaborates with a regional accounting company to provide you with one hour of free consulting on business tax regulations and the administration of commercial bank accounts.
We recommend it for startups or small enterprises who want to form an LLC at a minimal cost.
Service Features:
Basic Package ($0 + state fees) : Includes everything you need to start a business. Swyft Filings assists customers with name eligibility verification and the creation and filing of articles of incorporation.
Standard Package ($199 + state fees) : You will receive personalized banking resolution and institutional minutes. Swyft Filings may also assist you in obtaining your TIN or EIN.
Premium Package ($299 + state fee) : The plan features everything from their basic and standard package. It also includes free domain and business website hosting, a customized digital corporate kit, and the FedEx delivery of your approved articles with a tracking number.
Pros
You can pay in installments
The pricing structure is flexible
Free tax consultation from experts
Cons
No free statutory agent
There are upsells
Sign Up To Swyft Filings
5 - Inc Authority
Would you recommend Inc Authority?
We reviewed Inc Authority and found that it distinguishes itself from many of its rivals by providing a variety of its most basic services for free.
This free LLC service offers to compile, submit, and preserve the documentation required for an LLC to get started and supply a registered agent for the first year of operation.
Returning clients may quickly check in on legal services and access resources through Inc Authority's online client portal. Customer support resources are available for all Inc Authority clients, even free ones.
This LLC filing service also provides free helpful information on the business formation process, minor business legal concerns, and other areas of business ownership.
Service Features:
Starter Package ($0 + state fee) : This free LLC formation service offers essential LLC features like business name verification, free registered agent service, articles of organization, digital document storage, and delivery, among other benefits.
Pros
Free filing for new LLC
Top online ratings
Superb track record
Offer expedited delivery
Sign Up To Inc Authority
6 - Rocket Lawyer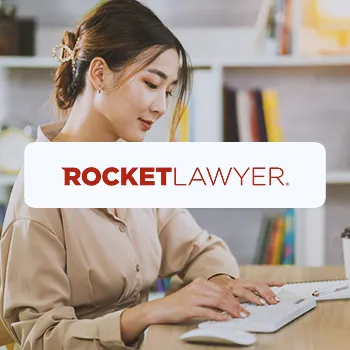 Rocket Lawyer is an online legal aid platform that provides a variety of services, such as business formation services, access to legal documents, and expert assistance from lawyers.
Although Rocket Lawyer's business strategy is similar to some of its rivals, it distinguishes itself by providing free LLC business creation to individuals who pay a monthly subscription fee.
Also, all new members get a 25% discount on their purchases.
Rocket Lawyer had most of the services we needed to create a business, and we tried several of them for free with a seven-day free trial.
You will only be charged $39.99 per month for unlimited access if you wish to renew your subscription.
Service Features:
Premium Subscription ($39.99) : Premium members in this plan get free LLC creation, customer support, online legal services, tax consultations, and free legal documents like an operating agreement. If you don't opt for membership, you can expect to pay $99.99 + state fee.
Pros
Members receive a free LLC.
Subscribers get access to corporate lawyers.
Members receive discounts on a variety of legal services.
Cons
Auto charge to bank card
Does not directly deal with LLC formation
Sign Up To Rocket Lawyer
7 - Tailor Brands
TailorBrands is continually expanding while providing various automated services such as limited liability company creation, logo generation, social media management, and brand design.
TailorBrands is the type of company you want, whether you operate a small or medium-sized business, are a startup, or have a limited budget.
Because it focuses on small businesses, its LLC service rates are relatively inexpensive while delivering excellent services to aid with the legality of your organization.
Service Features:
Lite Package ($49 + state fees) : Basic plan with AI business tools. This plan features LLC formation and standard processing.
Essential Package ($199 + state fees) : Provides a single package for several fundamental LLC formation services. This LLC filing company also offers affordable add-ons such as accelerated filing and an operating agreement.
All-in-one Elite ($249 + state fees) : Includes everything in the lower plans plus logo maker and marketing graphics.
Pros
Excellent, individualized client support
No-hassle creation of an LLC
Many positive customer reviews
Cons
The entry-level product has no business domain
Auto bills unexpectedly
Sign Up To Tailor Brands
8 - MyCompanyWorks
MyCompanyWorks is a reputable online LLC creation service based on its low pricing, high customer satisfaction ratings, and long presence in the industry since 2001.
Whether you choose the entry-level, mid-level, or comprehensive LLC plan, your order will be fulfilled the very same business day. When compared to many other businesses, this is an excellent price.
MyCompanyWorks guarantee a 100% satisfaction level or a refund.
You must provide a written (email) complete refund request within 90 days of the purchase date, return any given paperwork, and indicate the reason for the return [1].
Service Features:
Basic package ($59 + state fee) : This includes tailored corporate minutes, an unlimited number of name availability checks, and the creation and filing of state articles of incorporation.
Entrepreneur LLC package ($179 + state fee) : The entrepreneur package contains, in addition to everything in the preceding package, a Federal tax ID, a document seal, an LLC kit, and a lifelong tax manual.
Complete Package ($259 +state fee) : The plan features everything from the lower tiers, plus it includes premium features, such as Initial and Annual Report Filing Service, ComplianceLock™ Alert, Automatic Minutes and Resolutions, Business Entity Monitoring, E-Ledger, E-Certificates, 5 GB Cloud Storage, and Priority Support.
Pros
Outstanding client service
Layouts and worksheets are beneficial.
Prices that are reasonable and competitive
Cons
Paperwork may take longer than anticipated
The online tracking form is difficult to locate
Sign Up To MyCompanyWorks
9 - LegalZoom
LegalZoom is a digital legal service company that provides a comprehensive solution for all your regulatory obligations.
LegalZoom is an excellent alternative for forming an LLC and offers legal assistance in other areas of your life, such as personal, family, and copyrighted material.
LegalZoom has low-cost pricing options with the flexibility to tack on other services.
LegalZoom believes that every corporation deserves comprehensive legal protection and provides an impartial team of lawyers to supply you with the appropriate assistance.
Additionally, businesses have access to continuing legal assessments and consultations with attorneys by paying a reasonable set fee of $249 for professional business legal services.
Another good news is that most LLC orders may be divided into three monthly payments based on your entire amount.
Service Features:
Basic ($0 + state fee) : This plan comes with name verification service, article of organizations, customizable website (by WIX), and starters digital package.
Pro ($249 + state fee) : The plan features everything in the basic package, plus an operating agreement, comprehensive business licenses guide, EIN, and prioritized phone business consultation with a professional.
Premium ($299 + state fee) : The plan includes everything from the lower tiers. It also includes a 30-minutes unlimited consultations with an attorney, interactive legal business guides from an experienced attorney with a single entity amendment within the initial 90 days of subscription.
Pros
Cheap continuing legal assistance
Some LLC bundles incorporate VIP handling
Exceptional client service
Cons
Slow procedure for forming an LLC in lower tiers
Several upsells
Sign Up To LegalZoom
10 - Harbor Compliance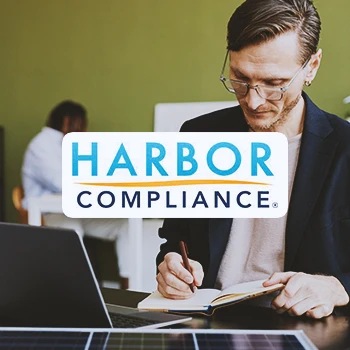 Harbor Compliance is a regulatory firm that provides cheap registered agent services in all 50 states.
LLC creation, overseas qualifying, company licensing, yearly report maintenance, and licensing and corporate administration software are also a part of their corporate solutions.
Businesses may utilize Harbor Compliance to preserve compliance and govern every stage of the company life cycle for as little as $99 per year. They also provide punctual services, such as a proactive contact center network.
Harbor Compliance provides a discounted option and prolonged agreements with their registered agent service in certain states.
Their free demo version also allows entrepreneurs to try the software to ensure it matches their organization.
Service Features:
Formation Package (starts at $99 + state fee) : You may use this plan to verify the availability of business names in your state, prepare the documents of incorporation for the LLC, and offer a preliminary operating agreement.
Pros
One-on-one support
Timely services
Great discounts
Cons
No refund policy
Fees are paid upfront
Sign Up To Harbor Compliance
11 - Incorp
Incorp is one of the most outstanding LLC services to use if you're starting a business on a tight budget yet want all the necessary features.
They provide fantastic discounts for bulk orders if you include a registered agent service.
One of the lowest prices in the sector is offered to customers who prepay for 5 years or more and receive a registered agent for just $66 annually.
This LLC formation service takes appropriate measures to protect its customers, guarding its website using GeoTrust, which verifies the legitimacy of websites, and McAfee SECURE, which checks for viruses and encrypts your personal information.
Service Features:
Standard Plan ($99) : Basic LLC formation services are included, with various add-on capabilities offered on an a la carte arrangement. This fee only covers the fundamentals, such as a company name availability check and drafting and filing your incorporation articles. The company does not offer formation services unless you opt for their registered agent service at $129.
Pros
More than 100,000 clients
A+ online rating
Competitive pricing
Cons
Limited formation package
Slow filing process
Sign Up To Incorp
Benefits of Forming an LLC
The hybrid nature of an LLC, which combines a partnership's adaptability with a corporation's wealth security, makes it unique. Here are five main benefits of forming an LLC in any state.
1. Limited Liability
Because an LLC is a distinct entity, the company's executives have limited risk. The personal wealth of LLC members cannot be utilized to fulfill the LLC's obligations and debts due to limited liability [2].
2. Flexible Management
The flexibility of the LLC is one of its distinct advantages. The members of the LLC have various alternatives for the management structure.
According to state law, the members have ownership over the LLC's company; therefore, they can pick anybody they choose to manage the LLC.
3. Flexible Profit-sharing Structure
Profits can be distributed to LLC owners in various ways; they are not obligated to do so evenly or follow ownership stakes.
For instance, two individuals with equal interests in an LLC could also agree that one of them will get bigger earnings cut because they put in more money or effort when the company started.
4. Pass-Through Taxation
An LLC is a tax entity that operates on a "pass-through" basis [3]. The LLC's profits and losses are passed on to the members. Members declare their proportionate part of these tax items on their income taxes and are taxed at the personal income tax rate.
5. Easy Formation
LLCs are relatively simple to establish compared to C corps and S corps. An attorney shouldn't be necessary for you to create an LLC on your own.
Any LLC formation service provider from our list can help you if you don't feel confident handling the procedure and would like a professional's assistance.
Just choose the one that best suits your business.
Read our article for more information on cheapest way to form an LLC.
LLC Formation Process
If you wish to register an LLC in any state, here are seven simple steps to take:
Step 1: Give your Limited Liability Company a name.
Step 2: Locate a registered agent.
Step 3: Submit a state Certificate of Formation.
Step 4: Create your state LLC Operating Agreement
Step 5: Obtain your Employer Identification Number (EIN)
Step 6: Choose the structure of your LLC
Step 7: Submit your LLC's yearly report.
Our Selection Process
To ensure we recommend the cheapest and feature-rich LLC services, we followed a step-by-step selection process that considers each LLC service provider's customer service, pricing, turnaround, and service features.
Here's how.
1. Customer Service
A rapid response team is required to help consumers through the complex process of incorporating and administering an LLC.
We contacted multiple customer service representatives through phone, email, and their chat function dashboard.
Then we looked at how promptly and comprehensively customer service answered our inquiries.
2. Turnaround
Regarding turnaround, we placed orders on different LLC formation services to see how fast our orders were filed. We ranked the cheapest LLC services with a short turnover time, preferably 1-5 business days. We also prioritized the ones that offer expedited shipping.
3. Service Features
In terms of service features, we chose an LLC service provider that provides more functionality, particularly in lower-tier packages.
We picked the bundle that comprised, among other things, important LLC formation, certificate of incorporation, and EIN activation.
To begin operations in any state, each new firm must have these essential services.
4. Pricing
The pricing models for the different LLC formation services vary greatly based on the features offered in each package.
In this section, we subscribed to the top 20 cheapest LLC services to determine if the plans matched the value clients received for their money.
FAQs
Where Is the Cheapest Place to Set Up an LLC?
The cheapest place to set up an LLC is Iowa state which charges only $50 for the whole filing process.
Can I Use an LLC For My Small Business?
Yes, you can use an LLC for your small business to stay compliant and get more credibility from the state.
What Is the Cheapest LLC Service Option for You?
Since there are now so many inexpensive LLC formation services available, it might be challenging to determine which offers the most incredible value.
Following our evaluation of 11 LLC formation services, ZenBusiness stands out as the most affordable and effective LLC formation service.
In our experience, they offered us all that we needed to start our business venture for $0, plus they added a year of registered agent service.
ZenBusiness offers rush filing, business domain, guided LLC operating management, and order tracking as a one-stop shop for all your LLC needs.
Our #1 Recommendation
Pros
An array of best LLC formation services
Affordable plans
Smooth filing process
Outstanding ratings
Faster LLC creation
Get the BEST PRICE until the end of October
Cons
The brand power isn't strong