4 Best Registered Agent Services in Maryland to Try in 2023
Selecting the right registered agent is a pivotal decision for any Maryland business, ensuring compliance and smooth operation.
As an experienced business consultant, I understand Maryland registered agents' critical role in maintaining your company's compliance.
Drawing upon my extensive consultations with legal advisors and registered agent specialists, I've evaluated and personally tested Maryland's top registered agent services.
In this article, we'll explore the top four registered agents in Maryland, meticulously ranked based on their pricing, service quality, customer support, and a range of other critical factors.
Editor's Choice
Rated by more than 1000+ customers
Northwest
Click To Signup
79% of visitors chose this
#2nd Best Choice
Rated by more than 2000+ customers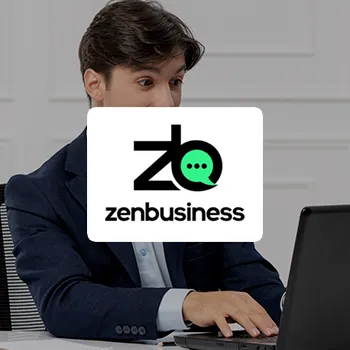 ZenBusiness
Click To Signup
#3rd Best Choice
Rated by more than 1000+ customers
IncFile
Click To Signup
Top 4 Registered Agent Services in Maryland (November 2023)
1 - Northwest Registered Agent
(Best Overall)
Would you recommend Northwest Registered Agent (Best Overall)?
Northwest Registered Agent is the best overall choice for Maryland LLCs, offering expertise, efficiency, and comprehensive services. With over 20 years in the industry, they have established themselves as a reliable partner for businesses seeking registered agent services.
My experience with Northwest RA was very satisfactory. Their online platform impressed me with its user-friendly interface and clear instructions, making the process of forming an LLC in Maryland straightforward and hassle-free.
Their team quickly responded with knowledgeable and helpful answers whenever I had questions. The strong privacy measures they have in place to protect sensitive business information gave us an added sense of security and trust in their services.
Northwest Registered Agent excels in safeguarding private information and protecting your business's sensitive data from unauthorized access. Their top-notch customer service provides excellent support and guidance throughout the LLC formation process.
Choosing Northwest Registered Agent for your Maryland LLC means partnering with a service embodying excellence in registered agent services.
Service Features:
Registered Agent Services ($125): The first year of registered agent service is free if you form your LLC with Northwest. It will cost $5,200 to register in all 52 jurisdictions.
Basic LLC Formation Plan ($39 + $197 State Fee): You can start your Maryland LLC with Northwest for $39 and also receive articles of incorporation. This bundle also includes an operational agreement, a one-year free registered agent service, and standard and accelerated processing rates.
Full Service LLC Formation Plan ($225 + $197 State Fee): This bundle includes registered agent service for a full year, same-day filing, and an operating agreement. There is also an option for a client account with free forms and services.
Pros
Safeguarding private information
Customer service is excellent
20+ years of expertise
No hidden fees
A free one-year Maryland resident agent services in their formation package
Sign Up To Northwest Registered Agent
2 - ZenBusiness
(Best Essentials)
Would you recommend ZenBusiness (Best Essentials)?
ZenBusiness comes second on my list as a leading provider of registered agent services, epitomizing the the best essential features for businesses aiming for compliance and efficiency.
Their commitment to excellent customer service and competitive pricing sets a high standard in the industry.
My experience with ZenBusiness was marked by their exceptional customer service and a transparent pricing model that resonated with our needs. The standout feature for me was the flexibility in their service offerings.
I appreciated the option to access specific services without the need for an annual membership, and the discount offered was a welcome bonus.
Their user-centric website interface made the filing process not just efficient but remarkably quick, allowing me to complete our requirements in under 20 minutes.
ZenBusiness's approach to registered agent services in Maryland is tailored to ensure compliance with state regulations without overwhelming the client. Their transparent pricing is a significant advantage, especially for businesses looking for standalone services.
The ease of use of their platform, combined with the speed and efficiency of their service, makes them an ideal choice for anyone looking to form an LLC in Maryland.
Overall, I highly recommend ZenBusiness to anyone looking to form an LLC in Maryland.
Registered Agent Service ($199): Their registered agent service costs $199 each year to renew.
Starter LLC Formation Package ($0 + $155 State Fee): This membership covers the standard corporation filing service, as well as a name availability search. This product typically has a Maryland LLC filing time of 2 to 3 weeks. Additionally, you receive guaranteed 100% accuracy, Banking and Bank Account services, Money Pro Bookkeeping, and Website Builder. You can also opt for worry-free compliance free for the first year, with the option to renew at $199/year for those who choose it.
Pro LLC Formation Package ($199 + $155 State Fee): This package contains additional LLC formation services, such as a quick filling speed of 1-2 business days, an operating agreement guide at $99, and an Employer Identification Number. You'll also get all the Starter package services.
Premium LLC Formation Package ($349 + $155 State Fee): This package covers the Pro package services and business document templates. You will also receive a customized company website, domain name and privacy, and email address.
Pros
Affordable and transparent pricing
Great chat support
Many positive client reviews online
60 days money-back assurance
Sign Up To ZenBusiness
3 - IncFile
(Most Affordable)
Would you recommend IncFile (Most Affordable)?
IncFile is the most affordable and efficient choice for startups and established businesses. It offers the essential services required of a registered agent to keep your LLC compliant and out of legal trouble in Maryland.
My experience with IncFile was marked by their exceptional customer service and the ease of use of their online dashboard.
They provided my LLC with a Maryland address, efficiently handling mail and service of process on my behalf. This level of service and affordability made IncFile an invaluable asset to the business operations.
IncFile's standout feature is its cost-effectiveness, providing essential registered agent services at a competitive price.
Their initial offering includes a free registered agent service for the first year when you appoint IncFile to form your business, followed by a reasonable annual subscription.
Apart from being the most affordable option, IncFile is punctual in filing legal paperwork, ensuring your business stays compliant without any hassle.
IncFile represents the most affordable and reliable choice for registered agent services in Maryland.
Service Features:
Registered Agent Services ($119): Perfect for startups as it offers you a free registered agent service in the first year if you appoint IncFile to form the business for you. After that, a $119 yearly subscription.
Free Silver LLC Formation Package ($0 + $197 State Fee): You will receive a year of free registered agent service, preparation and filing of Articles of Organization, and unlimited name searches.
IncFile Gold LLC Formation Package ($199 + $197 State Fee): The silver package is already included. In addition, the user gets an EIN business tax number, IRS Form 2553, an operational agreement, banking resolution, an internet access dashboard, and tax counseling.
Platinum LLC Formation Package ($299 + $197 State Fee): It provides free business websites, domain registrations, business contract templates, and the option to file for free the next day. Furthermore, the plan contains everything that the Gold Package provides.
Pros
Very user-friendly online dashboard
Includes a free registered agent in all creation plans
Swift turnaround processing
No hidden charges
Cons
Basic package does not include all the features necessary for full compliance
Sign Up To IncFile
4 - LegalZoom
(Best Premium)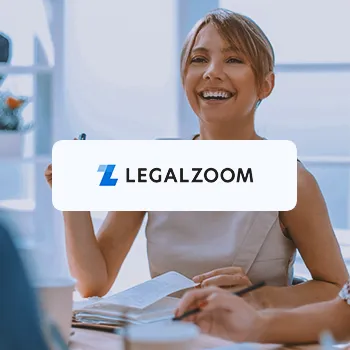 LegalZoom stands out as a premium registered agent service in Maryland, offering unparalleled legal advice and solutions.
Their Basic package is particularly noteworthy for its client-friendly approach, where charges are only applied after your filing documents are submitted to the state, and only for the first year.
A sense of security and professionalism marked my experience with LegalZoom's premium service. The Basic package, while affordable, offered a comprehensive suite of services that catered to our needs effectively.
The standout feature for me was the compliance calendar, unlimited cloud storage, and corporate data protection, which are essential for any business.
Considering the depth and quality of guidance provided, the monthly cost of $249 for legal advice on business-related matters seemed a fair investment.
Despite the higher cost compared to competitors, the value derived from their knowledgeable staff and swift responses was undeniable.
Service Features:
Registered Agent Services ($299): The first year costs for forming an LLC is $249, and the renewal costs $299. Here you'll get unlimited cloud storage, one million dollars of impersonation theft, a Compliance Calender, and alerts to important emails.
LLC Basic Formation Package ($0 + $197 State Fee): This package comes with articles of organization, a WIX customizable website, a comprehensive digital LLC welcome packet, and a name search service.
LLC Pro Formation Package ($249 + $197 State Fee): It comes with the Basic package features plus EIN, operating agreement, tax-saving consultations, and a detailed guide on business licensing.
LLC Premium Formation Package ($299 + $197 State Fee): It included all Pro package features plus an engaging guide from a professional business attorney in Maryland state. You'll also receive unlimited attorney consultations each session lasting 30 minutes and changes to your LLC document within the first 3 months of subscription.
Pros
Unparalleled brand power
Large customer base
Limitless cloud storage for documents
Cons
Premium priced
LLC creation bundle lacks statutory services
Sign Up To LegalZoom
What Should I Consider When Choosing a Registered Agent in Maryland?
When selecting a registered agent in Maryland, it's essential to consider several factors to ensure that your business remains compliant and operates smoothly.
My methodology for partnering with fellow legal experts in LLC services and conducting a thorough evaluation of various registered agent services.
We anonymously interacted with their business formation and services, leveraging insights from an independent review team to provide unbiased, evidence-based suggestions.
Our approach included consulting with legal advisors and registered agent experts and personally testing these services. We focused on aspects such as price packages, service quality, customer support, and additional features.
However, here are the key attributes we used in our selection:
1. Pricing 
Price is pivotal in selecting a registered agent, particularly for new and small businesses operating within a limited budget. The cost of a registered agent service can significantly impact a company's financial planning and resource allocation.
During our review, we leaned toward services that balance cost and value.
While some premium services may have a higher price tag, we ensured the benefits justify the cost. Paying a bit more for peace of mind is a worthwhile investment.
IncFile offers an attractive package for startups, with their registered agent service priced at $119 annually. This rate especially appeals to new businesses, including a free registered agent service in the first year.
Northwest provides a compelling balance of cost and value. Their service, priced at $125 annually, includes a free year of registered agent service with LLC formation. ZenBusiness also offers competitive pricing with their registered agent service at $199 annually.
On the higher end of the spectrum, services like LegalZoom, which charges $299 annually for their registered agent service, may be more suitable for businesses prioritizing brand reputation and a broader range of legal services despite the higher cost.
2. Third Party Reviews
Third-party reviews are a critical aspect of evaluating registered agent services. They offer unbiased insights into the experiences of actual customers. This provides a more comprehensive understanding of a service's strengths and weaknesses.
During our evaluation, we used platforms like TrustPilot, Google Reviews, and Better Business Bureau (BBB). These reviews helped us gauge a service's reliability, efficiency, and overall satisfaction beyond what is presented in marketing materials.
Northwest Registered Agent and ZenBusiness appear to be the top performers based on third-party reviews, offering quality service, customer satisfaction, and value for money.
With its premium services, LegalZoom caters to a different market segment, possibly limiting its appeal to budget-conscious businesses.
3. Confidentiality
Confidentiality is a cornerstone of any registered agent service. These agents handle sensitive legal documents and personal information, making it imperative that they maintain strict data security protocols.
Protecting this data is not just a matter of privacy but also of legal compliance and safeguarding the business's reputation.
Companies like Northwest Registered Agent, ZenBusiness, and IncFile demonstrate a strong commitment to confidentiality, making them reliable choices in this regard.
4. Service Features
Service features in registered agent services are crucial as they directly impact the efficiency and compliance of a business.
Features like online dashboards, compliance alerts, and additional services streamline business operations and ensure that the business stays in good standing with state regulations.
Northwest Registered Agent and ZenBusiness emerge as the top performers in service features, offering a blend of user-friendly interfaces, comprehensive service packages, and strong compliance support.
IncFile, while the most affordable, may fall short in comprehensive compliance features. LegalZoom, offering premium services, is ideal for those prioritizing brand reputation and a broader range of legal services despite its higher cost.
5. Ease of Use
Ease of use in online platforms for registered agent services is crucial, especially for business owners who are often pressed for time and may not be familiar with legal intricacies.
A user-friendly interface simplifies managing legal documents and compliance requirements, making it more efficient and less stressful.
Northwest Registered Agent and ZenBusiness are particularly noteworthy for their user-friendly online platforms, making them ideal choices for businesses looking for ease and efficiency in managing their registered agent services.
IncFile also offers a very user-friendly dashboard, appealing to those who prioritize simplicity in their digital tools.
6. Transition Process
The transition process when switching to a new registered agent is critical for any business. This process is important because it ensures continuity in legal compliance and handling sensitive documents.
A seamless transition is crucial to avoid any lapses in legal obligations, such as receiving important legal notices or compliance documents.
Known for their customer-centric approach, Northwest Registered Agent performed great, offering a streamlined transition process. ZenBusiness also stands out for its effective transition procedures.
IncFile is another service that facilitates a hassle-free transition.
7. Turnaround Time
Turnaround time is critical when choosing a registered agent service in Maryland. It refers to the speed at which these services collect and relay legal documents from the State of Maryland to your business and vice versa.
During our analysis, we focused on the timely handling of legal documents, which is essential for maintaining compliance with state regulations. We noted delays in processing these documents, missed deadlines, legal complications, and potential fines.
Northwest Registered Agent and ZenBusiness appeared to be strong contenders for quick and efficient processing of legal documents.
IncFile also shows potential in this area, especially considering its affordability.
8. Customer Support
Customer support is crucial in registered agent services as it ensures that businesses receive timely assistance and guidance. This is particularly important for handling legal documents and compliance-related queries.
In the review, we looked at registered agent services typically offering various communication channels such as phone, email, online chat, and sometimes even physical office visits.
We also gauged the efficiency of customer support by how quickly they responded to inquiries and their availability during business hours or even 24/7 in some cases.
How Much Does a Registered Agent Cost in Maryland?
A registered agent in Maryland costs anywhere between $50 and $299. The level of service you require will determine how much a registered agent will cost for an LLC in Maryland.
The prices are higher for Maryland registered agent services that include greater involvement with their registered agent employees.
You can also be your own registered agent at no cost.
What Are the Requirements for a Maryland Registered Agent?
The requirements for a registered agent in Maryland include the following:
Agents must be of legal age with a valid Maryland street address (no P.O. boxes).
They should also be entities legally allowed to operate in Maryland.
These registered agent requirements are clearly defined in the Maryland Code for Corporations and Associations and hold true for anyone who wants to act as a statutory agent for a corporation (INC), limited partnership (LP), or limited liability company (LLC).
As a Maryland registered agent service, you may designate yourself, a close relative, or even an employee of your company. Or, you might assign this task to a reputable registered agent service.
Related Articles:
FAQs
Is It Necessary to Designate an Agent for My LLC in the State of Maryland?
Yes, it is necessary to designate an agent for your LLC in the state of Maryland. According to Maryland law, all LLCs, companies, and charitable organizations must choose and maintain a registered agent and a registered office.
What Is a Maryland Registered Office?
A Maryland registered office is the actual street address where the registered agent is situated. The registered agent must be on site to sign documents during regular business hours. Additionally, many state agencies send registered agent reminders for annual reports and tax notices.
Can I Change My Registered Agent Whenever I Need To?
Yes, you can change your registered agent whenever you need to. The cost to change is $25 to file.
Our Verdict on Choosing a Maryland Registered Agent
After thoroughly researching Maryland registered agents, I can confidently say that finding the right one is crucial for your business journey.
However, from my personal experience and thorough research, Northwest Registered Agent was my top choice.
Northwest excels during office hours, handling all mail and legal documents, ensuring compliance, and managing correspondence seamlessly.
When you choose Northwest Registered Agent, they'll safeguard your private information and assets and keep you in good standing with the Business Services Division and Maryland Secretary of State.
With 20+ years of experience, Northwest Registered Agent has a strong track record, backed by positive client feedback, demonstrating their reputation and professionalism.
Our #1 Recommendation
Northwest Registered Agent (Best Overall)
Pros
Safeguarding private information
Customer service is excellent
20+ years of expertise
No hidden fees
A free one-year Maryland resident agent services in their formation package
Get the BEST PRICE until the end of November