Although the criteria for a registered agent in Maryland might appear straightforward at first glance, there is some complexity to this position.
To comply with state regulations, your agent must know what they must do.
Maryland registered agents must stay on top of things for your business to maintain compliance, whether you take on this position personally or delegate it to another individual or business organization.
We've compiled a list of the best Maryland registered agent services to help you find the right one for your business in Maryland.
Editor's Choice
Northwest
Click For Best Price
#2nd Best Choice
ZenBusiness
Click For Best Price
#3rd Best Choice
Incfile
Click For Best Price
Top 4 Registered Agent Services in Maryland (September 2022)
1 - Northwest Registered Agent Service (Editor's Choice)
Following Maryland law, Northwest Registered Agent service offers your business all the benefits a resident agent in the state of Maryland must perform to comply with LLC legal requirements. They're simply the best registered agent service out there.
As your point of contact, they will give your business a physical address in Maryland, accept correspondence and legal paperwork on your behalf during regular business hours, take care of the process, and forward all of your mail.
Service Features:
Northwest's registered agent service package costs $125 per year, which includes Privacy by Default®, Local Corporate Guides®, Free Mail Forwarding/Scanning, and Same-Day Local Document Scanning.
For their LLC formation services, you can start your Maryland LLC with Northwest for $39 plus the state filing fee and enjoy a year free of registered agent service included in the package. Your $125 annual fee will only commence in your 2nd year.
Pros
Offers personalized customer service
Transparent pricing
20+ years of experience in the industry
A year free of registered agent service included in LLC formation
Cons
More expensive than competitors
2 - ZenBusiness
Because of the company's outstanding customer service and competitive pricing, ZenBusiness is another top-notch best registered agent service in Maryland.
They offer lower package pricing than Northwest offers, with a stronger emphasis on making the procedure less complicated and a website that is simpler to use.
Service Features:
ZenBusiness offers registered agent service for as low as $99 without the LLC formation.
But if you want to form your Maryland LLC with ZenBusiness, you only have to pay $39 plus the Maryland state filing fee, and you can already enjoy their free registered agent service in your first year.
After that, your annual cost will be $119 per year.Low brand recognition
Pros
Excellent customer feedback
Affordable package offers
Expert service and support
Free Maryland resident agent services in all packages
3 - Incfile Registered Agent Service
The basic minimum services required of a resident agent to keep LLCs out of legal trouble are offered by IncFile.
Of course, they give your LLC a Maryland address and receive mail and service of process on your behalf, but they don't provide any "extras" or compliance alerts.
Additionally, they provide outstanding free LLC formation services in Maryland if you haven't started a business yet and would like free resident agent services during the process.
Service Features:
Incfile's package of $119 per year offers you a free registered agent and Maryland LLC formation. The package includes a convenient registered agent dashboard, email and SMS update notifications, and their virtual mailbox feature.
Since your LLC formation is already free once you avail of Incfile's package, the only thing you will owe is the $100/$120 Maryland filing fee for the first year.
Pros
Free LLC formation with one-year free registered agent service
Has a registered agent services dashboard
Thousands of cheerful customer reviews
Cons
Mediocre registered agent services
It doesn't offer compliance alerts
Customer Service is not impressive
4 - LegalZoom Registered Agent Service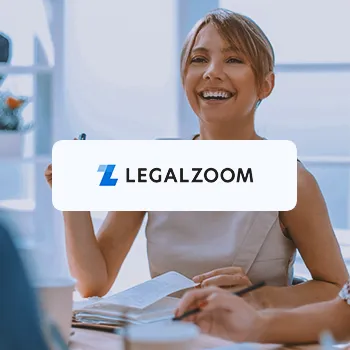 A compliance calendar, unrestricted cloud storage, and corporate data protection are just a few advantages of LegalZoom's professional registered agent service.
Although its costs are more than the competition's, you can feel more at ease using its service because of its expertise and well-known brand.
Service Features:
The registered agent service package from LegalZoom costs $299 a year.
It coms with the business entity formation and features like complete legal services, business data protection, a compliance calendar, and unlimited cloud storage.
Their LLC formation package will cost you $79 plus the state filing fee. LegalZoom offers premium features up to $1 million worth of identity theft protection.
Pros
Unparalleled brand recognition
High customer volume
Cons
Much more expensive than other competitors
No registered agent services on the LLC formation package
Mediocre customer reviews
What Are the Benefits of Working with a Maryland Registered Agent Service?
Although you can serve as your own registered agent, there are several benefits to working with a qualified Maryland registered agent. Paying a company to accept legal documents on your behalf has advantages, such as:
Ensures Compliance
Your Maryland registered agent will help you ensure that nothing is overlooked and that your company always complies with all applicable Maryland state laws.
Gives You Peace of Mind
You can devote all your time, effort, and attention to growing your business when a registered agent is in charge. You are confident that nothing will be missed and that they will inform you if any documents are sent.
Maintains Privacy
Confidential documents are delivered to registered agents. A Maryland registered agent service is perfect for extra security. You'll alert me when the documents arrive.
When creating an LLC through Maryland registered agent services, you don't have to make your home address known to the public. All legal documents, including those sued, will be served at the registered office address.
Availability
Some business owners in Maryland work odd hours and must travel frequently or are otherwise unable to enter the office because of continuous obligations.
Agent service is convenient for busy business owners because it is available during normal business hours.
How Much Does a Registered Agent Service Cost in Maryland?
The level of service you require will determine how much a registered agent will cost. The prices are higher for registered agent services that include greater involvement. You can hire one for anywhere between $99 and $349.
What Are the Requirements for a Maryland Registered Agent?
Who may act as a registered agent for a corporation (INC), limited partnership (LP), or limited liability company (LLC) is clearly defined in the Maryland Code for Corporations and Associations:
A person of legal age with a Maryland street address (P.O. boxes are not accepted).
An entity that is legally permitted to conduct business in Maryland.
As a Maryland registered agent, you may designate yourself, a close relative, or even an employee of your company. Or, you might assign this task to a reputable agent service.
FAQs
Is It Necessary to Designate an Agent for My LLC in the State of Maryland?
Yes, it is necessary to designate an agent for your LLC in the state of Maryland. According to Maryland law, all LLCs, companies, and charitable organizations must choose and maintain a registered agent and a registered office.
What Is a Maryland Registered Office?
The Maryland registered office is the actual street address where the registered agent is situated. The registered agent must be on site to sign documents during regular business hours.
Additionally, many state agencies send registered agent reminders for annual reports and tax notices.
Can I Change My Registered Agent Whenever I Need To?
Yes, you can change your registered agent whenever you need to. The cost to change your LLC's agent varies by state, from $0 to $50 per state.
Do I Need to Pay a Filing Fee to Form My LLC in Maryland?
Aside from the LLC formation package cost, you will acquire from registered agent services companies. You will also need to pay $100/$120 for the state filing fee to form your business in Maryland.
Can I Be My Registered Agent for My LLC in the State of Maryland?
Yes. As long as you are qualified to become a registered agent, you can be your own registered agent for your LLC in Maryland.
How Can I Resign as My Registered Agent in Maryland?
To resign as your registered agent in Maryland, you must submit a Statement of Resignation of Resident Agent to the Maryland Department of Assessments and Taxation.
What Will Happen if My Maryland Registered Agent Fails to Carry Out Their Obligations?
If your registered agent fails to carry out their obligations, like misplacing crucial legal documents, it could harm your business.
A lost legal document could lead to legal action being conducted without your knowledge against your company.
Conclusion
Your company's success depends critically on your Maryland registered agent service choice.
Our best pick is Northwest registered agent service. They will ensure your private information and assets are protected, all legal requirements are met, and you are in good standing with the Business Services Division and Maryland Secretary of State.
Northwest Registered Agent has been in the industry for over 20 years, and all the positive feedback from their past clients attests to their reputation and professionalism.
Our #1 Recommendation
Northwest Registered Agent Service
Click For Best Price
Pros
Offers personalized customer service
Transparent pricing
20+ years of experience in the industry
A year free of registered agent service included in LLC formation
Get the BEST PRICE until the end of September
Cons
More expensive than competitors