Swyft Filings is an excellent and affordable option for creating an LLC, especially for entrepreneurs. Since I've partnered with the company before, I can attest to its cost-effective but nevertheless excellent service.
Inasmuch as the company is relatively new in the industry, Swyft Filings has grown considerably and has catered to numerous satisfied clients.
As an expert in the field of business formation, I'll provide my insights and evaluate whether their LLC service is worth the money based on pricing, features, and other factors involved in the LLC formation service.
What Is Swyft Filings?
Swyft Filings is a business formation service that offers distinct packages. I have personally availed of compliance alerts, a customized digital LLC kit, a federal tax identification number, and other Swyft Filings LLC services.
Thanks to their short application procedure and excellent customer support team, you'll have all the tools necessary to launch your company.
Swyft Filings is the ideal partner for small enterprises and new business owners who need to establish their company quickly but inexpensively.
In my experience, most clients have limited available capital to launch their respective businesses, this is where Swyft Filings may be of assistance.
With business formation services starting at just $49 plus state costs, Swyft lets you pay for your entire cart in two payments, enhancing accessibility for small company owners with tight cash flow.
This implies that you can include as many extra LLC services as you think your company needs to launch successfully.
Service Features & Prices
Swyft Filings includes three separate pricing packages for basic LLC formation. Swyft Filings packages are as follows:
Basic LLC Formation Package ($0 Plus State Filing Fees):

The Swyft Filings basic package includes a company name availability check, prep and filing of the Articles Of Organization, a business tax consultation, compliance reminders, and a free business domain name.  

Standard LLC Formation Package ($199 Plus State Filing Fees):

The Swyft filings standard package includes everything from the previous plan plus a custom banking resolution for a business bank account, organizational minutes, and a federal tax ID (EIN). 

LLC Premium Package ($299 Plus State Filing Fees):

Includes all basic and standard services and additional ones, including free domain and business website hosting, a customized digital corporate kit, and the FedEx delivery of your approved articles with a tracking number.

Registered Agent Service ($99 quarterly):

Swyft Filings charges $99 per quarter for their registered agent services, which isn't included in any of their packages.
Our #1 Recommendation
Swyft Filings
Additional Services
Swyft Filings lets its clients choose various add-ons that are extremely valuable to their business. These include the following:
C-Corp Registration starts at $49 plus state fees

S-Corp Registration starts at $49 plus state fees

Nonprofit Registration starts at $49 plus state fees

DBA $99 plus state fees

EIN Registration $79

Annual Reports $99

Initial Report $55

Foreign Qualification $199 plus state fees
Amendments are $99 plus state fees
Dissolution is $149 plus state fees

Apostille $75

Conversion $199 plus state fees
Certified Copy $65
Trademark Registration $99
Seller's Permit $129
Digital Corporate Kit $99 plus state fees
Corporate Bylaws and Agreements $35
Benefits
Since I've personally employed their service, here are some of the essential advantages of using Swyft Filings services for your LLC formation:
1. Expedited Service
Swyft Filings offers express filing options. The express filing option comes with the premium package but can be added to any other package. In most states, expedited filing reduces the formation time from one to a couple of days from seven to 20 days.
2. Free Tax Consultation
Swyft Filings works with a national accounting firm to give you the ability to have an hour consultation on business tax requirements, deductions, business bank accounts, and other relevant topics to business formation.
3. Federal EIN
You will need an employer identification number to open a business bank account for your business formation services and hire employees. Swyft Filings makes it easy to obtain an EIN for your new business.
4. Customized Digital Corporate Kit
Swyft Filings gives you a customized digital corporate kit that includes an ownership ledger, 20 stock certificates, and other valuable tools for LLC formation service [1].
5. Compliance Alerts
Swyft Filings offers a compliance alert feature to keep your limited liability company formations compliant.
Each state requires an LLC to file documents on specific deadlines, and Swyft Filings gives you lifetime customer support with alerts, so you don't miss any of these deadlines.
6. Free Business Website
As I've helped clients formed LLCs and other entities myself, I know the importance of having a business website. I appreciated Swyft Filings for offering a free website creation service and registration in every package, which is available for a year.
7. Customer Service
After numerous interactions with their customer service, I can vouch for the company's reliability and efficiency. You can actually reach out via phone call or email from 9 am to 6 pm.
Their customer service team is friendly, knowledgeable, and helpful. They may try to sell you on upsells but aren't too pushy.
They also offer online chat customer service.
8. Customer Reviews
Based on my clients' reviews and online customer feedback, Swyft Filings is praised for their fast turnaround times and simple-to-use dashboard.
The company actually garnered a 4.8 out of 5-star rating on Trustpilot and a 4.45 out of 5-star rating on the Better Business Bureau [2].
9. User Experience
Swyft Filings offers a great user experience. They provide a slick and modern website with a simple ordering process.
Their website guides you step by step through the entire process.
Their partner companies' services are also well integrated and make it simple to take advantage of optional services such as registered agent services, online legal services, mail forwarding services, and more.
10. Guaranteed Customer Satisfaction
Swyft Filings offers several types of outcomes assurances.
Swyft Filings will put things right for you at no additional cost or reimburse your fees in full if they make a mistake when incorporating your business if the procedure takes longer than anticipated.
Furthermore, they provide a 100% money-back guarantee.
Therefore, Swyft will return 100% of the Swyft Filings fees you spent if you're dissatisfied with the value or service you got along the route.
With assurances like these, using Swyft Filings to register your firm almost eliminates risk.
Downsides
Despite Swyft Filings being a great LLC services provider, here are some downsides you may experience.
1. Misleading Language
Swyft Filings has some misleading language on its website. For example, many of their services are provided by third parties, such as the registered agent service and tax consultation.
2. No Registered Agent Service Included
One of the significant downsides of Swyft Filings is that registered agent service is not included in their packages, and their registered agent service is also more expensive than a lot of other services.
3. Rigorous Upselling
The number of upselling during the signup process is one of the drawbacks of using Swyft Filings.
You should anticipate receiving a barrage of add-ons after adding your desired bundle to the basket.
Unfortunately, this gives people the idea that Swyft Filings is only looking to make fast cash and is not being honest or upfront with its products.
Who Should Hire Swyft Filings?
Clients looking to create an LLC quickly should hire Swyft Filings.
We recommend Swyft Filings for business owners who:
Place a high value on positive customer reviews
Don't need a registered agent included
Value the extra benefits such as tax consultation and website
Other User Testimonials
"I had a great experience working with Swyft Filings. They provided fast, knowledgeable, and reliable service when I used their online service to file for my S Corporation. They met their deadline and have courteous and responsive customer service. Thumbs up and 5 stars for service. Thank you!"
- Han & Jen
" Sanora was especially awesome and reassuring! My LLC got lost in the mail, and she made sure all proper channels were checked and double-checked! Sanora showed interest in me and my business and made my frustrations melt away!!! Best customer service I've ever received, and I have 10 Years of customer service under my belt. In addition, not only did she make sure my request was expedited, but I received approval emails within the hour for my LLC !"
- Kaye
"The service was great. I had a couple of questions about the done number and my LLC number, and both of them were answered to my satisfaction. She didn't know what the problem was or what the answer was she made sure that she found out in a quick, timely manner. I appreciate how she went about it. She's very professional yeah you see the person you want to keep there working that's for sure thank you"
- Paul.
"I was afraid I would have to handle the situation myself, but the rep was kind enough to check if they could help me with a delay with the state. It was my fault that I had dropped the ball and didn't think there was anything Swyft Filing could do but sure enough, because of their resources and expertise; they were able to assist me and get me back on track. I will recommend this to all my family and friends because it's rare to get this type of service today. Thank you."
- Maria V.
Comparison To Other Services
To fully appreciate the merits of the company, we will differentiate Swyft Filings to three of its most noted competitors in the industry.
In this section, we'll be comparing Swyft Filings to three of its biggest rivals.
1. ZenBusiness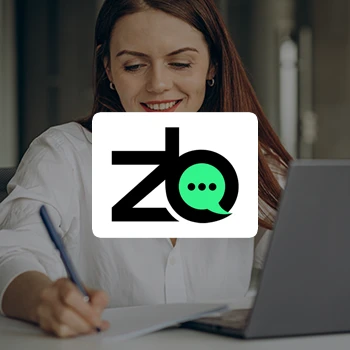 The main distinction between these two businesses is that Swyft Filings charges a one-time, flat-rate fee, whereas ZenBusiness is a subscription service.
Swyft Filings provides a flat price or a subscription model, whereas all of ZenBusiness' options are continuing subscriptions.
The general strategy used for customer assistance is another significant distinction between these two LLC services.
When you register for an account with Swyft, a personal service representative is assigned to you.
This enables you to develop a relationship with the customer agent gradually.
ZenBusiness also offers excellent customer service, but they operate under a more conventional paradigm where you phone and are helped by whichever customer service team employee is on duty.
ZenBusiness's pricing starts at $0 for LLC formation services, so ZenBusiness is a winner when it comes to price.
ZenBusiness also has some inclusions in their basic packages that Swyft Filings doesn't, such as a banking resolution, business advice, expenses and deduction tracking, and more.
Swyft Filings' registered agent service is cheaper than ZenBusiness, but neither business includes them in their packages.
2. Northwest
These businesses offer a wide range of services besides just creating your LLC.
For instance, they provide yearly reports, company license searches, registered agent services, and international legal documents.
Swyft Filings does not provide mail forwarding or virtual office services, but Northwest Registered Agent does.
However, Swyft Filings can assist you with apostille and entity conversions, something Northwest does not offer.
Northwest's pricing point of $225 is relatively expensive compared to many of its rivals.
Even so, a noteworthy element that makes their cost more appealing is adding a full year of their registered agent service.
Swyft Filings charges $49 service fees for their business creation package.
However, given there is no free registered agent service, operating agreement, or yearly reports included under this plan, it offers very little beyond the fundamentals of creation.
None of Swyft Filings' formation plans have free registered agent services, adding on costs an extra $149.
The procedure of forming a business with Northwest couldn't be much simpler.
To start the process, you must provide them with basic details about your company and yourself.
Swyft Filings website also offers good usability, with a quick and easy process that, in our experience, it took 15 minutes or less.
Northwest Registered Agent's pricing starts at $39 and includes a registered agent service in its package, which Swyft Filings doesn't.
While Sywft Filings has good customer service, Northwest Registered Agent's specialized customer service shines above most other providers.
Swyft Filings offers a more convenient website and process than Northwest Registered Agent's process.
3. IncFile
Swyft Filings and Incfile both provide comparable characteristics.
Both provide decent usability and everything you require to create a business in your state.
Of course, there are differences between the two providers in how features are distributed across the various tiers.
Both businesses provide all the specific services in addition to assistance with DBA names, choosing a tax status (S-corp status, 501(c)(3) status, etc.), getting an EIN, and more.
Swyft does provide a few extra unique features over Incfile. Swyft, for instance, may assist with acquiring reseller licenses, sales tax licenses, and other specialty company licenses.
IncFile's base plan starts at $0 and includes free registered agent service for a year.
This LLC service company also offers faster turnaround times than Swyft Filings for the filing process.
Swyft FIling's registered agent service is also more expensive than IncFile's, with the latter being $119 after the first year.
Swyft Filings does include some things in their base package that IncFile doesn't, such as a business tax consultation and website.
FAQs
Is Swyft Filings Legitimate?
Yes, Swyft Filings is legitimate. They have been in the business formation industry since 2015 and made the Inc. 5000 list for the third year in a row.
Does Swyft Filings Have A Refund Policy?
Yes, Swyft Filings has a refund policy and offers a 100 percent refund if you aren't satisfied with the business formation service; however, they don't refund state filing fees or third-party fees like most LLC services.
What Business Is Swyft Filings Best For?
Swyft Filings is best for a business that only needs essential business formation services.
Is Swyft Filings Worth It?
Swyft Filings is a great choice for business formation services. Their basic package is an affordable option for a business on a budget.
However, if you're looking for a less expensive service to start your business, consider choosing ZenBusiness.
ZenBusiness's pricing starts at $0 for LLC formation services, so ZenBusiness is a winner when it comes to price.
ZenBusiness also has some inclusions in their basic packages that Swyft Filings doesn't, such as a banking resolution, business advice, expenses and deduction tracking, and more.
ZenBusiness makes it simple to file your LLCs quickly and efficiently.
We Recommend This Instead
ZenBusiness
Pros
They offer worry-free compliance
They offer a 100 percent accuracy guarantee
Lifetime support over the phone or chat
They offer a variety of add-on services
They provide ongoing compliance alerts
Get the BEST PRICE until the end of September
Cons
Have to pay extra for registered agent service and some other essentials