The right registered agent in Wisconsin can help your business entity thrive. So, instead of spending hours investigating the standards and policies, we've produced a reference for you to make an informed decision.
We have partnered with our attorneys and legal experts to investigate the abundance of accessible alternatives and make the list of the best Wisconsin registered agent services.
We found some great insights into what makes each service stand out. Price, support, and turnaround time were the key factors in our selection process.
Keep reading to find out more.
Editor's Choice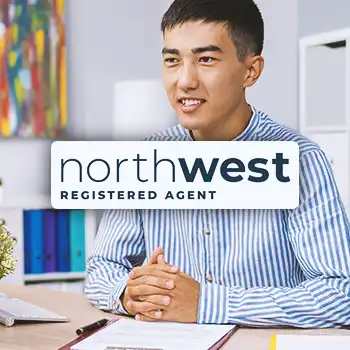 Northwest
Click To Signup
#2nd Best Choice
ZenBusiness
Click To Signup
#3rd Best Choice
IncFile
Click To Signup
Top 7 Best Registered Services in Wisconsin (January 2023)
1 - Northwest Registered Agent (Editor's Choice)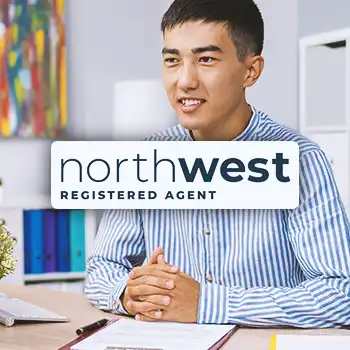 Making Northwest your registered agent will offer you a package of benefits. You'll have an internet account with access to various papers, email delivery, and company address solutions.
Their registered agent services are unmatched, serving LLCs and companies throughout all 50 states.
They are the only agents that provide a one-priced package that covers Wisconsin registered agent service and LLC formation.
Their customer satisfaction and small company assistance make them the best-registered agent service in Wisconsin.
We tested Northwest's services and were impressed with their quality and attention to detail. They also gave us an exceptional customer support team.
Service Features:
Registered Agent Services ($125 per year):

Include a physical address and availability throughout business hours. They also provide free mail forwarding, annual report alerts, lifetime business entity guide, pre-filled state forms, digitized and properly kept documents, same-day local scans, and web services to all business services.

Northwest Registered Agent LLC Formation Service ($39 per year): Includes

business address provision, mail forwarding, privacy, one-month free phone service, corporate service guide, name availability check, articles of organization, one-year of your Wisconsin registered agent service, and fast LLC filing.
Pros
Values information privacy
Excellent clients' review
20 years of expertise
No hidden charges
One-year Free registered agent service
Cons
Moderately expensive option
Click To Signup
2 - ZenBusiness Registered Agent
Founded in 2015, ZenBusiness has already formed roughly 200,000 enterprises and received hundreds of excellent customer evaluations.
ZenBusiness registered agent service offered us affordable formation services, expert assistance, advanced services, and a customizable platform. We also found their services to be reliable and user-friendly.
They also offered to receive taxation and legal documents and serve as representatives for our LLC in Wisconsin.
Service Features:
Standard package ($99/Year):

Includes Articles of incorporation, customer service in all available platforms, availability of important LLC documents, a year-free registered agent service, a free operating agreement, and a CPA review to ensure your LLC is compliant.

Complete Zenbusiness registered agent ($149/Year):

You'll get the standard package. You'll also get EIN, state filings, worry-free compliance advice, a resolution template for banking, and a domain name.
Pros
Wide range of affordable pricing structure
Extended customer service hours
Huge customer-based positive feedback
60 days Money-back satisfaction
Click To Signup
3 - IncFile Registered Agent
Incfile has helped form over 100,000 corporations over the past 16 years.
They specialize in providing services tailored to the specific jurisdiction where the company is based. Incfile offers a single, one-time cost for services. Therefore, no long-term agreements or fees are required.
We tested the Incfile service and were impressed. Incfile provided us with a physical address and a quick notification on receiving the necessary paperwork. The paperwork was then promptly transferred to our workplace, allowing us to keep up with our business needs.
Service Features:
Registered Agent Services ($119/year):

Includes provision of court papers and mailing from IRS. The package also serves as a physical presence for your business in a particular jurisdiction.

Users are also automatically notified through SMS or email when business documents are acquired.
LLC Formation Packages include (starting at $0 + $139 state fee): Include

a year's worth of registered agent services, long-term company compliance notifications, a business website and domain, tax consultations, professional binders, and a business seal. The formation package also provides EIN, express shipping, website design and domain, FedEx 2-3 day shipping, and a platinum LLC Kit.
Pros
They have an accommodating online dashboard
All formation bundles include a free registered agent service
Orders are processed quickly
There are no hidden fees
Click To Signup
4 - LegalZoom Registered Agent Service
Since its inception in 2001, LegalZoom has been one of the largest online legal service suppliers.
Incfile is an all-in-one service company if you're an entrepreneur, expert, or searching for a personal and professional registered agent service in Wisconsin.
The company offers customs and defense lawyer legal assistance to millions of individuals.
With a team of experienced attorneys and a comprehensive online library of legal resources, LegalZoom is well-equipped to help customers with their legal needs.
Service Features:
Registered agent services ($299/year): The package includes w

arning mail alerts regarding critical financial documents and annual deadline report deadlines. You'll also get $1 million identity theft protection offer, monitoring services, and unlimited data storage for your company papers are part of registered agent services.
Pros
LegalZoom registered agent has a dependable and proven track record
LegalZoom registered agent has a large corporation with several resources
Long-term satisfaction assurance
Cons
Quite costly than alternatives
They complicate returns and cancellation policies
Click To Signup
5 - Swyft Filings Registered Agent Service
Founded in 2012, Swyft Fillings is relatively new to the industry but has already become a reliable option for entrepreneurs and business owners in Wisconsin.
Swyft Filings offers direct and immediate assistance with the incorporation process. They provide step-by-step guidance to help you navigate the paperwork and requirements of multiple agencies.
Their quick response rate evidences the firm's commitment to individualized customer care to customer inquiries. Their team of experienced professionals is dedicated to providing the best possible service and ensuring that customers' needs are met.
Furthermore, their competitive pricing and comprehensive services have enabled them to gain a dominant market position with dozens of firms handled.
Service Features:
Registered Agent Services ($149): Include a secure internet account, on-time compliance with state regulations, and 24/7 secure mailing.
Pros
Swyft Filings registered agents can file on time.
They provide dependable client service.
As there are various add-ons, every package may be adapted to a business entity owner's specific requirements.
Cons
Expensive registered agent service
Doesn't include a complimentary year of registered agent service for LLC creation packages
Click To Signup
6 - Harbor Compliance Registered Agent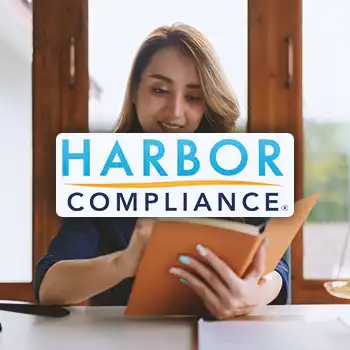 Harbor Compliance is an established and reliable registered agent service provider that has helped Wisconsin businesses form LLCs since 2012. They have served over 25,000 clients in the past 8 years.
Harbor Compliance is also popularly known to offer a comprehensive range of services to help businesses qualify for, get, and retain certification across various industries.
They also have a dedicated team of experts capable of providing top-notch customer service.
Service Features:
Registered Agent Service ($99/year):

Includes instant shipping of documents, free document scanning, individualized support for customers, easy-to-use software, and annual notifications of reports.

Package for Formation ($99 + $130 state fee):

Includes name check, articles of incorporation, EIN federal, and operating agreement form, among others listed on their site. 
Pros
Outstanding client service
Online Safety
Powerful tool with features to assist you in meeting compliance and licensing needs
Cons
Their service fees are higher than the accepted standard
Fewer services are covered in the bundle
Click To Signup
7 - Wisconsin Registered Agent Service
Wisconsin Registered Agent Service is one of Wisconsin's top-rated registered agent services.
Their experienced team of professionals ensures that all filings are accurate and up-to-date, and they offer competitive rates and fast turnaround times.
Wisconsin Registered Agent Service also aids out-of-state enterprises in registering to conduct business in Wisconsin. They also help businesses maintain good status with the Wisconsin Secretary of State.
Service Features:
Registered Agent Services ($49/year): Include annual report filing and a secure online compliance portal. The portal provides easy access to state filing forms and documents and tracks tasks and deadlines.

They also accept their clients' service of process and provide 24/7 customer support. 
Pros
Outstanding service
User-friendly and dependable
No hidden fees
Cons
Added costs for extra services
Doesn't provide any discounts or freebies
Advantages of a Registered Agent Service in Wisconsin?
1. Privacy
A registered agent service provides privacy to customers by allowing them to use the registered agent's address instead of their own [1]. This can be beneficial in protecting customers from unwanted mail or solicitations.
The registered agent's address will also appear on the Secretary of State's website and other public documents. So, you should have a registered agent within every jurisdiction where you incorporate your business as a non-resident.
2. Organized paperwork
Having an organized system for managing paperwork is essential for any business.
With a Wisconsin-registered agent service, you can access an online account where all your business notifications and statements are kept in one place.
This makes tracking and managing your business paperwork easy, ensuring you never miss an important notice or deadline.
3. Prevention of Noncompliance
A registered agent service in Wisconsin helps business owners comply with state regulations. This includes filing annual reports, paying taxes, and other periodic obligations.
Business owners can also use a professional service to ensure that their filings are completed on time and accurately.
Additionally, a registered agent service can help prevent excessive state expenses, such as late fees and other penalties associated with noncompliance.
4. Instant Availability of Delivered Papers
Instant availability of delivered papers is important for businesses that must maintain certain documents for licensing or other purposes.
Having a registered agent in Wisconsin provides instant availability of delivered papers.
The agent ensures that all documents are received promptly and can alert you of any due dates. This helps ensure that all paperwork is completed and filed correctly, avoiding potential penalties or legal issues.
How Much Does a Registered Agent Service Cost in Wisconsin?
A registered agent service in Wisconsin typically costs between $100 and $300 per year, depending on the services provided. You'll be charged $130 to register digitally and $170 if printed. Local companies, as well as international LLCs and corporate entities, must incur a filing fee of $100.
Related Articles:
What Are the Requirements for a Wisconsin Registered Agent?
Wisconsin requires any individual or business who wants to act as a registered agent to have the following qualifications:
Be at least 18 years old

Receive relevant statutory interpretation documentation within regular business hours

Have name and physical address are necessary if Wisconsin registered agent is an individual

Have a physical address location 

Be established in the jurisdiction and in perfect condition if the representative is a firm

Should physically inhabit the state of a company or have a separate office there
Our Selection Process
We began our selection process with an initial review of all Wisconsin registered agent services. We consulted our legal advisors and attorneys, and together we compared and scored every service using specific criteria.
1. Price 
We compared the pricing structures of various services available in the state and evaluated their overall value. After careful consideration, we determined which services provided the best value for the cost.
2. Service Features 
Our company understands that the service features offered by registered agents in Wisconsin are of the utmost importance. So, we took the time to evaluate each company's service features carefully.
Our main objective was to ensure the features aligned with the customer's needs and expectations.
Additionally, we consulted with legal advisors to ensure that the features were relevant and important.
3. Customer Support 
At this stage of our selection process, we considered the quality of customer service provided by each registered agent. Our customer support assessment was based on the following:
The response rate of the agent
The ability to provide helpful and accurate answers to customer queries
The overall efficiency in resolving customer issues
We also assessed the availability of customer support through phone, email, or live chat options.
Our goal was to ensure that each registered agent we selected could provide their clients with the best possible customer support experience.
4. Turnaround Time
Ultimately, we thoroughly analyzed the turnaround time of the top registered agent services in Wisconsin. We sent inquiries to each service and tracked the time it took for them to respond.
FAQs
Does Wisconsin Require a Registered Agent?
Yes, Wisconsin requires a registered agent. A registered agent must be present for any corporation operating within the jurisdiction.
Can I Be My Own Registered Agent in Wisconsin?
Yes, you can be your own registered agent in Wisconsin, given that you have all the state requirements for registered agents.
What Does a Registered Agent Do in Wisconsin?
The registered agent in Wisconsin is the official communication representative of the company. Major legal documents are delivered to Wisconsin registered agents upon your company's account, including proceedings of services or notice of the lawsuit.
BEST Registered Agent in Wisconsin is...
Choosing the ideal registered agent is crucial. To ensure your Wisconsin company flourishes and your company data is protected, we recommend picking Northwest registered agent.
We had a positive experience with Northwest Registered Agent after testing their services. They gave us a fast and efficient service to get our LLC up and running quickly.
We can also attest that creating your LLC will be quicker and more efficient with Northwest registered agent service. You'll also be assured that your company data is secure and protected.
Our #1 Recommendation
Northwest Registered Agent
Click To Signup
Pros
Values information privacy
Excellent clients' review
20 years of expertise
No hidden charges
One-year Free registered agent service
Get the BEST PRICE until the end of January
Cons
Moderately expensive option