InCorp is one of the popular business formation services that has been in business since 1998. Since I've worked with several online formation services, I can guarantee InCorp's reliability and efficiency when it comes to establishing a business.
As an expert in the field, I'll provide my personal insights on InCorp which covers the services offered, costing, benefits and comparison with its top competitors to help you decide if the featured services suit your business needs.
What Is InCorp?
InCorp Services is a well-known LLC formation service and commercial registered agent service. They have helped to form over 250,000 businesses since 1998.
Since I've personally availed of their services, I can attest to the efficiency of the platform's entity management system. It features compliance and deadline tracking status and provides a secure storage for important company documents.
InCorp is known for its low pricing. They offer volume discounts that can drop your rate by paying for several years of service in advance.
They have over 250,000 active InCorp registered agent clients.
Service Features And Prices
LLC Package ($99 Plus State Fees):

InCorp's services consist of basic LLC formation services, including preparation and filing of the Articles of Organization, a company name availability search, and domestic two-day shipping. InCorp does offer volume discounts, including $117 for two years, $105 for three years, and $87 for five years of service. A unique feature that InCorp offers is its entity management system, which provides a compliance calendar and helps to prevent identity theft. 
Our #1 Recommendation
InCorp
Additional Services
InCorp offers several add-ons, including:
Foreign qualification registration at $149 

Employer identification number at $69

Certificate of good standing at $35 

Corporate dissolution at $99 

Amendments at $99 

DBA or "doing business as" at $99 

Managed report service at $49 

$129 for a year of InCorp registered agent service 
Benefits
When you hire InCorp, you can expect the following benefits:
1. Turnaround Time
InCorp processes most filings within a business day to the state. Once the paperwork is submitted to the state, the state has various approval times. InCorp also offers expedited processing and two-day shopping for documents sent to you [1].
In our experience, their turnaround time is about the same as other services.
After employing InCorp's services, I've observed that the company's processing time is within industry standards.
2. Upsells
InCorp offers basic LLC services and provides a variety of optional add-ons that you can purchase separately. The image below shows additional services you can avail of.
It makes it simple to save money by only choosing the services you want and allowing you to customize additional features to your business entity needs.
In our experience, the upsells are a definite benefit to customizing your plan to your business needs.
3. Price Match Guarantee
InCorp offers a price match guarantee to add to the value that they provide. If you find a cheaper incorporation option, like ZenBusiness offers $0 LLC formation services, they will match the price.
4. Great Customer Service
InCorp provides you with a dedicated customer service rep.
From my interactions with InCorp's customer service, I can attest that the company is dedicated to addressing all my concerns. You can contact them through email or via call.
This means you don't have to call a call center and talk to a different person whenever you need help. You can use your agent directly for any questions or problems you may have.
In our opinion, this puts their customer service above many other services.
Downsides
The only downside to InCorp is that it only includes the basics you need to file an LLC. This may not be a downside to you based on what you need to form your LLC.
Who Should Hire InCorp?
Any business entity looking to form an LLC with less hassle at an affordable price should hire InCorp.
Other User Testimonials
"Incorp made it incredibly easy to set up our registered agent service for a few new businesses. Billing was easy. When we switched registered agents, one of our businesses was not recorded, and we continued to receive billing statements from Incorp. Although setting up our account was simple online, it lacked "personal attention" (this is my only reason for not giving five stars). However, Roberto provided excellent customer service to correct the situation by voiding all billing since our agent transfer date. Thanks, Incorp - you have made it easy for us to start our businesses."
- John P, Better Business Bureau
"I highly recommend InCorp. We have been using InCorp for many years and have had nothing but great and professional service throughout our experience. In particular, I'd like to note that my experience with the live chat feature on their website has been a fast and efficient way to communicate with InCorp. Pretty much anything can be done through the chat."
- Jason T, Better Business Bureau
"Incorp has been an outstanding Registered Resident Agent service for the last seven years that my company has used it. Incorp's customer service representatives always have been professional, friendly, kind, and helpful. InCorp makes it so easy to do business with them. Paying my annual bill online is fast and easy. I would recommend them to anyone needing Registered Resident Agent services in any state."
- Lisa Coffey, Trustpilot
"We had a situation with our account with the assistance of Christopher Lebron, and he went above and beyond in his Customer Service to assist with our inquiries and help fix our situation and just want to give him a big thanks! A definite asset to Incorp Services - thank you!"
- Sandra H, Trustpilot
"We have been Incorp Services, Inc. customers since 2007, when we opened. We've never had a problem with them. They are great about communicating and forwarding notices they receive. Nothing bad to say about them. As long as we're in business and they're in business, we'll be solid with them!"
- Diversified Company, Trustpilot
Comparison to Other Services
Here's how InCorp sizes up against three of its main competitors.
1. ZenBusiness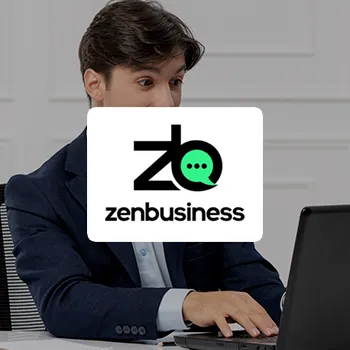 ZenBusiness offers affordable LLC services with plans starting at $0.
Compared to InCorp, ZenBusiness is a less expensive option and tends to offer more for the price, including free trial month of banking, and optional worry-free compliance at zero costs for first year, after which you can renew it at $199 per year.
ZenBusiness includes several things that Incorp doesn't, including a free accounting consultation, free month trial of bank account, virtual business guide, online document access, ZenBusiness money, and expense tracking.
InCorp does have some benefits that ZenBusiness doesn't, including personalized customer service and the entity management dashboard.
To access further details about this organization, please refer to our review of ZenBusiness.
2. Northwest Registered Agent
Both Northwest Registered Agent and InCorp were formed in 1998, so they have the same amount of experience helping business owners with the best LLC service. They are also alike in terms of other factors, such as turnaround time.
Northwest's base package offers more included features than IncCorp, including annual compliance, certificate of good standing, credit card consultation, phone service, etc.
Both Northwest and InCorp have excellent customer service, with InCorp offering personalized service and Northwest having some of the best customer services in the industry.
Northwest Registered Agent offers less expensive registered agent services than InCorp.
Make an informed decision about this company by consulting the Northwest Registered Agent review.
3. IncFile
IncFile and InCorp both offer reasonable pricing for their formation services and decent track records. There are some vast differences between these two companies, however.
Incfile's basic package starts at $0 and is very bare-bones similar to InCorp.
Where InCorp shines over IncFile is the personalized customer service, which IncFile charges for. IncFile also charges more for add-ons like an EIN, report service, and compliance alerts.
FAQs
InCorp is legitimate. The business was founded in 1998, had over 125,000 active registered agent clients, and has helped form over 250,000 businesses.
Does InCorp Have A Refund Policy?
InCorp does not have a refund policy. However, they do accept money-back requests. This is mainly due to their price match guarantee, which no other LLC service offers.
How Long Does InCorp Take To Process Applications?
It takes one day for InCorp to start processing applications. However, all states differ in turnaround time for processing applications.
Does InCorp Offer Volume Discount?
Yes, InCorp offers volume discounts when you purchase their multi-year registered agent services.
Does InCorp Offer Commercial Registered Agents?
Yes, InCorp offers commercial registered agents. Their registered agent services can be purchased separately for $129 a year.
What Is InCorp's Registered Agent Service Pricing?
InCorp registered agent service pricing is $129 a year, or you can get a volume discount if you purchase their multi-year service.
Is Incorp Worth It?
Considering InCorp's years of experience, thousands of users, and valuable add-ons, IncCorp is an excellent LLC service.
While InCorp is affordable, it isn't as cheap as ZenBusiness, which offers $0 formation services. ZenBusiness comes with additional valuable tools that InCorp doesn't, such as free tax consultation, business expense tracking, and other helpful tools for business owners to get you started.
If affordability and additional features are your biggest concern, ZenBusiness might be your safest bet.
Our #1 Recommendation
ZenBusiness
Pros
They offer various formation packages to choose from
The prices of each package are reasonable
They provide a worry-free compliance
They make business formation as quick as possible
Has a lot of positive customer feedback
Get the BEST PRICE until the end of October
Cons
Formation of non-profit business is not supported