Hiring a Georgia LLC formation service is a great business move. LLC services can ease the transition into your new business venture and save valuable time in growing your business.
We have thoroughly researched and tested the best LLC formation services considering cost, features, customer service, and filing speed. We have ensured that our list will help you save the most money when forming your limited liability company in Georgia.
Continue reading for the best Georgia LLC services to start your LLC.
Editor's Choice
ZenBusiness
Click To Signup
#2nd Best Choice
Northwest
Click To Signup
#3rd Best Choice
Incfile
Click To Signup
The 9 Best Georgia LLC Formation Services (February 2023)
1 - ZenBusiness (Editor's Choice)
ZenBusiness provides its customers with a comprehensive service ideal for small business owners who want to register their businesses quickly. ZenBusiness has also formed over 200,000 businesses.
Our experience with ZenBusiness was full of positivity. The process was simple from start to finish, and it took less than an hour to form our Georgia LLC.
We also appreciate that everything is organized and easily accessible.
Service Features:
Starter Package ($49 + State Fees): With a starter package, you'll get registered agent service and a business tax consultation. This package offers free business name search, online access to your business documents, support, and accounting consultation.
Pro Package ($199 + State Fees): The Georgia LLC service package offers all-starter package contents. On top of that, you'll get an advertising specialist, a personalized operating agreement, an EIN, worry-free compliance, and quick filing.
Premium Package ($299 + State Fees): You'll get both Starter and Pro Plan contents for $299 inclusive of state fees. The Georgia LLC service package also offers you a website, email, domain name registration for the business, and rush filing.
Pros
Offer various customized services
Inexpensive
Compliance alerts
Positive feedback from thousands of customers
Fast business formation services
Cons
Low level of brand recognition
Sign Up To ZenBusiness
2 - Northwest Registered Agent
Northwest Registered Agent is a trusted business formation service helping entrepreneurs in Georgia form LLCs for over 20 years. It is one of the most credible LLC formation services.
We were pleasantly surprised with the service we received from Northwest LLC formation. They gave us a team of experts who provided clear and concise information about the process. The formation process was also quick and efficient, and we were thrilled with the outcome.
Northwest LLC Services stands out from its competitors in Georgia because they prioritize transparency and privacy.
Service Features:
Basic Package ($29): Includes filing your Articles of Organization with the Georgia Secretary of State and the cost of state filing fees. You'll receive a full year of complimentary registered agent service and a free operating agreement template.
VIP Package ($100 + State Fees): The Package provides all of the features of the basic Package plus a host of additional features, such as access to a dedicated team of experts to assist with filing and same-day document delivery.
Pros
Very experienced in the industry with over 15 years
Clear pricing
Free registered agent
Unparalleled privacy
Cons
More expensive than other services
Sign Up To Northwest Registered Agent
3 - Incfile
IncFile is an LLC formation service that simplifies the process of registering an LLC to save you money and time.
With their experienced team of professionals, you can rest assured that your LLC will be appropriately registered with the state of Georgia. This will help you focus on running your business.
We recently approached Incfile for our LLC formation in Georgia and were over the moon with the result! We had everything we needed in just under a day.
Incfile provided us with everything we needed to get started, including a virtual office address and registered agent. All information and documents were easily accessible in a single online dashboard.
Service Features:
Silver Package ($0): The Georgia LLC package offers the basics, such as filing your Articles of Organization, creating a custom Operating Agreement, and a free Registered Agent service.
Gold Package ($149 + State Fees): This Georgia LLC service includes everything in the Silver Package, an LLC Kit & Seal, an EIN, and a compliance calendar.
Platinum Package ($249 + State Fees): This Georgia LLC service includes everything from the Silver and Gold Packages. It offers a year of complimentary registered agent service, business tax consultation, and a business banking resolution.
Pros
Low-cost service
Registered agent included
Created 800,0000 businesses
Unlimited support
Cons
Too many Georgia LLC service upsells
Sign Up To Incfile
4 - Rocket Lawyer
Rocket Lawyer is a legal services company that connects clients with legal aid.
They focus on providing affordable legal services to individuals or organizations.
Rocket Lawyer has over 20 million satisfied users. The only thing we didn't like was their pricing system, which makes them much more expensive than their competitors.
Service Features:
Free membership ($0): The free membership includes business registration ($99) and legal document creation ($39.99). Legal questions answered by a lawyer is $49.99 per question. If you need more in-depth assistance, Rocket Lawyer offers a 30-minute legal consultation ($59.99) and document defense ($9.99). For registered agents, the package offers $149.99 per year.
Premium Membership ($39.99/ Month): It offers unlimited access to legal documents and contracts, business registration assistance, and a 30-minute meeting with a lawyer. Also includes a 40% discount for hiring an On-Call Rocket Lawyer and a 25% discount when you access the services of a registered agent.
Pros
Impressive reviews
30-Day money back guarantee
Great support
Cons
More expensive
Uneven pricing structure
Sign Up To Rocket Lawyer
5 - Swyft Filings
Swyft Filings helps business owners with business formation services to form a business entity with their state.
Their service is entirely online, which makes it much easier to navigate.
Unfortunately, the registered agent service wasn't included in the formation packages.
Service Features:
Basic Package ($49): This Package provides a comprehensive suite including checks for business name availability, LLC filing, a domain name, lifetime support, a website, and a tax assessment.
Standard Package ($149): This Package includes the basic package features. The extra features include a federal EIN, standard filing, and custom organizational minutes. The Package also comes with an LLC operating agreement and articles of organization.
Premium Package ($299): Includes all of the features from the Standard and Basic packages. It also offers express document shipping and filing, a digital LLC kit, and a website for the company.
Pros
Services for Non-profits
Several add-ons
Competitive pricing
Cons
Don't offer a registered agent
Involves third-party services
Sign Up To Swyft Filings
6 - My Company Works
MyCompanyWorks is a business formation service that has helped to form over 60,000 businesses.
MyCompanyWorks is a Georgia-based formation service that has assisted the formation of numerous business entities since its inception in 2011.
The company specializes in delivering quality LLC formation services.
MyCompanyWorks offers a nearly perfect record of success with thousands of satisfied customers.
Service Features:
Basic Package ($59 + State Fees): The package includes a custom-tailored LLC operating agreement, LLC prep, filing, and registered agent services. You'll also get name searches, same-day processing, and custom meetings.
Entrepreneur Package ($199): This package gives you access to the necessary documents and filings to create your LLC. This package includes filing the Articles of Organization, obtaining an EIN, a free LLC operating agreement, and a sealed LLC kit.
Complete Package ($279): It includes all features from both basic and entrepreneur packages. It also consists of free registered agent service, free domain, business tax consultation, license compliance, and a business bank account setup.
Pros
Quick turnaround
Outstanding customer support
Easy to use
Cons
More expensive
No free registered agent for the first two packages
Sign Up To My Company Works
7 - Harbor Compliance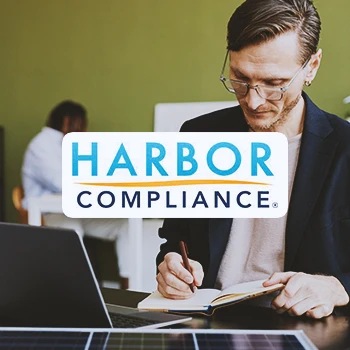 Harbor Compliance is a reliable LLC formation company that offers a range of services to customers in Georgia.
Since its founding in 2012, it has grown to serve over 25,000 customers and has become a trusted source of LLC formation services.
Harbor Compliance doesn't only offer a business formation package; they also provide business compliance solutions.
Service Features:
Formation Package ($399): This package will provide you with a Certificate of Formation and a corporate kit. It also offers to file your Articles of Organization, prepare a customized Operating Agreement, provide a FEIN, Georgia registered agent service, and an online document storage portal.
Compliance Package ($799): You'll get customer support and annual registration here. The package includes the Formation Package features, annual report filing, registered agent services, and a compliance calendar.
Pros
Compliance management
Overwhelmingly positive feedback
Legal experts
Cons
Refunds are not guaranteed
Extremely expensive
Sign Up To Harbor Compliance
8 - Legal Zoom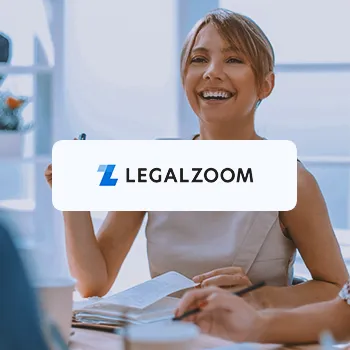 LegalZoom is comparable to Rocket Lawyer because it provides businesses and individuals with affordable legal services.
They can assist with Georgia LLC Service, incorporation, and more.
LegalZoom has helped over 2 million companies with their business needs.
Service Features:
Economy Package ($79 + State Fees): Includes availability check of LLC name, essential LLC services in Georgia, Articles Of Organization filing, review of your LLC in Georgia, and continuous customer services.
Standard Package ($329 + State Fees): This LLC services package includes a personalized Operating Agreement and EIN for $329 plus state fees. You'll also get a Compliance Kit and an LLC organizer.
Express Gold Package ($349 + State Fees): This LLC services package provides the same features as the Standard Package. Additional features include access to a business attorney and a personalized business website. If you need a registered Georgia LLC agent service, you'll add $299 for each package cost.
Pros
Experienced in Legal Industry
A variety of services
Brand recognition
Cons
Delays in processing
No registered agent services
Sign Up To Legal Zoom
9 - Tailor Brands
Tailor Brands is an AI platform that offers complete design for branding and marketing tools.
Besides logos, Tailor Brands now offers an LLC formation service.
With over 30 million businesses served, Tailor Brands has the experience and expertise to ensure your LLC is formed correctly and efficiently.
Service Features:
LLC formation package ($49): These LLC services include filing your LLC, a name search for the company, and 24/7 customer support. Additional benefits include registered agent services for $199 a year, an employer identification number for $99, an LLC operating agreement for $29, and an annual report for $199 per year.
Pros
100 percent accuracy
Personalized service
Low-cost Georgia LLC service
Cons
Doesn't offer a business domain
Additional Georgia LLC service fees
Sign Up To Tailor Brands
Benefits of Forming an LLC in Georgia
Starting an LLC in Georgia comes with several benefits, including:
1. Flexible Profit Distribution
LLCs offer unique flexibility in how profits are distributed among their members.
Unlike other business entity structures, LLCs can split profits into whatever best suits the business's needs. This could include a percentage-based distribution, a flat rate, or a combination of the two [1].
2. No Meeting Minutes
You're not required to maintain meeting minutes with an LLC in Georgia. This can greatly benefit business owners who do not have the time or resources to keep detailed records of all their meetings.
3. Taxes
Forming an LLC in Georgia gives you the benefit of flow-through taxation [2].
This prevents the individuals of the LLC from being taxed twice. You'll only claim your profits from the LLC on their taxes.
Our Georgia LLC Services Selection Process
We carefully evaluated each of the LLC services in Georgia based on the criteria below:
1. Cost
We compared the cost of each Georgia LLC service to ensure they were within most small businesses budgets.
We want every business owner to be able to form their Georgia LLC without breaking the bank.
2. Customer Service
We made sure that these LLC services in Georgia have excellent customer service.
We aim for the best LLC service and a company that will walk you through the process and makes it stress-free.
3. Turnaround Time
We wanted to choose the best Georgia LLC services with a fast turnaround of 1-5 working days.
Ultimately, we chose the Georgia LLC services that offered the fastest turnaround times and the highest level of customer service.
Georgia LLC Formation Process
Forming an LLC in Georgia is a straightforward process. Here are the simple steps you'll need to follow:
Step 1: Reserve a unique name for your LLC
Step 2: Look for the right registered agent
Step 3: File your Articles of Organization
Step 4: File Operating Agreement
Step 5: Get an Employer Identification Number (EIN) From the IRS
Step 6: File annual registration
FAQs
How Long Does It Take To Accept An LLC Application In Georgia?
It takes about 15 days to accept an LLC application in Georgia. You can register by mail, online, or in person. Each registration method has a different processing time and an option to expedite your application.
How Much Does It Cost To Get An LLC In Georgia?
It costs $100 to get an LLC in Georgia. That cost is to file your Articles of Organization.
Is Georgia A Good State For LLCs?
Georgia is considered one of the best states for LLCs because of the business incentives it provides. Small businesses especially benefit from tax credits and financing options.
Our Nr.#1 Recommendation is...
In conclusion, each company provides quality services tailored to its client's needs.
From online formation to in-person assistance, these services provide the resources and expertise to help entrepreneurs create the perfect LLC for their businesses.
After substantial research and personal experience, ZenBusiness is our top recommendation for formation services in Georgia.
After using their service for a couple of months, we found ZenBusiness reliable and trustworthy, with an easy-to-use website and helpful customer service. The process was straightforward, and the fees were competitive.
ZenBusiness will provide the quality services and reliable support that any business needs when forming an LLC in Georgia.
Our #1 Recommendation
Pros
Offer various customized services
Inexpensive
Compliance alerts
Positive feedback from thousands of customers
Fast business formation services
Get the BEST PRICE until the end of February
Cons
Low level of brand recognition