Hiring reputable LLC formation services for your Kentucky LLC is the most prudent strategy to shield your assets from any debts that may occur throughout the course of your business entity's operation.
To spare you from having to go through each online LLC creation service in Kentucky, I combined my experience with the expertise of my legal team, and together we've done the legwork for you by evaluating and reviewing some of the top options.
Read on to find out which services are ranked best based on price, service features, and customer service.
Editor's Choice
Rated by more than 2000+ customers
ZenBusiness
Click To Signup
#2nd Best Choice
Rated by more than 1000+ customers
Northwest
Click To Signup
#3rd Best Choice
Rated by more than 1000+ customers
IncFile
Click To Signup
Top 6 LLC Formation Services in Kentucky (May 2023)
1 - ZenBusiness (Editor's Choice)
Would you recommend ZenBusiness?
ZenBusiness is the perfect LLC formation service for startups and entrepreneurs because of the quality and affordability of the Kentucky LLC formation packages they offer.
ZenBusiness will help you create a website for your company, buy a domain, and set up a business email account.
These services will increase the legitimacy of your company and make it simpler for clients to locate it online.
During our ZenBusiness trial, we obtained free guidance from a professional accountant to assist us in setting up bookkeeping, accounting, and tax problems.
Their customer support team was super helpful and we had a great experience working with them.
By giving you reminders, checking your report, and assisting you in filing on time, ZenBusiness can also maintain your LLC in good standing with the Kentucky SOS.
Service Features:
Starter Formation Package ($0 + $40 State Fee):

This is a great LLC service plan to form your LLC as it has name searches, business registration, and an operating agreement template as well as standard filing speed (2 to 3 weeks).

Pro Package ($199 + $40 State Fee):

Has lower plan LLC service features plus annual reports, EIN filing, and faster-expedited filling speed (4 to 6 days)

.

Premium Package ($299 + $40 State Fee):

This LLC service plan offers everything from Pro plus more website services like domain registration, hosting, and a website email address. It also comes with the fastest rush-filling speed (1-2 days).

Kentucky Registered Agent Services ($199):

The LLC service renews at the same amount every year.
Pros
Faster formation process
Offer a variety of packages
Affordable Kentucky LLC formation
Responsive and personalized customer service
Worry-free filing procedures
Cons
Non-profit business formation service is not offered
Sign Up To ZenBusiness
2 - Northwest Registered Agent
Would you recommend Northwest Registered Agent?
Northwest Registered Agent is often praised for its excellent customer service and affordable packages.
You can utilize an operating agreement template that comes with each Kentucky LLC creation order placed with Northwest Registered Agent.
We appreciated that Northwest offered us a registered agent and physical address to receive Service of Process documents in connection with the Kentucky LLC formation services we obtained from them.
Northwest Registered Agent uses the least amount of customer personal information possible to function as a barrier between the client and any state agency or public record.
Service Features:
Basic Plan ($39 + $40 State Fee):

Basic Plan will provide you will all documents needed to form a limited liability company with free one year of services of a registered agent.

Full Service LLC Formation Plan ($225 + $40 State Fee): Basic Plan features are included in Full Service Formation Plan. You will also get same-business-day filing and an account filled with a bunch of free forms and tools.
Kentucky Northwest Registered Agent ($125 per year):

If you hire Northwest to form your LLC, you get free registered agent service for a year. It brings you free privacy, mail forwarding, and professional corporate guidance.
Pros
No hidden charges for their LLC services
Client data is protected
Over 20 years of LLC formation experience
Includes free registered agent service for a year
Cons
Expensive plans for LLC services
Sign Up To Northwest Registered Agent
3 - IncFile
Would you recommend IncFile?
Incfile is a Houston-based registered agent and business formation firm. A wide range of incorporation, regulatory, and filing services are available from them.
We love how simple it was to log in to their dashboard to monitor the progress of our orders – IncFile's dashboard acts as a central monitoring station for all your activities.
Additionally, IncFile's customer service department provided fast response times to all of our issues.
The only issue we didn't particularly appreciate with this company is that they outsource most of their LLC services, and they have a lot of upsells.
Service Features:
Silver Package ($0 + $40 State Fee): This LLC services package includes drafting and submitting the files of your LLC, multiple name searches, a whole year of free registered agent service, and unlimited customer support.
Gold Package ($199 + $40 State Fee): With Kentucky Gold Package you get all LLC services from Silver Package. But if you need your business banking account with company alerts, IRS Form 2553, and some advising how to do taxes in the state of Kentucky, Gold Package is the right choice for you.
Platinum Package ($299 + $40 State Fee): Platinum Package comes with everything from Kentucky Gold Package plus a free domain name, business email address, and free next-day filling.
Kentucky Registered Agent Services ($119 per year): It comes free of charge if you form a Kentucky LLC with any of the previous IncFile packages. Next year's renewal price will be $119 per year. You get easy access to your online documents on your personalized dashboard.
Pros
Extensive experience
Prompt customer care
Affordable packages for LLC services
Includes one year of statutory agent service
Cons
Outsourced offers and upsells
Sign Up To IncFile
4 - Rocket Lawyer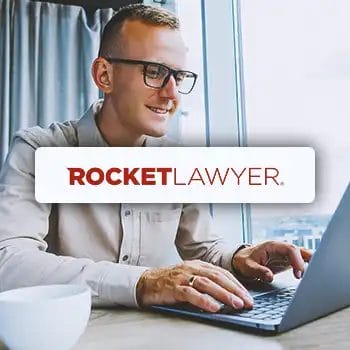 Online LLC provider Rocket Lawyer offers a wide selection of custom legal papers. You can access various documents when you log in, depending on your specific needs.
Each legal document you choose and fill out will cost $39.99 if you're a non-member. To view all of Rocket Lawyer's materials, however, you would need to become a premium member, which costs 139.99 annually.
We'd also like to note that as a premium member, you can get some nice bulk discounts.
Before purchasing their business bundle, we signed up for the free 7-day trial to see what that's like. And we were pretty satisfied with them.
Even though the trial offers partial access, we recommend it because it helps you test and find a suitable plan before subscribing to any of them. However, remember that this trial auto-charges if you don't cancel it.
Service Features:
LLC Formation Package ($99.99 + $40 State Fee): You get free legal documents, free LLC formation services, attorney services, and a 25% discount on registered agent service. Kentucky LLC formation is free if you subscribe to a $39.99 monthly subscription.
Kentucky Registered Agent Services ($149.99 per year): If you have an annual membership, you get 25% off. Membership is $39.99 per month.
Pros
They offer a demo account
Access to different legal documents
Premium subscribers get bulk discounts for LLC services
Cons
Expensive business formation service
Asks for credit card information
Sign Up To Rocket Lawyer
5 - Swyft Filings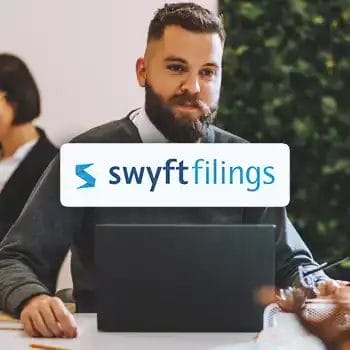 The Swyft Filings application procedure can be finished in less than 10 minutes, regardless of the sort of organization you're founding.
This is presuming you are prepared with all your details. All you have to do is select your favorite bundle and continue the process.
When it comes to filing timeframes for business formation, Swyft Filings is a market leader. For all premium business creation packages, they guarantee to file the next day.
Their customer support team was extremely helpful to us, and we would highly recommend their services whether you require prompt LLC formation or legal advice.
Holders of the Basic or Standard package can anticipate getting their incorporation paperwork in the mail within 15 business days.
Service Features:
Basic Package ($0 + $40 State Fee): Basic Package is perfect if you want basic LLC incorporation with document filing.
Standard Package ($199 + $40 State Fee): Standard Package includes all features from Basic Package, along with the majority of documents (banking resolution, operation agreement, and organization minutes) required to launch your business, you will also receive a Federal Tax ID (EIN).
Premium Package ($299 + $40 State Fee): With all features from Standard Package in Premium Package you get FedEx delivery of your approved articles with a tracking number, customized digital corporate kit, business website hosting, and free domain.
Kentucky Registered Agent Service ($99 per three months): This will be a recurring subscription for each quarter.
Pros
Prioritizes customer satisfaction
Offer accounting consultation
Payment can be made in installments
Cons
Many services are contracted out
No free Kentucky registered agent service
Sign Up To Swyft Filings
6 - LegalZoom
LegalZoom was established in 2011 and has worked with millions of customers.
Customer assistance is included with each of LegalZoom's LLC creation packages and is accessible by phone or online chat seven days a week.
We like that LegalZoom provided us with a pre-filled Operating Agreement and asked us a few questions about our company. Their support teams were very knowledgeable and professional.
The Minutes Manager tool, which includes templates and instructions for conducting business meetings, is also available.
The Compliance Calendar provided by this LLC service is jam-packed with details and due dates pertinent to the filing needs for your particular line of business.
Service Features:
Basic Package ($0+ $40 State Fee): Basic Package comes with the article of organization, LLC digital welcome packet, name check service, and a Wix-powered website that is customizable.
Pro Package ($249 + $40 State Fee): Includes all the Kentucky Basic package's features, plus consultation for tax savings, an EIN, and an operating agreement.
Premium Package ($299 + $40 State Fee): All features that Basic and Pro packages have, plus a 30-minute attorney countless consultations, and changes applied to the LLC formation document within the first 90 days. You also get a hands-on business attorney guide.
Kentucky Registered Agent Service ($299): If you form the LLC with LegalZoom, you get a $50 discount for the registered agent service. After the first year, renewing would be $299 without fees.
Pros
Well-recognized brand
Minutes planner tool
Professional legal staff
Cons
Annoying upsells
Their plans lack a registered agent service
Sign Up To LegalZoom
Advantages of Creating an LLC in Kentucky
Here are some of the main benefits of forming an LLC in Kentucky [1]:
1. Personal Assets Protection
An LLC shields a member from liabilities, including the obligation to pay off corporate debts. Because an LLC isolates the owner from the business, only business assets might be taken to pay off a business debt in the case of a litigation or creditor claim.
Personal belongings and resources belonging to an owner, such as a home or a bank account, are safeguarded.
2. Simple Formation and Operation
One of the simplest and quickest legal entities to create is an LLC. Since it doesn't need directors and stockholders as a corporation does, it is less expensive and straightforward to manage.
Also, an LLC gives a business owner limitless flexibility.
3. Flexible Taxation
The owner of an LLC does not need to submit a separate tax return for the company when operating it. Because LLCs are pass-through entities, they transfer their business's revenues and losses to the owners' tax returns [2].
This tax system can avoid the "double tax" that most firms experience, which is the taxation of income at corporate and personal levels.
Kentucky LLC Formation Process
Here is a step-by-step guide to help you start an LLC in Kentucky:
Step 1: Get a Name for your business
Step 2: Find a Kentucky Registered Agent
Step 3: Submit the Kentucky Certificate of Formation
Step 4: Put Together an LLC Operating Agreement
Step 5: Get an EIN
Our Selection Process
Our selection process for the best LLC services in Kentucky was guided by four key aspects that we believe should be the backbone of any reliable service provider. These aspects are:
1. Turnaround
In our opinion, hiring the best service in Kentucky is based on ensuring that your LLC creation and compliance processes are as fast as possible.
In terms of delivery, we selected the best LLC filing services with a quick response time, preferably 1-5 business days. We also prioritized those that provide speedy shipping in Kentucky.
2. Customer Service
Before selecting any LLC, we contacted their support via phone, chat, and email and ensured that their customer service was exceptional in terms of knowledge, attention to detail, and prompt reply.
3. Service Features
We researched every Kentucky LLC service and chose those with great package features. We choose LLC services that offer beneficial and important service aspects, particularly for startups, such as filing of articles of incorporation, TIN registration, and tax benefits.
4. Price
While evaluating service providers in Kentucky, we assessed the various pricing plans to determine which service or package provides the most value for money.
After registering for various packages, we evaluated the ones we thought were affordable and provided service features that Kentucky business owners need to start operating.
Keep in mind that using an expensive formation provider will significantly add to the cost of forming an LLC in Kentucky.
FAQs
Is Kentucky an Ideal State to Get an LLC?
Yes, Kentucky is an ideal state to get an LLC because it offers various LLC tax incentives, tax credits, and small grants for small Kentucky businesses.
How Much Tax Does an LLC Pay in Kentucky?
An LLC in Kentucky pays a 5% corporate income tax rate and a 6% state sales tax rate. The Kentucky revenue department does not charge any local sales taxes.
Does Kentucky Allow Anonymous LLC?
No, Kentucky does not allow anonymous LLCs. If you want to safeguard your privacy for your Kentucky LLC, you should hire a third-party registered agent to receive your service of process.
What Is the Best Kentucky LLC Service for You?
Though various Kentucky LLC formation services may help you create your corporation, only a few of them can provide the best LLC services.
After thorough research, we've determined that ZenBusiness is the best in the game. It includes all of the tools you need to start and operate a successful LLC in Kentucky at a low price.
This genuine LLC creation company guarantees a pleasant experience by incorporating cutting-edge technology into its services and compliance filing processes.
We used ZenBusiness for our own Kentucky-based enterprise, and I can attest to its efficiency and ease of use. We were especially pleased with their customer care.
This allows you to start your Kentucky company more quickly and get it up and running in no time.
Our #1 Recommendation
Pros
Faster formation process
Offer a variety of packages
Affordable Kentucky LLC formation
Responsive and personalized customer service
Worry-free filing procedures
Get the BEST PRICE until the end of May
Cons
Non-profit business formation service is not offered