If you're looking to form a new business, you may be overwhelmed with options and formation companies that can help you set up your business entity.
With Tailor Brands' unique service offerings, such as logo creation, logo design, business card designing, and graphic design tools, you may wonder if they are the right all-in-one solution for any business.
As a business expert who collaborated with Tailor Brands, I'll provide my insights and share a comprehensive review, which covers the packages and services offered by the company, costing, benefits and comparison with its other top competitors.
What Is Tailor Brands?
Tailor Brands is a business service that offers assistance to small businesses, including LLC formation service, logo creation, logo designs, digital business card design, a graphic design tool, and more.
Their AI technology began explicitly as a logo maker to help grow small businesses. They have grown to develop many more services over the years, including their LLC service.
This company strive to take you through every step of the LLC process to make it simple and be the solution for all your small business needs. We found that they have exceptional customer support and a stress-free basic LLC formation service.
Service Features And Prices
Lite LLC Formation Package ($49 + State Fee): The Lite package includes LLC formation service, which includes LLC filing services and standard processing.
Essential LLC Formation Package ($199 + State Fee):

The Essential package includes everything from the lite package and expedited process, online logo maker, annual compliance alerts, website, and an operating agreement.

Elite LLC Formation Package ($249 + State Fee):

Includes everything from the previous two packages and the Tailor Brands logo maker, a free business domain for the first year, a complete website builder, digital business cards, a maker for social media posts, and a business card tool.

Registered Agent Service ($199):

The amount is charged annually right after processing. Tailor Brands doesn't offer a free registered agent for the first year, and the price will be the same when renewing.
Our #1 Recommendation
Tailor Brands
Benefits
Here are the advantages of hiring Tailor Brands as your formation service.
1. One Stop For Small Business Essentials
The company's website is a one-stop solution for small businesses.
Tailor Brands offers services that will get your venture off the ground, including LLC formation services, an advanced website builder, branding tools, logo designs, branded merchandise, social media templates, and more.
They offer one of the best packages for establishing your business's online store presence.
2. Customer Support
Since I've worked with multiple online formation services before, Tailor Brands had exceeded my expectation when it comes to the reliability and efficiency of their customer support.
Aside from communicating through email, you can actually contact them through their live chat support and expect an immediate reply.
3. Easy System
After navigating the platform myself, I was impressed with the timeframe as well as the consumer-friendly interface the company offers. The whole process was completed within minutes, which, for business owners like me, is a definite advantage.
The LLC process can be done in under ten minutes. They ask questions about you and your business, and their website wizard will provide you with the plan that will be best for your LLC.
The website also has hundreds of blogs related to their LLC service, so you can do all the research on any part of the service.
We found that the process does take a bit longer than some other competitors, but they also ensure an error-free LLC.
4. Solid Reviews
I was compelled to register with Tailor Brands based on the number of clients the company has served so far, which, impressively, equates to 30 million customers. Based on reviews alone, the company garnered a 4-star rating on Trustpilot with over 3,000 reviews.
They also respond to 98 percent of their negative reviews to remedy the situation. They strive to build positive relationships with their customers.
5. Experience
Tailor Brands has helped to create over 30 million businesses, so you can trust that they know what they're doing.
Their support team of professionals can help you answer any question and offer priority support 24/7. Their support team strives to help you form your LLC quickly, and they ensure 100 percent accuracy.
In our experience, the Tailor Brands professional team answered our questions easily, and our LLC formation was without error [1].
6. Lots Of Add-Ons
Since I've utilized the platform myself, I learned that Tailor Brands offers several no-pressure add-ons, which I've eventually tried.
I can personally attest that the tools are intuitive and has been useful for establishing a business.
Their add-ons include a registered agent, an EIN, expedited filing, trademark service, logo generator, design tools, marketing tools, web design, logo design, and more to make marketing and branding your small business easy.
We found that many of their add-ons were worthwhile for business formation.
Additional Services
Here are the additional Tailor Brands services:
Website creation $2.9-$49.99/month
Business Insurance starts at $500
Taxes and Bookkeeping $125/month
Compliance handling $199/year
EIN $0
Business Mailbox starts at $49
Downsides
The only downside of hiring Tailor Brands is that you have to pay separately for their registered agent service and a business domain.
A business domain isn't entirely necessary, and many LLC formation companies don't include registered agent services.
In our experience, a business domain isn't all that crucial to running a successful business. You or one of your LLC members can also serve as the registered agent for the LLC.
Who Should Hire Tailor Brands?
Any entrepreneur looking to stand out with their branding should hire Tailor Brands. Those who use Tailor Brands want to create high-quality logos and use a website builder to create the best business website possible.
Other User Testimonials
"I chose Tailor Brands for two main reasons: they have a great processing time, and their support team is very helpful.They have DIY options so I can choose the designs I want. I also got other LLC formation services for a lower price."
- Jeff Anderson, Trustpilot
"Having Tailor Brands LLC formation services file for me and all the resources available through this company helped me so much. Their customer service team is great!!! They responded quickly and resolved any issues and answered my questions."
- Valerie Vicars, Trustpilot
" Tailor Brands helped me through launching my small business, and it continues to give me the guidance I need to be a successful small business owner."
- Sandy Griffin, Trustpilot
"Absolutely not! I could not log into my account and haven't in a year. I reached out to them that I could not get logged into my account. They also charged me a renewal fee of $155.00 and another charge of $26.00, on top of the $6.00 they have been charging monthly. When I finally was able to log into my account they said they could only refund half."
- Khristy Kline, Trustpilot
" Just Perfect! Tailor Brands is ideal, user-friendly, fast, easy, and professional.Tailor Brands offers logos that make small promising startups recognizable."
- Olga B, Capterra
Comparison to Other Services
Since I've worked closely with multiple online formation services, I'm in a knowledgeable standpoint to provide firsthand insights on Tailor Brand's top competitors to help which service provider best suits your business needs.
Here's a summary of the comparison.
1. ZenBusiness
Like ZenBusiness essential LLC formation service. Where Tailor Brands stands out from ZenBusiness is its business-building tools that add to the value.
Tailor Brands' services features like logo creation, graphic design, and other business-building tools make it stand out in value compared to ZenBusiness.
On the other hand, ZenBusiness offers worry-free compliance, and their cheapest LLC formation tiers start at $0, which is a huge plus for budget-conscious business owners. Their packages are overall more affordable and offer rush filing.
2. Northwest Registered Agent
Northwest Registered Agent and Tailor Brands are both respected LLC formation companies. There are some key differences, however.
Northwest is more of a budget-friendly option if you are just looking for a basic plan to form your LLC.
If you are looking to fully launch your business with high-quality tools to cover everything you might need when starting your business, Tailor Brands is more beneficial.
The pricing is easily justified by the features you can get.
Tailor Brands also includes website tools like a mini website builder that you won't be able to find with Northwest Registered Agent or any other LLC company.
3. IncFile
IncFile is known as being one of the least expensive ways to form an LLC. They offer essential LLC services for $0 plus state fees. However, their customer service can take a few tries to reach.
If you're looking for a super budget-friendly option, this may not be that important, but Tailor Brand's customer service experience is much better.
In our experience, it takes just minutes to reach someone, and they are experts who quickly answer any question.
Tailor Brands also takes your business the extra mile with its features to grow your business's presence quickly and continually build a reputation of excellence.
FAQs
Is Tailor Brands Legitimate?
Yes, Tailor Brands is legitimate and trustworthy. The business was built in 2015 and has thousands of positive reviews.
How Much Does Tailor Brands Cost?
Tailor Brands costs between $49 and $249 if you want to form an LLC with them. Regardless of the high cost, they offer other advanced LLC formation services, including logo design and business branding.
Is Tailor Brands Worth It?
Yes, Tailor Brands is worth it if you want to build a business quickly, need help with branding, create logos, or need help with social media.
Do You Own The Logos You Create From Tailor Brands?
Yes, you own logos you create with Tailor Brands. The license is unlimited, worldwide, and free of royalties.
Sachse and Bob Hull own Tailor Brands. They were named co-CEOs in March of 2021.
What is Tailor Brands Refund Policy?
Tailor Brands' refund policy is available within 30 days of request and depends on the services you purchase. Certain products, like logos, go directly to you, so there isn't any refund paid to the company.
What Are the Best Tailor Brands Alternatives?
The best Tailor Brand alternatives are ZenBusiness, IncFile, and Northwest Registered Agent. These companies offer great value for money and generally have higher customer satisfaction ratings across platforms.
Is Tailor Brands Worth It?
Considering Tailor Brands' unique features that you won't be able to find elsewhere, it's a great option for LLC formation and other business needs.
Their branding tools to create a professional-looking logo, a website builder, branded merchandise, and more allow your brand to establish its presence, and their tools help your business continue to grow over time.
The main thing Tailor Brands lacks is registered agent services and more affordable packages. For this reason, we concluded that ZenBusiness provides the most rounded and transparent packages.
Their formation plans also start at $0, and they offer several additional services that businesses many find useful, such as expense and deduction tracking, a 100 percent accuracy guarantee, and more.
Our #1 Recommendation
ZenBusiness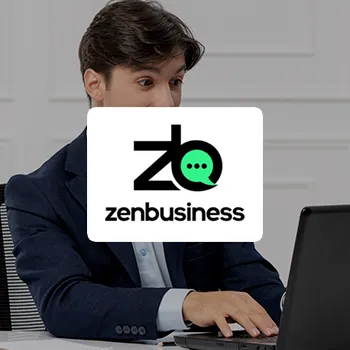 Pros
Various formation packages to choose from
The prices of each package are reasonable
They provide a worry-free compliance
Quick turnaround time
A lot of positive customer feedback
Get the BEST PRICE until the end of October
Cons
Non-profit business formation is not provided