Northwest Registered Agent has been in the formation industry for a long time. As such, it has gained the trust of many entrepreneurs nationwide, which is why we wanted to see if this company will live up to its fame.
We spent hundreds of hours researching Northwest and other registered agent services to give you all the necessary information.
In this article, we will cover the cost, benefits, cons, and more so you can decide if Northwest is right for you.
What Is Northwest Registered Agent?
Northwest Registered Agent is an LLC formation service and a registered agent service based out of Washington.
They have been in business for over two decades and have modernized to develop quick, easy-to-use online LLC formation services.
Northwest has built the reputation of a reliable formation service provider, and online customer reviews speak volumes in their favor.
Their packages fit every budget, and their service is customer-centric, which means a lot to entrepreneurs who are just getting started in the business world.
Core Services and Prices
Northwest's Registered Agent service costs $39 plus the state filing fees. It includes these features: 
LLC formation service

Free registered agent services

Mail forwarding to your business address

Free phone service for 60 days

Privacy 

Guide® service

Lifetime customer support

Online dashboard for legal documents
Apart from its Base package, Northwest offers a Deluxe Package, which includes the Base Package plus the Employer Identification Number (EIN) every limited liability company needs to stay in good standing with the state [1].
Corporation $225 + state fees

Nonprofit Formation $225 + state fees

Annual Reports $100 + state fees

Phone Service $9/month
Mail Forwarding $20/month

EIN Services start at $50

Virtual Office $29 per month

Trademark Services $249, including the USPTO fees

Foreign Qualification $100 plus state fees

Law on Call $9 a month

National Registered Agent $100 per state
BOC-3 Process Registered Agent $125 + state fees
Benefits
Here are the perks of hiring Northwest.
1. Positive Online Customer Reviews
Many online positive reviews of Northwest registered agents praise their responsive customer service, professional nature, excellent LLC formation service for a great price, and more. The number of positive reviews is overwhelming.
2. User-Friendly Ordering System
You don't have to be experienced to use their system. Northwest Registered Agent's website is simple to use. The order forms and pages create a transparent picture of the cost.
The online dashboard also organizes your LLC paperwork for convenience and ease of use.
We found that their ordering system was simple to use and very straightforward.
3. Professional, Friendly Customer Service
Northwest Registered Agent has fantastic customer service. They typically have rapid response times and guide every service they offer, not just LLC formation.
Many customers praise them for being professional and friendly.
In our experience with customer service, every rep we came across was professional and friendly and answered every question we had with ease.
In our experience, Northwest is very upfront and transparent about its costs. What they offer in the package is what you get, and you won't be surprised with other fees at the end of checkout.
5. Secure Information
Northwest Registered Agent takes your security seriously. They write all their code and don't allow third-party applications on their website to keep your information secure.
We have never had to worry about the security of our information with Northwest Registered Agent.
Many customers commend them on their privacy offerings compared to other business formation companies.
6. Same-Day Filing
Northwest Registered Agent offers same-day filing if you want to form your LLC quickly.
They will file your application with the state on the same business day that you order.
Though they send your application to the state immediately, the approval time is still dependent on the state and how quickly they process applications.
We found that Northwest Registered Agent was as quick, if not quicker, than other filing services.
7. Monthly Payment Options
Northwest Registered Agent offers monthly payment options for their formation plans, which many companies do not. This gives greater flexibility to customers and their budgets.
8. Little To No Upsells
Northwest Registered Agent also has very few upsells, and they aren't overly intrusive to the process.
Some of their upsells are also beneficial, such as a federal EIN, compliance filing, mail forwarding, and more.
We found that their upsells are helpful, but there is little pressure to add them to your plan.
While Northwest doesn't offer extras that some other services include, they include everything you genuinely need for LLC formation services.
Their registered agent service is less expensive than LegalZoom and accessible for the first year.
Downsides
The only actual downside to the Northwest registered agent services is that they don't include the formation of an employer identification number within their Base Package.
Who Should Hire Northwest Registered Agent Service?
Those who own a small business or are forming a small business and looking for a professional service and a company that truly values your privacy should hire Northwest registered agent service.
Northwest registered agent is also a good choice for anyone looking for LLC and quality registered agent services all in the same package.
If you're looking for someone that offers personalized service to help you through the LLC formation process, Northwest registered agent is for you.
Northwest Registered Agent Customer Testimonials
"Easy Process. I didn't have too much knowledge of LLCs. The process was easy and fast. The process was done that same week with no issues, and everything was 100% digital, without waiting for the mail. It was also affordable (around $100 less than competitors); I recommend it for small businesses."
- Alex C., Trustpilot
"They are easy to contact, and an actual person answers. Any emails I have sent have been responded to over the same day. They offer plenty of free information if you want to do tasks yourself to save money. They are light years better than ZenBusiness or LegalZoom."
- Wayno Bra, Trustpilot 
"As a new business owner, I wanted to do it right and build a lasting company. I have referred anyone I know on the fence of starting a business to a Northwestern Registered Agent because they don't know how to file the paperwork! I researched other agencies first. They all required upfront fees. Northwest gave someone like me a chance by giving me a monthly billing option. I'm a creative person and have to focus on company development. Northwest allows that freedom by taking a side of the business off my hands. I'm not a paid spokesperson. I am an actual client with an unsolicited review. When it's time to for me to expand to other states, Northwest Registered Agent will make that task easy as well!!"
- Felicity Media Production LLC, Better Business Bureau
"If you want to set up an LLC, go to Northwest Registered Agent! These guys are amazing. Not only do they offer a truly excellent program for an excellent price, but their level of service is also unbelievable! You can call them, and they will instantly pick up and answer. They are happy to spend an excessive amount of time explaining things to you and helping you in any way they can. I don't think I've received such extraordinary service anywhere on the web. I give them ten stars if I could."
- Charles B., Better Business Bureau
"Northwest Registered Agent is our favorite company. They're also a great option if you're on a budget. We've been using them for our LLCs for many years, and we highly recommend them."
- Matt Horowitz, Founder & Educator, LLC University
Northwest Registered Agent Alternatives
Here's how Northwest compares to some of its main competitors:
1. ZenBusiness
ZenBusiness is an LLC formation service, as well as other services. They can help you with basic LLC formation in any state. They also offer registered agent services and legal documents.
In their basic package, ZenBusiness provides a year of free registered agent service, a free year of worry-free compliance service, an LLC operating agreement, an accounting consultation, and good ads credit.
Overall, Northwest registered agent has more free extras included in their price and is less expensive than ZenBusiness.
2. IncFile
IncFile is an LLC service and registered agent business. They offer services like same-day filing and other legal services like trademark applications.
In their base formation package, Incfile only offers a free name search, one year of premium registered agent service, and nothing else. IncFile also has an unclear refund policy, and it isn't transparent who they work with to provide their services.
Northwest Registered Agent is transparent with their pricing and who they work with, and they have several extras in their base package.
3. Rocket Lawyer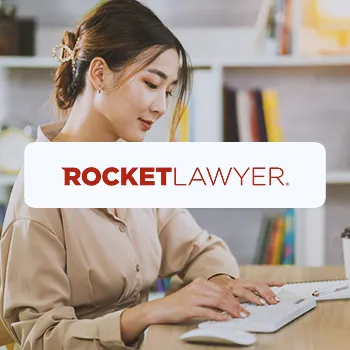 Rocket Lawyer isn't a specialized business formation service but is more of a legal site. They offer a base business formation package.
The essentials for a company formation are the only features in the package. Their registered agent service is $149.99 per year. Rocket Lawyer is ideal if you need legal help.
Northwest has better customer service and has a quicker LLC service, and more extras in their price, including free registered agent service for the first year.
FAQs
Should You Hire Northwest Registered Agent For Business Formation Services?
You should hire Northwest Registered Agent for your business formation process if you're looking for responsive customer service at a low cost.
How Do I Cancel Northwest Registered Agent?
You can cancel Northwest Registered agent anytime by logging onto your account and canceling the service in your client portal.
Is Northwest Registered Agent Legitimate?
Yes, Northwest Registered Agent is legitimate. Since their start in 1998, they have made a name for themselves in the registered agent business. Northwest Registered Agent LLC is one of the best registered agents nationwide.
How Much Does Northwest Registered Agent Cost?
Northwest Registered Agent costs $39 if you opt for their Base Package. You can also opt for their Deluxe Package for $179. If you don't need formation services, registered agent service costs $125 annually and renews for $135 every year.
Where is Northwest Registered Agent Located?
Northwest Registered Agent is located across several US states. For a detailed list of their locations in individual states, click here.
Why Is Northwest Registered Agent Unique?
Northwest Registered Agent is unique because they are the only registered agent that allows you to use their office address to minimize your data exposure. They also use minimal third-party apps to present hacking.
Do We Recommend Northwest Registered Agent?
After going through the entire formation process with Northwest and seeing firsthand whether their customer service and pricing are really worth the hype, we finally decided that this formation service truly brings value to the table.
Forming an LLC can be daunting, but Northwest makes it easy.
They are chosen for outstanding customer service and the many extras included in the Northwest Registered Agent packages, including free registered agent service for a year.
Their core services are affordable but still offer quality and quick turnaround, both of which are essential in setting up your business the right way.
Our #1 Recommendation
NorthWest
Pros
Positive customer reviews
User-friendly online ordering system
The professional customer service team
No hidden fees
Get the BEST PRICE until the end of March
Cons
Northwest Registered Agent doesn't include a federal tax ID number in their basic package