With the goal of assisting you in finding the company with the best Iowa LLC formation services, we spent long hours researching and consulting our legal team on the key features that are essential for compliance with state law.
We are confident that we have found the top online business formation services in Iowa based on affordability, user-friendliness, customer service, and additional features.
This article provides a detailed review of Iowa's four best LLC services and the features they offer.
Editor's Choice
ZenBusiness
Click For Best Price
#2nd Best Choice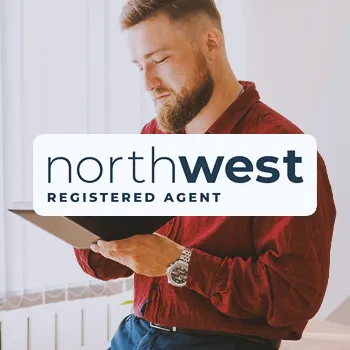 Northwest
Click For Best Price
#3rd Best Choice
Incfile
Click For Best Price
4 Best LLC Services In Iowa (December 2022)
1 - ZenBusiness (Editor's Choice)
ZenBusiness is a PBC or a Public Benefit Corporation that aims to provide tools, advice, and years of experience to support small business owners.
Established in 2015, it has helped over 300,000 LLCs through its LLC formation services, and you can see from its website their extensive additional services available. It is one of the most well-rounded LLC services out there.
Service Features:
The Starter package (starts at $0):

includes standard filing speed, worry-free compliance, expense and deduction tracking, as well as accounting consultation.

The Pro package (starts at $199):

includes faster filing speed, worry-free compliance, guided operating agreement, custom operating agreement, accounting consultation, as well as expense and deduction tracking.

The Premium package (starts at $299):

includes rush filing speed, a custom operating agreement, worry-free compliance, accounting consultation, automatic expense tracking, domain name, and email address, and a customizable business website.
Pros
Offers a variety of formation packages to choose from
Reasonably-priced packages
Provides worry-free compliance
Quick turnaround period
A lot of positive reviews
Click For Best Price
2 - Northwest Registered Agent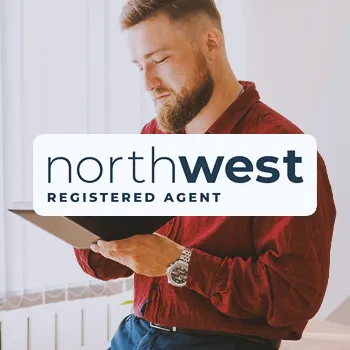 Northwest Registered Agent has offices across 50 states, and they have been operating for over 20 years.
A family-owned company with little more than 200 employees, they have a user-friendly interface and excellent customer service. It prides itself on great communication, data privacy, and data protection.
Service Features: 
Basic LLC Formation Services ($275)

:  This includes a filing service fee, a state filing fee, and a registered agent fee (free for the first month

Registered Agent Service ($125/annually)

: This includes a registered agent, registered office, form filing, biennial report reminders, digital mail forwarding services, address use, data privacy, and lifetime support. You can also add Law on Call services for free.

Law On Call (starts at $9)

: This includes unlimited access to a licensed lawyer on call. If you need a lawyer to do legal work, their fees would depend on their years of experience (1 to 3 years: $99/hour, 3 to 7 years: $150/hour and 7 to 10 years: $200/hour and more than 10 years: $250/hour).
Pros
With their 20 years of experience, they are well-versed in the processes
Values your privacy
Fees are very transparent
1-year free registered agent service if you avail of their formation package
Click For Best Price
3 - Incfile
Incfile has been in business for 18 years and has catered to more than 800,000 businesses. It is surprising to see that their LLC service fees are state specific.
You can avail of the free registered agent for up to a year, and then you will have to pay $119 annually.
They also offer online storage for formation documents, an online dashboard to keep track of your deadlines, and compliance notifications.
As a bonus, every customer gets a free hour-long business tax consultation with a professional.
Service Features:
Gold Package (starts at $249):

This package includes preparing and filing articles of organization, unlimited name searches, free registered agent service for a year, EIN business tax number, IRS form 2553, bank resolution, lifetime notifications, online dashboard, unlimited phone and email support, business banking account, and business tax consultation.

Platinum Package (starts at $349):

This package includes everything in the Gold Package but with additional features such as business contract templates, free next-day filing, domain name, and business email.

Silver Package (starts at $50): This package includes preparing and filing articles of organization, unlimited name searches, free registered agent services in Iowa for a year, and unlimited phone and email support. 
Pros
Affordable Iowa LLC formation service
LLC formation package also includes a free registered agent service for a year
Helped in the forming of over 800,000 businesses
Phone and email support
Click For Best Price
4 - Rocket Lawyer
Rocket Lawyer has an edge against different Iowa LLC formation services because of its free legal documents and free legal information with access to affordable representation by licensed attorneys.
Service Features:
Rocket Lawyer New Business Bundle (starts at $349.99): This bundle includes free business incorporation services, registered agent services for one year, and a year of legal services.
Pros
Member access to legal services
Member discounts on different legal services
30-day money-back guarantee
Cons
Expensive membership fee
Need to be a member to get free business formation services
Click For Best Price
Advantages of Creating an LLC in Iowa
Forming a limited liability company in Iowa comes with significant benefits.
1. Limited Personal Liability
Limited liability is one of the most important benefits of forming an LLC. As an Iowa business owner, you understand the importance of protecting your personal assets from creditors.
With limited liability protection, your assets are shielded from being seized by businesses or individuals who may be owed money by your company.
This is because LLCs have a separate legal identity from their owners, and therefore creditors have no right to force you to use your personal assets to pay for business debts.
By choosing to start an LLC in Iowa, you are taking an important step towards safeguarding your personal assets and minimizing your risk as a business owner.
Thanks to this critical feature, the LLC model has become one of the most popular choices for entrepreneurs and small business owners alike.
2. Flexible Management Structure
The owner has the privilege to decide what management structure they want to implement.
In a member-managed LLC, the members are involved in every aspect of running the company, from strategic planning and sales to day-to-day operations and financial management.
While this approach can result in significant control and flexibility, it also requires significant time and effort on the part of individual owners.
Alternatively, owners can choose to rely on professional managers to oversee their LLC's operations. In a manager-managed LLC, directors, and officers fulfill the roles traditionally assigned to directors and officers: responsible for strategic planning, recruitment of new employees, hiring and firing of key personnel, overseeing financial decisions, etc.
3. Pass-through Taxation
Pass-through taxation has become one of the most popular options for businesses in recent years, as more and more companies are looking for ways to minimize their overall tax burden while maintaining control over their operations.
When it comes to taxation, most business owners in Iowa have likely heard the term "double taxation."
This term refers to the situation where a company is taxed on its profits by both the federal government and its local jurisdiction. Pass-through businesses, however, avoid this problem by having their revenues and expenses "pass-through" to their individual owners.
4. Easy to Form and Inexpensive
LLCs are an extremely popular choice for business owners in Iowa, and for a good reason. LLCs are relatively easy and inexpensive to form compared to other business entities.
In most cases, all that is required is filing an Articles of Organization with the Iowa Secretary of State's Office and paying a small filing fee.
There is also no need to hire an attorney when forming an LLC in Iowa, which can further save time and money.
Additionally, unlike many other business structures, LLCs do not require any initial capital investment, making them a great choice for new businesses on a budget.
5. Hassle-free Paperwork and Fewer Formalities
Unlike corporations, which require annual meetings to be held as well as minutes from these meetings that need to be recorded, LLCs do not have these same requirements.
This can save business owners both time and money when it comes to compliance, as they can focus their efforts on running and growing their businesses rather than on endless paperwork and record-keeping tasks.
Additionally, there are typically fewer formalities involved in operating an LLC - meaning that entrepreneurs can focus more attention on driving profitability rather than complying with corporate rules and regulations.
Our Selection Process
After a great deal of research online, reading up on customer reviews, as well as having discussions with former users, we have picked the best LLC formation services based on these criteria.
1. Service Features
One of the most important things to think about when choosing an LLC formation service is having a company that provides the complete service package that allows you to have limited personal liability and separate personal assets from business assets, fewer reporting and record-keeping requirements, avoidance of double-taxation, and biennial reports.
Another thing, the needs of businesses can change over time as the business grows, and it would be great if you could hire a company that can assist you with additional services as time passes.
2. Affordability
Unarguably, the quality of service is the most important. However, the pricing of the services provided should also be considered.
We looked into their pricing transparency and promotions, and from these, we have gathered a list of LLC formation companies with the best services at a reasonable price.
3. Expertise
We did our research on how long each company has been in business and its clientele.
A long list of satisfied clients is a tell-tale sign that a company has expertise in its field. One of the most important things to consider is that the company is known to be knowledgeable about the service process.
4. Customer reviews
We have been reading up on the personal experience of each customer as they worked with a specific business formation company.
We took note of their overall satisfaction and whether they had a good or bad experience.
From there, we chose the companies that are at the top of the list for customer satisfaction.
Iowa LLC Formation Process
Step 1:

Name the LLC in Iowa

Step 2:

Get a registered agent service

Step 3:

Create a business structure

Step 4

Write and file the Iowa certificate of organization with the Iowa Secretary of State 

Step 5:

Get a state business license

Step 6:

Learn Iowa rules of employment

Step 7:

Hire an accountant for your taxes 

Step 8:

File a biennial report every odd-numbered years
FAQs
How Can I Set up a Limited Liable Company in Iowa?
You can set up a limited liability company in Iowa by completing an Iowa LLC service search and choosing a business name. Provide a physical address for your business. Lastly, hire an LLC formation service in Iowa to do the rest for you.
What Is the Total Cost of Forming and Maintaining a Business Entity in Iowa?
The total cost of forming and maintaining a business entity in Iowa can be between $390 and $1150 annually.
How to Create an Operating Agreement in Iowa?
To create an operating agreement in Iowa, download a free PDF form online by typing "Iowa LLC Operating Agreement."
Conclusion
Having carefully reviewed these four services based on their affordability, features, and customer reviews, ZenBusiness stood out as the only service that offers the best value for your money.
They provide discounts for legal services and are efficient, convenient, and low-cost, which is a perfect combination for first-time business owners.
Finally, ZenBusiness has the best Iowa LLC service starting package for $0 (+ state fees), which includes all the essential services when forming an LLC.
Our #1 Recommendation
Click For Best Price
Pros
Offers a variety of formation packages to choose from
Reasonably-priced packages
Provides worry-free compliance
Quick turnaround period
A lot of positive reviews