If you are creating a new business, you will likely need to explore LLC formation companies and professional registered agent service options.
As I've employed Harbor Compliance before, I was given an opportunity to observe and validate the company's reliability. They streamline the LLC formation process and offer services with a focus on business compliance, including management, licensing and tax registration.
Since I've worked with several formation services before, I'll provide a comprehensive review on Harbor Compliance and evaluate their overall service, special features, customer relations and pricing and how they compare to other online companies.
What Is Harbor Compliance?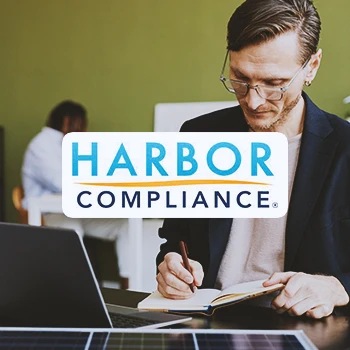 Harbor Compliance is a business that specializes in compliance processes for business owners and nonprofits and can help you with the LLC formation process.
Harbor Compliance was created in 2012 and has helped over 20,000 companies, corporations, and nonprofits with compliance solutions.
Harbor Compiance doesn't specialize in only formation services, but they provide you with comprehensive services, including LLC formation.
Our #1 Recommendation
Harbor Compliance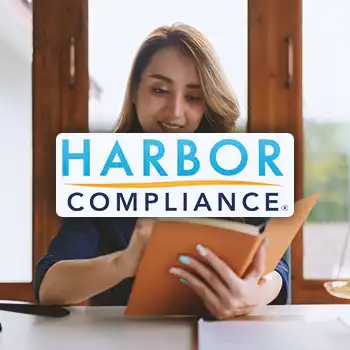 Service Features & Prices
Unlike most businesses, Harbor Compliance's LLC formation doesn't come in tiered packages; there is only one package available.
Their formation package starts at $99 (plus state fees) and includes the following:
Name availability check

Filing Articles Of Organization

An operating agreement template

Federal employer identification number registration

Registered agent service for a year
They also offer a compliance package that starts at $799 and includes the following:
Harbor Compliance registered agent services

Annual report service

DBA renewal

Compliance alerts

Compliance audit

Compliance Specialist

Compliance coaching and education

Updates on changes in requirements
Additional Features
Harbor Compliance offers a range of other services which I personally used to set up businesses and can attest that the company offers a wide range of platforms not featured in other formation services.
 Here are the following services made available by the company:
Nonprofit Formation $1,799 plus state fees

C-Corp $99 + state fees

Amendments $299 + state fees

Annual Reports $100 - $175 plus state fees

Business License $500

Foreign Qualification $399 plus state fees

Certificate of Good Standing $85 + state fees
Dissolutions and Withdrawals $399 + state fees
Drop-off Filing $175 + state fees
Publishing $300 + state fees
Registered Agent $89-$99/yr
Benefits
Since I've partnered with Harbor Compliance before, I can attest to the benefits they offer. The range of service features offered by the company proved invaluable every step of forming my business.
1. Additional Features
If you choose not to form your LLC with Harbor Compliance, you can still purchase their compliance services separately after you have started your LLC.
Their additional features such as annual report service, compliance package, corporate compliance options, compliance specialists that are experts on the compliance process, Harbor Compliance registered agent service and more.
2. Personalized Customer Support
Most LLC formation package options and services have an online interface for LLC formations.
Customers enter information about their business, such as name, members, industry, address, etc., and you can submit everything online.
Harbor Compliance breaks away from this and assigns a compliance specialist to each compliance package and customer.
When you choose Harbor Compliance's LLC formation, you will work directly with the compliance specialist who will help you gather the information and file your paperwork.
When you contact Harbor Compliance, they can answer any questions you have about the formation process and your specific business needs.
3. One Day Processing
Harbor Compliance offers single-day processing for LLC formations. Harbor Compliance processes and files the Articles of Organization the same day they receive an order from an entity manager.
They also use expedited processing as much as possible. Harbor Compliance also maintains local offices.
These local offices ensure that someone can form a business in places that lack digital filing options and helps speed up the process for small business owners in multiple states.
4. Great Track Record
Although the company is relatively new to the online service formation business, having just been established in 2012, Harbor Compliance has an impressive track record. Based on online client feedbacks, the professionalism and efficiency are commendable.
Since I've used Harbor Compliance before, I can vouch that excellent customer service is one of its strengths. This is reflected in the 4.5 out of 5 Google rating and A+ score with the Better Business Bureau (BBB) the company garnered [1]..
Harbor Compliance reviews are less than other business formation services, but almost all their reviews praise the professionalism and usefulness of their compliance specialists and their fast turnaround times.
Harbor Compliance compares to other services by replying to every customer who leaves a review and providing the next steps or solutions to customers who aren't satisfied with the service Harbor Compliance offers.
5. Advanced Software
Harbor Compliance offers compliance software to manage compliance.
This software allows you to monitor licenses nationwide, track due dates, assign employees tasks, access corporation records, receive registered agent documents, and more, all from one software [2].
6. Extensive Database
Harbor Compliance offers an extensive database of data for business requirements nationwide. This can save business owners time digging through other websites to research requirements.
7. Special Licensing
While most other formation services help businesses obtain a general license, Harbor Compliance helps with applications for highly-regulated industries such as construction, insurance, security, architecture, and more.
Downsides
Despite Harbor Compliance being an excellent formation service, here are some downsides you may experience.
1. Expensive Service
Harbor Compliance is one of the more expensive services. At $399, they are one of the most expensive in the industry, and they don't offer much flexibility in choosing individualized services.
The majority of formation companies have multiple packages with the ability to modify them based on your business's specific needs. Harbor Compliance includes only one plan with no modification options.
2. Outdated Website
The Harbor Compliance Website is very outdated. There is very little information on LLC formation services available on the Harbor Compliance website.
The website doesn't include much information about the service and Harbor Compliance's costs.
Some of the information on their website also appears outdated because the website lists two formation packages when we know Harbor Compliance offers only one package.
The website also lacks a purchase button, so purchasing services can be confusing, and you typically have to contact their sales department over the phone, email, or web form to get started.
3. Fewer Services Included
While Harbor Compliance's formation package includes everything needed to start your business, such as reliable registered agent services, it doesn't offer some of the extras that competitors offer.
Other LLC formation package offerings from other businesses include services such as business licensing, document libraries, and more. Harbor Compliance's single LLC formation package offers only essentials.
Who Should Hire Harbor Compliance?
Clients looking for excellent customer service and one-on-one support with their formation packages should hire Harbor Compliance.
We recommend Harbor Compliance for business owners who:
They are looking for ongoing assistance with their business.
Those with multi-state businesses due to their innovative software to monitor requirements nationwide.
Large companies that need complex licensing and entity management.
Businesses in regulated industries
Growing businesses looking to expand into new states
Large nonprofit organizations that can benefit from custom services
Other User Testimonials
"Our charitable organization needed help getting a tax exempt. The team coped with the task at the agreed time frame and without any problems. Thank you, and hope for long-term cooperation with Harbor Compliance."
- Review from Tigran E, Better Business Bureau
"I started using Harbor Compliance in 2019 and have been extremely happy with Sara, our Account Rep, and her team. I knew very little about the compliance side of business, and Sara took the time to educate me and steer me in the right direction. I requested early on that I have the same Account Rep handling my account, and they were happy to comply. We are now set up, registered, and compliant in 23 states. I rely on their expertise and knowledge to get us where we need to go. I highly recommend them and would encourage new business to check them out."
- Kim E, Better Business Bureau 
"My company recently won our first contract in another state and required immediate assistance with foreign qualifications, etc. We were notified of the award on a Friday and were on the ground Sunday. I immediately called Harbor Compliance and spoke to John. He and his team were amazing to work with. I filled out a couple of simple forms, and they took care of the rest. That same week we were registered and ready to go, simply and seamlessly. I highly recommend Harbor to any business, tiny startups like ours who could not have done the quick turnaround without such great assistance! Thank you, Harbor!"
- Hive International
"I was in need of starting up a new corporation in North Carolina. Looking to get this done efficiently within my busy schedule, I was in need of someone to take care of this for me. I talked to Heather, and she convinced me that Harbor Compliance could get this done while I maintained my focus elsewhere. With help from John, they made the process easy and painless. I very much recommend using Harbor Compliance for any compliance needs you may have. They were a pleasure to deal with. The best part of all, when you call, they remember who you are!"
- Frankie Smith
Comparison To Other Services
In this section, I'll be comparing Harbor Compliance with its top competitors on the market.
1. ZenBusiness
ZenBusiness's pricing is some of the most affordable in the industry, with plans starting at $0 for business LLC formation services.
Their base plan also includes many features that Harbor Compliance doesn't, such as business formation documents, annual report service, and more.
ZenBusiness also offers more pricing options to buy individual services or add them to your chosen package, while Harbor Compliance only offers one package and no ability to add other services or customize the package they do offer.
In summary, ZenBusiness provides flexible pricing with customizable services, unlike Harbor Compliance's fixed package without additional options for customization.
ZenBusiness also offers a more navigatable system for its application process. Their website is more straightforward and up-to-date compared to Harbor Compliance.
This is why their website builder feature is packed with hundreds of different templates, is easy-to-use, mobile friendly, and supporter with advanced SEO tools and scheduling widgets.
2. Northwest Registered Agent
Northwest Registered Agent is more affordable than Harbor Compliance, with their formation packages starting at $39 versus $399 for Harbor Compliance.
Northwest Registered Agent also offers more plans than Harbor Compliance as well as more customization options.
Both Northwest and Harbor Compliance have great customer reviews and customer service. Both options also offer specialized support services.
3. IncFile
Incfile's pricing is one of the most affordable in the industry, with their formation services starting at $0.
However, they offer a reasonably bare-bones offering compared to Harbor Compliance's more expensive service.
IncFile has over 14 years of experience and has helped over 500,000 businesses compared to Harbor Compliance's 10 years of experience.
Harbor Compliance offers specialized customer service, and while IncFile's customer service is good, it's not as specialized for compliance offerings.
IncFile's order tracking is more extensive than the service that Harbor Compliance offers.
IncFile is also a bit more user-friendly in terms of the website and application process than Harbor Compliance.
FAQs
Is Harbor Compliance Legitimate?
Yes, Harbor Compliance is legitimate. They have been in business since 2012 and have helped over 20,000 companies with their formation packages and compliance needs.
Is Harbor Compliance A Good Choice For Formation Services?
Harbor Compliance is a decent choice for formation services. It is a reliable company but has a very high cost compared to other services, which can be difficult for a smaller business.
Who Is Harbor Compliance Right For?
Harbor Compliance is right for a company that wants to work directly with a compliance specialist. They specifically assign an employee to you to handle all your questions and filing of your LLC.
What States Does Harbor Compliance Help?
Harbor Compliance helps all 50 states with business formation as well as the District of Columbia and Puerto Rico. They have a nationwide network of local offices to serve customers in areas that lack digital document printing options.
Does Harbor Compliance Sell Or Share Information With Third Parties?
Harbor Compliance does not sell or share information with third parties; however, they may share your information with trusted third-party businesses that they partner with to provide services.
Is Harbor Compliance Secure?
Yes, Harbor Compliance is secure. They combine Norton Web Security with Trustwave to protect their website and their customer's information.
Does Harbor Compliance Offer Ongoing Support?
Yes, Harbor Compliance does offer ongoing support, depending on the package you choose. With the compliance package, you receive ongoing access to the compliance specialist who can help you prepare reports, consistently help with operations, and more.
What Is Harbor Compliance's Refund Policy?
Harbor Compliance doesn't have a general refund policy. Due to the fact that they complete your filing within the same business day, it is also nearly impossible to receive a refund, especially for state filing fees.
Is Harbor Compliance Worth It?
Harbor Compliance is an excellent choice for LLC formation and compliance services.
They offer specialized customer service with compliance specialists to keep your business up and running, have a large amount of positive feedback, same-day processing, special licensing, and more.
Although they offer all these benefits, Harbor Compliance can be a very expensive option for a small business owner.
However, if you're looking for a more affordable option and don't care too much about personalized customer service, choose ZenBusiness.
ZenBusiness is an ultra-affordable choice with plans starting at $0 for LLC formation and a separate registered agent service, expense tracking, annual reports, and anything else you might need for the formation and upkeep of your business.
We Recommend This Instead
ZenBusiness
Pros
They offer various formation packages to choose from
The prices of each package are reasonable
They provide a worry-free compliance
They make business formation as quickly as possible
Has a lot of positive customer feedback
Get the BEST PRICE until the end of October
Cons
Formation of non-profit business is not supported