Forming an LLC in Arkansas is one of the best ways to reduce liability for your Arkansas business entity.
Additionally, it can guarantee that your business is in proper standing with the Arkansas state. However, because LLC formation processes are long, it's important to hire an authentic and reliable LLC service to do the heavy lifting for you.
To help you choose wisely, as a business professional myself, I teamed up with a group of legal experts and we tested different top Arkansas LLC formation services and ranked these nine based on their service features, pricing, and turnaround time.
Editor's Choice
Rated by more than 2000+ customers
ZenBusiness
Click To Signup
#2nd Best Choice
Rated by more than 1000+ customers
Northwest
Click To Signup
#3rd Best Choice
Rated by more than 1000+ customers
IncFile
Click To Signup
Top 9 LLC Services in Arkansas (May 2023)
1 - ZenBusiness (Editor's Choice)
Would you recommend ZenBusiness?
ZenBusiness is a great choice for comprehensive LLC formation services.
ZenBusiness supplies essential support and continuous guidance to help you establish your new business.
They have a variety of formation packages available, all billed annually and renewed at the same rate each year.
You have the option to cancel their services if they are no longer needed. Their website is easy to navigate, and the filing process is straightforward, taking less than 20 minutes.
Based on our experience, ZenBusiness performed a name eligibility check in Arkansas before submitting our LLC registration application.
This saved us from using outdated, time-consuming name search methods and ensured our proposed entity name was available, avoiding potential rejections due to minor errors.
We were glad that their packages come with a free operating agreement template in their basic package. Not to mention, startup and small business owners can also get discounts from their legal services.
Service Features:
Starter Formation Package ($0 + $45 State Fee): This Arkansas LLC services package provides basic business formation services, including a free operating agreement template, standard filing speed (2 to 3 weeks), forming your Limited Liability Company in Arkansas, and a free CPA examination.
Pro Package ($199 + $45 State Fee): This Arkansas LLC services package includes faster-expedited filling speed (4 to 6 days). In addition, you get to complete and file your annual reports, register for an EIN, and make changes every two years.
Premium Package ($299 + $45 State Fee): The Arkansas LLC services package offers all previously mentioned features plus names for your business domain, a webpage email address, domain privacy, the fastest rush filling speed (1-2 days), and a customizable business website.
Registered Agent Service or Statutory Agent Service ($199/year): You will be obligated to pay around $199 for the yearly subscription renewal in the subsequent years.
Pros
Various formation and LLC services packages are available
Each package is reasonably priced
Compliance is worry-free
Fast business formation and LLC services
Positive feedback from customers
Cons
No non-profit business formation
Sign Up To ZenBusiness
2 - Northwest Registered Agent
Would you recommend Northwest Registered Agent?
Northwest Registered Agent has built a long-standing reputation with a decade-long experience.
They offer limited liability company services at a reasonable and budget-friendly price for small business owners across Arkansas.
We applaud the company for its excellent customer service. They were prompt to respond to our queries and walked us through every step patiently.
Among the Arkansas LLC service providers we evaluated, Northwest Registered Agent demonstrated the quickest response time.
Their online platform was also very easy to use, featuring intuitive navigation and commands.
From our experience, we can confirm that their packages offer great value for the investment. However, it is worth noting that the packages tend to be on the higher end of the price spectrum.
Service Features:
Base Formation Package ($39 + $45 State Fee): The base Formation Package allows you to register your LLC in Arkansas. Additionally, it includes all the necessary paperwork for your LLC in Arkansas, including name registration and filing of legal files, as well as free one-year registered agent service, if you opt for them.
Full Service LLC Formation Package ($225 + $45 State Fee): This business formation service feature includes the features from the lower bundle plus access to an EIN, and free forms and tools.
Registered or Statutory Agent Services ($125): If you go with the Northwest, you will acquire a free year of statutory agent service. It then renews for $135 in the subsequent years.
Pros
20+years in the field of experience in LLC formation service
Has a privacy protection program
No hidden charges
Free registered agent service for one year
Sign Up To Northwest Registered Agent
3 - IncFile
Would you recommend IncFile?
If you're looking for more reasonably priced Arkansas LLC formation services, we recommend IncFile.
We were trying many different services and IncFile is one of the only companies that didn't charge us for their LLC service. We only paid the state fees.
IncFile's customer support team proved to be quite responsive. We contacted them through chat, email, and phone, and received responses within 30 minutes.
Additionally, the LLC service company offers website domains and hosting for clients operating online businesses. However, this service is exclusively included in the platinum package.
There's one thing we didn't particularly appreciate: the upsells and third-party offers that come with certain packages.
Nonetheless, it does not necessarily affect the LLC service company's reputation because they don't force any add-ons on you; you select the offers you want and pay extra for those.
Service Features:
Silver Package ($0 + $45 State Fee):

This Arkansas LLC formation service package enables you to create your LLC. A free one-year of statutory services and life-long business compliance alerts are also available in this one.

IncFile Gold Package ($199 + $45 State Fee):

You can have your operating agreement created in this package. Besides that, it also includes banking resolution, and you can receive your EIN.

Platinum Package ($299 + $45 State Fee):

With this LLC formation service package, you can get priority expedited filing, a free business website and domain registration, and business contract templates.

Registered or Statutory Agent Service ($119):

A free year of Arkansas registered agent service is available in this package. You will then renew its service annually for $119 if you opt for IncFile.
Pros
Budget-friendly formation service
Free registered agent for 12 months
They helped 80,000 businesses
Topnotch support available trough email and phone
Sign Up To IncFile
4 - Rocket Lawyer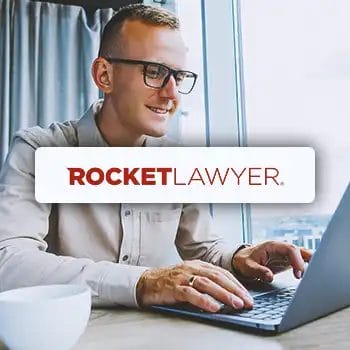 Rocket Lawyer is a legal service provider that allows individuals to access a host of pre-formatted legal documents and other high-quality legal services.
After using their service, we were pleased to find that it matched the promises made in their advertisements. They took care of all aspects, except for fees related to the state, address, and certification.
They are committed to offering effective advice, backed by seasoned attorneys who we discovered were readily available when needed.
We like that the Arkansas LLC service company offers you a 7-day free trial period for you to check their premium services if you are unsure of their subscription. However, note that this trial only gives you partial access to most of their services.
Service Features:
Arkansas LLC Formation Services ($99.99 + $45 State Fee):

If you opt for membership, you can benefit from attorney services, free legal documents, free LLC formation services, and 25% off registered agent service.

Registered Agent Services ($149.99/year for non-subscribers):

Under this plan, you get your own registered agent who files compliance and receives legal papers on your behalf.
Pros
Affordable legal pre-formatted drafts
100% satisfaction guarantee
Free attorney services for premium members
Cons
Subscription is expensive if you don't need legal forms
Must avail membership just to access their free LLC
Sign Up To Rocket Lawyer
5 - Swyft Filings
One benefit of using Swyft Filings is that the company allows installment payments for your LLC formation package.
They also offer a 100% money-back guarantee, but this refund policy only applies when the company itself makes an error while completing your order.
All their packages for LLC services come with order tracking, access to your legal documents, lifetime customer service, and free shipping as well.
We appreciated their commitment to clear pricing and their steadfast emphasis on customer satisfaction, which contributed to a highly enjoyable overall experience.
The simplicity of their automatic renewals proved to be very convenient for us, as it eliminated the need for manual agreement renewals.
Swyft Filings is an excellent choice for those seeking an LLC formation service that offers fast processing and outstanding customer assistance.
Also, the cost of forming an LLC in Arkansas is the same, but state fees vary depending on where you are.
Service Features:
Basic Package ($0 + $45 State Fee):

Under this LLC formation service,

Swyft Filings will create an LLC for you, plus they will work you through the related steps during this process.

Standard Package ($199 + $45 State Fee): You will get

Federal Tax ID (EIN) and most documents needed to start your business.

Premium Package ($299 + $45 State Fee):

Premium includes a customized digital LLC kit, website, hosting, express filing, plus FedEx delivery.

Arkansas Registered Agent Service ($99/quarter):

Here, you get annual reports, document filing, and delivery.
Pros
Offers flexible payment method
Personalized customer support
Decent quick processing of orders
Cons
Registered agent is not included in the formation packages
Annoying upsells
Sign Up To Swyft Filings
6 - MyCompanyWorks
MyCompanyWorks is the ideal service for startup businesses, as they offer a 100% satisfaction guarantee, and account setup is a breeze.
One of their best features we appreciate is a refund policy that makes it easy for you to take advantage of any time within 90 days if you are not satisfied with their service level.
We put them to the test and we discovered that these services were reliable and fairly priced.
They enabled us to manage all our legal documentation efficiently, and their support team consistently provided availability and valuable assistance.
The company offers three-tier LLC formation service packages ranging from $59 to $279. This is a plus because you can select whichever package works for your budget.
Service Features:
Basic Package ($59 + $45 State Fee): This LLC formation service package comes with all the basic services of starting an LLC in Arkansas but doesn't include the registered agent service. However, it does include a free logo, lifetime access to the Vendor Network, and online order tracking.

Entrepreneur Package ($179 + $45 State Fee): It has everything from the Basic Package, but comes with an extra MyCompanyForms lifetime forms and tax guide, a federal tax ID, and a registered agent service.
Complete Package ($259 + $45 State Fee): It has everything as previously two mentioned packages plus MyCompanyWorks premium, which includes E-Certificates, 5 GB of Cloud storage, and priority support.
Arkansas Registered Agent Services ($99):

Includes basic filing, their Startup Wizard compliance checklist, and a handbook on LLC operation with business tax consultation. 
Pros
100% satisfaction guarantee
Competitive basic package
With excellent customer reviews online
Cons
A registered agent doesn't include in their basic package
Limited customer support time
Sign Up To MyCompanyWorks
7 - Harbor Compliance
We recommend Harbor Compliance because, unlike any other rival, each Harbor Compliance client has a personalized customer representative with automated customer care support.
With a team of skilled experts and swift response times, they offer all-inclusive packages that go beyond merely filing formations, catering to even the most intricate or unique needs.
We evaluated their registered agent service and were pleased with the results.
Their team adeptly handled official communication between our business and government entities, making certain that all legal obligations were met promptly.
However, if you're looking for extra legal counsel services, Harbor Compliance might not be a great fit because they only help you form an LLC or corporation, but they do not provide legal services.
Another downside of this service is that they don't include registered agent services in all their packages.
Service Features:
Arkansas LLC Formation Package ($99 + $45 State Fee):

This standard LLC formation package includes name availability and articles of organization.

Arkansas Registered Agent Package (89-$99):

Special deals that offer several discounts, including a long-term agent registration contract that saves you 5–10%.
Pros
Access up-to-date documents
Personalized customer service
One-day processing time
Cons
Registered agent service is not included in formation packages
Limited options
Sign Up To Harbor Compliance
8 - LegalZoom
The LegalZoom network offers legal advice for individuals and businesses based in Arkansas.
We selected this service because of its Basic package program feature ($0), where they will not charge you until your filing documents are submitted to the state and then charge you for the first year.
They also offer legal advice on business-related issues, but this will cost you $249/month.
We commend the wide variety of services that LegalZoom presents, and their registered agent service is especially impressive. It allows for the setting of business hours, ensures privacy protection, and aids in avoiding penalties.
Service Features:
Basic ($0 + $45 State Fee)

: The package has a welcoming digital packet with a step-by-step checklist after official LLC registration. You'll also get a comprehensive name search, articles about the organization during business entity filing, and a customizable website by WIX.

Pro ($249 + $45 State Fee):

Pro package has all features in the basic package, plus an operating agreement for guidelines and dispute settlement meant in an entity. The package also offers an employer identification number (EIN) for tax filing and bank accounts. You'll also get initial insurance and tax consultation from a specialist through phone calls.

Premium ($299 + $45 State Fee):

 This package has everything previously mentioned in Basic and Pro packages, plus 30 minutes of unlimited consultations from a legal attorney on new business-related legal topics for the first 3 months. A team of professionals will also handle any changes to your document for the first 3 months.

Registered Agent Service ($299): Comes with high-quality service plus identity theft protection, infinite cloud storage, and robust data security protocol.
Pros
Refund policy of 60 days
Excellent and user-friendly online platform
Affordable expert legal advice
Cons
Pricey registered agent service
Registered Agent not included in the formation package
Sign Up To LegalZoom
9 - Tailor Brands
If you're struggling with your company's logo, Tailor Brands can help. We recommend this company because it offers one package for Limited Liability Company formation.
This package also comes with add-ons that provide a full package for making a logo, social media marketing, business cards, and an e-commerce store.
We tried it out and we were very happy with the results. We were pleased with the user-friendly interface and the high-quality designs produced by the AI-driven logo creator.
The pricing is quite reasonable, as we believe we obtained excellent value for our investment.
Service Features:
Lite Package ($49 + $45 State Fee): It features standard processing and LLC formation.
Essential Package ($199 + $45 State Fee): This plan includes LLC formation, annual compliance, expedited processing, and operating agreement.
Elite Package ($249 + $45 State Fee): With this plan, you get everything from the previous two plans, plus business building tools, with eight free logos and a website builder.
Registered Agent Services ($199):

These services are not included in the basic plan.
Pros
Low-cost LLC service
All exclusive bundles for marketing tools
Quick and easy-to-use dashboard
Cons
Not suitable for startups with only basic needs
Limited customer support
Sign Up To Tailor Brands
The Advantages of Forming Your LLC in Arkansas
Forming an LLC in Arkansas will help you establish your business in many ways, including:
1. Protects Your Liability
With the help of this business structure, you may protect your assets from personal creditors. It is one of the main elements that urge entrepreneurs and business owners to create their LLCs [1].
Additionally, LLCs protect small businesses from assertions by their members.
2. Hassle-Free Formation and Operation
Forming a limited liability company also eliminates the need to deal with paperwork and legal documentation routinely, so it is easier to form an LLC than a corporation.
Also, unlike a corporation, your LLC is exempt from regular meetings and minute-taking requirements, as only the articles of organization must be submitted to the Secretary of State
3. Raising Your Capital Is Flexible
Your limited liability company allows you to raise money in a variety of ways. In addition, new partners can join your team, but they won't have absolute control over the business management. Receiving investments is also not permitted before becoming a partner [2].
4. Pass-through Taxation
Compared to other entities like a corporation, your LLC has more tax benefits. Your LLC allows you to receive money via pass-through taxation. With this, the tax system is streamlined and minimized [3].
Our Selection Process
We make it a point to review each agent's price, turnaround time, service features, and customer support before choosing the ones we recommend.
Here's how:
1. Price
When we're looking for LLC services in Arkansas, we have to consider the cost and whether it's worth it. Some companies charge more. Here, we selected services that offer affordable packages with fewer or necessary add-ons.
2. Service Features
We surveyed all of the top LLC services in Arkansas and chose those that boasted outstanding features in their packages. We went with companies that have favorable and essential service features, especially for startups.
3. Turnaround Time
During our extensive trial period, we chose the best LLC service providers that can process as quickly as possible beyond the request time. We ranked those with the usual processing time of LLC in Arkansas anywhere between 3 to 7 business days.
4. Customer Support
We have tried to contact each LLC service provider in Arkansas and selected the most responsive through chat, email, and phone calls.
Because the LLC formation process is quite complicated, you need a service provider that you can get in touch with if you have any slight issues with your LLC company.
Arkansas LLC Formation Process
It's not difficult to process your LLC formation in Arkansas.
You can complete it on your own without hiring an LLC provider by following these seven simple steps [4]:
Step 1:

Search for a name to assign to your Arkansas LLC

Step 2: Look for your own registered agent service in the state of Arkansas
Step 3

: File your Arizona Articles of Organization with the Secretary of State in Arkansas

Step 4:

Work on creating your Arkansas LLC Operating Agreement

Step 5:

Once you're done working with your LLC Operating Agreement, you can now get your EIN

Step 6

: Decide on the type of Arkansas LLC that you need

Step 7:

Submit your Arkansas LLC yearly report
FAQs
Is It Necessary To Form an LLC in Arkansas?
Yes, it is necessary to form an LLC in Arkansas, especially if you find it hard to deal with the associated paperwork to form an LLC regularly.
Is Arkansas a Good State to Form an LLC?
Arkansas can be a good state to form an LLC due to its low filing fees, no franchise tax, and relatively business-friendly regulations.
What Is The Best Arkansas LLC Service?
As an Arkansas business startup, you need to hire a company that provides a flexible and comprehensive LLC or business formation service at an affordable and reasonable price.
After reviewing a ton of LLC services, ZenBusiness exceeded our expectations, hence making them the best Arkansas LLC service. This company boasts one of the fastest response times in the LLC formation sector at a reasonable price.
Thanks to their efficient application procedure and knowledgeable customer service team, we had the resources to launch our business and started operating in no time.
ZenBusiness also gives you a free operating agreement template, accelerated delivery, domain privacy, and CPA evaluation to help you manage your LLC.
Our #1 Recommendation
Pros
Various formation and LLC services packages are available
Each package is reasonably priced
Compliance is worry-free
Fast business formation and LLC services
Positive feedback from customers
Get the BEST PRICE until the end of May
Cons
No non-profit business formation