10 Best Registered Agent Services in Washington in 2023
Navigating legal requirements and compliance complexities can be a task load for Washington entrepreneurs. This is where the value of a reliable registered agent becomes unmistakable.
To determine the best service providers, I took my time and went the extra mile to test, evaluate, and rank the best Washington registered agents, so you don't have to.
Working with my team of legal experts, we professionally tested each Washington registered agent service based on essential criteria, such as pricing, customer support services, and turnaround time.
We also highlighted their best features and what makes them a good choice.
This article delivers the outcome of our investigation in a carefully curated list of the top registered agent services in Washington.
Editor's Choice
Rated by more than 1000+ customers
Northwest
Click To Signup
79% of visitors chose this
#2nd Best Choice
Rated by more than 2000+ customers
ZenBusiness
Click To Signup
#3rd Best Choice
Rated by more than 1000+ customers
IncFile
Click To Signup
Top 10 Registered Agent Services in Washington (November 2023)
1 - Northwest Registered Agent
(Best Overall)
Would you recommend Northwest Registered Agent (Best Overall)?
Northwest Registered Agent Service is a leading registered agent with complete service features matched with customer-centric solutions.
Upon subscribing to their services, Northwest Registered Agent provided the street address for our business and received the Service of Process on our behalf.
Plus, they scanned and forwarded our business documents as soon as they received them.
Northwest Registered Agent will send you reminders via email before your annual reports are due, and help you get a credit card for your business under better terms.
We loved strong privacy and data protection, but we did find their add-ons to be pricey.
We appreciate that their excellent customer service is supported by a US-based support team comprising former attorneys, accountants, entrepreneurs, and small business owners.
Service Features:
Registered Agent Services ($125/year)

: Offered for free

for the first year when purchased with LLC formation, then it renews annually at its standard price.

Basic LLC Formation Plan ($39 + $200 State Fee): This Washington registered agent plan includes essential LLC formation documents and tools and a registered agent in Washington. Plus, free mail forwarding and scanning on the same day of receiving the documents.
Full Service LLC Formation Plan ($225 + $200 State Fee): With the Full Service Plan you will get a same-day filing, operating agreement, and free limited mail forwarding. If you form an LLC with them, you will get a full year of registered agent service. For stronger business knowledge this plan is packed with free forms and tools. 
Pros
They value clients' privacy
Outstanding customer support
More than two decades of experience in the industry
Guaranteed no hidden charges
Provides free registered agent with every LLC formation package
Cons
High priced in comparison to the competition
Sign Up To Northwest Registered Agent
2 - ZenBusiness
(Best Essentials)
Would you recommend ZenBusiness (Best Essentials)?
If you're a business owner looking for one of the best essential services in Washington registered agent, ZenBusiness is one of the best-registered agent services for an LLC.
When we first registered with this Washington registered agent company, we accessed a wide array of services including invoicing tools and operating agreement forms.
We also received a comprehensive accounting assessment of our business from one of their expert accountants.
We loved ZenBusiness's low-cost LLC formation plans, but the Washington registered agent service could be included for complete service. We recommended them to those who want their LLC set by professionals for free.
Service Features:
Registered Agent Services Basic Plan ($199): This registered agent service plan offers access to your online account, full coverage of their business registered agent service, and a dedicated customer care representative. It is $199 each year.

ZenBusiness Starter Plan ($0 + $200 State Fee): The Starter Package assists in launching your LLC in 2 to 3 weeks, plus offers a free month of banking. For extra services on a budget, it's a solid choice. You get worry-free compliance for the first year at no extra cost. Then, it's $199/year. With this feature you will meet all of your deadlines. Moreover, if you miss a deadline, they will instant assist you to get back into compliance.
ZenBusiness Pro Plan ($199 + $200 State Fee): The Pro Package improves the Starter choice, completing paperwork in 1 to 2 business days. Alongside a faster start, Pro provides an EIN for legality and an operating agreement defining roles, ensuring organized operations. For a free month of banking, bank account, and bookkeeping you will get to test tools that can help you manage your finances more easily.
ZenBusiness Premium Plan ($349 + $200 State Fee): The Premium Package expands Pro features, with handy business document templates for easier communication and consistency. Plus, try the website builder for a month, boosting your online presence. It offers user-friendly designs, improved search engine visibility, and scheduled social media posts.
Pros
Has reasonable pricing of registered agents services
Provides extended hours of chat customer support
Has excellent customer feedback
They offer a 60-day money-back guarantee
Cons
Relatively new registered agents service provider
Sign Up To ZenBusiness
3 - IncFile
(Most Affordable)
Would you recommend IncFile (Most Affordable)?
IncFile stands out as the most affordable option for registered agent services in Washington, particularly appealing to new businesses due to its cost-effectiveness.
This feature makes IncFile an ideal choice for startups and entrepreneurs looking to minimize initial costs.
They are among the best web services to use when starting an online business, according to our research. We decided to test them, and we were happy we did.
They gave us a full year of guaranteed free registered agent service for a great rate.
For this kind of registered agent service, their rate was among the best, and their customer service was friendly and helpful, making our entire experience with them positive.
One downside we discovered throughout our research is that IncFile does not have a customer support team on weekends, which is a huge letdown, especially for business owners who work full-time and may want urgent advice or help on weekends.
Service Features:
Registered Agent Services ($119/year): Free Washington registered agent service for the first year when purchased with their formation package. Charges a flat rate when purchased separately, which includes a digital dashboard, email and SMS notifications, and automatic mail forwarding of legal documents.
Silver LLC Formation Plan ($0 + $200 State Fee): This Basic plan is free of charge, you only have to pay the $180 (by mail) or $200

(online) filing fee due to the Washington Secretary of State.

Gold LLC Formation Plan ($199 + $200 State Fee): This registered agent plan includes EIN, an Operating Agreement, and lifetime company alerts to make sure that you stay on track with your documents. Instant access to an online account is also included. 
Premium LLC Formation Plan ($299 + $200 State Fee): Platinum Plan includes features from the Gold plan and adds free next-day filing and business contract templates. For a better professional presence, this plan also offers a domain name and business email providing the right set for an online brand.
Pros
Provides easy-to-use online dashboard
Free 1-year Washington registered agent with LLC formation packages
Seamless order process
Guaranteed no hidden fees
Cons
Has a limited number of support options for registered agents
Sign Up To IncFile
4 - Rocket Lawyer
(Best Premium)
Rocket Lawyer gives you access to great LLC formation services in Washington, and some of the best legal services.
They will provide you with a Washington registered agent service if you sign up for a premium registered agent plan, and assist whenever you need any legal and business advice.
Rocket Lawyer let us test their premium services for seven days, completely free.
If you get a membership, they will give you a 25% discount on their registered agent service.
From our experience, make sure that you keep track of a trial period, as they will auto-bill your registered agents' services. We recommend Rocket Lawyer to those who need frequent legal advice.
Furthermore, if you decide to cancel your registered agent membership within 60 days of purchase, you will receive a full refund.
Service Features:
Registered Agent Services (starts at $149.95/year)

: Their basic registered agent package includes legal and tax compliance alerts, a physical registered office business address, and more.

Washington LLC Formation Plan ($99 + $200 State Fee):

When you sign up as a member, you will have access to professional legal assistance as well as business formation tools and services for $39.99 per month. Non-members, on the other hand, receive standard pricing for their LLC formation service and other features.
Pros
Has a free 7-day membership trial
Offers legal consulting alongside registered agents
Highly rated customer service
Cons
Must register as a member to access premium legal service features
Only registered members can have discounted services
Sign Up To Rocket Lawyer
5 - LegalZoom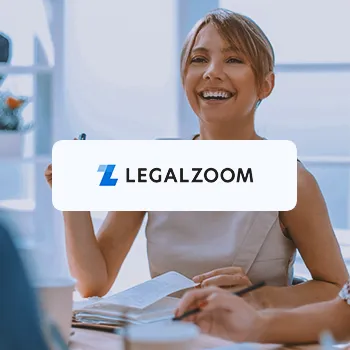 When you work with LegalZoom, you have the benefit of having a big company on your LLC's side as a statutory agent or registered agent in Washington.
As an experienced LLC service provider, LegalZoom delivers one of the most highly reliable Washington registered agent services and has a reputation for following through on whatever promises they make.
Their registered agent service is one of the most expensive and their add-ons tend to get costly, but it compensates with various legal services, professional customer support, and a 100% satisfaction guarantee with a 60-day refund.
We loved their Compliance Calendar which helped us stay on top of important filing deadlines, but overall we wouldn't recommend them to anyone who is on a very tight budget.
Service Features:
Registered Agent Services ($299/year): The initial cost for their registered agents is $249, with subsequent renewals priced at $299. As a subscriber, you will receive identity theft protection for up to $1 million, unlimited cloud storage, a Compliance Calender, and email notifications.
Basic LLC Formation Plan ($0 + $200 State Fee): The commercial registered agent package comprises an all-inclusive name search, a website that can be tailored to your preferences, and a thorough digital welcome packet for your LLC. Additionally, you will be provided with the necessary articles of organization.
Pro LLC Formation Plan ($249 + $200 State Fee): It encompasses all the features of the Basic package along with an operating agreement. Additionally, it provides you with a thorough guide on business licensing, consultations on tax and insurance, and an EIN.
Premium LLC Formation Plan ($299 + $200 State Fee): It offers all Pro package features. Additionally, it offers a half-hour of unlimited consultations with a legal expert on new legal matters and modifications to your LLC document during the first three months of your subscription. Moreover, the package provides valuable guidance from a seasoned business attorney based in Washington.

Pros
Strong brand power in the industry
Provides premium Washington registered agent service features
Has a high customer volume
Cons
Mediocre customer reviews
High prices compared to other registered agent companies
Sign Up To LegalZoom
6 - Harbor Compliance
Harbor Compliance is well-known for its great customer service.
This commercial registered agent company offers discounts for businesses that purchase multi-year subscriptions.
Plus, if you have plans to expand your LLC outside Washington, Harbor Compliance has a nationwide registered agent service that delivers superior security.
Their representatives are true professionals who, from our experience, will have an answer to every question. They will answer within 24 hours and won't outsource a third party to solve your problems.
What we love about Harbor Compliance is how serious they are about privacy.
They will never auto-bill you, sell your data to a third party, or anyhow store your payment information. You can expect an annual invoice.
Service Features:
Registered Agent Services ($89 to $99/year): This registered agent plan covers same-day electronic delivery of paperwork in Washington, annual report notifications, and a physical street address in Washington where someone is ready to accept Service of Process (SOP) during normal business hours. Plus, free compliance guides and whitepapers.
Washington LLC Formation Plan ($99 + $200 State Fee): Their basic formation package includes all necessary formation documents, a free year of registered agent service, and costs $399 plus state fees.
Pros
Bulk discounts are available for registered agent packages
Has great customer support
Includes free registered agent on their formation package
Cons
Some of their business services are expensive
Their online portal system is not updated
Sign Up To Harbor Compliance
7 - Swyft Filings
Using Swyft Filings as your Washington registered agent will save you from dealing with the complications and inconveniences of paperwork.
While pricing is not the best for their registered agent service, Swyft Filings has some advantages.
Our journey with Swyft Filings was quite insightful. While we initially had reservations due to their pricing, we were pleasantly surprised by the flexibility they offered.
The option to pay in installments was a lifesaver for our startup, allowing us to manage our cash flow better.
Their customer service team was always ready to assist, answering our queries promptly and ensuring we understood every step.
Service Features:
Registered Agent Services ($99 / 3 months): This registered agent package charges a flat rate that already covers 24/7 online access to important mail and alert messages for important due dates and deadlines.
Washington Basic LLC Formation Plan ($0 + $200 State Fee):

Offers three-level business formation packages with several add-on services that you can purchase at affordable prices.

Washington Standard LLC Formation Plan ($199 + $200 State Fee): This plan builds on the Basic Plan adding an EIN, and mandatory documents to start your business, such as an operating agreement, banking resolution, and organizational minutes.
Washington Premium LLC Formation Plan ($299 + $200 State Fee): Premium Plan contains features from Basic and Standard plans, including a free domain and business website. A customized digital corporate kit is also part of this plan, as well as the FedEx delivery of your approved articles with a tracking number.
Pros
Has a 100% money-back guarantee
Free order shipping
Responsive customer support
Cons
Registered Agent Service fee is pricey
Sign Up To Swyft Filings
8 - InCorp
InCorp is best known for its registered agent online services and is the fourth-largest national registered agent service in America.
They also provide assistance with Washington business services such as corporation or LLC formation, business license service, and annual report reminders.
While it is not our best pick for the best registered agent in Washington, one of its unique features that we love is its Entity Management System app for iOS devices.
This app allows you to manage your business, pay fees, and access all of your stored business documents, including service of process, among other things.
We loved their price (you will, too, especially if you opt for a long-term subscription), and we recommend them to those who don't feel comfortable using their own registered agents.
Service Features:
Registered Agent Services (Starts at $129/year)

: Legal notifications for important documents such as your annual report filing notices, SOP, and a physical address to receive these documents during regular business hours. Discounts for multi-year service orders.

Washington LLC Formation Plan ($99 + $200 State Fee):

Similar to their registered agent business,

their formation prices start at $99 per year, and they provide discounts for multi-year service orders.
Pros
Has satisfied customer reviews on BBB
Has 250,000+ active clients nationwide
There are bilingual customer service reps available
Cons
Reported hidden fees and automatic charging of services
Shipping costs an additional charge
Sign Up To InCorp
9 - SunDoc Filings
SunDoc Filings has got the affordability and confidence to represent your Washington LLC.
Its Washington registered agent services include all the essential services you need from a professional registered agent.
They have a solid reputation and considerable online reviews, but they are not as big as Northwest Registered Agent is, but they are still a significant name in the industry.
To stand for their features, they offer a 100% satisfaction guarantee (we didn't have to use it, as everything went smoothly).
We liked their formation plan fees, but we did find their website to be not so user-friendly, although it is packed with information.
Service Features:
Registered Agent Services ($159/year): Covers corporate tools, handling of business documents, mail forwarding, handling service of process documents, and 24/7 online access. If you buy the LLC formation from them, you will get a $10 discount to get your own registered agent.
Washington Basic LLC Formation Plan ($79 + $200 State Fee):

Their base package is $79 plus state fees, their key bundle is $99 plus state fees, and their premier bundle is $279 plus state fees.

Washington Key LLC Formation Plan ($99 + $200 State Fee): This plan includes the basic features and adds state name availability as well as business license summary and email delivery.
Washington Premier LLC Formation Plan ($99 + $200 State Fee): Premier Plan adds on Key Plan and offers additional features such as federal tax ID (EIN) and LLC Kit & Seal.
Pros
Fair experience
Has A+ professional rating on BBB
Skilled customer support team
Cons
A registered agent can only be purchased as a separate feature
10 - Washington Registered Agent
Washington Registered Agent is a commercial registered agent that is an expert in everything about Washington business, from corporate filings, business licensing, municipality permits, and MBLs to entity taxes, annual reports, and business compliance.
Privacy is a significant concern for many businesses, and Washington Registered Agent addresses this head-on. We were drawn to their unique package alternatives designed to keep personal information away from public records.
This was a huge selling point for us as an LLC concerned about identity theft and data breaches. Their team was knowledgeable about privacy regulations and provided us with tips and resources to further safeguard our business.
So, if you own an LLC, don't want to be bothered by telemarketers, and are concerned about identity theft, Washington Registered Agent is the way to go.
Service Features:
Registered Agent Services ($59/year): Offers total compliance monitoring for a whole year, a free 60-day trial of a virtual phone number for your business, dependable annual license renewal reminders, fast and reliable business document forwarding, and an online account with digital document storage.
Washington LLC Formation ($359 + $200 State Fee): Their LLC formation package includes the incorporation service and 1-year Registered agent service.
Pros
Has a fixed rate every year for your own registered agent
No hidden fees
No per-piece mail charges
Cons
Very few customer reviews online
Has a complicated website
How We Picked And Tested The Best LLC Services In Washington
Our team embarked on a comprehensive review process to identify the top LLC services in Washington. We meticulously evaluated 15 different companies, engaging with their services under real-world conditions to ensure an authentic evaluation.
Our investigation was thorough and multifaceted. We delved into the experiences of numerous entrepreneurs, scrutinizing their feedback and votes.
We meticulously analyzed online client reviews, seeking insights into the real-world performance of these services. Additionally, we assessed each service's ability to assure compliance performance, a critical factor in the smooth operation of any business.
Here's how we made our selections:
Reliability
Reliability is paramount when it comes to registered agent services. Businesses must be confident that their agent will promptly handle all legal documents and notifications.
We prioritize services with a proven track record of reliability, ensuring businesses never miss crucial deadlines or notifications.
IncFile is known for consistently high ratings and positive customer feedback. InCorp, on the contrary, had a history of mixed reviews and some unresolved customer complaints.
Cost-Effectiveness
Pricing plays a pivotal role in selecting an LLC service, as it directly impacts the affordability and value of the services offered.
While the price range for registered agent services can vary, we focused on those that offer the best value for money.
Northwest Registered Agent offers a basic LLC formation plan at $39 plus state fees, including a registered agent in Washington. IncFile provides a free formation service for the first year. ZenBusiness has a starter plan at $0 plus state fees, with a worry-free compliance feature.
LegalZoom, with its higher pricing structure ($299/year for Registered Agent Services), may not be the best fit for those on a tight budget.
Customer Support
Effective customer support ensures timely assistance and resolution of issues, enhancing the user experience.
We assessed the availability of support (including weekends), response time, and the presence of multiple communication channels (phone, email, chat).
In our analysis Northwest Registered Agent had an outstanding customer support with a US-based team. ZenBusiness provided extended chat support hours. IncFile, however, lacks weekend support.
Experience and Expertise
The intricacies of business regulations in Washington require agents with a deep understanding of the state's legal landscape. We prefer services with years of experience and a team of experts well-versed in Washington's business laws.
Harbor Compliance demonstrated a strong understanding and application of local laws.
User-Friendly Interface
In today's digital age, a user-friendly online interface is essential. We favored services that offer intuitive platforms, allowing businesses to easily access and manage their documents, notifications, and other essential information.
Rocket Lawyer had a highly intuitive and user-friendly online platform. Swyft Filings had a more complicated or less modern online interface.
Comprehensive Services
Beyond the basic role of receiving and forwarding legal documents, the best-registered agent services offer additional features that can benefit businesses. We looked for services that provide extras like compliance alerts, annual report reminders, and more.
Steps to Start an LLC in Washington
The steps to starting an LLC in Washington ensure that your business is set up correctly and legally compliant from the outset.
Here are the fundamental steps you should follow:
Choose a Name for Your LLC: The first step is selecting a unique name for your LLC that complies with Washington's naming requirements. It must be distinguishable from other business names registered in the state.
Appoint a Registered Agent: As discussed in the article, a registered agent is essential for handling legal documents and ensuring compliance. Choose a reliable registered agent service in Washington.
File the Certificate of Formation: This is the official document that legally establishes your LLC in Washington. It can be filed online or by mail with the Washington Secretary of State.
Create an Operating Agreement: Although not required by the state, it's highly recommended to have an operating agreement to outline the ownership and operating procedures of your LLC.
Obtain an EIN: The Employer Identification Number (EIN) is necessary for tax purposes and is obtained from the IRS. It's required if your LLC has more than one member or if you plan to hire employees.
Register for State Taxes: Depending on your LLC's activities and the products or services it offers, you may need to register for certain state taxes in Washington.
Comply with Local Requirements: Check with your local government for any additional permits or licenses needed to operate your LLC in Washington.
File Annual Reports: Washington LLCs must file an annual report with the Secretary of State to maintain good standing.
Related Articles:
FAQs
Does One Need a Registered Agent for an LLC?
Yes, one needs a Washington registered agent for an LLC. This is a requirement imposed by the Washington SOS on every business entity formed and registered with the state.
Can You Act as Your Registered Agent in Washington?
Yes, you can act as your registered agent in Washington if you meet all the state requirements for being a registered agent.
Can I Use a PO Box as My Registered Agent's Office Address in Washington?
No, you can't use a PO box as your registered agent's office address in Washington. Your registered agent's address, which will receive all of your mail, must be a physical street address in Washington. Otherwise, the Washington SOS will reject your filing.
What is the Best Registered Agent Service In Washington?
Appointing the right registered agent service for your business is essential in creating your WA LLC. Aside from the fact that it is required by state law, it helps your LLC maintain good standing with the Secretary of State in Washington.
So, to help you achieve that, we recommend using Northwest Registered Agent for your LLC in Washington. As a customer-centered registered agent service, they scanned and emailed our corporate files as soon as they acquired them.
Our personal experience with Northwest Registered Agent underscores their commitment to excellence.
Their prompt document handling, coupled with their solution-focused approach, swiftly addressed our unique business needs, ensuring we remained in good standing with the Washington Secretary of State.
Overall, Northwest Registered Agent will deliver a high-quality service worth your time and investment.
Our #1 Recommendation
Northwest Registered Agent (Best Overall)
Pros
They value clients' privacy
Outstanding customer support
More than two decades of experience in the industry
Guaranteed no hidden charges
Provides free registered agent with every LLC formation package
Get the BEST PRICE until the end of November
Cons
High priced in comparison to the competition