Harvard Business Services, or Delaware Inc, is a Delaware LLC formation service and registered agent company that has been in business since 1981. It is an excellent option for entrepreneurs seeking efficient and reliable online service providers.
Since I have clients in the state of Delaware, I partnered with the company and gained insights into the formation of a successful business entity.
As a seasoned business consultant, I will provide a comprehensive review of Delaware Inc based on the basic services offered, special features, additional services and costing. It would help you make an informed decision whether the company is tailor-fit for your business.
What Is Harvard Business Services or Delaware Inc?
Harvard Business Services, or Delaware Inc., is an online business formation services company that helps you to form an LLC in the state of Delaware.
Based on online client reviews and customer feedback, Harvard Business Services designed their platform in such a way that business owners can easily register their company in Delaware, irrespective of their area of origin.
Within the 40 years that Harvard Business Services Inc has been in business, they have helped to form thousands of companies.
Service Features & Prices
Harvard Business Services includes three separate pricing packages for Delaware business formations. The packages are as follows:
Green LLC Formation Package ($179 Plus State Filing Fees):

The Green package includes filing of Articles of Organization, name availability check through the Delaware business bureau, one year of Delaware registered agent service, and digital copies of limited liability company documents.

LLC Basic Package ($229 Plus State Filing Fees):

In this basic package, Harvard Business Services offers everything from the green package plus legal document templates to create an operating agreement, business resolution form, and digital membership certificates as well as hard copies of filed Harvard business services LLC documents.

LLC Standard Package ($329 Plus State Filing Fees):

  The standard package includes everything from the previous two packages plus a corporate kit and seal, including sample documents, a book for meeting minutes, a transfer ledger, and more.
Our #1 Recommendation
Delaware Inc
Additional Services
Harvard Business Services Inc offers a simple lineup of services to help form your LLC, including:
C-Corp Registration starts at $179
Business Name Search $0
Digital Stock Ledger $199/yr
Name Change Amendment $450
Certificate of Good Standing $124
Ein Registration $95
Certified Copies $45
Foreign Qualification $100
Stock Amendment $450
Apostille Service (Price varies per state)
Virtual Office $299
Mail Forwarding $29
Registered Agent $99
Benefits
Here are some of the advantages of using Harvard Business Services Inc as the best LLC formation service:
1. Turnaround Time
Harvard Business Services offer turnaround time in a timely manner. On average, your business registration will be complete within three to five business days.
They guarantee they will file your documents within a business day for expedited service on your Delaware LLCs. They also offer expedited processing options.
2. Little To No Upsells
One of the Harvard Business Services pros is that they don't push upsells. The only upsell that Harvard Business Services offers is getting an EIN for your LLC [1].
They charge a $65 fee for this service.
3. Straightforward Language
Harvard Business Services compare to other business formation services in lots of ways, but where they differ is that they use clear language on their website.
They describe their packages and prices transparently without hidden fees.
They also include state fees in their package prices, so you know the total cost before checking out and forming your new business.
4. Customer Service
I've had my share of experience interacting with customer support teams with several companies, and I attest that the client services provided by Delaware Inc is commendable. They can be contacted through several platforms such as chat, email and Skype.
Harvard Business Services makes reaching its customer support with issues simple. Their reps are knowledgeable and helpful and don't try to push any upsells.
5. Customer Reviews
In my experience, the rating of formation services directly reflects the credibility and reputation of the company. Harvard Business Services garnered a rating of 4.98 out of 5 stars on the Better Business Bureau website, and a 4.6 out of 5-star rating on Google, and a 4.8 out of 5-star rating on Trustpilot [2].
Customers often praise Harvard Business Services' quick turnaround time and helpful customer support.
6. User Experience
Harvard Business Services offers a great user experience to form your LLC. Their service is designed to make ordering simple.
However, if you want to register an LLC with Harvard Business Services in a state other than Delaware, you will have to call them by phone.
7. Registered Agent Services
Harvard Business Services offers registered agent service for any state included in their packages.
After the first year, Harvard Business Services Inc's registered agent service is just $50 per year, which is one of the lowest prices around.
Harvard Business Services offers registered agent service for any state included in their packages.
Downsides
Despite Harvard Business Services Inc being one of the best formation services, here is one downside you may experience.
Have To Call If Forming A Non-Delaware LLC
If you're looking to build an LLC in another state besides Delaware, you have to call Harvard Business Services.
This can be inconvenient, considering many competing services allow you to create an LLC in any state simply online.
Who Should Hire Delaware Inc?
Clients looking to create an LLC in Delaware should hire Delaware Inc.
We recommend Delaware Inc for business owners who:
Can benefit from fast filing times
A business owner that needs affordable LLC formation services
A business that places value on positive customer feedback
We recommend Delaware Inc for its stellar reputation, great user experience, little to no upsells, and fast turnaround time.
Other User Testimonials
"Outstanding customer support! Among the best that I have ever experienced; all my questions were answered on point, and they're not trying to upsell you on something. Affordable and with excellent customer service, which is rare these days."
- Allan Villar, Trustpilot
"My business has been with Harvard Business Services for two years now, and I only have great things to say about them. The service I received from every staff member is first-class under any circumstance as well as the assistance I was provided in each area of my business. Harvard Business Services is a great, professional, and reliable establishment; in my own experience, the best way to go about running a business in Delaware. Many thanks to all for the five-star performance!"
- Franluca, Trustpilot
"My Rating is 5 stars!!! They are extremely helpful, especially through the Live Chat. They could answer questions about business formations in Delaware on several levels, and they know it all. They have been in business for 30+ years. Their communication with clients is also excellent as they will remind you through email what you need to do to keep your company in check with the state you registered in. Harvard Business Services ROCKS!!"
- ElaiTheOperator, Trustpilot
Comparison To Other Services
Having been associated with several online formation services, I am in the position to compare Delaware Inc with three of its biggest competitors based on the merits of each company.
1. ZenBusiness
When it comes to ZenBusiness, their pricing is hard to beat.
Their base LLC plan starts at $0 for formation services, and they support LLC formation in any state; while Harvard Business Services also does this, you need to call them to be able to do LLC formation in other states.
ZenBusiness is also an ongoing subscription service, while Harvard Business Services are a one-time fee.
2. Northwest
We reviewed Northwest Registered Agent and found it more affordable than Harvard Business Services, with their formation packages starting at $39 versus $179 for Harvard.
Again, Harvard Business Services focuses on Delaware LLC creation, and you need to call them for incorporation in other areas.
Northwest allows you to create an LLC online in any state and offers a free account. Northwest also scans all your documents for you.
3. IncFile
Incfile's pricing is also hard to beat as their base plan starts at $0 for incorporating your business.
Harvard Business Services has been around longer, but both services have positive reputations.
Incfile offers one business day filing, and because Harvard Business Services focuses mainly on Delaware, they may be slower depending on the state.
Related Articles:
FAQs
Is Harvard Business Services Legitimate?
Harvard Business Services is legitimate. They have been in business since 1981 and have helped to form over 200,000 businesses. They have an excellent reputation with highly positive reviews.
Does Harvard Business Services Have Decent Customer Support?
Harvard Business Services have excellent customer support based on our own experience and their general reputation.
Does Harvard Business Services Have A Refund Policy?
Yes, Harward Business Services have a refund policy. As long as you request a refund in 30 days, they will provide a refund minus a 5 percent service fee.
How Fast Does Harvard Business Services Process LLC Formations?
Harvard Business Services processes LLC formations within one to three-day for Delaware LLCs, which is some of the fastest turnaround times for the state.
What Else Can Harvard Business Services Do Besides LLC Formation?
Besides LLC formation, Harvard Business Services provides several additional services, including certificates of good standing, registered agent service, obtaining an EIN, certified copies, mail forwarding, foreign qualifications, operating agreements, business licensing, and amendments.
Is Harvard Business Services Worth It?
Harvard Business Services or Delaware Inc is an excellent choice for LLC services if you want to create a business in the state of Delaware.
While they will help you form an LLC in another state, Delaware is where they prefer.
Starting LLCs in Delaware is popular with people from other states because Delaware offers some of the lowest business taxes and lenient business laws.
However, forming a Delaware business if you don't live in Delaware can cause you a lot of other fees. If you don't live in Delaware, you might want to consider choosing ZenBusiness.
ZenBusiness is an excellent choice for forming an LLC in any state, mainly because their base pricing starts at $0, and they offer everything else you need to create a successful business at an affordable price.
Their basic plan offers optional worry-free compliance free of charge for a full year, while their Pro plan offers an EIN, whilst Premium plan includes business document templates for efficient business procedures.
Seeking a detailed breakdown of this organization? Check our complete review of ZenBusiness for more information.
We Recommend This Instead
ZenBusiness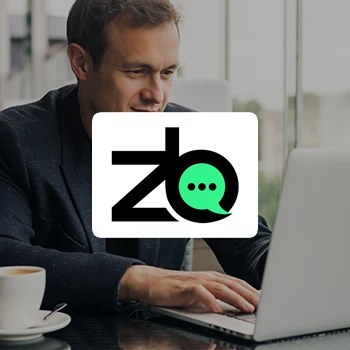 Pros
They offer various formation packages to choose from
The prices of each package are reasonable
They provide a worry-free compliance
They make business formation as quickly as possible
Has a lot of positive customer feedback
Get the BEST PRICE until the end of October
Cons
Non-profit business formation is unavailable